Snow Shoot 2017 has been over for several days and my mind is still full of memories and images from this wonderful experience. It was my 9th time attending this event, but my levels of excitement and expectation remain extremely high.
This year, manufacturers have set the table with the presentation of marvellous products, some anticipated for several years. We can already see that the 2017 season will be different from others.
During the 5 days of the event, my colleagues and I had the chance to test 60 different models. From this impressive number, I now share with you my best picks for 2017.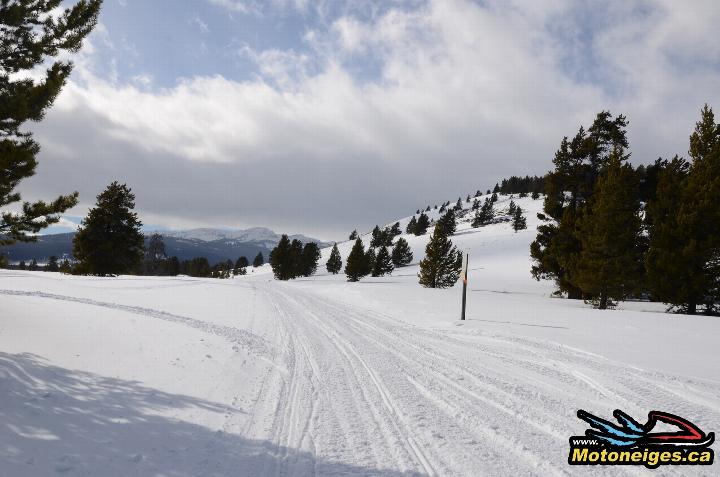 Context
Before we begin, I would like to mention that many models presented at the Snow Shoot are prototypes still being calibrated. The performance of some snowmobiles may differ from full production units that will be offered next fall.
For 2017 Arctic Cat and Yamaha have equipped many models with a turbo 4-stroke engine, Arctic Cat's 9000 series models and Yamaha's Sidewinder models. Our tests were ran at an altitude of over 6 500 ft / 1 981 m. Altitude has very small impact on turbocharged engines, but is significant with naturally aspirated engines. We must consider that the performance of NA engines is reduced by more than 20 %.
With that said, I present my 2017 Snow Shoot best picks.
Arctic Cat
Arctic Cat's great innovation is without doubt the introduction of the turbo triple engine into their lineup. Naturally, we scheduled as many snowmobiles equipped with this engine as we could in order to try it out thoroughly.
Even with coveted availability, I had the chance to test ride the ZR 9000 Thundercat 137 and the XF 9000 Cross Country 137 models. First, I must say that the acceleration and power of the 9000 engine is very impressive! As soon as we push the throttle, we feel the engine roaring as if it wanted to get out of the chassis. Acceleration is outstanding. Even at high RPM, the 9000 engine responds without hesitation. I like forces of acceleration and I really felt the chills of pleasure in the Arctic Cat 9000 models!

2017 Arctic Cat XF 9000 Cross Country 137
I enjoy impressive acceleration, but I am not a fan of extreme speeds. Still, I easily reached high top speeds to see how the 9000 Cats would perform… the answer was Wow! Most incredible was my feeling that the ZR 9000 Thundercat 137 was ready to give me more… Much more !
After these moments of high emotion, I came back to my senses in order to be able to concentrate on the behavior of these models. The steering was light and precise. The suspension provided good comfort on the trail sections that it was experienced. Finally, the fresh look of the ZR 9000 Thundercat is really exciting with it's stylish combination of white, black and red.

2017 Arctic Cat ZR 9000 Thundercat 137
In conclusion, the ZR 9000 Thundercat 137 seduced me and for this reason, it is my 2017 Arctic Cat best pick.
Polaris
After 3 years of major changes, 2017 seems to be a year of consolidation for Polaris. After the successes of reintroducing the Indy lineup, the introduction of the AXYS platform in performance trail models and bringing AXYS innovations to their mountain models, we were very interested in what the manufacturer from Roseau would offer for 2017. Even if innovations may at first seem rather modest, we recognize that Polaris has presented a very strong line up for all types of snowmobilers ! (Read : It's time! the 2017 Polaris lineup is out!)
For performance trail fanatics, they presented the Rush XCR, a racing model. If you are looking for a robust snowmobile that will allow you to confidently and comfortably negotiate the bumpiest of trails without failure, this is a model you should consider.

2017 Polaris 800 Rush XCR
In Polaris' crossover segment, the Switchback Assault is now built on the AXYS chassis. Buyers of 2017 Assault models will definetly benefit from the numerous advantages of this very balanced platform. The 600 Voyageur is back in the 2017 Polaris lineup. I must say that I had been disappointed to see this important model withdrawn from the lineup two years ago. Its return is excellent news to many snowmobilers in our market area.

2017 Polaris 600 Voyageur
Polaris has fullfilled the fantasies of many mountain snowmobilers, by introducing the 800 PRO-RMK 174 3" into it's 2017 lineup.
Amoung the 2017's, it was 2 models that really reached out and grabbed my attention, the 800 Rush XCR and the 800 Switchback Assault.
Even though I was easily impressed by the Rush XCR, I must say that the changes brought to the Switchback Assault made me quickly feel something very special for it. This snowmobile seemed to be designed for me now! During the previous years, I did not really appreciate the Switchback Assault, but the 2017 edition was really WOW ! I truly had lots of fun riding it. The performance of the 800 engine was incredible despite the altitude. Starts were strong and immediate. At each full grasp of the throttle, the skis left the ground. The Assault had a tendancy for ski-lift in curves; but the snowmobile remained very predictable and was a blast to intentionally ride on one ski for long distances when exiting curves.

2017 Polaris 800 Switchback Assault (Credit Wayne Davis)
For all the wonderful moments I spent piloting the 800 Switchback Assault, this snowmobile is definitely my 2017 Polaris best pick!
Ski-Doo
The manufacturer from Valcourt has introduced a brand new REV platform for 2017. It has been designed along with the new 850 E-TEC engine. This tandem development allowed engineers to make the optimal integration of the engine into the Gen 4 REV chassis. Much work has been achieved on the lateral mass centralization and on the width reduction of the snowmobiles built on this platform. The G4 riding configuration offers significantly improved vehicle interaction and handling influence possibilities. (Read: 2017 Ski-Doo – The REVolution continues by Jean-François Leclerc)
Even though I already had the opportunity to test many new 850 models at the end of January (Read : 2017 Ski-Doo snowmobile – First contact in the trails) , I was very happy to spend more time piloting these new vehicles. We knew that altitude would disadvantage the Rotax 850 E-TEC engine, but I still wanted to compare the performance of the new platform to what I had precviously experienced.

2017 Ski-Doo Renegade X 850 E-TEC
As soon as I pushed the throttle, I knew that I was not feeling the the same 850 E-TEC performance that I had experienced weeks earlier. At this altitude, a naturally aspirated engine loses about 20 % of its performance. I noted that starts and acceleration were less stong than what I remembered. We must also consider that these new engines were all prototypes and that precise calibrations have not yet been finalized.
This reality let me concentrate more on the platform's performance and also let me test the wide variety of riding positions provided by the new panel design and open toe holds.
I tested the MXZ TNT, MXZ X and Renegade X 850 E-TEC models and really enjoyed piloting them all. To my great surprise, the 129" MXZ X 850 E-TEC offered me the best riding experience. I would have thought that the 137" Renegade would have been my preference, but the MXZ X was the ticket to paradise for me.

2017 Ski-Doo MXZ X 850 E-TEC
The MXZ X 850 E-TEC is my 2017 Ski-Doo best pick.
NOTE: I also had the opportunity to try the new Summit X 850 E-TEC 154 during the Snow Shoot week. Even though I am not very skilled at mountain snowmobiling, the improved balance of this machine proved to be very helpful in allowing me to easily execute some mountain moves that I did not know I was capable of. For this reason I happily give a special mention to this model !

2017 Ski-Doo Summit X 850 E-TEC 154
Yamaha
Fans of Yamaha products will be happy to learn that the Japanese manufacturer has finally fulfilled their wishes. For 2017 Yamaha has presented a brand new engine… a powerful engine… very powerful… the most powerful production snowmobile engine in the industry: the 998 Genesis Turbo !
Yamaha in collaboration with Arctic Cat, presents the new Sidewinder models. NO, this is not a missile, but it is a snowmobile that rushes forward like a missile !

2017 Yamaha Sidewinder L-TX
Snow Shoot 2017 allowed me to ride many models of the new Sidewinder lineup. B-TX, L-TX and X-TX… I tried them all and I adored them all! I quickly forgot about the Vector, Apex and Viper models as the rush of adrenaline is guaranteed!
Just like the Arctic Cat ZR 9000 Thundercat equipped with the same engine, the performance of the Genesis Turbo remains impressive, but with the distinct influence of Yamaha specific clutches and RPM calibration. Torque and power are delivered in a very linear way, no matter the engine speed. When going go from a stop and we squeeze the throttle to the bar, the snowmobile rushes forward and accelerates unbelievably quickly. After one or two seconds, the vehicle hits hyper space and and accelerates even more. Awesome is hard to explain, but I can tell you that each time I rode one, I had the broad smile of awesome on my face.

2017 Yamaha Sidewinder X-TX
Of all the impressive Sidewinder models I tested, the X-TX SE model really impressed me the most. The steering was precise even though its Tuner 3 skis required more rider efforts. The suspension works very well in the front as well as in the rear. For me, the Sidewinder X-TX SE is my 2017 Yamaha best pick.
Conclusion…
Throughout this article we have seen that each manufacturer has prepared 2017 lineups that are full of interesting innovations. I have shared my personal impressions after having the unique opportunity and pleasure of experiencing many 2017 models. We must not forget that all models were prototypes and many final calibrations may occur before consumer production begins.