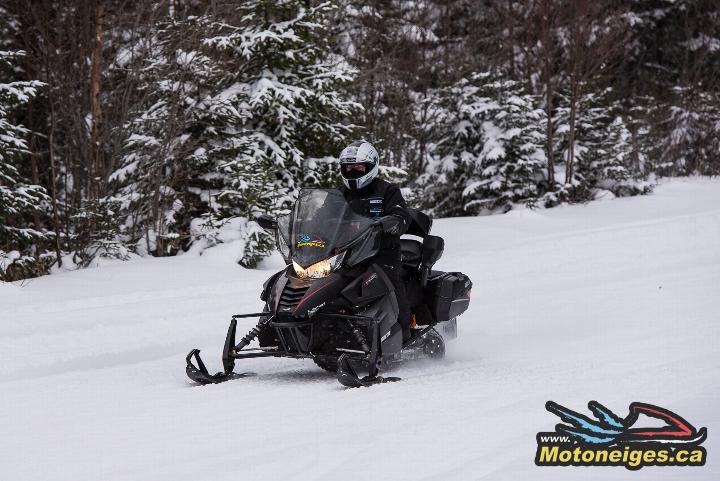 In 2016, Arctic Cat offers to travellers the 7000 Pantera, a Touring snowmobile with great qualities we discovered during our first long rides.
This 2-up snowmobile with a length of 131 in./332,7 cm and a track of 154 in./391,1 cm, was impressive by its comfort, its standard features and its beautiful style. Its 4-stroke injection engine of 1049 cc delivers all the power needed on trails and top speeds that can reach twice the limit speed of Québec federated trail network. Its injection system provides good pick-ups and easy starts under cold temperatures.
Thanks to its comfort, equipments and easy handling, this Pantera will surely satisfy travellers.
In terms of comfort, the Arctic Race front suspension with sway bar and the skis with dual keel runner make it very pleasant to pilot. So, we get a good precision in turns without requiring too much effort on the handlebar. We feel in control, easily and nicely. The Slide-Action rear suspension forgives us for missing an unexpected hole on trail without throwing us off the machine or without hurting our coccyx or vertebras that would take a while to forget. In brief, on trail, this Pantera is very comfortable with optimal handling. Also, the suspension system lets us proceed to adjustments in accordance with the conditions, with our weight including luggage, and with our preferences. This adjustment or balance also provides more bite to skis according to the type of riding we want.
In terms of storage, the rear compartment and storage cases provide enough room to travel for a few days and to bring sufficient replacement clothes and outfits for nice evenings in relays and inns. Also, the tunnel cases are easy to detach, which facilitates our arrival and transport of our luggage to our room. The rear compartment on the tunnel, besides its good volume, gives access to the auxiliary fuel tank of 16 liters, connected to the front reservoir of 40 liters. These 56 liters of fuel available in a fuel-efficient snowmobile, provide a very good fuel range, which avoids to always look for gas station in regions we are not familiar with. So, enough fuel to ride with peace of mind until the next inn. This additional reservoir on the Pantera is a great Arctic Cat idea.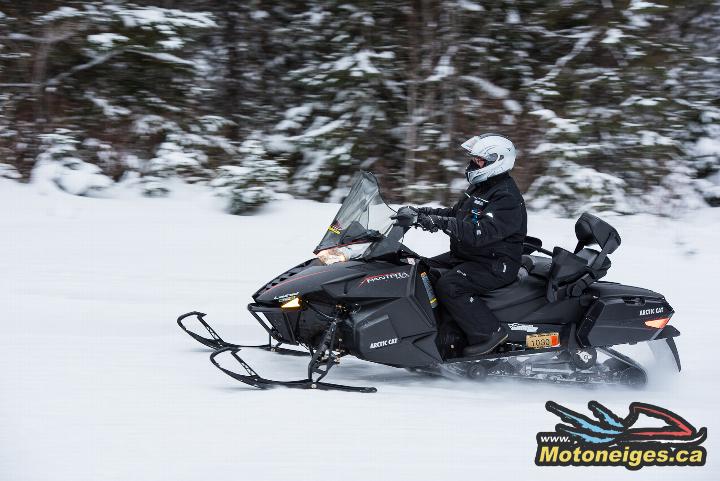 In terms of gauge, the Pantera is really a state-of-the-art machine. Along with the usual odometer, tachometer, trip meter, temperature, liquid level indicators, battery voltage, clock, etc., the Pantera is even equipped with an altimeter that shows our position when we are in new surroundings, and with an hour meter to remember service schedule or else.
12V outlets for helmet and clothes are available, along with heated grips not only for the pilot but also for the passenger's comfort. The windshield is of a good size and offers a good protection. Mirrors are located at the right place and they are efficient.
The few improvements we could suggest would surely be appreciated. The heated seat control could be relocated. As we are riding with our helmet on, it is dangerous to tilt our head to reach this control that is presently too far away from the handlebar. We must almost stop to operate it safely.
In matter of noise, the Pantera produces from 69 to 75 dB at low throttle speed. I will not say their names, but some competitors now offer 4-stroke and 2-stroke snowmobiles that are much less noisy, around 60 dB. As noise is the main issue used by the snowmobile opponents who want to restrain and ban snowmobile traffic everywhere, the snowmobile industry should develop more efficient exhaust systems. The engine noise should be around and under 60 dB, which is the noise produced by a normal human conversation. A Touring snowmobile should not be noisy.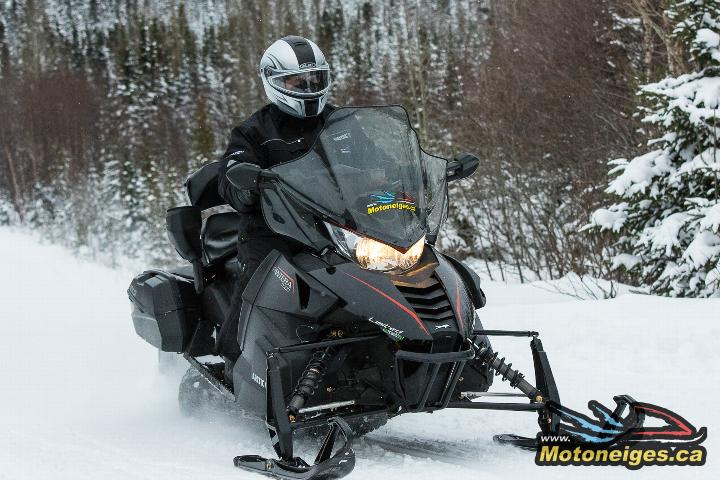 In conclusion, the Pantera is a Touring snowmobile full of great qualities. We will be back with more observations after our long ride of the coming weeks on the northern territories of James Bay.