Our snowmobiling season is now officially started and despite the rather tough conditions we have, I rode over 1 500 km on the XF 6000 CrossTrek. So, it is time for me to present my first impressions.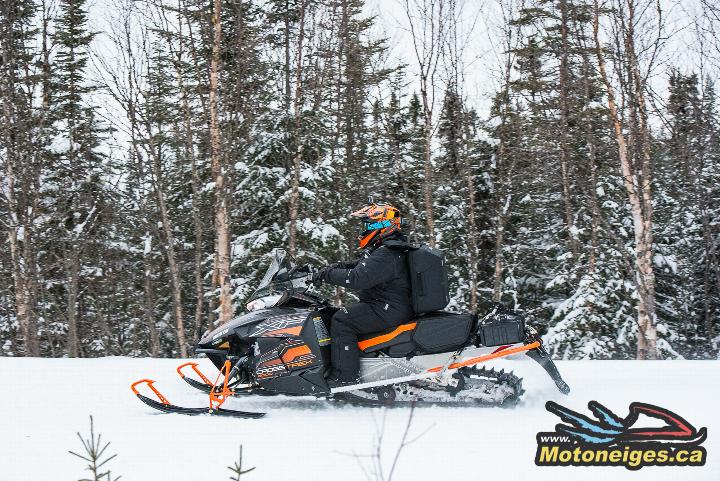 Effectively, since the beginning of the season, the lack of snow and the drastic changes in temperature keep snowmobilers from enjoying optimal snow conditions. Anyway, I have been able to ride many times more than 300 km on trail. The XF 6000 CrossTrek performed pretty well, so I had wonderful rides.
Motorization
This season, I mostly pilot this snowmobile equipped with a 2-stroke engine, my first time since about 12 years. Of course, I had the opportunity to ride some 2-stroke over the years, but not so intensively. I had to learn again some reflexes I had lost… The most obvious being to check the injection oil reservoir and to bring one or two liters of oil with me, in case the ride would last longer.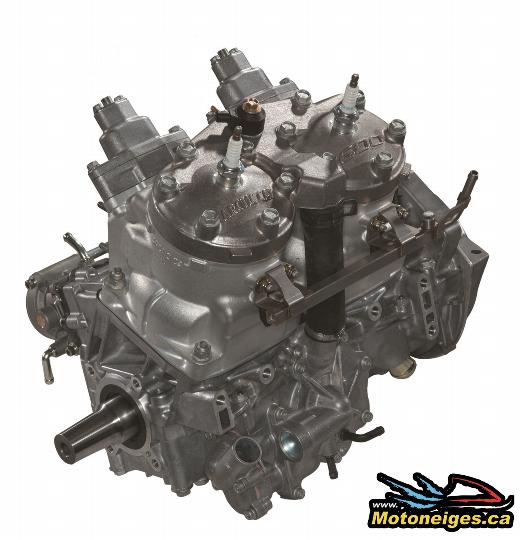 On the other side, this snowmobile is much lighter than the machines I piloted during the last years. This more important lightness is mostly due to the weight of the engine.
The 6000 C-TEC2 engine offers very good performances for an engine of its category. Accelerations are constant and pick-ups are good. However, I noticed its important fuel consumption. I mentioned it to Arctic Cat people who confirmed that they were developing a new programming and that they would send it to us during the coming weeks so that we could test it.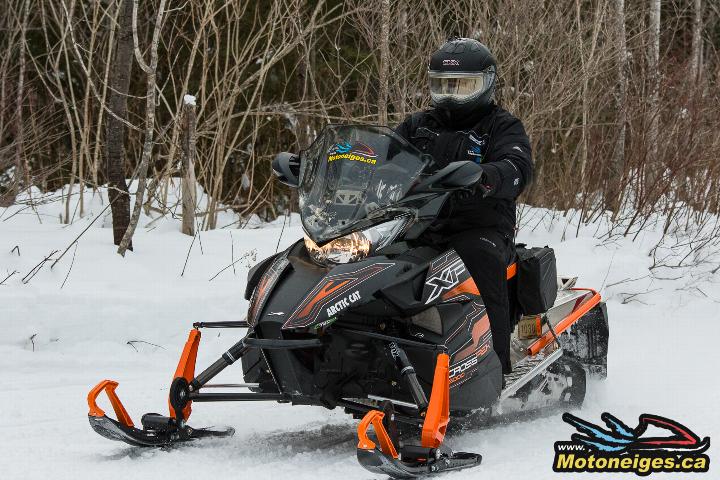 On the other side, the oil consumption is quite low. Effectively, I noticed a very good ratio of 1:74. My riding companions also told me that they did not smell any odor of oil when they were following me on trails.
Startups are smooth, whether the engine is warm or cold. Due to the special winter we have, I have not been able to experience any startup in extreme cold temperature.
The XF lineup models are now equipped with the Team clutches, that transfer adequately the engine power to the Cobra track of 1.5 in./3,8 cm. This one offers a good traction on trails covered with hardened surface or powder snow.
Steering
The XF 6000 CrossTrek offers a very efficient steering. It is precise and it requires low effort. I adore to pilot this snowmobile on sinuous trails because it makes me keep excellent riding control in all conditions.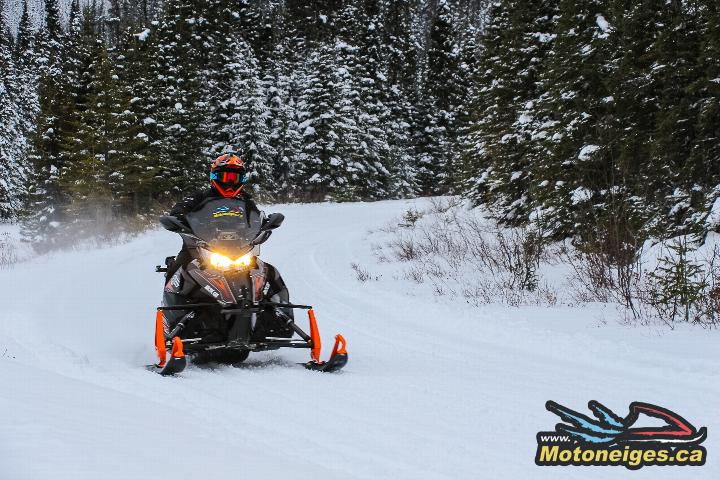 I would also like to mention that I did not experience any excessive or annoying darting. This snowmobile is equipped with the original carbide runners.
Suspension
The suspension of the XF CrossTrek provides good comfort on trails. It absorbs small and medium bumps pretty well, so rides are pleasant.
At front, the Arctic Race suspension is equipped with Float Fox 3 shocks that offer a wide range of settings to be adjusted with the hand-operated pump included with the tools. It is easy to adjust the shocks in accordance with the terrain or trail conditions or with the pilot's preferences.
Off-trail
I did not have the chance to really ride off-trail in powder snow. I hope to be able to do so in the coming weeks in order to try out this snowmobile in powder snow.
Storage
The XF 6000 CrossTrek offers three storage bags. In the bag under the seat, we can easily store a spare belt and one or two pouches of oil. However, I noticed that the zipper used to open and close the bag is sometimes difficult to operate. The saddlebags offer much storage capacity and they are very easy to reach. Being easily removable, it is very convenient mostly when travelling.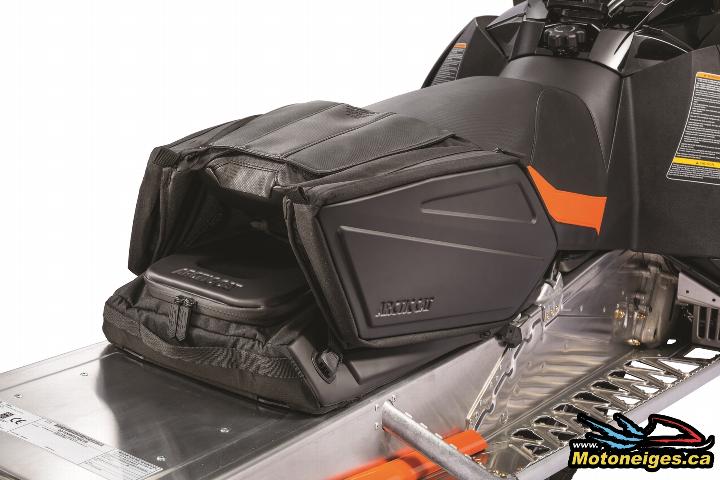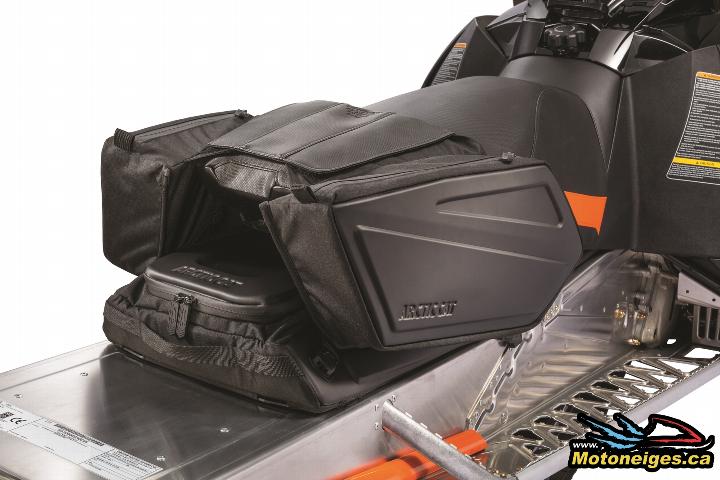 My impressions
In short, I must say that the 2016 XF 6000 CrossTrek is a snowmobile that fulfills my snowmobiler's needs. I get good comfort, excellent control on trails, interesting performances for its category and great standard equipments.
I also discovered a convenient snowmobile that allows me to bring all the equipment needed during my rides. Effectively, I often bring my camera kit in a case that I can fasten on the rear part of the tunnel.
During the coming weeks, I will continue my test on trail. Concerning the off-trail portion of the trial, mostly in deeper snow, I can only hope that Mother Nature will send us lots of snow.
Anyway, in a few weeks, I will present my season report on the 2016 XF 6000 CrossTrek snowmobile.
Until then, please ride safely !