2013 BRP's Ski-Doo X-Team racers Dusty VanMeter and Marc
McKenna powered their way to a second straight win in one of the most sought after and
prestigious snowmobile races, the Iron Dog Classic.
Ski-Doo snowmobiles made a strong statement about their durability and performance by
taking four of the top five finishing positions in this year's race. The E-TEC powered sleds
combined power, speed, fuel mileage and outstanding handling to make it look much easier
than it actually is.
The Iron Dog snowmobile race covers over 2000 miles (3200 km) of rugged Alaskan terrain
that tests the toughest of men and machines in the worst of weather conditions. McKenna
and VanMeter ran towards the front of the pack for most of the race as their experience and
savvy strategy served them well.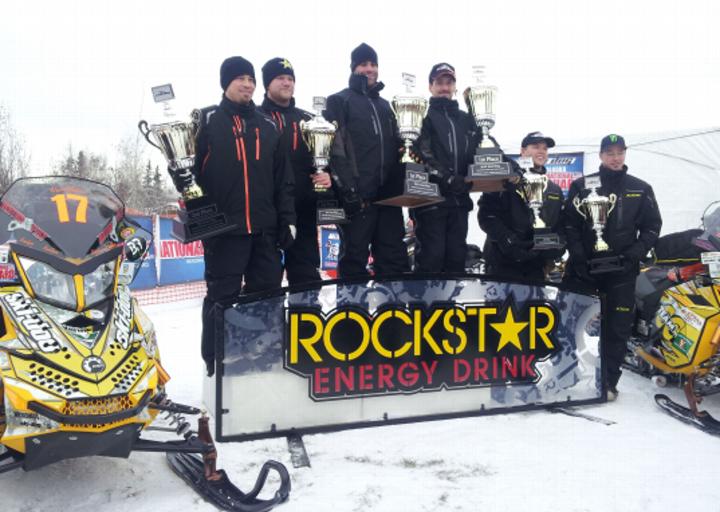 They were the fastest into the halfway point at Nome and ran a strong southbound leg to wrap up the race, choosing their course and rest points
carefully, eventually winning by 48 minutes.
1 McKenna / VanMeter

Team #17
2 Aklestad / Johnson

Team #8
4 George / Bartel

Team #25
Racing the Iron Dog is truly a team effort as the support needed by each team is significant.
This year many Ski-Doo Dealers banded together to help supply the resources needed to
compete successfully and all can be congratulated and thanked for their efforts.
Korey
Cronquist, one of those dealers had this to say "We started with the best product.
And we had great teamwork from everyone, starting with the designers and engineers at SkiDoo, followed by support, before and during the race from enthusiast, family, friends,
sponsors, pilots, and lastly the racers."
Preparations for next years race started today