Good judgment in life as well as on snowmobile trails ensures safety, fun and good behavior. I usually ride on trails during over 60 days per season and I do see many inappropriate behaviors. Unfortunately, some snowmobilers still double stop on trails, pack intersections, ride in the middle or on the left side of trails, pass in turns, go too fast, take medication, drugs and alcohol, make their bridge spin in cities, villages and at road crossings, do not respect speed limits near residential zones, and it goes on and on.
My snowmobile tour guide season is about to begin. Again this year, I will ride thousands of kilometers on Québec trails with my guests. These ones can easily be recognized; they all ride the same snowmobile model and are all dressed alike. This way, they are quickly identified on our trails of course, but also in our restaurants, hotels, inns, gas stations etc. But they often catch inappropriate behaviors.
These snowmobilers come from Europe, United States and South America. We must always keep in mind the outstanding social and economic impacts of their visit in the Province of Québec. Many among them come here for snowmobiling since over 20 years and most of them show excellent behaviors on trail. Furthermore, their stay represent millions of dollars that go directly to your clubs, your municipalities, your enterprises, your relatives. I believe that we owe them empathy and that we should host them the same way we would like to be hosted by them.
I write about this subject because I often hear negative comments on the visitors'conduct on our trails. Sometimes, it is true, they have unacceptable behaviors and believe me, no matter their home country, including Quebecers, I take it as a duty to step in with tact of course in order to increase their awareness on the appropriate behaviors they must adopt on our trails.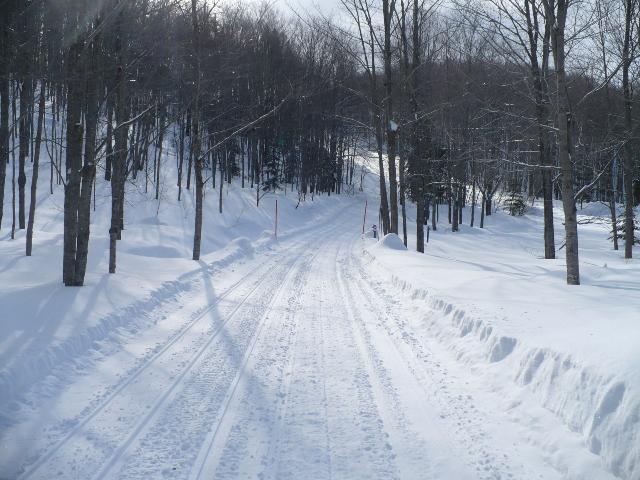 But, in fact, concerning safety and behaviors, our best asset we, humans, all have, is still our judgment. People with good judgment in day-to-day life will for sure have a good judgment on their snowmobile and will ride safely. They will use their common sense and they will know by instinct how to avoid situations where their life and other's would be at risk. They will also ride in respect of non-snowmobilers and residents along the trails.
Some snowmobilers show lack of judgment on our trails; they do not think about the negative consequences of their acts and behaviors. Before teaching others, we must ourselves begin to act correctly at home, in our own country and trails, thus demonstrating… that human stupidity has no frontier.