Snow equals happiness when you're a snowmobiler, and there's plenty of both right now in Snowmobile Country! Visitors are expected in huge numbers in the Lanaudière and Mauricie regions with close to 30% of the 4,800 kilometres of trails now open and offering good to excellent conditions, depending on the area. The sectors actually open are: Parent, Saint-Zénon, Sainte-Émélie-del'Énergie and Saint-Michel-des-Saints. On the weekend, it will be up to 70% to 80% of the network that will be accessible. Several other sectors should open shortly including: La Tuque, La Mauricie National Park and réserve faunique de Saint-Maurice area, Kanawata Outfitter, Saint-Côme, Saint-Donat and Saint-Alexis-des-Monts.
To plan your trip and get the latest updates on trail conditions, or to receive user alerts, visit www.snowmobilecountry.ca . With a few clicks you can get all the information you need, regularly updated for the various sectors of the two regions.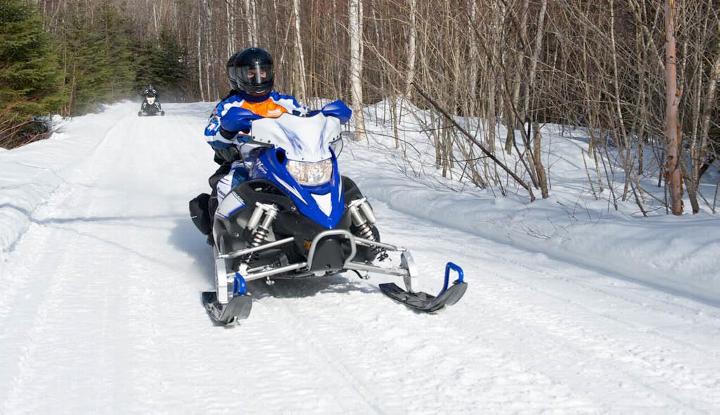 Snowmobile Country reminds you of the importance of riding carefully and respectfully. For your safety and the safety of others, it is important to respect all trail signs and markers. Be especially cautious when approaching bodies of water: not all lakes and rivers in the region are frozen over! Read signs carefully to see if it is safe to cross!
Agreement on relocating Haute-Mauricie trails
In order to avoid interruptions on some trails, as occurred in 2011-2012, the authorities in central Haute- Mauricie and the snowmobile clubs and government departments concerned have met several times over the past few months. Initiated by the La Tuque authorities, these meetings were intended to clarify communications between organizations and toward snowmobilers, as well as promoting better shared usage of public lands.
In addition, for security reasons Trans-Québec trail #83, which previously ran alongside Mauser Lake near Parent, has been relocated; this means that the lake is now bypassed. Also note that regional trail #345, located between trails #83 and #33 on the north-south axis, will now pass to the west of Lake Manouane, through the Kanawata Outfitters. Finally, it is important to remember that regional trail #350 will be closed between trails #23 and #345, due to a forest lot auction. As it is currently not possible to set up an alternative trail, this section will be closed for an indefinite period.
With the new season beginning, the two regional tourism associations remind you of the importance of buying your access permit in the area where you intend to do most of your snowmobiling. This contributes to the financial health of our regions' snowmobile clubs, and these are the people who oversee the maintenance of our trails, ensuring that Quebec can continue offering top-quality snowmobiling to the world!