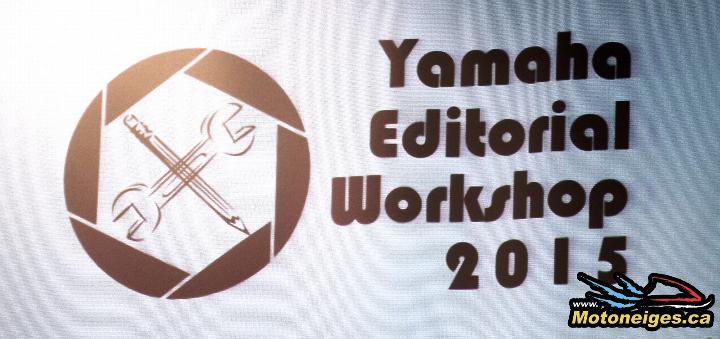 The 2016 Apex and RS-Vector models will be equipped with the new lightweight SingleShot rear suspension, the goal being to design a lighter suspension with simpler mechanism without compromising the ride quality.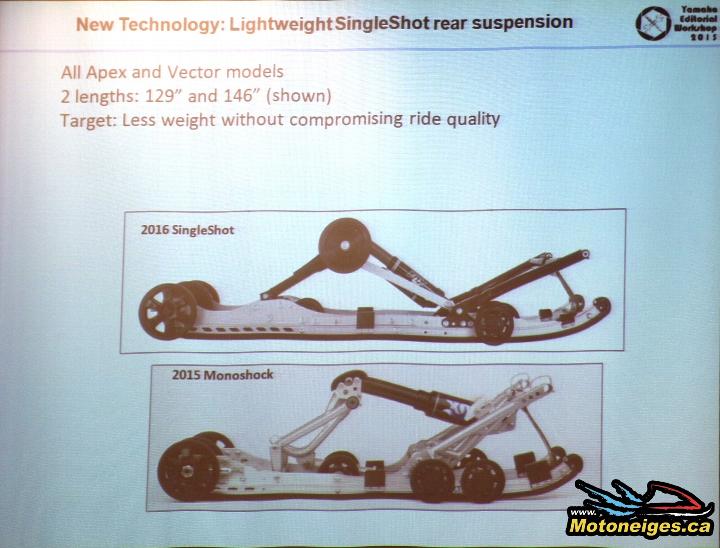 The engineers succeeded to do so by simplifying the front and rear arms and the coupling block. This new SingleShot suspension is completed with a Fox Float 3 XV shock.

It will be available in two lengths, 129 and 146 in. (327,6 and 370,8 cm). Among the changes over previous editions of the Monoshock suspensions, we notice that the sag of 40 to 45 mm is now from 20 to 25 mm.
Yamaha's managers placed some emphasis on the fact that the rear suspensions of these new models will be sent with a very low air pressure setting. So, it will be very important that the dealer proceeds to the initial adjustment before delivery.
We have also been warned that a 10 psi adjustment is considered as a large range and that a simple adjustment of 5 psi will be enough to increase or decrease the proportion of weight to the skis.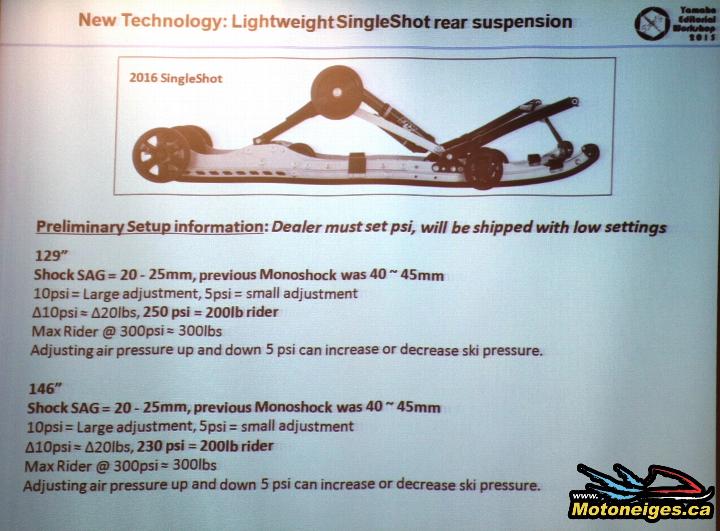 The Fox Float 3 XV shocks will now come with a new pump of dual usage. By rotating a collar at the top of the pump body, the pump can switch from the high volume mode to the high pressure mode (0-300 psi).
In addition to this presentation, we have been invited to attend the workshop with Fox experts to see the modification of a standard Float shock into a XV shock with the upgrading kit. For someone who is used to do it, with the proper tools and work table… the operation is achieved in 15 or 20 minutes and do not present any special problem.
Less parts, less weight, same ride quality, it seems to be a winner. Do not forget that the dealer must do the initial adjustment of the air pressure before you hit the trails!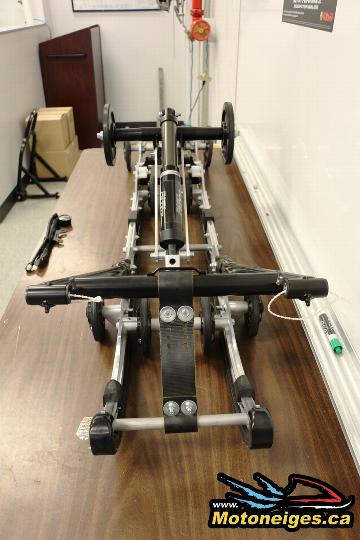 SledMagazine.com is grateful to Yamaha Motor Corporation for their invitation and the quality of their presentations.