Yamaha Sidewinder L-TX DX 2019: Mid-Season Impressions
For 2019, Yamaha presents a smaller line-up of models compared to what we were used. There were only five models available for the spring order, and only seven other models were available in 2019. Also, the Apex and Vector trail snowmobile lines, which were no longer as popular as in the past, are no longer available. Yamaha focused on the high growth models, leaving out the non-current models. Our 2019 long-term test model, the Yamaha Sidewinder L-TX DX, is one of Yamaha's most promising models this season, and we are thrilled to be able to try it. So, if some people are wondering about this unusual strategy of the Japanese manufacturer, one thing is sure, we are all very excited to see what Yamaha will be offering to its customers for 2020.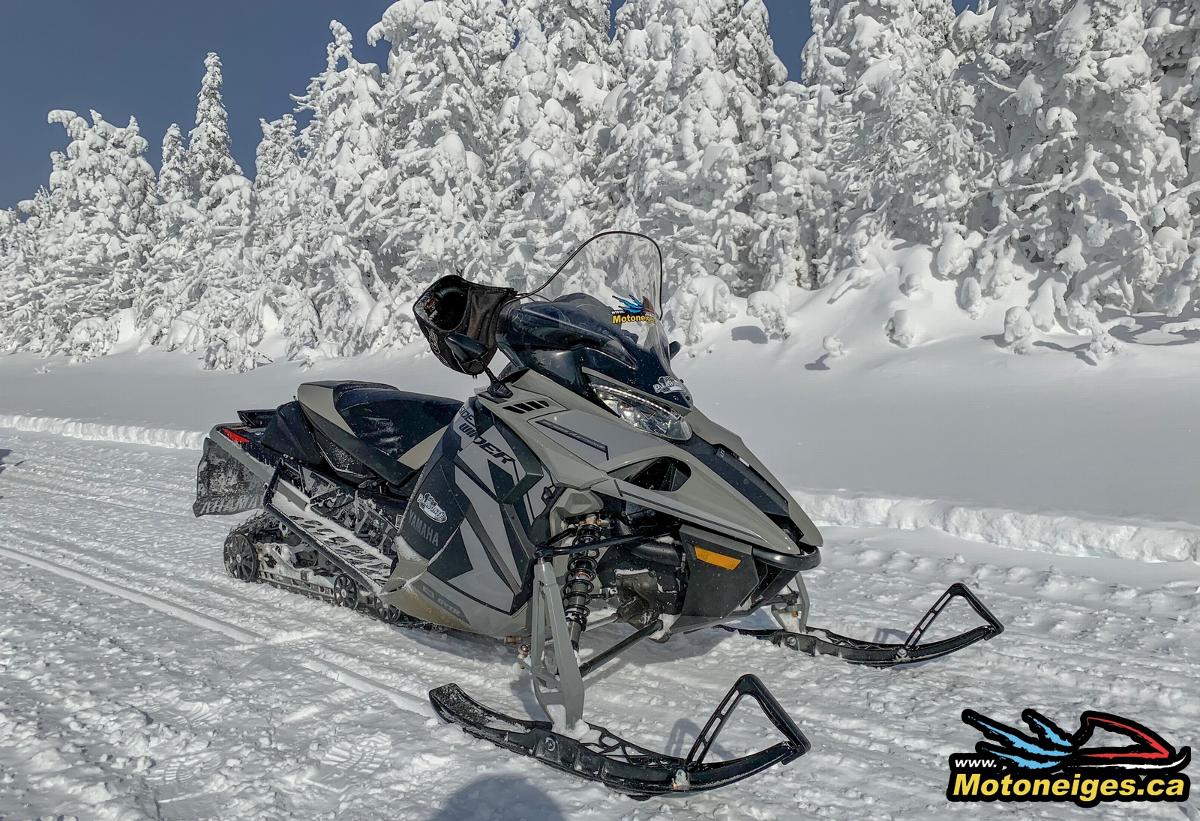 First Contact
As soon as I got the Yamaha Sidewinder L-TX DX 2019, I loved its serious and eye-catching look. I've never really liked grey on a snowmobile, but I must admit that the right combination of black and grey is very appealing and will pass well over the years. The word turbo is visible on the tunnel and quickly catches our attention. As soon as we sit on the Sidewinder L-TX DX, we already know that we will be comfortable for long rides. Perfect driving position, more than enough acceleration and power and all the standard equipment needed to travel over the kilometers.
The 2019 Yamaha Sidewinder L-TX DX 2019, with its 137-inch track, is a hybrid model. It does not look very different from its 2018 edition, but if we take a closer look at its characteristics, we notice some significant improvements.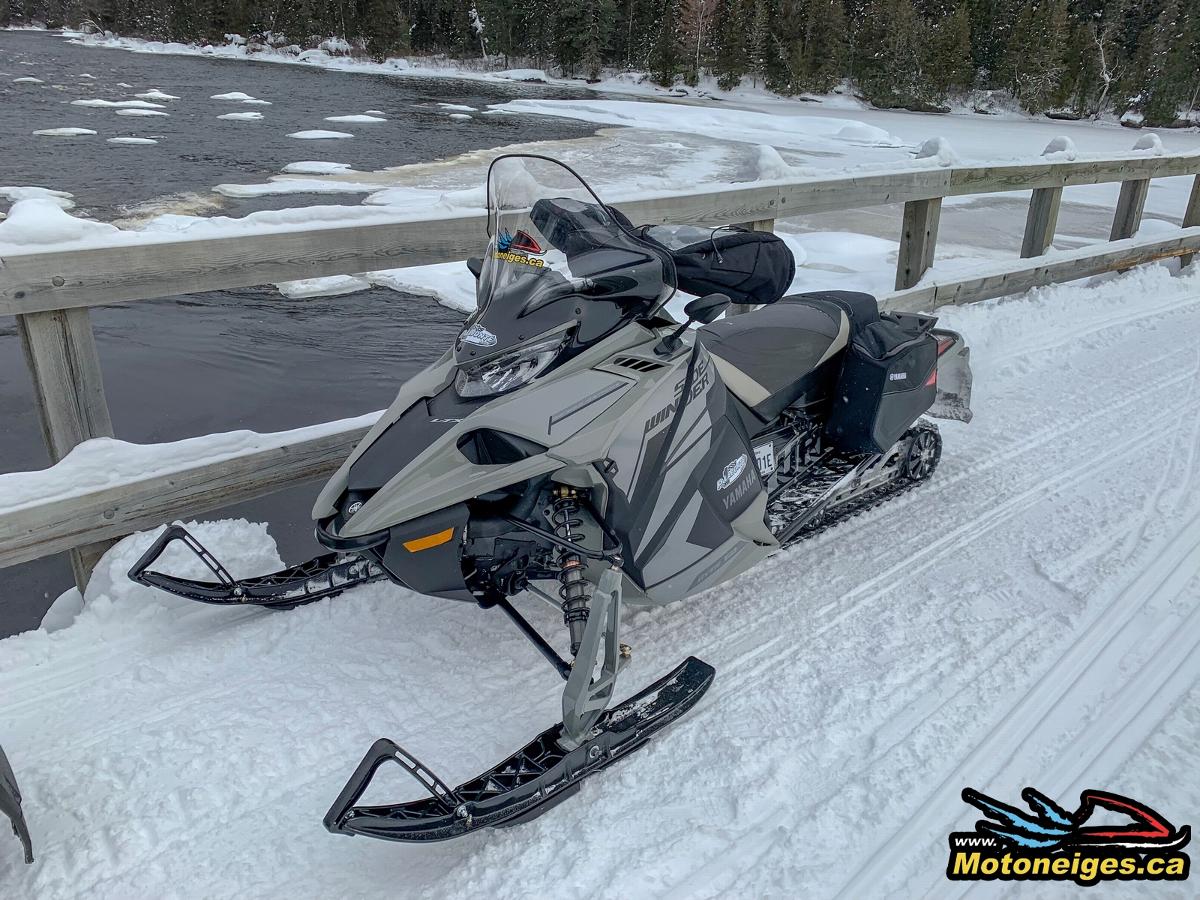 New Features
For many years we asked for it, and Yamaha finally listened to us. The Yamaha Sidewinder L-TX DX 2019 is equipped with all-new handlebar controls. Called Stealth, these new controls on the left side of the handlebars are very intuitive and efficient.
The old switches of intensity of the heated handles and thumbs gave the pilot a choice between LOW and HIGH. We had to switch between one and the other to get the desired temperature. The new controls now offer 5 choices (0%, 25%, 50%, 75% and 100% power) and are very efficient. Moreover, an easy-to-use switch allows you to engage reverse also on the left side. It is much more intuitive and easier to operate than the old switch that was placed on the right side.

New backlit handlebar controls
Another nice improvement is the addition, still on the left side, of a switch that allows you to display and modify the information on the dashboard. We used to have to do it directly on the dashboard, and it could not be done while driving. There is also a new shorter brake lever which is very easy to operate with one or two fingers.

One other improvement over last year is the addition of a semi-rigid tunnel bag. Besides being waterproof, it can be easily removed.

Engine
The Genesis 998 turbocharged engine powers the Yamaha Sidewinder L-TX DX 2019. This three-cylinder engine produces an uncompromising performance. This Yamaha engine has proven itself and is still the most powerful standard engine on the market today. I have tried it for the third season, and with each ride, its power and softness amaze me. What an engine!
Combined with the 137"x16"x1.25" track, this power is well transmitted to the ground, especially on a hard trail. In soft snow, you can feel a little bit of skating when accelerating sharply. It's normal with all this power.

Standard equipment
As standard, we have:
A mid-high windshield
A 12-volt socket on the console
A socket for an electric visor (Type RCA)
A heated seat
A complete set of digital gauges
A semi-rigid tunnel bag

Power visor socket and heated seat switch

Windshield, new handlebar controls, and brake
Comfort and Handling
The 2019 Yamaha Sidewinder L-TX DX 2019 is more comfortable on trails, even if it is in the hybrid category. Off trail, it does a good job, but it would be better to have a more aggressive track or choose another Sidewinder model if we want to go off-trail a lot. However, it is handy despite its weight. Curves are entered with surprising agility due to its precise handling. The suspension is doing the job and is very efficient and comfortable so far. The question is whether our perception will change over the season, after experiencing all the winter conditions.
This snowmobile will be tested on a long-term trial throughout the 2018–2019 season as part of the partnership with Yamaha Canada. We want to take this opportunity to thank our partner, Yamaha Canada, as well as the dealer associated with this test, P. Labonté et fils de Mont-Joli, a 5-star Yamaha dealer.

François Labonté of the 5-star Yamaha dealership associated with this test, P. Labonté et fils de Mont-Joli, and Steve Gaudreau test pilot of SledMagazine.com.