Yamaha's latest 'Right Here Right Now' contest is now over; the entries are in and the Grand Prize winner is (drum roll, please) … Paul Vollicks!
From September 1 to October 12, 2010, anyone who purchased a new Yamaha was entered to win their purchase or choose from a $5,000 Yamaha Shopping Spree. Considering Vollicks purchase of an EF2600 (MSRP of $949), the Espanola, Ontario chose the latter.
"It's always a nice feeling to call a customer and tell them they're a winner," says Yamaha's National Marketing Manager, Tim Kennedy. "It's especially nice when they are a loyal Yamaha customer, like Paul. He already owns a few Yamaha products, including a snowmobile and ATV, and has nothing but good things to say about his local dealer, Trail Side Sports in Espanola. It's a win-win for everyone!"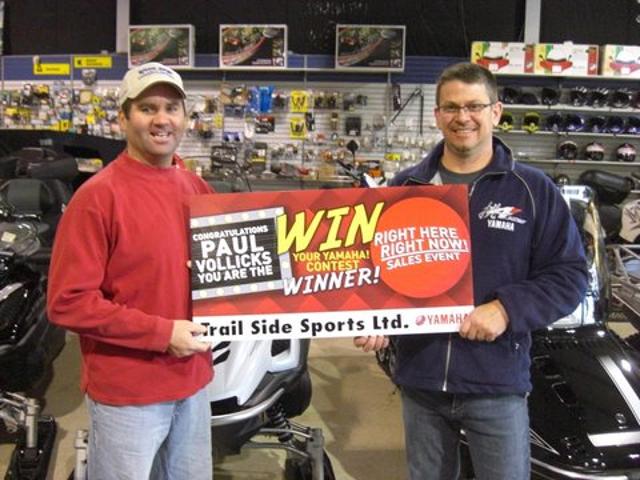 Paul Vollicks accepts his $5,000 cheque from Kevin Muncaster of Trail Side Sports.
Along with the Grand Prize, Yamaha also awarded three secondary prizes, each a $1,000 Yamaha shopping spree. Those customers were Chambly, QC's Martin Morin, who purchased a Raptor 700 sport ATV; Edmonton, AB's Ethan Marshand, who purchased a Nytro snowmobile; and Gene Doroschuk of Vancouver, BC, who bought a BWs 50 scooter. Congratulations, guys!