The 1972 Viking snowmobile Art Seydel had on display Saturday in East Grand Forks wasn't the oldest sled in the fifth Anna Kozel Vintage Sled Show, but it might have been the prettiest.
With its glittery purple hood, jet black skis, a shiny black seat and custom-painted lettering, the snazzy sled was a replica of the snowmobile Seydel raced in 1972 in the Winnipeg-to-St. Paul International 500.
Using parts and pieces of old Viking snowmobiles,—they had the hood, belly pan and tune pipes custom-made—sons Al and Tim Seydel built the snowmobile and presented it to their dad last weekend at a vintage snowmobile show in Waconia, Minn.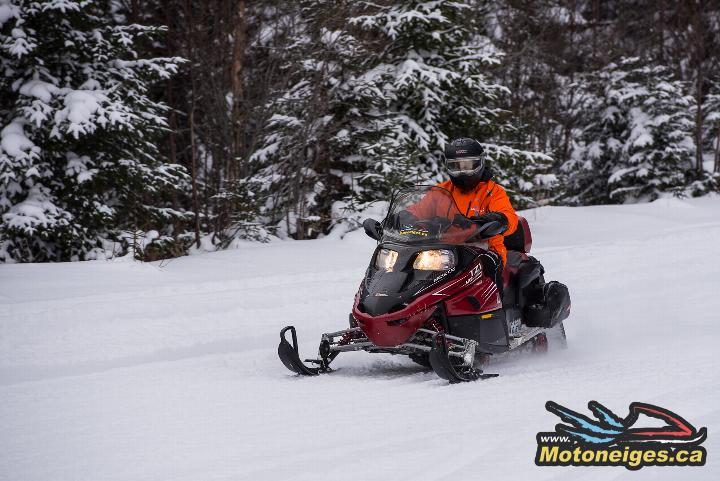 "He had nothing to say," Al Seydel of East Grand Forks said of his dad's reaction. "He got all choked up. After that, he sat on it and admired it. He loved it."
According to Merlyn Werner of East Grand Forks, 104 sleds were on display for Saturday's vintage snowmobile show, a fundraiser for Relay for Life. Organizers named the show in honor of Anna Kozel, an East Grand Forks woman who died of cancer in 2010.
Werner, along with Al Seydel, is one of the show's organizers.
The vintage show started seven years ago, Werner said, when several snowmobile enthusiasts got together and decided to show off their sleds. After two shows, the event went on hiatus for a couple of years before organizers revived it in 2014.
Since then, the vintage show has been a fixture on the first Saturday in February outside the Blue Moose. Inside, the Blue Moose was packed with showgoers and others for the silent auction that also was part of the fundraiser.
Werner said partnering with Relay for Life has worked out well.
"Every bit of the proceeds goes toward that organization, and it's turned out to be a real good event," he said.
Dusty to shiny
Saturday's show included everything from dusty relics to shiny new machines that never have been driven. Lloyd Gering of Garson, Man., northeast of Winnipeg had a 1976 Massey Chinook on display that's never had gas in the bank. Gering, who made the trip with buddy Lloyd Sciberras of Dugald, Man., said he sprayed gas in the carburetor once just to fire up the engine.
"I started it for a couple of seconds, but it's never seen daylight," he said.
Someday, Gering said he'd like to see the shiny red sled end up in a museum that displays snowmobiles.
Besides the Chinook, Gering also brought down a 1980 Yamaha and an Alouette kids' snowmobile for Saturday's show, which was open to sleds 1987 or older. Collecting the vintage machines, he said, is more than a passion.
"It's an addiction after a while, right?" Gering said. "Just like gambling or anything. It's something I grew up with since I was 10 years old and something that just stuck with me. I don't drink, I don't smoke. … This is my addiction."
Assortment of sleds
Snowmobiles of all makes and models were on display Saturday. During the snowmobile industry's heydays in the 1970s, Werner said there were 170 to 180 different brands of snowmobiles.
Werner said nearly 20 brands, give or take, were represented Saturday, including the familiar Polaris, Arctic Cat, Ski-Doo and Yamaha—the last four surviving manufacturers—along with defunct brands such as Moto-Ski, Alouette, Sno-Jet, Sno-King, Wildcat, Sears, Evinrude and John Deere—to name just a few.
And, of course, Viking, a snowmobile manufactured in Twin Valley, Minn.
Art Seydel said he only raced Viking snowmobiles two years—1971 and 1972—and drove Polaris most of his career. He raced in the I-500 seven times, he said, completing the grueling cross-country race five times.
Seydel, who grew up in Badger, Minn., just a few minutes by snowmobile from Roseau, Minn., the birthplace of Polaris, drew a laugh Saturday afternoon from the small crowd gathered around him on his shiny purple Viking.
Which did he prefer, a nosy reporter asked—Viking or Polaris?
Even decked out in Viking garb, Seydel couldn't hide his loyalties.
"Do I have to lie" or tell the truth? he replied with a smile. "Put me on the spot."