"I look at the combined experience of our teams and racers, the improvements we've made to our race sleds, the support of our sponsors and the new racers we've brought in, and I'm convinced Team Arctic will be as potent in 2010 as it was in 2009," said Team Arctic Race Manager, Mike Kloety.
While the national-level races remain a high-priority for Team Arctic in 2010, Arctic Cat understands that its regional racers are the back-bone of the program, and their success is equally important for the team.
"Look at our list of racers, and not just the headline-winners," said Kloety. "Across all disciplines and geographic areas, these racers and teams carry the passion of this company through their dedication, sportsmanship and, ultimately, their success. Their efforts are appreciated by everyone in the Arctic Cat family."

Snocross: New and Familiar Names
The Team Arctic Snocross program includes the most successful core of racers from last year, but with a few twists that will bolster their overall performance.
Tucker Hibbert – defending X Games champion and undefeated in the four ISOC Nationals that he raced last season – is back on the Monster Energy Arctic Cat, with a six-race schedule focused on the first half of the season.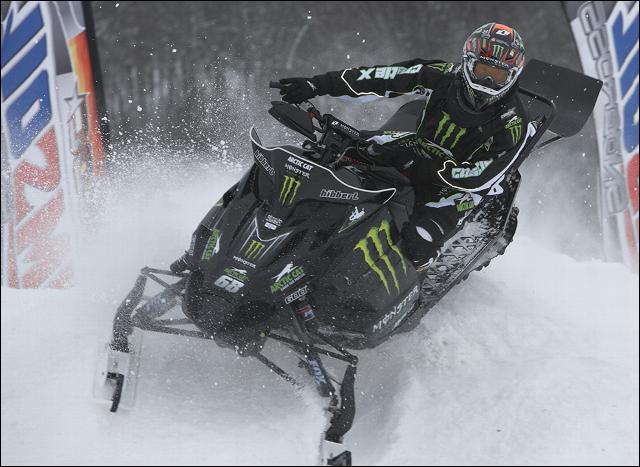 The Arctic Cat Factory Team will consist of new-Pro Dan Ebert, who scored multiple Semi-Pro wins last year; Cody Thomsen, who won the Sport Super Stock championship last season and is now in Semi Pro; and new-to-the-team Kyle Pallin (Semi-Pro), whose speed and success will complement the crew that's headed by crew chief Russ Ebert.
The Christian Bros. Racing (CBR) team returns with an even more potent cadre of racers. New additions to CBR include Ryan Simons (who won in both ISOC and USCC in 2009), Cory Davis (ISOC Semi-Pro Stock Champion and USCC Pro winner) and Zach Pattyn. They join last year's Pro Open Championship challenger Garth Kauffman; Pro Women's Champion Carly Davis; Semi-Pro stalwart Logan Christian; and Pro Vet Karl Christian.
Along with the Sportech Racing team (which now hosts Pro racer Paul Bauerly) and the strong contingent of racers and teams listed below, Team Arctic's snocross program combines strong experience, talent and both National/Regional focus.

National Snocross
Tucker Hibbert
Ryan Simons
Garth Kaufman
Dan Ebert
Cory Davis
Zach Pattyn
Logan Christian
Cody Thomsen
Kyle Pallin
Justin Steck
Dusty Miller
Jacob Muller
Jacob Blanshan
Devin Bertoch
Nathan Moritz
Matt Pichner
Frattalone Racing
Sportech Racing

Canadian Snocross
Shoreline Racing
OTSFF Racing
Robin Deschenes
Kelly Boyd
Jamie Clement
Shaun Demarcke
MWR Snocross
Wes Selby
Taylor Meuwissen
Zach Acord
Willie Elam
Pat McLam
Tuffy McDonald

RMR Snocross
Chris Chico
David Duchnik
Trevor Bouchard
Jacob Phalen
Kyle Becker
KC Anderson
Midwest Snocross
Sticker Dude Racing
Josh Zelenski
Nick Pattyn
Johnathan schwantz
Peer Pressure Racing

Cross-Country: Comprehensive Support at all Levels
As the only factory supporting all classes and areas of cross-country racing, Team Arctic remains the most formidable force in terrain competition throughout North America.
In the USCC circuit, defending Pro Open champion D.J. Ekre and teammate Brian Dick will fly the Christian Bros. Racing banner, aiming for individual race wins and the I-500 in particular.
Joining them will be Team Green racers in the Pro, Semi-Pro, Pro Women and 85-hp classes, the latter of which will prove the effectiveness and competitiveness of the new Sno Pro 500.
In Alaska's famed Iron Dog cross-country, former champions Scott Davis/Todd Palin, Brad Helwig/Eric Quam and Andy George/Trey West are focused on returning Team Arctic to the top, where a win would mark 11 victories out of 26 editions of this famed event.

USCC Cross-Country
DJ Ekre
Brian Dick
Chad Lian
Ryan Houston
Dave Dirkman
Josh Carey
Jon Arneson
Josh Glendenning
Phil Storlie
Arne Rantanen JR
Bobby Menne
Cody Kallock
Trevor Fett
Ryan Greening
Cole Nymann
Mike Dirkman
Adam Brandt
Chris Sobeck
Eric Bute
Nathan Moritz
Mark Arneson
Bryce Buchanan
Tom Clement
Chris Klie
Justn Morken
Brad Cierzan
Jim Sobeck
Coltan Vandeputte
Jenna Sobeck
Brent Liggett
Marty Feil
Tim Kallock
Trevor Fett
Jolene Bute
Sasha Cook
April Moritz
IronDog Cross-Country
Scott Davis
Todd Palin
Brad Helwig
Eric Quam
Andy George
Trey West
Micah Huss
Brandon Baxter
Darrick Johnson
Kurt Steiner
Hillclimb: The Kings Remain the Same
With 15 World Championships, 15 King titles and 78 first place finishes in 2009, Team Arctic hillclimb racers approach the 2010 season as the undisputed kings of the mountain.
Names like Tapio, Zollinger, McClure, Tupper, Buckallew, Frisby, Free, Keller and Archibald have dominated the RMSHA mountain circuit aboard M Series snowmobiles, and their return for 2010 will maintain that momentum.
RMSHA Hillclimb
Team Tapio
Todd Tupper
Chance Buckallew
David McClure
Ty Free
Shad Free
Nathan Zollinger
Leslie Keller
Brent Cheeney
Scott Cheeney
Zollinger Racing
Ben Adams
Rob Kincaid
Tony & Jan Ottobre
Robert Tillotson
Jeremy Archibald
Cody Clawson
Russell & Christy Frisby
Derek, KC & Kyler Stone
Jonathan & Dusty Hancy
Rachel Humphery
Chad Smith
Justin Sampson
Braiden Coleman
Cody Swanson
Matt Elliott
Landon Archibald
Lonnie Keller
Sid Archibald

Drag, Oval, Enduro and Watercross
Throughout the history of snowmobile racing, Team Arctic has supported all forms of competition, and its focus for 2010 is to continue its winning tradition.
The drag racing program has proven unbeatable during the grass season thanks to the team's hard work and dedication, as well as the potent mix of CFR 800, CFR 1000 and F Series snowmobiles.
In oval and enduro competition, Team Arctic comes to the track supporting a mix of teams that blend decades of experience with youthful focus. Names like three-time Eagle River World Champion P.J. Wanderscheid and endure mainstays Team Highland Racing will lead the charge in these legendary race venues.

Drag Racing
Gilland Racing
Glenn Hall
Kelly Shilts
Craig Wyent
Kerry Mcdonald
Matt Lemire
Ice Oval
P.J. Wanderschied
Hoglund Racing

Water Cross
Lindbeck Racing
Enduro Racing
Chris Ryan
Caddarette Racing
Lance Kalbfleisch
Team Highland Racing
Team Arctic's Dedicated Sponsors
Team Arctic's success on and off the track is made possible in part because of the strong, loyal support of its sponsors, each of whom shares the same passion as our racers and Arctic Cat.
For 2010, Team Arctic is grateful to announce the return of these great sponsors: Camoplast tracks, APV Synthetic Oil, Fox Racing Shox, Speedwerx, Renton Coil Springs (RCS), Moto Tassinari/VForce3, TEAM, Figgins Transport, Mitsuboshi drive belts, Stud Boy traction, C&A Ultra Pro skis, Smith Optics, Action Graphics and Sportech.