Straightline Supremacy Across All Classes, Including Stock 800 and Stock 1000
At the Sno Baron's Hay Days grass drags in North Branch, Minn., Team Arctic drag racers put on a veritable clinic of straightline supremacy, with 12 different racers combining to score 18 class wins. The victories came in everything from the Stock to Mod classes, and were highlighted by podium sweeps in the Stock 800 and Stock 1000 classes with Arctic Cat XF800 snowmobiles.
Dylan Roes, Eric Gagne and Craig Wyent dominated the two premier Stock classes, with Roes and Wyent each scoring a victory while Gagne stayed consistent with a pair of second place finishes.
"We proved which brand has the fastest 800," said Team Arctic Manager, Mike Kloety. "It was an all Arctic Cat final in both Stock 800 and Stock 1000."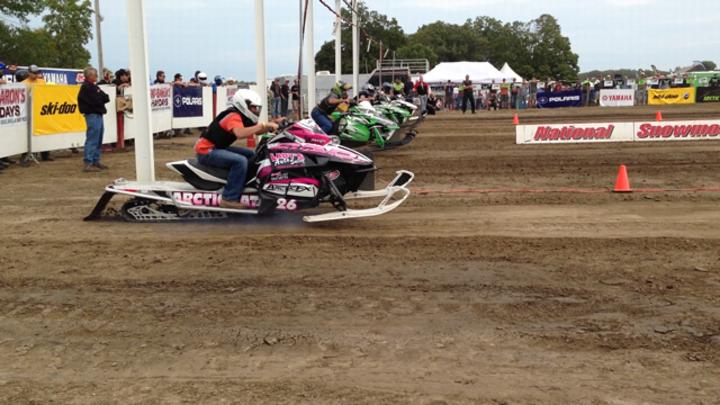 Dylan Roes # 26 Stock Class Winner at 2013 Hay Days Grass Drags
In the AM Stock classes, Brynn Writt proved all but unbeatable en route to three class victories. Not to be outdone, Jade Gillund matched that performance with three class wins in the Mod classes. Other multiple class Team Arctic winners included Trista May and Patrik Lofdahl.
Lofdahl and fellow countryman Mats Lager represented both Team Arctic and Sweden with stunning success, combining for a combine three victories and five podium finishes in the SP Stock classes. For his outstanding performance, Lofdahl earned the overall high-point title in the Semi Pro Stock classes.
"Everyone at Arctic Cat is proud of the team's dominance at Hay Days," said Al Shimpa, Team Arctic Drag Racing Coordinator. "All of our racers and teams work especially hard to put on a great show at Hay Days. To win 18 classes and score 50 podium finishes is a testament to their effort and the performance of Arctic Cat snowmobiles."