Canadian Freestyle Snocross Riders to Face Off Against American Freestylers at the 2014 Grand Prix Ski-Doo of Valcourt Presented by Intact Insurance
Freestyle snocross competition returns to the 2014 Grand Prix Ski-Doo of Valcourt, presented by Intact Insurance on Saturday, February 15. Last year, the sell-out crowd filling the Grand Prix annex grandstands was mesmerized by the highflying circus performances of the riders of the Rave X Outer Limits Tour presented by 5O9 goggles, a travelling freestyle motorsports show based in South Portland, Maine. For 2014, the organizers of the Grand Prix have added a Canadian flavour to the Saturday night freestyle snocross showdown with Canadians Pier-Luc Trépanier, of Trois-Rivières (QC) and Jonathan Belzil, from Villebois in Northern Quebec, joining the competition against Brandon Bell, from Freeport, Maine, his brother Seth, from Waterford, Maine and snocross backflipper DJ Coffin, a newcomer this year from Bath, Maine.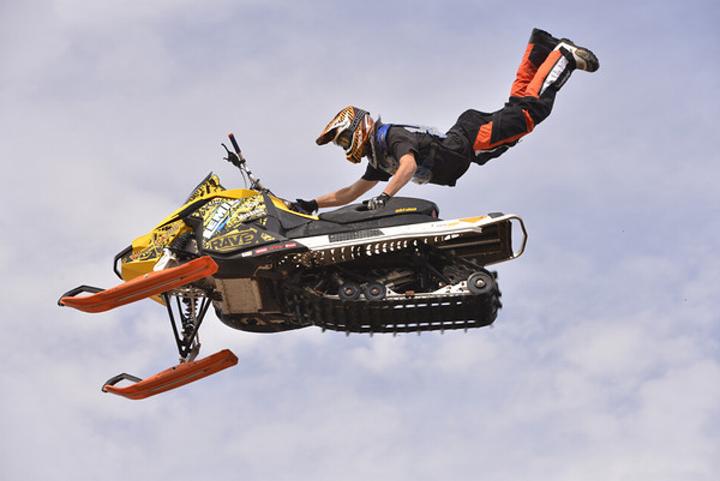 Pier-Luc Trépanier of Trois-Rivières is one of two Canadians who will face the American riders in the main Snocross Freestyle Showdown on Saturday, February 15, part of the full slate competition weekend at the Grand Prix of Valcourt scheduled to run February 14-16, 2014.
Photo credit: Trep Free Style, courtesy of the Grand Prix of Valcourt
"For the last two years, we have been working to organize a Canada-USA freestyle snocross showdown at the Grand Prix, and we are happy that we have finally succeeded, thanks to all parties involved," said Marie-Pier Lemay, General Manager of the Grand Prix. "Extreme sports fans will witness a show that they do not want to miss. Aside from the highflying solo acts, we have programmed a side-by-side aerial confrontation between the American and Canadian flying artists. The riders will take off from different ramps and perform their big air trick before landing on an oversized ramp. This side-by-side exhibition will be a very dynamic experience for the athletes and for the devoted fans."
The three-meter (10 feet) high launch ramps enable the riders to reach an estimated height of nine meters (30 feet) in order to achieve their aerial tricks with their 190 kg (450 pounds) snowmobiles before landing. Free practice session will begin around 4:45 p.m. following on-track activities on Circuit Yvon Duhamel. The highflying show will start at 6:00 p.m. and will conclude an hour later. Admission to the Freestyle Snocross exhibition is $10 per person after 4:00 p.m., and free of charge for Grand Prix of Valcourt ticket holders. An exhibition is also planned for Sunday afternoon between 1 and 2:30 p.m. The exact time will be announced on Sunday morning.
Saturday Night Party Under the Big Top
It's always party time under the Ski-Doo big top after the racing is over at the Grand Prix of Valcourt. Saturday night following the snowmobile freestyle contest, everyone is invited to warm up indoors and to dance to The Voices of Rock music of the Rick Hughes and Friends Band. On Friday night following the finals of the Drag Racing competitions, the Friday Night Bud Show This Side Up will feature Jean-Sébastien Brault and the Party Rock Band. Admission is free.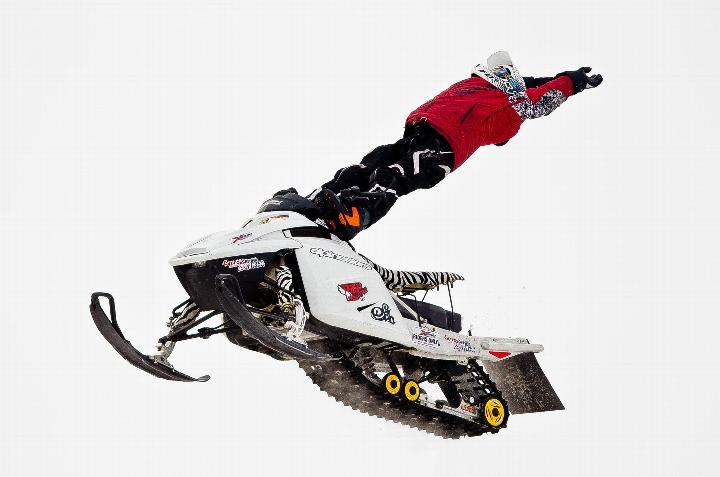 Snocross freestyler Brandon Bell of Freeport, Maine performs a Seat Grab trick during the off-season to get ready for the Saturday night freestyle snocross showdown at the 2014 Grand Prix Ski-Doo of Valcourt on February 15.
Photos credit: Courtesy of Rave X Outer Limits Tour
A Full Weekend of Racing Activities Awaits Fans
The 32nd running of the Grand Prix Ski-Doo of Valcourt presented by Intact Insurance will once again offer fans a full weekend of racing activities featuring the world's best ice oval track snowmobile racers, including three-time World Champion Jacques Villeneuve, who is making a comeback to competition following his frightening racing accident last winter. For three days, spectators will also witness the feats of the top professional snocross riders in North America as they battle for the big prize. Also on the program for the Grand Prix weekend are the daredevil motorcycle and ATV racing riders competing on the Yvon Duhamel ice oval speed track. Fans can also attend, free of charge after 4:00 p.m., the Friday night under the lights snowmobile drag racing. There is plenty of fun and games for the whole family, including slides for kids and live on-site rock bands.
General Admission Tickets Still Available On-line
Fans of the great outdoors can still buy an all-inclusive, three-day general admission pass at a reduced price of $45 instead of $55, taxes included, until February 11, 2014. A minimum service charge of $1 is added for each ticket ordered online or by phone. Tickets are available online at https://www.grandprixvalcourt.com/en/billets/ or by phone at 1-866-532-7553 or 1-450-532-3443. Daily general admission tickets are also on sale at $10 each for Friday and $30 each for Saturday and Sunday. Accompanied by an adult, children under 12 are admitted free on the Grand Prix site. The heated Grand Prix Suites tickets are sold out.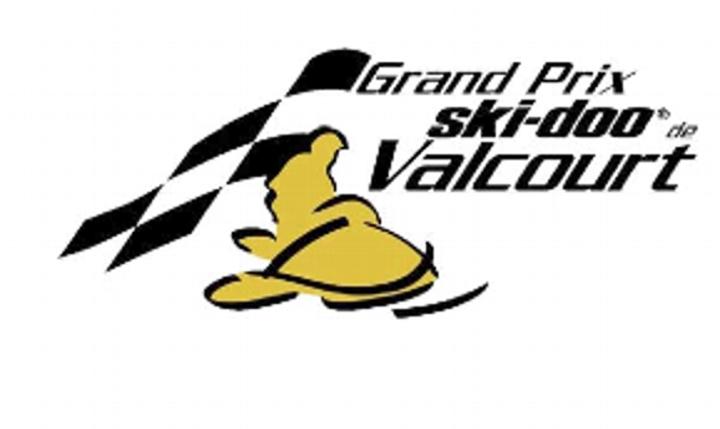 About the Grand Prix of Valcourt
The Grand Prix Ski-Doo of Valcourt is the great Quebec winter motorsports classic. Launched in 1983, this year the event celebrates its 32nd consecutive running the weekend of February 14-16, 2014. Some of the greatest names in snowmobile racing have had their moment at Circuit Yvon Duhamel in Valcourt, including Canadian Blair Morgan, who won eight snocross Grand Prix finales. Also outstanding is the Wahl family of Greenbush, Minnesota who have earned 13 wins in the feature race finale on the ice oval speedway: four by David between 1988 and 1994, six by his nephew Terry from 1995 and 2003, and three by Dustin, son of David, in 2008, 2009 and 2012. For fans, Quebec's Jacques Villeneuve recorded the most popular victories in Valcourt in 1986, 2005 and 2006.