Two seasons ago, I equipped my Yamaha Apex X-TX with Stealth skis, manufactured and sold by Kimpex. I also spent a whole snowmobiling season with these skis on my new SRViper X-TX and I assure you that after over 15 000 km with these skis, it has been personally an incredible discovery in terms of control and performance.
One of my friends is a rally racing driver and he only swears by these skis. Installed on his BRP 800R, these are the best skis he ever had to pilot on a snowmobile.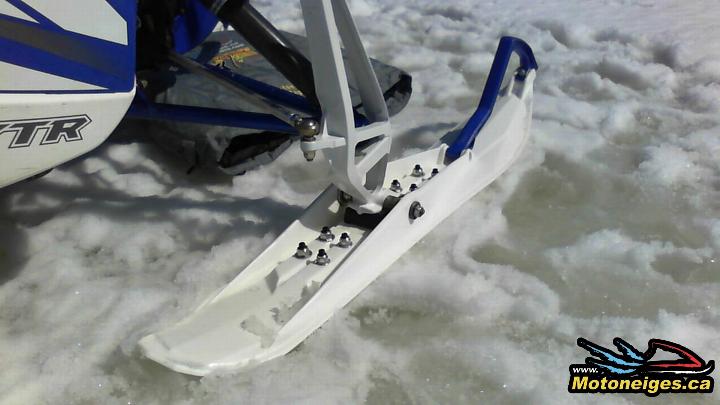 Stealth skis are firstly aggressive, even very aggressive. You must expect to use power and muscular strength to handle and pilot the snowmobile. They are not designed for smooth riding, at least not on my Viper. However, on the Apex, due to the electronic power steering, the required effort to control the machine becomes minimal. Thus, on Vector and Apex equipped with EPS, Stealth skis are surprisingly supple and, with electronic power steering, they are supple and easy, and without EPS, they are demanding and responsive.
We get very precise steering without any darting, on hard icy snow as well as on fresh soft snow. They require continuous sporty attitude. We need some time to get acquainted with this type of steering because, in the industry, standard skis are all alike in terms of steering sensation, which is different with Stealth ski due to its specific design. On trail conditions, there is no or very few understeering; oversteering often happens on the first kilometers with these skis : in curves, these skis cut, they do not slide. So, the positioning of the body and its mass center must always be at the proper place on the snowmobile to avoid ski lift in curves. These are the sensations that make this type of steering so sporty and aggressive.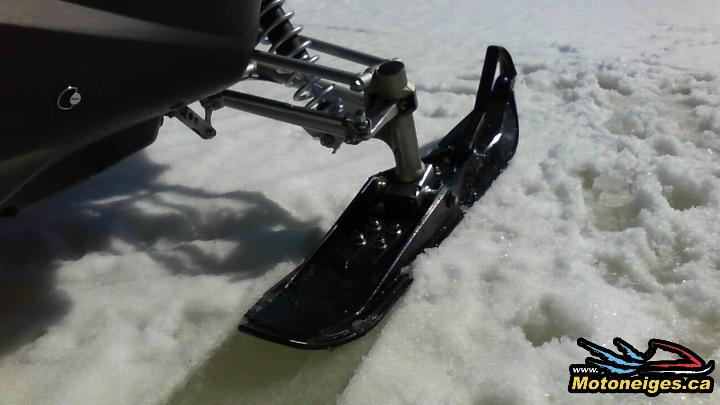 The flat ski, without keel, is made of two runners : one is not deep, thin and without carbide, located on the inner side of the ski, and the other one, very deep and with quite a lenght of carbide, is located on the outer side of the ski. Its width of 7 in. / 18 cm provides a very good flotation. Stealth skis are offered in black or white, with a choice of colours for the handles to match the colour and brand of your snowmobile. Runners are easy to replace and durable.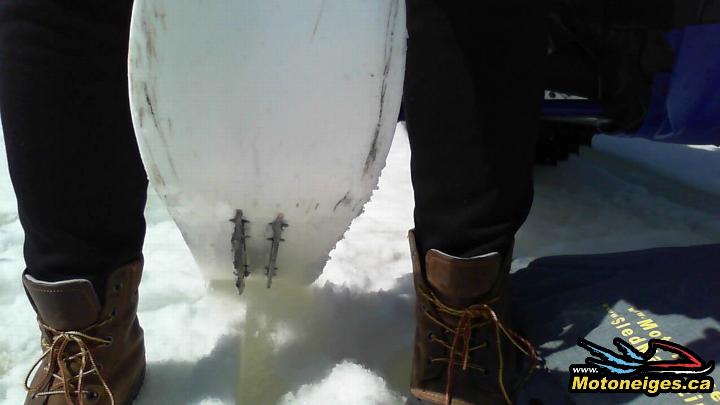 Since perfection does not exist, due to the stance between the two runners, it may happen that small rocks or branches get stuck underneath. The snowmobile cannot be operated in this condition and you must stop and use a small rod to clear the runners. The adaptor kits provided to install Stealth skis on the snowmobile may require some adjustments and modifications that can be more or less important, at least for my Apex and my Viper. If you are equipped with proper tools and if you are resourceful, it will just be fun for you to install them yourself. If not, see with your dealer the specific way to adapt Stealth skis to your snowmobile model.
To conclude, Stealth skis are truly efficient and require a certain amount of athletic qualities and pilot skills. They are made tough and durable. A few kilometers are needed to get used to them and to optimize an outstanding riding. I mark them 9 / 10.
ADVANTAGES
Efficient and sporty ski
Precise steering
No darting
Excellent flotation in deep snow
Easy reverse
Adjustable width
DISADVANTAGES
Physical effort required
Branches and rocks sometimes get stuck between runners.
Adaptors may require modifications on installation.