The snowmobile season was slow in starting because of a lack of snow, said Becky Scheller, secretary of the Roughrider Snowmobile Club in Preeceville.
The executive members of the club are: Jamin Englot, president; Scott Scheller, vice-president; Becky Scheller, secretary; and Angela Sheller, treasurer.
"We would like to wish everyone a safe and fun season," she said.
"Every snowmobiler is getting excited to hit the groomed trails and meet friends and family at the warm up shelters. Before all of this can happen, the trails need to be cleared, shelters need to get stocked with wood and trail signs need to be put up. With 282 kilometres of groomed trails through the Porcupine Forest, across open fields and along some ditches there is a lot of work for all the members to do. The club executive is looking for anyone who is willing to donate a few hours of their time to help us get a start on the snowmobile season. The more volunteers that we get to help the club, the better our trails and shelters can be. All of this may sound intimidating but with a little help from everyone who enjoys the trails, it can be fun," Scheller said.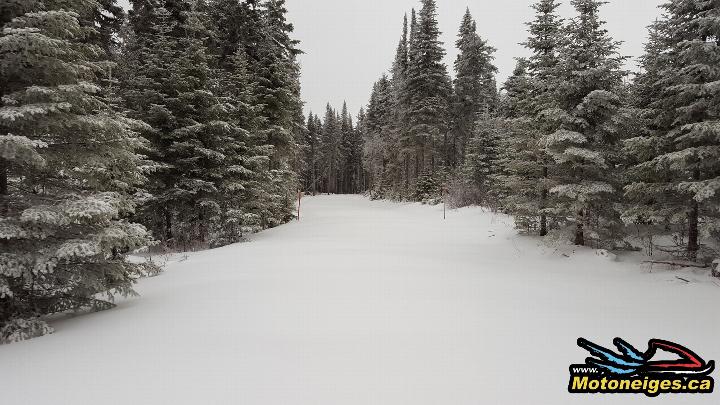 The trails are in the process of being signed and groomed with some detours necessary due to thin ice and open water, she said.
"This year there are a number of real hazards due to open water and thin ice issues," Scheller said. "We have had to re-route the trail west of Endeavour to the ranger cabin due to a landowner issue. We will update our situation on our Facebook website. The club will be hosting a family fun snowmobile day on family day, February 21," she said.
Jamin Englot, with assistance from Scott Shuya, is in charge of grooming the trails.
"Whether you want a Sunday afternoon wiener roast with the family or a more challenging ride, our trails, mixed in with rolling hills, river valleys and ample snow, can provide for all. A trek to the famous Ushta warm-up shelter or one of the neighbouring towns will prove to be a rewarding time for all. An especially exhilarating experience occurs when there is a fresh snowfall – you can push fresh tracks for miles on end – while in seclusion. The trees are laden with snow and it gives a sense of freedom, not to mention the possibility of seeing moose, elk, deer, rabbits, winter birds and many other wild friends that we share other trails with.
"So if you looking for a great sledding area, great towns and villages, great scenery and great people, Preeceville, Sturgis and Endeavour are the places to be," Scheller said.