This snowmobile is known as one of the best touring snowmobiles, offering the possibility to make some off-trail rides. It combines comfort, performance, and driving pleasure.
For 2020, BRP has made several improvements that will only increase our satisfaction. It will be available with 4 engine choices: 850 E-TEC, 600R E-TEC, 900 ACE, and 900 ACE Turbo. This winter, thanks to our partner Les Motoneiges Géro, BRP dealer located in St-Jean-de-Matha, we will be testing the Renegade Enduro 900 ACE Turbo 2020

Renegade Enduro 900 ACE Turbo 2020
Here are the main features that make it an ideal snowmobile for touring:
Electric starter
Suspension R Motion
Air-controlled rear suspension (ACS)
RAS 3 front suspension with HPG plus shock absorbers
Finger accelerator
900 ACE Turbo engine with ITC smart throttle
Improved TS pilot skis
Heated luxury seats
Heated handle and thumb
New 7.2" Wide Digital Display
Expanded REV Gen4 platform design
pDrive transmission
Medium windshield
137 X 15 X1.25 in. ice ripper XT track
Options added by our partner Les Motoneiges Géro :
Left and right mirrors.
Windscreen adjustable from medium to high.
137 X 15 X 1.5 in. Ice ripper XT track
LinQ System
Long-range LED auxiliary headlights
Snow scrapers
Evaluation of the different features
ITC system
This system, now known to most snowmobilers, consists of a cableless electronic throttle called ITC (Intelligent Throttle Control). There is no cable for the throttle, and it gives faster acceleration with less effort on the thumb. Also, you can place the throttle to work with the thumb or fingers.
With the ITC system, you can choose between 3 riding modes:
Sport mode, which is the best performance mode
Standard mode that gives more linear accelerations
Eco mode for maximum savings on fuel consumption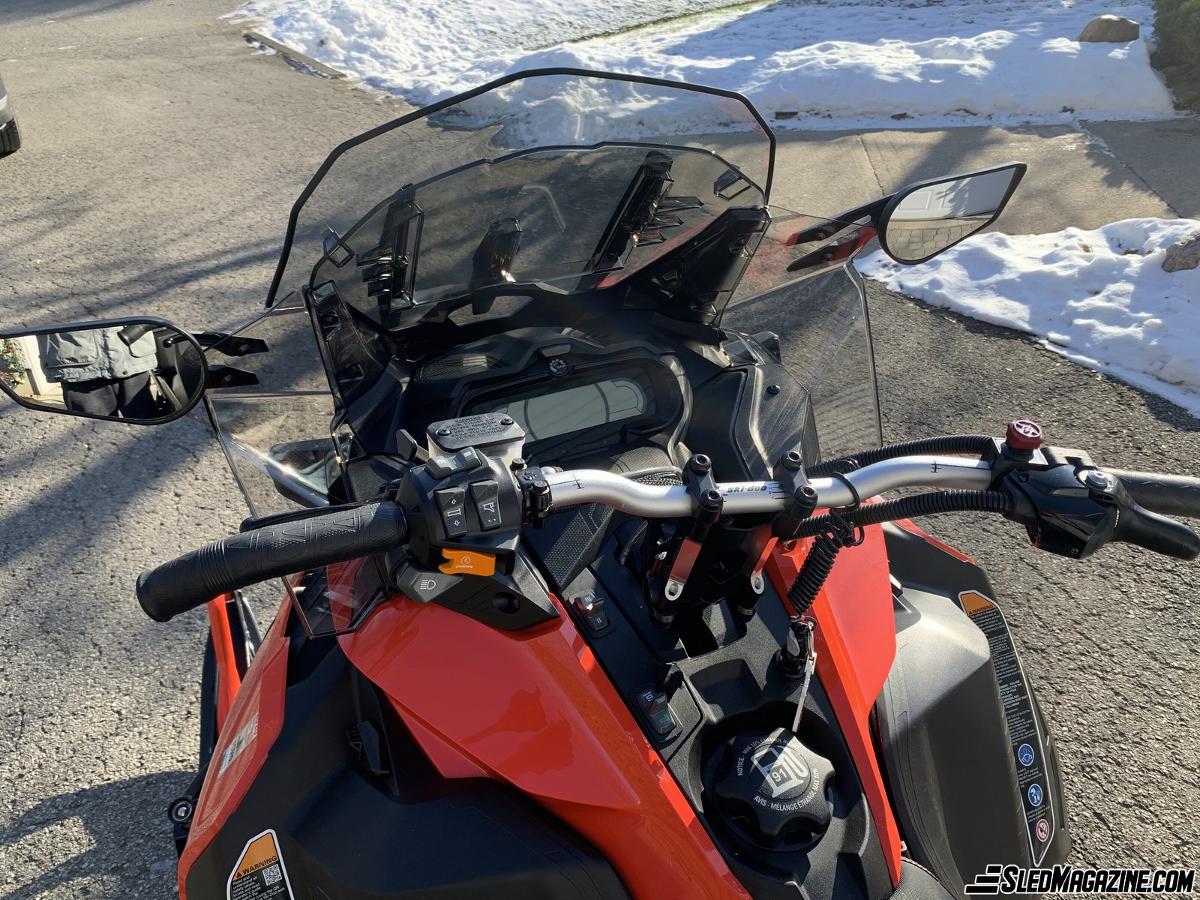 ITC Switches and Accelerator
During the test, I will check the different performances of the 900 ACE Turbo engine to see if the system is still performing well.
Transmission and engine
The 900 ACE Turbo engine is known for its smooth performance; the turbo can deliver 150 horsepower. The transmission is a pDrive that has proven its worth in the past. As mentioned above, our partner installed a 137 X15 x 1.5" Ice ripper Xt track, and we're looking forward to testing it in different trails and off-trail conditions. In theory, this track should offer superior traction and better stops.


Ice Ripper XT 137 X 15 X 1.5" track
Comfort, suspension, and ride
The seat is heated, and it should be very much appreciated during certain rides.
For the driver, there are handles and a heated thumb.
The rear suspension is a rMotion with air damper, controlled by a switch on the handles.

rMotion suspension
The front suspension is a RAS 3 with HPG Plus shock absorbers with adjustments, which should offer better control in big bumps and make the snowmobile much more stable in aggressive cornering.
The handling, the suspension, and the efficiency of the heating elements will also be points that I will evaluate during the winter.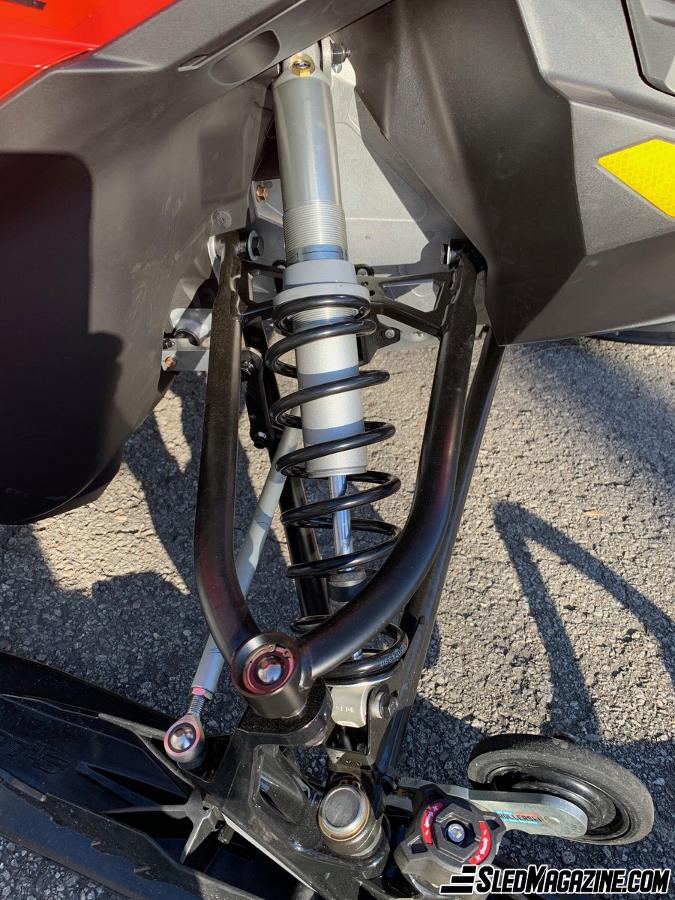 Front suspension
The snowmobile comes with the new and improved TS skis. They have a new rectangular keel design to eliminate the drifting effect encountered in certain trail conditions.
Thanks to an adjustment switch located on the front of the ski leg, the snowmobiler can adjust the height of the rail by 0.5 inches depending on snow conditions and riding style.
I will try these skis in different snow and trail conditions to properly evaluate the performance of this improved ski.

Pilot TS Skis
Other equipment
As it is an Enduro model, so it comes with a lot of equipment.
There's a new 7.2-inch wide multifunction digital indicator which you control by backlit switches on the handles. You'll find all the relevant and useful information for the driver.
This year again, it is effortless to adjust the angle of the light beam. Just open the trunk above the multifunction gauge, and with the help of a tool, you can adjust the angle of the light beam.
Our partner Les Motoneiges Géro has installed long-range LED auxiliary headlights, and I'm sure I'll appreciate this item being a person who likes to have the best possible lighting.
Long-range LED auxiliary headlights
The mirrors are adjustable and wide.
The Renegade Enduro comes on the RE Gen4 chassis with an enlarged design that is already very popular with snowmobilers due to its centralized mass and handling.
This snowmobile comes standard with a 17-inch high medium windshield. Les Motoneiges Géro installed a windshield that can be adjusted from medium to high, from 19 to 23 in. in height. This windshield will offer better protection in freezing temperatures. I will be able to tell you about it after riding in different conditions.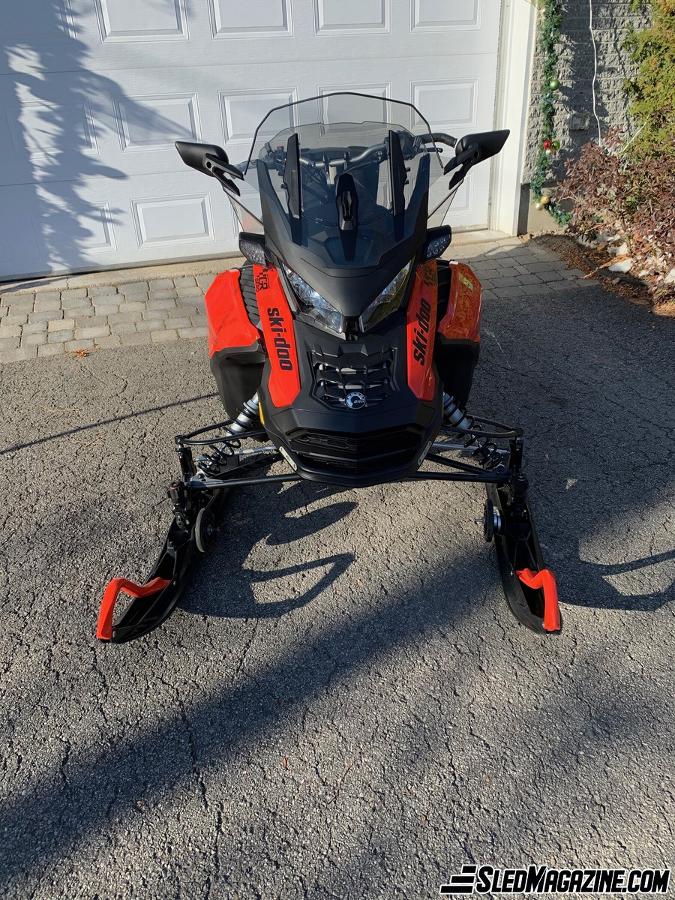 Expanded Gen4 chassis design, high windshield, and mirrors
BRP gave us a 62L LinQ cargo box, the same as the one that comes standard on the Grand Touring Limited, and that I much appreciated last year.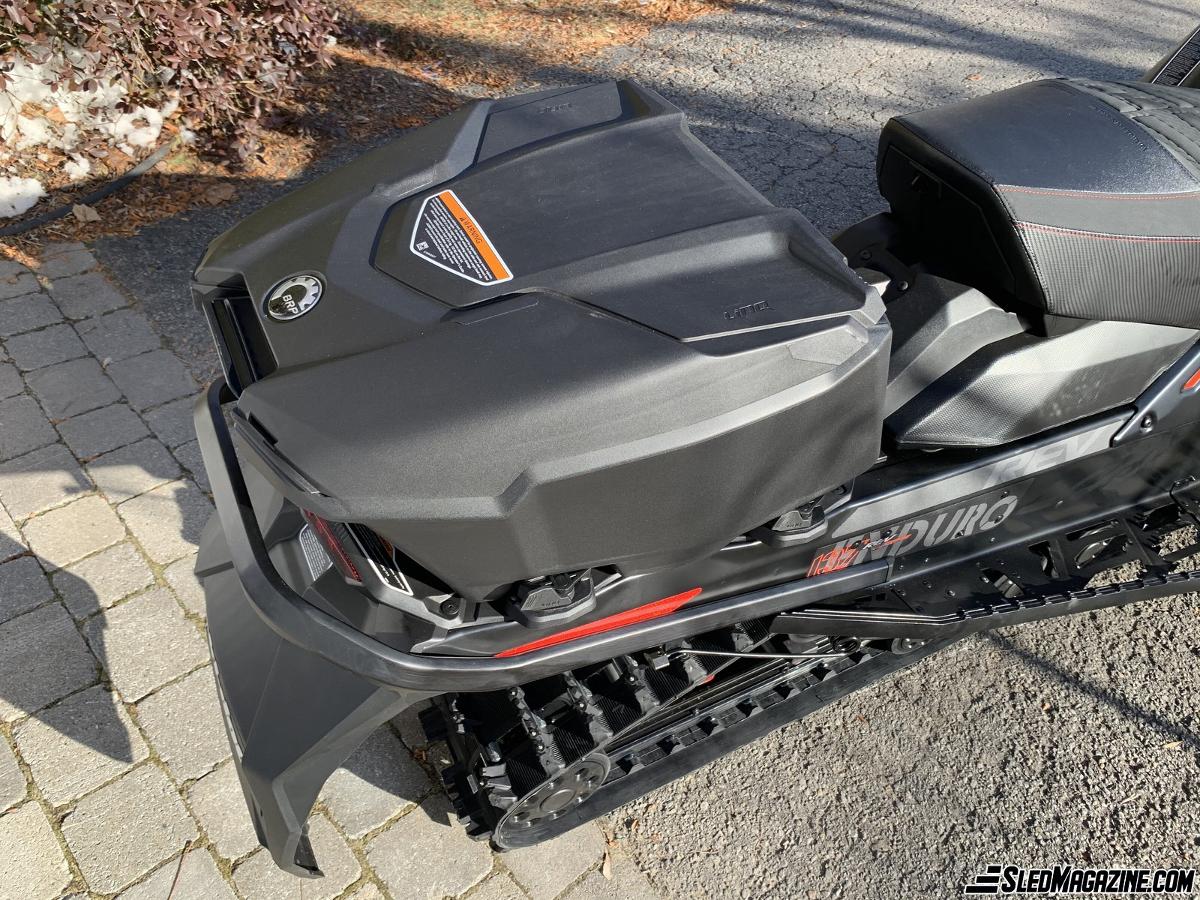 The LinQ cargo box
Finally, snow scrapers are for us a necessity that all snowmobilers should install.
You extend the life of your rails and help considerably to keep the engine cold when the conditions are not favorable.
Conclusion
Here is a summary of the points we will evaluate during our trial:
Overall trail performance of the air-controlled rMotion rear suspension.
Trail performance of the RAS 3 front suspension and HPG Plus shocks.
Improved performance of Pilot TS skis
Wind protection and ergonomics of the REV Gen4 chassis with an adjustable windscreen
Behavior and engine performance according to the 3 driving modes of the iTC system.
Fuel consumption
Clutch calibration
Lighting with long-range LED headlights
Performance of the new digital display
Overall snowmobile reliability
We want to thank our partner Les Motoneiges Géro of St-Jean-de-Matha, who provided us with this Renegade Enduro 900 ACE Turbo 2020 for our long-term test.
We also invite you to visit the store to see the full range of BRP products and to meet the entire team dedicated to customer satisfaction.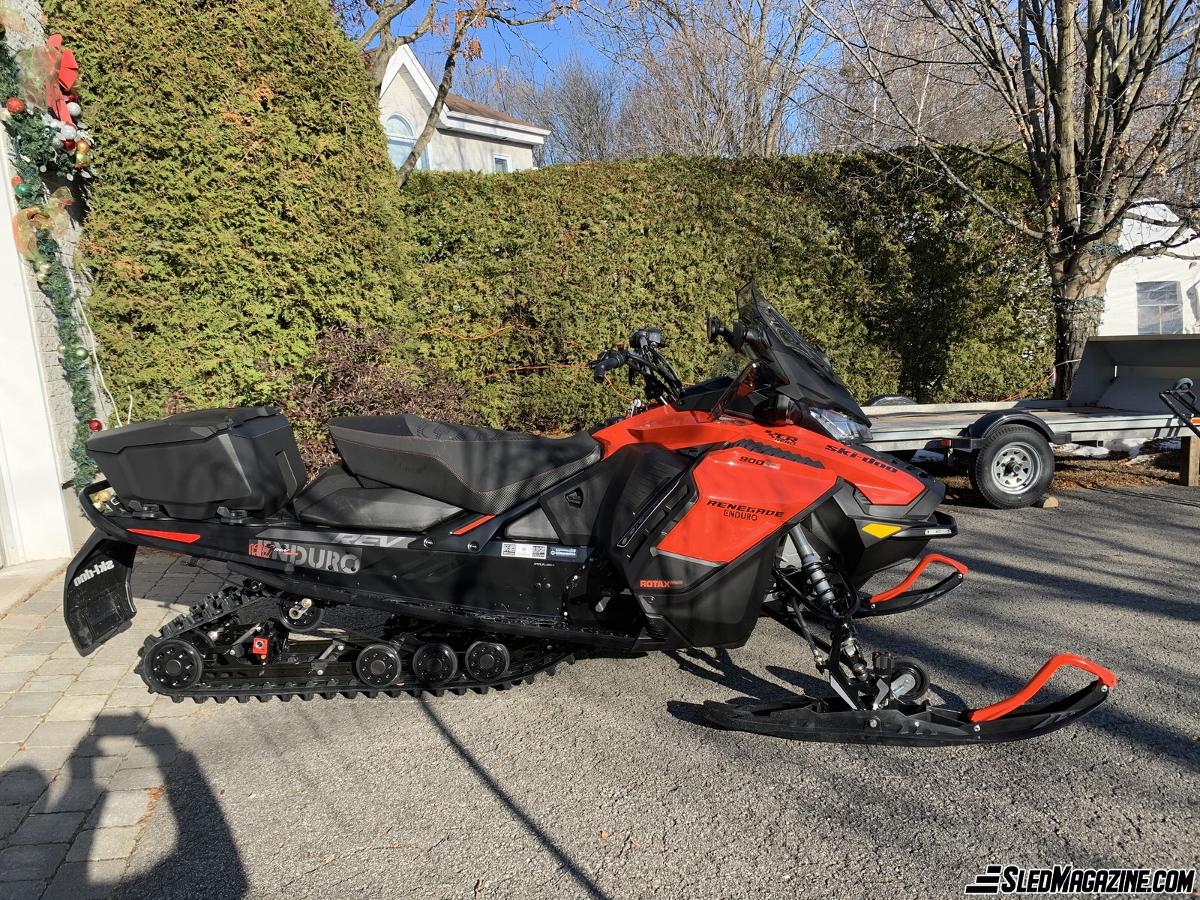 Renegade Enduro 900 ACE Turbo 2020