When Polaris designed the Indy Adventure 137 2020, they probably had the North-East market in mind. In fact, by introducing this model, Polaris is strongly entering the solo touring snowmobile segment.
Offered in 2020 with four different engines, it's easy to find the model that best suits your needs and budget.
I was lucky enough to be able to do a spring test of the 850 Indy Adventure 137. Indeed, I was able to drive more than 2000 km last March and April (Read…). So, I didn't hesitate when the opportunity came up to ride it again throughout the season. I will now be able to ride it in more "winter" conditions and temperatures.
Now let's look at the main features of this model.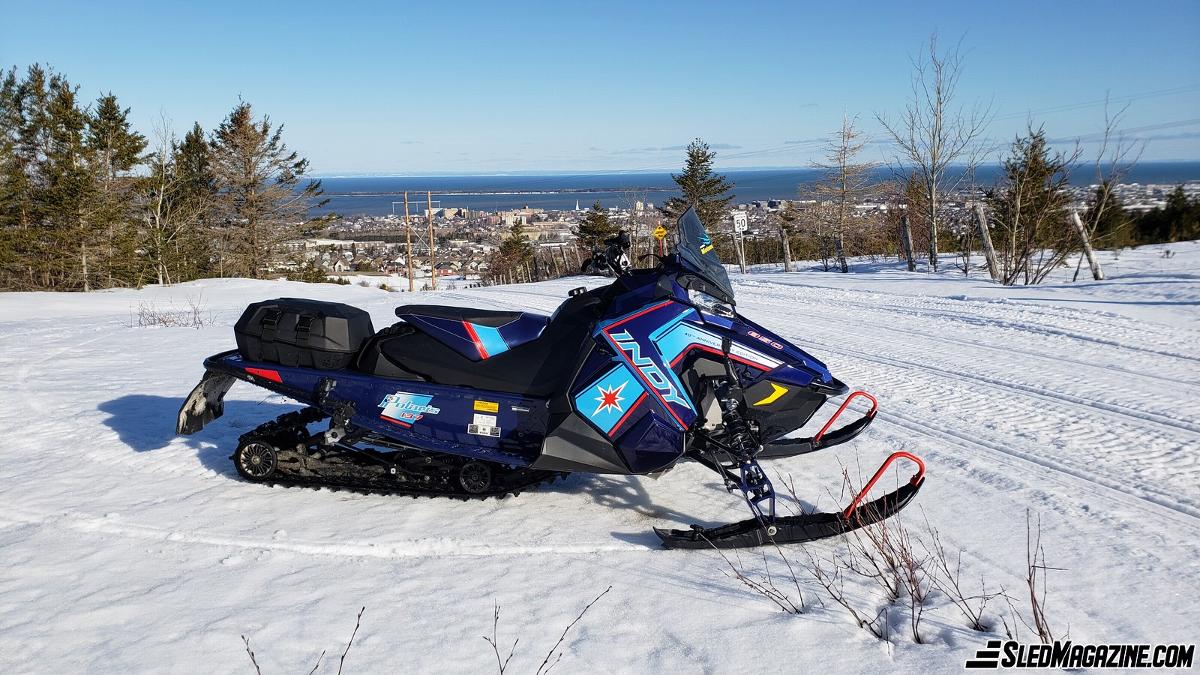 Engine
Among the four-engine options available, I chose the 850 Patriot engine, which I much appreciated (Read…). Of course, it wasn't perfect, as the engine was in its first year of production. It will be interesting to see if the 850 Patriot's programming has been improved for its second season on the trails. I'm looking forward to it to see if the oil consumption will be less than last year. In terms of performance, last season's unit was slightly better after the programming update at the dealership. Will the engineers at Polaris have taken other tricks out of their bag over the summer to get a little more performance out of this engine? That's certainly something I'm going to discuss in my other test articles on the 850 Indy Adventure 137.
AXYS Chassis
The AXYS chassis is one of my favorites in the industry. The riding position it offers gives me immediate confidence, and I remain in full control of the snowmobile with a minimum of effort. I will, therefore, be able to push my analysis of the Indy Adventure's behavior further, especially in more challenging conditions and on very long rides.
Suspension
The 850 Indy Adventure is equipped with a combination of the front AXYS suspension and rear Pro-CC 137 suspension. The shock absorbers are Walker Evans with reservoirs and compression adjustment. We can adjust the suspension according to our preferences, our riding style, and the trail conditions in front of us. I'm going to focus on suspension work and snowmobile handling during my test drive.

Track
We chose the 1.25 inch ICE Ripper XT track. This track is pre-studded, which provides more grip on icy surfaces. It will be interesting to see how it behaves in deep snow where a larger profile is usually better.
Dials
The unit supplied to us is equipped with an interactive digital display set. This set offers many possibilities, but it also includes an integrated GPS.
Standard Accessories
Since this is a Touring Solo snowmobile, Polaris equipped it with side mirrors and a spacious tunnel bag. You can bring a good amount of luggage with you.
I invite you to visit SledMagazine.com regularly to follow this test ride throughout the season. Indeed, more articles will be published about my test drive of the Polaris 850 Indy Adventure 2020.
It's now time for me to hit the trails for some "Adventure"!