Since my "first 1,000kms" report the SledMagazine.com / Motoneiges.ca Switchback has traveled many more miles in many regions of Quebec as well as Maine and Vermont. The 800 Polaris has been problem free and flawless in its performance. In my "initial impressions" article, I noted that the components of the Polaris seemed to be of high quality.
This has been my experience and I have not had a component malfunction or failure of any kind. No shock fade, nothing bent, nothing worn out, nothing broken and original sliders. No recalls, no service bulletins. From "no problem" cold weather starts to reliable consistent performance, the Switchback LE has been a pleasure to experience and an enormous amount of "problem free" fun.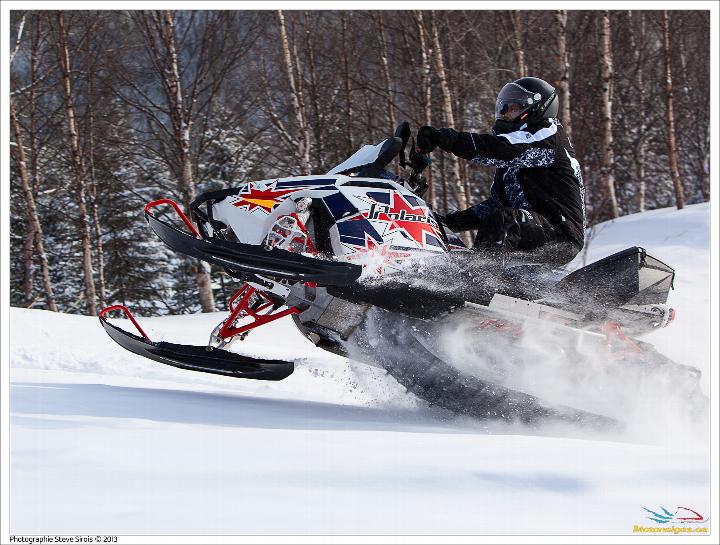 Polaris 800 Switchback ProR LE
Performance / Consumption
Performance continues to be impressive with the 800cc Clean fire twin. It can make you smile anytime you wish to squeeze the buzzer and take a tighter grip on the bars. My MPG has typically been above 12 MPG with 13.8 MPG being the best that I have experienced so far (without trying). With the 11.6 gallon fuel tank, range has not been an issue.
I have continued to find the smell and smoke associated with this clean generation 2 stroke to be totally acceptable and my riding gear still dries in the house without notice. Another 4 stroke versus 2 stroke comparison for 2013 was to experience any inconvenience from the need to carry or find oil. Since my first report my oil consumption has decreased to an impressive 200 miles per quart, giving an easy 700 mile range with .3 of a quart in reserve. Put one quart in your bag and you are good to go 900 miles without having to search for oil.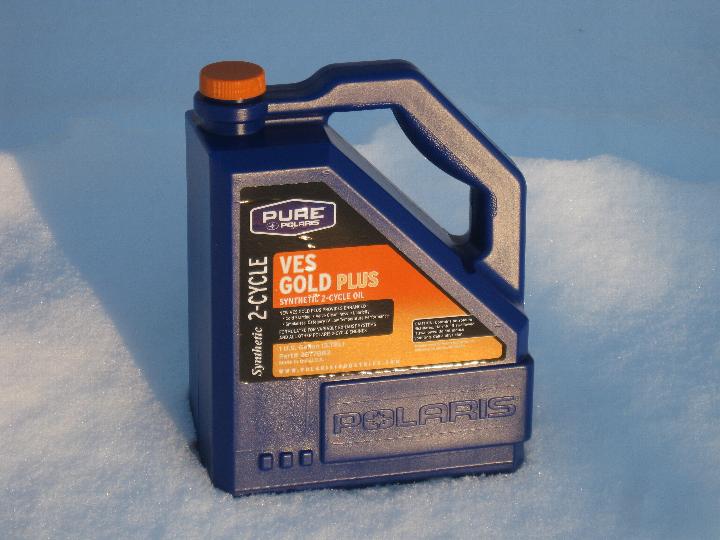 I have continued to use Polaris VES Gold Plus oil which is easily available at some point within the oil range. The need to carry or locate my preferred oil has definitely not been a problem in my return to 2 stroke power and I have not needed to perform or incur the expense / transportation of a 4 stroke oil change.
Adjustability continues to be a premium feature of the Polaris ProR sleds. Shock and spring adjustments have been easy to accomplish and of obvious handling effect. The front ski springs have a jam nut, but it has always been possible for me to adjust pre load with gloved hand.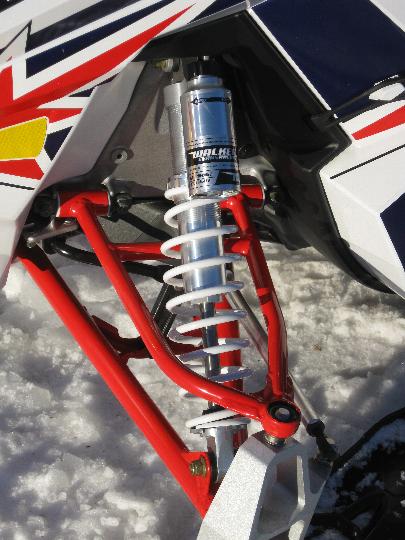 It has been my experience that the center shock/spring adjustment can be difficult to adjust, as access is limited and no tool is included. I found that shortening the handle length of a spanner wrench (not included) made it easier to adjust my center spring preload.
The bump absorbing capabilities of Polaris' ProR suspension package is truly a high point of this snowmobile. For over 2,000 miles I have experienced impressive suspension performance with a compliant, comfortable feel.
Polaris' "terrain domination" and "bottomless" slogans are completely accurate when the preloads are properly adjusted to rider weight and conditions. The increased length of the Switchback ProR rear skid bridges the bumps more effectively and adds to the overall smoother feel of this sled when compared to short track models.
The bump steer eliminating ProR front suspension with the LE Model's Walker Evans compression and rebound adjustable shocks is noticeably straight, stable and predictable in all conditions encountered.
One of the stated comparisons for this season's long term test was the 136" track length of the Switchback crossover model versus short track trail models in terms of trail handling and turning characteristics. I have found the 136" Switchback to turn well at moderate speeds, but I would not characterize its turning effort and manners as being equally agile to what is possible with short track models.
As always, your final choice of model should be targeted to your particular riding style and terrain. I typically ride with a group of short track riders and at a more spirited pace, I find that the longer track requires more effort to turn with precision. This characteristic is most certainly magnified by the significant traction of the Spring only optional 1.75" Back Country track (*see traction) which is installed on the SledMagazine / Motoneiges.ca Switchback.
Paddle size is a choice and each choice comes with advantage and disadvantage, that's the beauty of choice. As the season has progressed and trail surfaces throughout the Northeast have become harder with less snow, my original impressions of the 1.75 have changed. My riding experiences are most defiantly on trail and the deep paddle of the 1.75 is not the ideal match for my riding style and conditions.
While the braking and off trail traction are truly amazing, the cornering balance is compromised by the significant traction of this track. If you are anywhere near riding exclusively on trail, I would select the 1.352 Cobra track which would certainly provide more traction energy release in the turns. With that "less than rocket science statement" said, if you are a rider who experiences any significant amount of off trail riding this track is incredible and would be an exceptional selection.
I have found the riding position, seat contour /firmness and wind protection to be totally rider friendly in a wide variety of conditions. Early in the season I predicted that the standard lower windshield (not the fly screen) of the LE model would offer adequate protection in more extreme temperatures and that has been my experience. In -20 F temperatures my head, neck and chest remained adequately protected and comfortable. I did add hand guards before my first ride and they have definitely proven to be a necessary feature.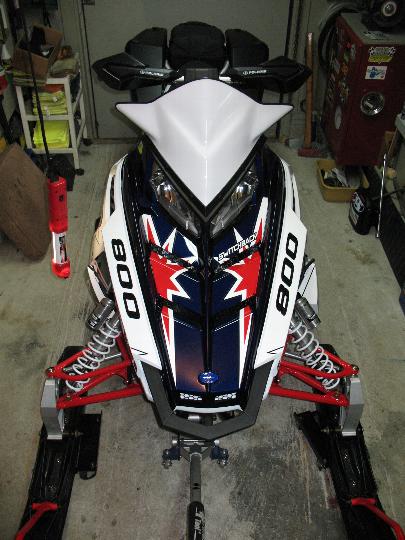 During the coldest of rides, I also put a gauntlet on the throttle hand. I have read feedback that many consider Polaris hand / thumb warmer controls to be small and difficult to manipulate. I have had no problem finding or using them with ease and accuracy with large gloves. The reverse button is small and you must be deliberate in finding and pushing it, which I find to be a built in safety for unintentional activation. The LE model included the adjustable ROX riser.
After its initial set up, I have occasionally repositioned the height of the handlebars with this easy to use feature, but always seem to put it back to the previously preferred position. If your riding environments are always the same, you probably will not experience maximum benefit from the ROX rider option, but if you frequently change from on to off trail, you would use and enjoy this feature much more.
Storage is another area where our Switchback Adventure and LE model really excels. The included rear aluminum rack and available Lock & Ride storage accessories are exceptional. All my stuff, secure and dry every time. This integrated storage system is admired and positively commented on everywhere the Switchback LE has traveled.
Fortunately the rear aluminum rack is available as an option on all current Switchback models. The complete storage setup is not cheap to buy, but what high quality, high function accessory is. Just do it and enjoy the best baggage system on the snow!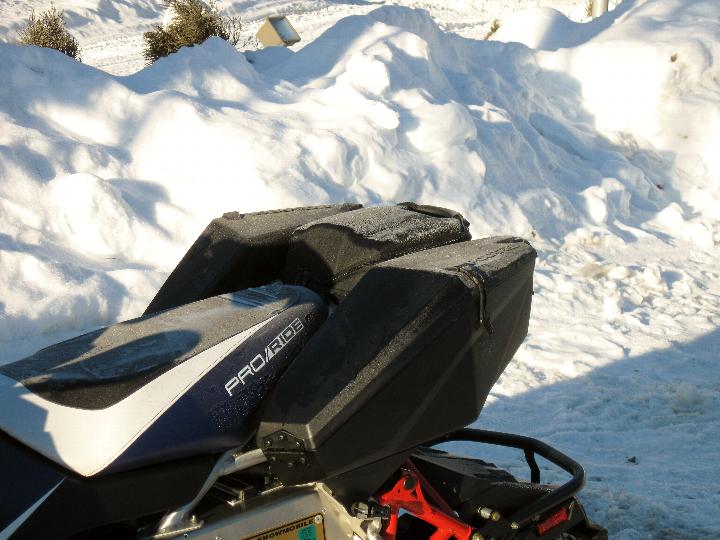 A big part of Polaris' Spring order options is the desirable opportunity to create an eye catching, stand out from the crowd, custom look snowmobile. From my very first ride the Retro wrap Switchback has turned heads and been recognized by SledMagazine.com / Motoneiges.ca readers from across the Northeast.
On a recent trip to the Abitibi region of Western Quebec, a group of snowmobilers from the Quebec City area pulled over at an intersection and ran towards my waving and yelling "Greg du Vermont"! Members of this "far from home" group had been participants in Polaris' Terrain Domination Challenge event held in January at the Northern Outdoors Resort in The Forks Maine.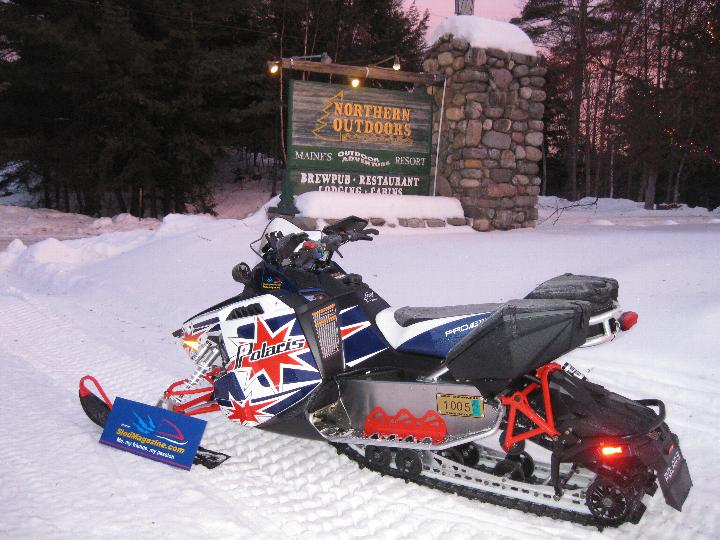 This fun loving gang recognized the unique Polaris Retro wrap graphics of the SledMagazine.com Switchback and knew it was "Greg du Vermont".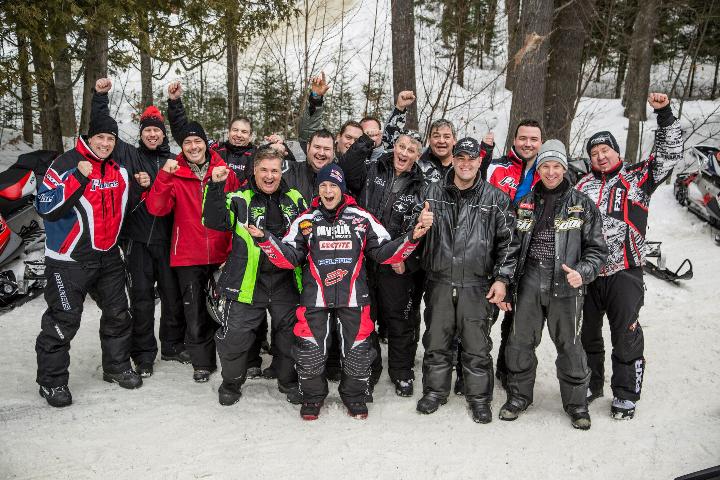 I continue to enjoy the experience of my long term trial of the Polaris 800 Switchback ProR LE and look forward to the remainder of my season. If you ever see the Retro Switchback, please say hello. I would be happy to answer questions and show you the features of this premium snowmobile.