During last winter, I was lucky enough to test a pair of Baffin Impact boots. It is a model from the Baffin's Polar Proven specialized boots and is constructed to fight the most bitter colds. Indeed, the boots are rated to perform at -100 °C.
When I looked at this pair of boots, I immediately thought that they were huge, but when I took them in my hands, I realized that they were a lot lighter than what they seemed. I put them on and I quickly felt for the comfort they bring. The choice of material is perfect and gives an outstanding comfort for such a large boot. I felt almost as if I was wearing slippers. We must avoid cotton socks because they tend to come down when we walk.
The fastening system is very simple; it is made of a large double plastic buckle that can be tied and untied very easily. The tassel lock snow collar indeed keeps the snow from getting inside the boot when we move into deep snow. On its part, the outsole has a very good grip even on iced surfaces. The patterns are very deep, so the Impact boots will last for long.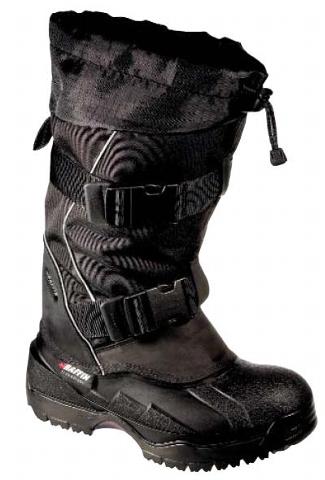 During the trials from November to April, I experienced so many different snow conditions. From the first snow fall to the wet spring snow, I put the Impact boots on every time I could. I even put them on to go to work and to clear the snow from my garage access. In short, I rode about 8 000 km on my snowmobile with the Impact boots on and they protected me perfectly from severe weathers and cold. However, I did not test them in very cold weathers since last winter the climate has been rather mild.
Concerning the maintenance, the materials can be cleaned very easily and the inner shoe can be put on and off easily. Even after a complete day with the boots on, the inner shoe stays dry.
During the next season, I will continue to test these boots. I wish for weathers under 30 °C or 40 °C. I also want to test them without any socks on in order to check the comfort on a long ride.
Thanks to Baffin for giving me the opportunity to carry out these trials!