Quebec native Mathieu Morin put in one of the biggest performances of his eastern snocross career this past weekend, sweeping the Pro finals at Plattsburgh's Crete Civic Center as East Coast Snocross (ECS) completed Round 2 on the nine-race 2011 campaign.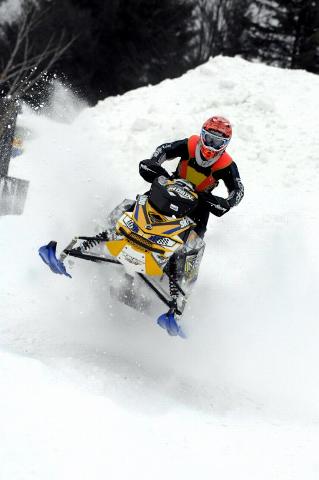 Morin, of Val-D'Or, fought tooth-and-nail with fellow Canadian Dave Allard in Sunday's Pro Open final. After grabbing the Holeshot, Morin led the first nine laps until Allard snuck by with a slick move coming off Turn 2.
While everybody else battled side-by-side for position, Morin (Ingles Performance/Ski-doo) went back after Allard with a vengeance and thrilled the crowd with a last-lap, at-the-line pass for the win. With the border just a short drive up I-87, Dave Asselin made it an all-Quebec podium with an impressive third-place run. This was one of the most hotly-contested snocross races seen anywhere in the east for many years.
In Saturday's Pro Stock final, top qualifier Matt Piche (Hulten Speed Sports/Polaris) got into trouble on the first lap and was never a factor. Multi-time champion Jason Boron (Green Mountain Racing/Arctic Cat) was first off the line, yet Morin slotted into second and had the lead as they crossed the stripe for the first time.
Former champion Danny Poirier eventually worked his way past Boron to take second, while Allard and rookie sensation Corin Todd (JAC Racing/Arctic Cat) completed the top five.
In the Pro Vet final, Boron kept his Arctic Cat out front, holding off the challenges of Todd Smith (second) and defending champion Joe Lemieux (third) for top honors.
That theme of Canadian domination continued in the Pro Women class, as the super-fast Jennifer Pare (pronounced Par-a) dominated the final. Stephanie Lemieux-Bell powered her way to second, while Melanie Acker filled out the podium. Pare came to Plattsburgh with a victory last November at Duluth to her credit, and often beats the guys in Sport division classes.
In Semi-Pro action at Plattsburgh, another SCM regular prevailed in a final chocked full of talent. Pierre Vincent Fillion rode to victory on Saturday, while ECS sophomore Ash Woskob gave the JAC Racing squad a solid second. Returning veteran Dale Petrus filled out the podium on his well-tuned Polaris.
On Sunday, it was veteran Chris Ackerman (Green Mountain Racing/Arctic Cat) on top of the hill. Ackerman out-gunned Fillion and Petrus for top honors in one of the day's best races.
Ed Bandel (Polaris) was the big winner in Sport division action over the weekend, sweeping the Super Stock finals. Mike Pilotte and Tyler Brancifort claimed second and third both days. These three young athletes will battle throughout the season for the coveted Choko Design Sport Cup award. Bandel made it a hat trick Sunday when he claimed the Sport 600 final over Jarett Catlin.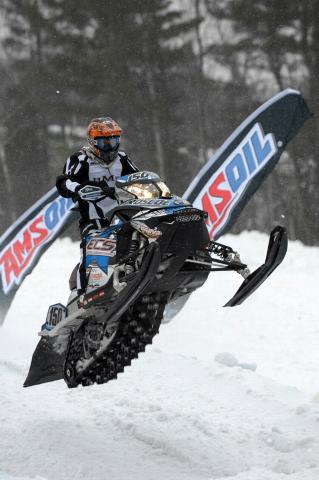 Connor Roscoe continued his 2011 hot streak with three more victories in the Junior division. The young rider from Cheshire, CT, rode his Ski-doo to wins in Jr. 14-15 and Jr. 16-17 Stock 600 on Saturday, then backed that up Sunday with another win in Jr. 14-15. Jayme Lynch picked up the victory in Sunday's Jr. 16-17 Stock 600 final.
Other final round winners over the weekend in Plattsburgh include Dave Camara III (Jr. 8-10 Stock 300 Saturday & Sunday); Hunter Patenaude (Jr. 10-13 Stock 380 Fan Saturday & Sunday); Montana Jess (Jr. 10-13 Stock 600 Fan Saturday & Sunday); Abigail Catlin (Jr. 10-13 Stock 600 Fan); Joe Lemieux (Plus 35 Masters); Daryl Nutting (Plus 25 Stock); and Sarah Acker (Women Stock 600 Saturday & Sunday).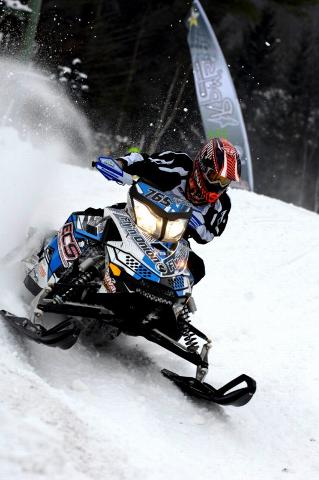 East Coast Snocross would like to thank Mike Perrotte, Steve Fuller and Sherm Hamel of Airborne Speedway for their tireless efforts to make Round 2 such a huge success. The team of Mayor Donald Kasprzak and the North Country Chamber of Commerce set new standards in local support. Both sanctioning bodies (ECS and SCM) were the beneficiaries of their efforts.
ECS officials would also like to thank the team from SCM for their efforts last weekend. The racers and staff members from our neighbors to the north greatly enhanced the show. With great racing, world-class freestyle from Rave-X and big crowds both days, a return visit in 2012 is already in the works.
East Coast Snocross, presented by Woody's Traction & AMSOIL, is the new sanctioning body for snowmobile racing in the northeastern United States. ECS maintains a regional circuit intended to keep grass-roots snocross racing healthy in this part of the snowbelt, while also cultivating new talent for tomorrow's factory-backed Pro teams.
Next up for ECS teams is Round 3, set for this coming weekend, Jan. 15-16, on land owned by the Fire Department in Ossipee, New Hampshire. Gates open at 10 a.m. each day.
For full results in all classes from Plattsburgh or to learn more about ECS, please visit them online at www.eastcoastsnocross.com.