When we talk about Charlevoix, every snowmobiler I know thinks about beautiful snowy trails in the outstanding scenery between the river and the mountains. If we talk about accommodation, the Manoir Richelieu comes to mind immediately and with reason! However, many snowmobilers enjoy more than one trip with a night stay in the same season and thus, they are looking for the right quality / price ratio. Many lodging facilities offer various packages that are very interesting for the snowmobilers who travel and look for an accommodation package they can reach directly via the trails.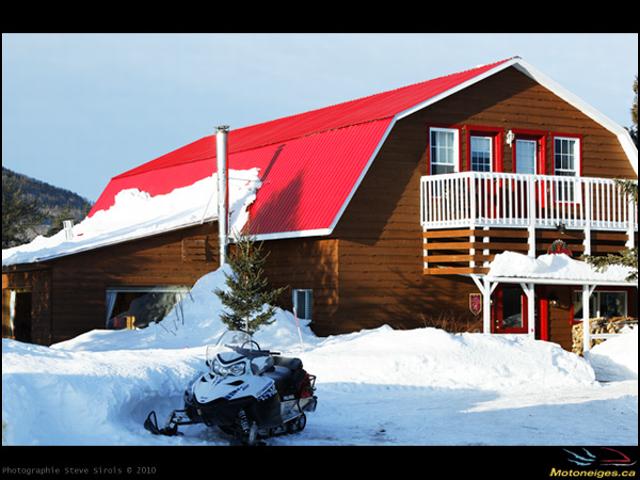 However, it is harder to combine competitive rate, good food and personalized services, and all this, in a warm place with a unique cachet. The Miscoutine Inn offers all the above, in the heart of the beautiful region of Charlevoix, via Trans-Quebec trail # 3. Located in St-Aimé-des-Lacs, the inn is well identified in the trails and is connected to the provincial network by their private trail of about 5 km, all correctly maintained. Right at your arrival, Éric and Bénédicte, the two owners originally from Europe, will welcome you warmly in the dining room. You will find a warm ambiance with wood pieces, with a bar and a large fireplace for those you like a drink and relaxation after a day on snowmobile.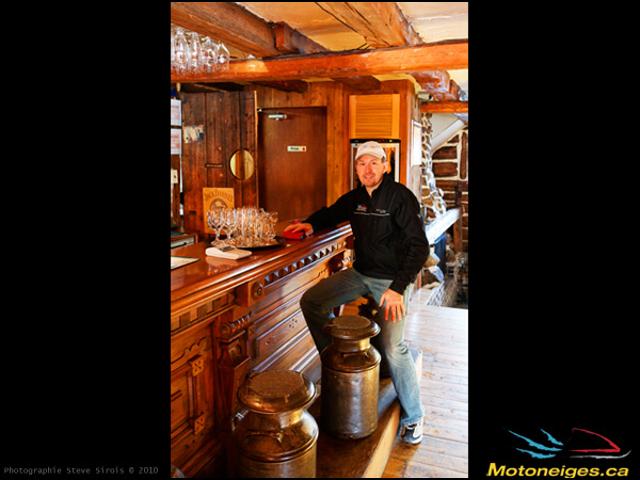 After meeting with your hosts, they will bring you to your country style room where 1 to 6 persons can stay. Then you will get settled in comfort and you can have a nice shower before going to the dining room and enjoy an outstanding table d'hôte. Even if there are many local menu choices, we chose the popular game brochette with wapiti and white-tailed deer. We had a wapiti terrine in entrée. This dining is one of the best tables in Charlevoix; it will transform a snowmobile ride into a dining experience at a great restaurant. Finally, the homemade desserts will make you forget your resolutions of January 1st. We must talk about the variety of breakfast menus, such as the famous crêpe bretonne inspired by our hosts' origin.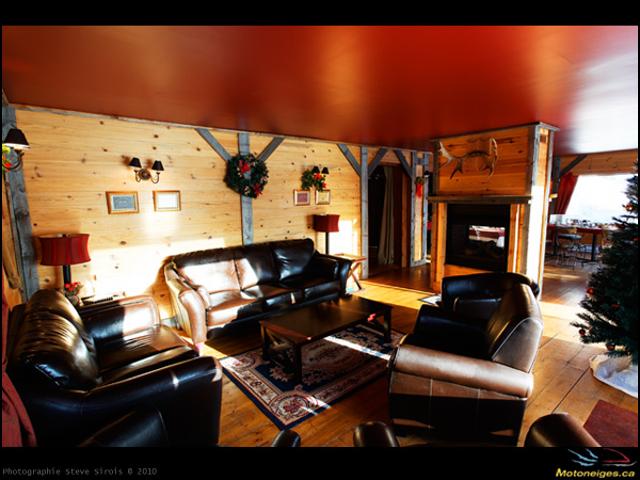 Finally, we must not forget the most surprising element of this visit, the 1st quality / price ratio. Indeed, for 80 $ to 95 $ per person, depending on the number of persons by room, you get a package including the table d'hôte diner, the room and the breakfast. Offered at a traditional motel rate, this package is a very nice discovery for those who are looking for something a little different in the world of snowmobile packages.
A place to visit if you plan to ride in Charlevoix.