Keller will attempt to travel the distance within 60 days. The Keller Family Community Foundation, a nonprofit formed by Keller and his family this summer, will sponsor the Snowball Cancer Challenge, a fundraiser to raise awareness and money for those affected by cancer.
"Anybody who knows anybody knows someone who has cancer," Nick Keller said. "It affects everyone."
Keller's mother, Mary Jane Keller, died of breast cancer March 21, 1989. She was 56.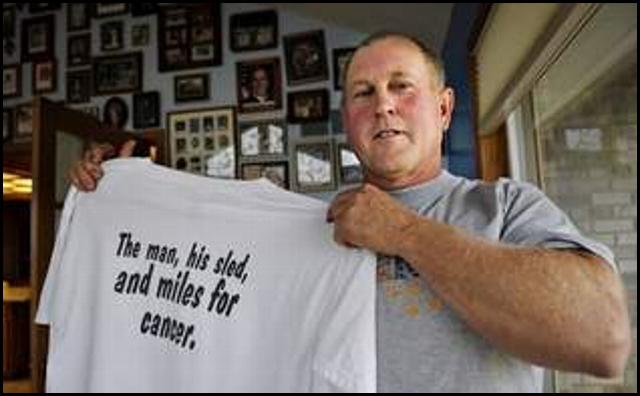 As his 56th birthday approaches in April and the anniversary of his mother's passing nears, he knew he wanted to do something. Coupled with a challenge from a local snowmobile dealership to make an attempt at breaking the record, he decided to turn the personal challenge into a way to give back.
The natural outdoorsman and avid snowmobiler regularly travels to a second home in Ironwood, Mich. The most he's traveled in a day is about 400 miles, he said.
Known as the "Mileage Man," he's not worried about making the 12,000-plus miles. He has traveled more than 11,000 miles in the past two years. What he looks forward to most is those who might join him along the way. "The record is secondary," Keller said. "The main cause is cancer."
As he attempts to break the record, Keller will travel state and local trails through Minnesota, Wisconsin and Michigan — all familiar territory.

Keller and his wife Janet operate Nick Keller Masonry Inc. in Richmond. While this is the kick-off event for the Keller Family Community Foundation, all are eager to see the turnout and what can be done next. Currently, they are working on finalizing sponsorship.
Donations have already started coming in, Janet said. From phone calls and people dropping off donations at the family's business, response to the upcoming challenge has been positive, she said. "We've had open arms," Nick Keller said.
The most heartwarming display of support came earlier this month when a 4-year-old girl put all the money from her piggy bank into a sandwich bag and brought it in, saying something like, "Here's all my money to help the sick people."

"That was priceless," Keller said. "The emotional aspect of this is (powerful)."
The child's father said they read about the challenge in a local paper and shortly after, he heard the clinking of change as banks were emptied, Keller remembers.He has also heard from fellow snowmobilers indicating they plan to join him on his journey
A giving family
Julie Keller helped her father design the logo for the event as well as start the foundation. While there is no specific fundraising goal, it is nice to see the response, she said.
"This is a startup nonprofit," she said. "We're hoping to create a perpetual fund. … We still have to determine what the needs are." Keller said while other organizations raise money in support of research, KFCF is different. Whether it's gas cards or money for a hotel stay for families visiting sick relatives, they want to provide something tangible, she said.
"Our focus is on making a difference with people," she said. Julie said they hope to set up a way for people to track him via their Web site. Nick Keller would like to start the challenge Dec. 26, but it all depends on the weather. He would also like to have a local run before the event to spread the word even more.