Again this year, I had the chance to wear Kimpex's CKX snowmobile clothing. As I am a test pilot for SledMagazine.com since many years, I had the opportunity to test lots of clothes in all possible weather conditions. We rode many thousands of kilometers on our snowmobiles and we have been able to test the quality of what we were wearing.
I must say that this season, I have been very impressed by the wonderful Snowflake jacket. The new print WDF white has really pleased all snowmobilers I met, especially the women. The Reissa coating is breathable and waterproof. The 3M reflective piping increases our safety, mostly at night time… The adjustments on hips give us quite a look on trails ! We just adore the trendy fabric used by the manufacturer; it really gives a younger look. What a brilliant idea to include a 100 % polyester Fusion lining with Thermolite insulation.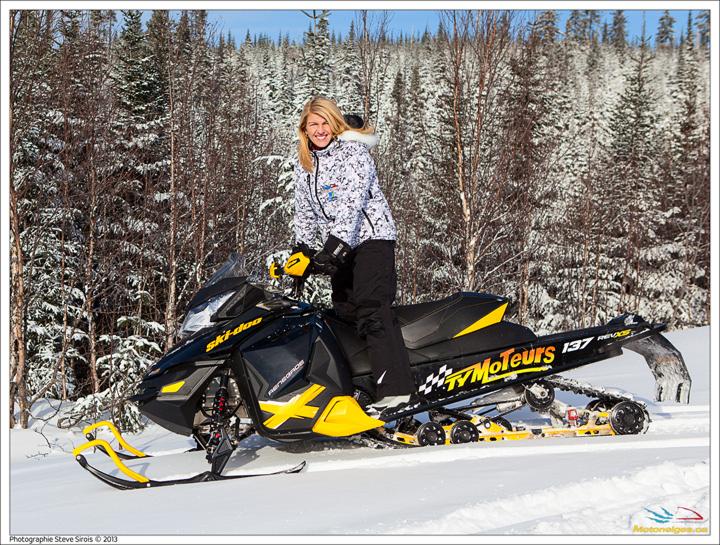 At the end of January, I took part to the HP television show and the weather was very cold; let me tell you that the Snowflake jacket has been more than useful. It took 2 whole days outside to film the episode and yet, the Snowflake jacket kept me comfortable and warm. Again, the multi-layer clothing is the best way to enjoy winter because in the province of Quebec, sudden changes of weather are usual ! You just have to remove the Fusion lining when the weather is milder. The only thing that bothers me is this : I would appreciate to have the choice between the standard synthetic fur and a natural fur on the removable hood. I think that the synthetic fur will wear out quickly.
Now about the gloves ! As many others, I often get cold hands during long rides. I prefer gloves over mittens because I get a better control of my machine with gloves. Even if I tried a wide variety of models, none of them kept my hands warm ! This season, I tried the Throttle gloves and what a surprise, no more cold hands ! Once again, the multi-layer factor paid off ! The removable lining is made of Bemberg fabric, plus Thinsulate and 3 mm sponge foam. I also give an A to the small Thermoflex gloves that I use in so various occasions (snowmobile adjustments, car riding, jugging); they are very efficient at a really low price.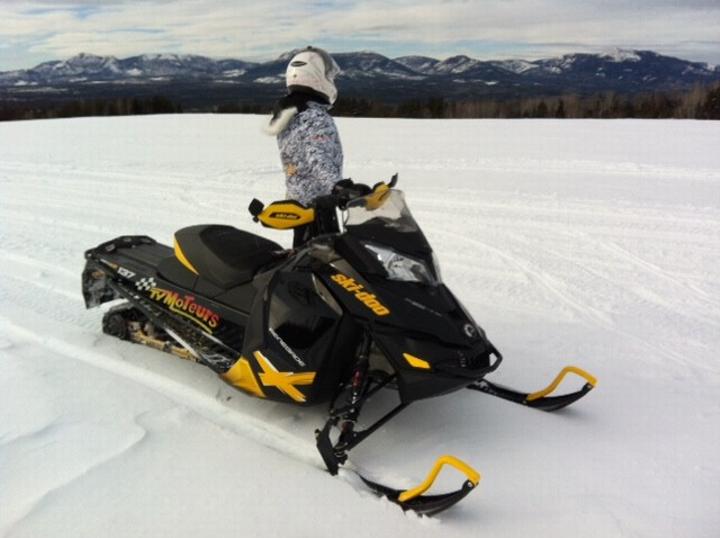 I am truly addicted to Skin shirt and pant. Women may choose between two versions of pant, the legging and the more comfortable yoga pant. I recommend them each year. Everyone should own a Skin shirt and a Skin pant !!! Not only snowmobilers, but all outdoors sportpersons should. The high-tech fabric of the clothes keeps us warm. Also, the Skin shirt and pant dry up fast when you sweat heavily. I know it for a fact, I tested it many times during my races.
Each year, Kimpex offers innovative products. This Québec company keeps on introducing high-tech clothes that allow us to enjoy our long rides and some of our passions.
With very competitive prices, I think that Kimpex's CKX is definitely the brand you should choose for the next seasons !.