The 26-year-old sled and dirtbike freestyle specialist from Ellsworth, Wisc., had the best stable of sled tricks in the early days of the snowmobile freestyle movement (2003-04). But after two years of disappointment at Winter X, Hoyer finally harnessed his substantial talent in 2009 and claimed the silver medal. It seemed like a long time coming.
With a large arsenal of difficult tricks first learned on his dirtbike, Hoyer was a medal favorite in both 2007 and 2008. However, Hoyer tore his left ACL after landing in a bomb hole during Winter X11 practice, knocking him out of the comp. He continued to ride and trick on his dirtbike while waiting to get his knee repaired, and in April 2007 he over-rotated a backflip on his dirtbike and broke his right tibia and fibula. Unable to walk and with a plate in his leg, he spent two months in a wheelchair and was cleared to ride in October 2007.
Still ailing from those injuries, Hoyer competed in Snowmobile Freestyle at Winter X12. With his confidence shaken, he was tentative in both of his Freestyle runs at the event. He threw more dead sailors than tricks and finished 10th.
After that disappointment, he dedicated the summer of 2008 to practicing for Winter X13. When he arrived, his full freestyle arsenal was ready. "I've never felt this prepared in my whole life," he proclaimed before the event.
The work paid off. In Hoyer's first elimination run, he pulled out most of his big tricks: a kiss of death (very rarely done on a sled), no-handed backflip, one-handed Hart attack, holy grab and Superflip. He posted the highest score of the round.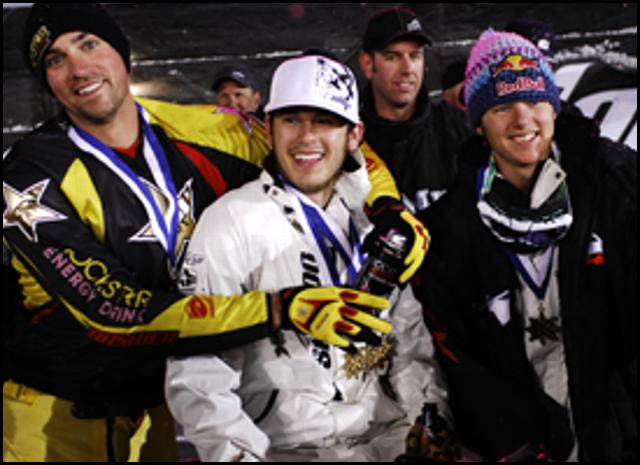 Hoyer (left) finally got his WX podium in 2009; Parsons (center) took gold, Heath Frisby bronze.
In the semifinals, Hoyer faced Daniel Bodin, who is also a skilled dirtbike freestyler. In fact, they are the only athletes who have flipped both snowmobiles and dirtbikes in competition. While both have some big sled stunts, Hoyer advanced with relative ease.
In the final, Hoyer squared off against Joe Parsons. Though Hoyer started well, he admits that he rushed some tricks and faltered. Attempting a no-handed backflip, his sled twisted in the air and he landed awkwardly, went off course and missed the next hit. That misfortune allowed Parsons to take gold.
But earning silver was a victory to Hoyer, especially after the setbacks from the previous two years. "I was very stoked to get silver," he says. "Things finally settled back into place, and it's great to be back toward the top. It meant a lot to me because it was unnerving to be on top of the sport and then fall straight to the bottom for two years. So it was much more than just getting a medal, it was like getting my life back on track."
After Winter X13, Hoyer resumed jumping his dirtbike in freestyle shows around the world. Highlights included riding his sled and dirtbike in the Masters of Dirt demo in Vienna, Austria. He spent the summer close to home practicing and headed to the Czech Republic in November to perform in the Gladiator Games.
In the fall of 2009, Hoyer switched his focus from dirtbikes to snowmobiles. A favorite to medal again at Winter X, he says that this time he wants gold.
"I want a gold medal for sure," he says. "This year I am more on the ball than I have ever been. I'm staying on the same sled so I know how to set them up well now. I know what works, and all I'll have to do is practice, which is a huge change for me. I would say my biggest advantage is being very well organized compared to years past."