After a much-needed weekend off for snowmobile race teams across the northeast, engines will once again rev up to full song as the national circuit comes to our own back yards.
Teams and officials at East Coast Snocross (ECS) are preparing to join the International Series of Champions (ISOC) at the Vision KIA Eastern Nationals on Friday and Saturday, Feb. 4-5, at the Finger Lakes Casino and Racetrack in Farmington, New York.
ECS teams will compete in their own separate points races, and have the option of entering ISOC classes to test their skills against the best teams in snocross. Several current ECS riders (including Mathieu Morin, Matt Pichner and Matt Piche) have raced at the national level.
Spectator doors will open at 4 p.m. on Friday, Feb. 4, with Opening Ceremonies set for 7 p.m. On Saturday, doors will open at 3 p.m. with Opening Ceremonies slated for 6 p.m. Advance sale tickets are available for $25 per day for adults, and $10 per day for children ages 6-12. At the door on race weekend, prices are $30 for adults and $13 for children ages 6-12. Children age 5 and under will be admitted free with a paying adult.
Leading the charge into Farmington are Pro riders Mathieu Morin and Danny Poirier. Morin, of Val-D'Or, QC, has been the man to beat this season and was leading the points in Pro Open by 21 markers over Poirier after three rounds.
Poirier, of St. Theodore, QC, has only one victory this season yet has run up front in every final. Super-fast Matt Piche has also made his presence known here in the east, with a high-flying style and speed that has put him fourth in Stock points after the first three races.
Other ECS Pro riders to watch in Farmington include rookie sensation Corin Todd, who claimed his first Pro Stock win at Ossipee in just his third event as a Pro; Lincoln Lemieux, another talented rookie with great speed and skills who is on the cusp of his first win; multi-time champion Jason Boron, of Leverett, MA, who is flying this year on his new Arctic Cat; New York natives Jason Stone (Central Square) and Michael George (Pine Plains); and Derek Elliott.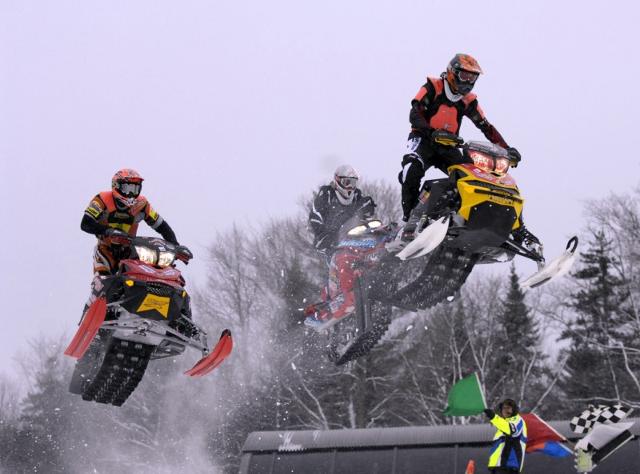 In the talent-laden Semi-Pro division, riders to watch include recent winner Chris Ackerman from Vermont; New Hampshire native Jake daSilva, Hayward, Wisconsin's Jacob Muller; Lucas Brunelle of Quebec; New Jersey native Jesse James Bonaduce; New York riders Dale Petrus, Andrew Bailey, Joey Stock and Taylor Collins; Danny Graves and Nick Campbell.
Riders to watch on the jaw-dropping AMSOIL Championship Snocross Series (ACSS) include current superstar Tucker Hibbert; Ross Martin, Tim Tremblay, Robbie Malinoski, Garth Kaufman, Bobby LePage (won the RMR titles last season), Ryan Simons and Logan Christian. The depth of talent has never been greater on the national circuit, so now is the time to attend.
East Coast Snocross, presented by Woody's Traction & AMSOIL, is the new sanctioning body for snowmobile racing in the northeastern United States. ECS maintains a regional circuit intended to keep grass-roots snocross racing healthy in this part of the snowbelt, while also cultivating new talent for the factory-backed Pro teams of tomorrow.
For more information, go to www.eastcoastsnocross.com.