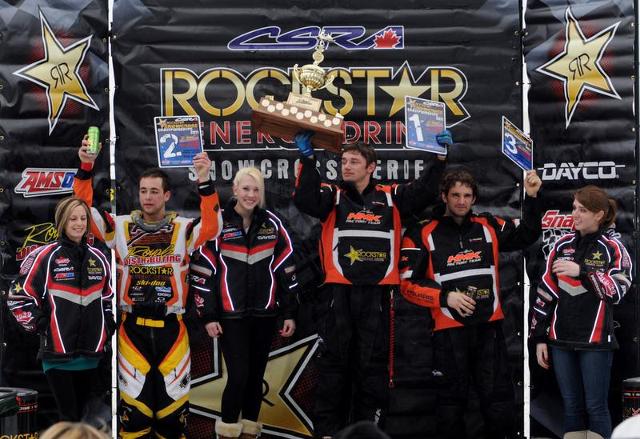 With an impressive triple win at Georgian Downs in Barrie, ON, Team Rockstar Energy Polaris Racing's Iain Hayden decimated the competition at Round 4 of the CSRA National Snowcross Championship this past weekend.
Taking no prisoners, Hayden started off a barnstorming weekend on Friday night easily hammering down a win in the Pro-AM class, which he followed up with equally convincing wins in the Pro-Open finals on Saturday and Sunday afternoon.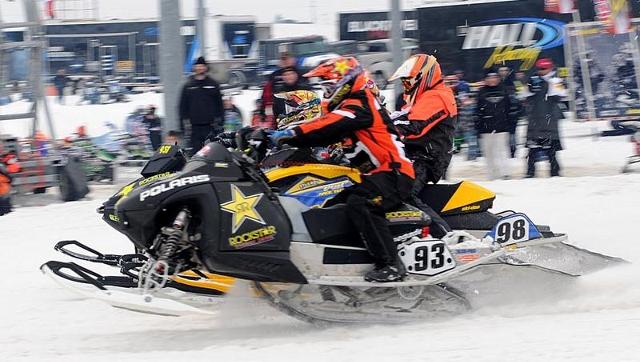 "When you come off of a Winter X Games weekend, you're really hungry for the next national on your schedule and I guess you could say I was really hungry. Everything ran smooth as clockwork this weekend and I'm thrilled with going 1-1-1," Hayden said. "As always the team staff made sure the sleds performed top notch. Our technicians Stu and Chris did a phenomenal job, which made my job all that much easier."

With Hayden's teammate Lee Butler closing in the top five ranks, nailing down 4-4-3 results in the finals on Friday, Saturday and Sunday, it was a successful weekend all around for Team Rockstar Energy Polaris Racing.
"I would have been a lot happier finishing on the podium in all three finals but I had trouble dialing in the back section, which was very difficult, fast, and a deep timing section that I just couldn't find my rhythm on," Butler said. "You either find the line or you don't. But with top five results each time out I contained the damage and managed to move up in the points standings."
On Saturday both Hayden and Butler breezed through the qualifiers recording 1-2 and 2-2 results respectively—on Sunday Hayden snared 2-2 results; Butler duplicated those finishes at the checkered flag.
In Saturday' final Hayden led wire to wire and never looked back. Sunday's final was a bit more of a challenge for the Espanola, ON native. Coming off of a bad start Hayden had to finesse his way to the front, which he did before the end of the second lap. Once in the lead, he was no match for the chase group and harnessed the power of his Polaris IQ to its full advantage for another convincing win.
In Sunday's final it looked like it was going to be a 1-2 punch for the team with Butler in position to finish runner up. But problems with his goggles' tear-offs affected his vision and he had to take satisfaction with third.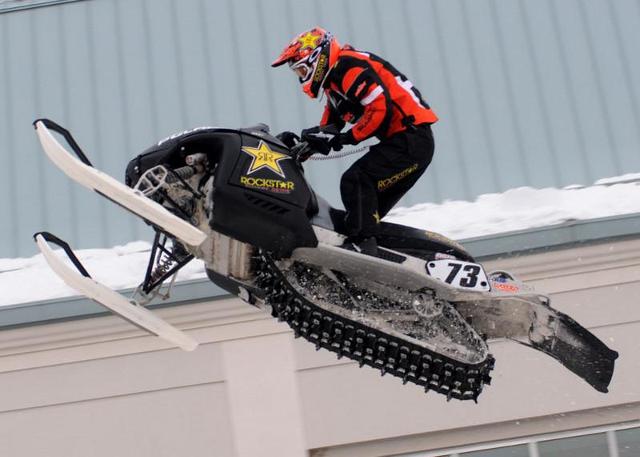 "It felt more like two weekends condensed into one, because of having a Friday night added on to the schedule so we were pretty busy. But everybody stepped up to the plate to put the team in the winner's circle. We found our sweet setup after the Winter X Games and we carried on with that," said team owner Andre Laurin.
Hayden's victory at the Georgian Downs triple-header extended his lead in the CSRA Pro-Open title hunt to a solid 63 points over second place David Joanis. Meanwhile, defending champion Butler moved into fifth—only a 43 points gap separates him from second place.