Many snowmobilers think they need one week vacation to ride in Gaspésie. Well, they are quite wrong !!!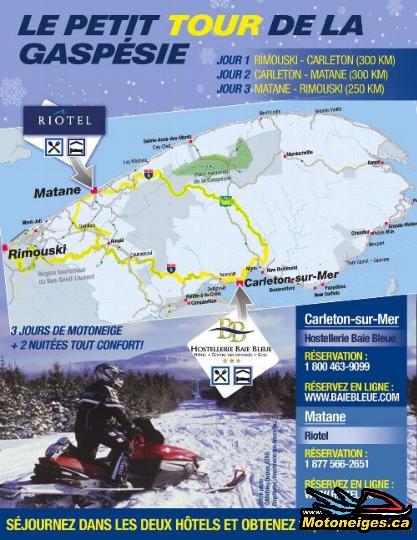 In three days, you can discover the rich variety of Gaspésie on your snowmobile. You ride on different trails between valleys and mountains, you catch sight of the sea, you see deer or moose. Each time I visit the Gaspésie region, I realize how lucky we are to be able to explore so beautiful places and landscapes only accessible by snowmobile.
Preferably, the Gaspésie Short Tour begins in Rimouski area. Many quality lodging establishments are available close to trails. You can choose from the log inn to the 4-star hotel. Just take a look at the snowmobile trail map of the Bas-St-Laurent region before booking.
What I liked about this circuit is that it can be modified according to the distance you and your touring companions want to ride per day. Also, you choose in which direction you prefer to begin the tour, depending if you want to start with a long day ride or to end with a long day ride.
My companion and I started the tour on a Friday morning at 8h00 in Rimouski. Our first night stay was in Matane and the day was going to be wonderful, so we decided to extend our itinerary by leaving Trans-Québec trail # 5 to ride on trails # 579 and # 587 towards Albertville in the Matapédia Valley. Then, we took different local trails to reach the Riôtel Matane.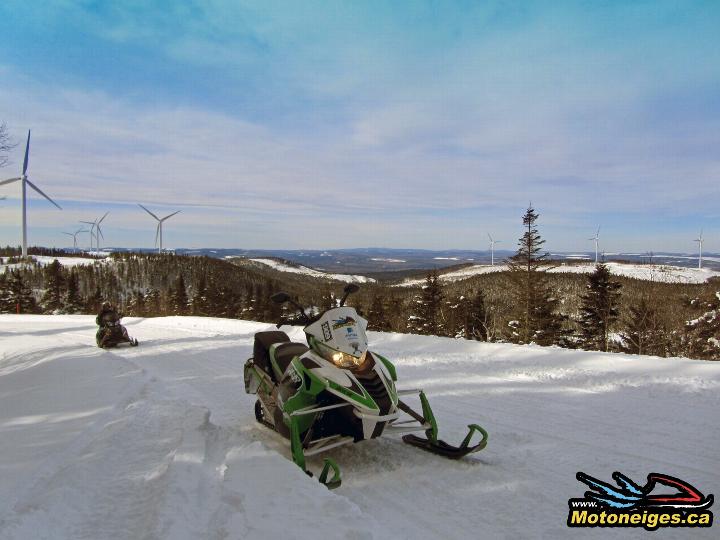 Matapedia Valley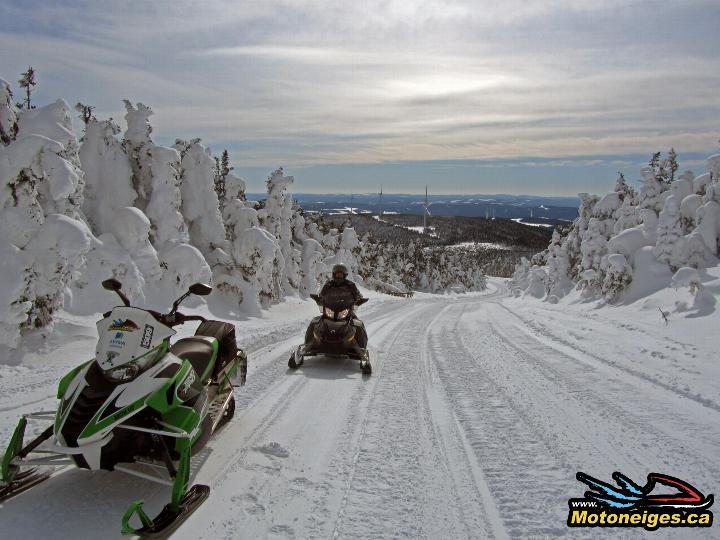 Montagne St-Pierre in the Matapedia Valley
The Riôtel Matane is highly appreciated by snowmobilers since many years. Access by snowmobile is easy and its location by the St-Lawrence River makes you feel on vacation right away. The hotel offers 72 renovated rooms along with the pavilion and many have view on the sea. The bar with real wood-burning fire and the dining room are also facing the majestic St-Lawrence River. The unique 4-season spa will relax you after a long ride. I recommend the snowmobiling package that includes table d'hôte dinner and American breakfast. The hôtel offers a very diversified menu at the restaurant Le Grand Bleu and bistro dishes at the bar. As the Riôtel Matane always wishes to improve their offer, additional services will be announced soon.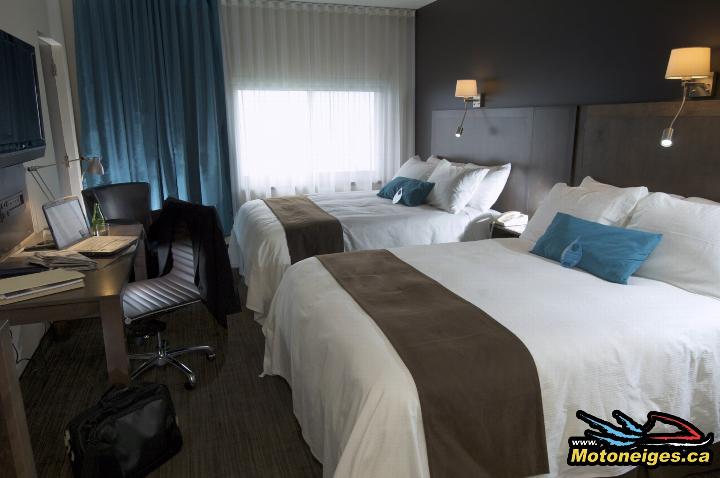 Riotel Matane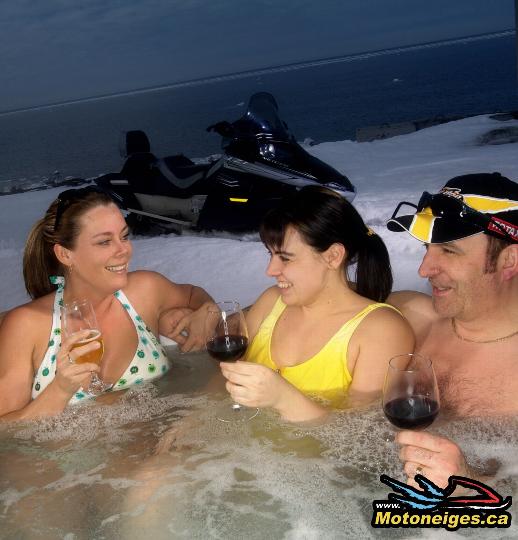 Riotel Matane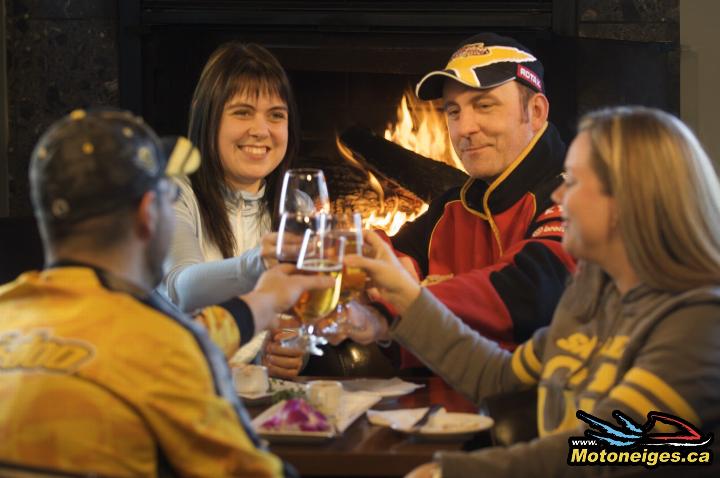 Riotel Matane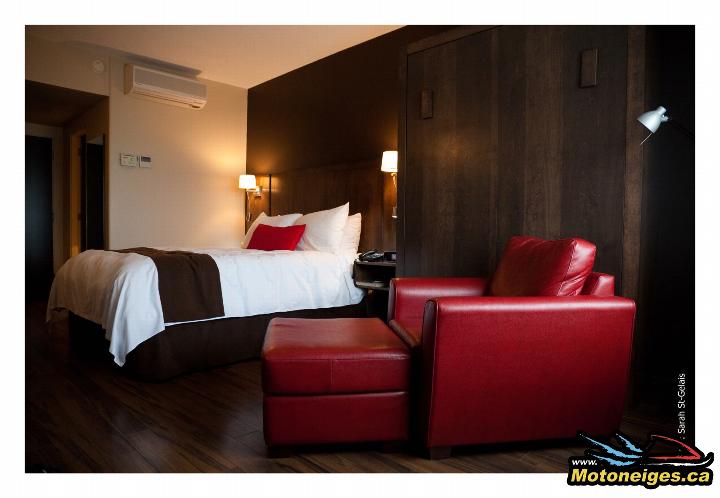 Riotel Matane
The morning after, we left the Riôtel Matane, with some regret, to reach trail # 5, then # 595 towards New Richmond. In my opinion, the stretch between St-Paulin and La Cache is one of the most wonderful snowmobile trails in the Province of Québec. On clear days, you can take outstanding pictures of the Mont Nicol-Albert and pictures of moose catching his breath on trail to avoid deep snow. Once in New Richmond, we go back on trail # 5 for Carleton-sur-Mer.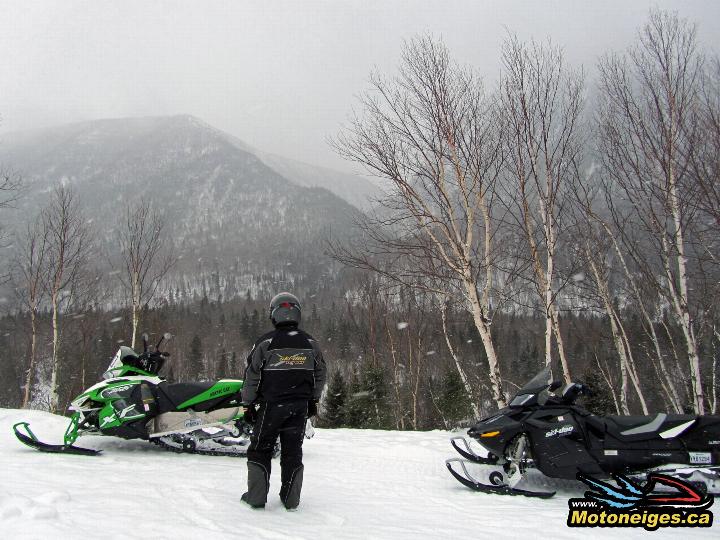 Trail #595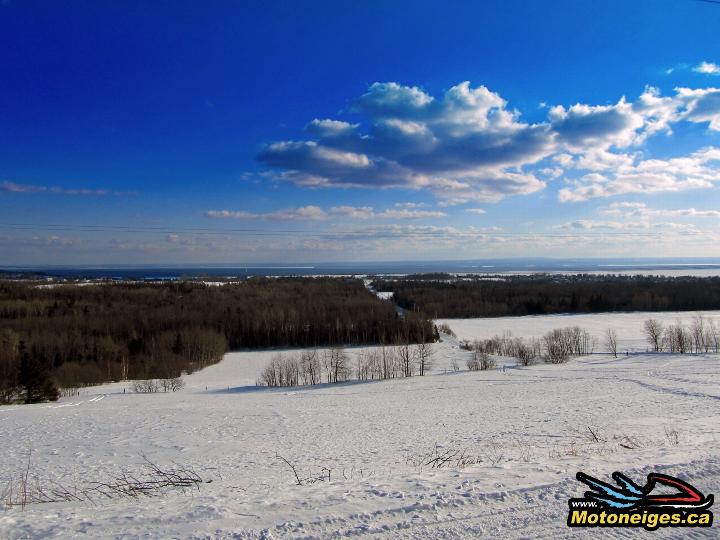 Baie-des-Chaleurs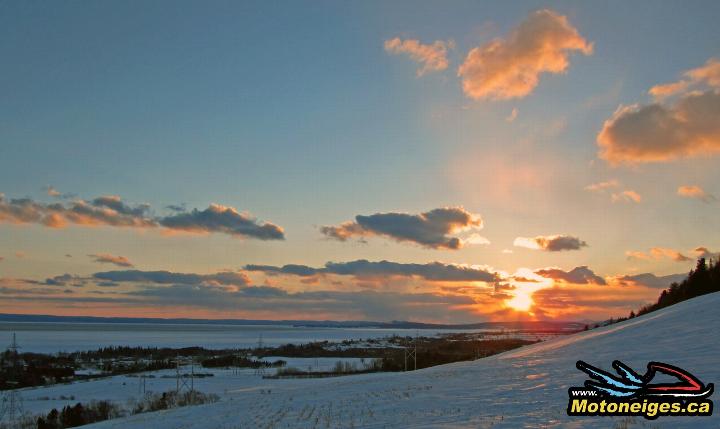 Carleton-sur-Mer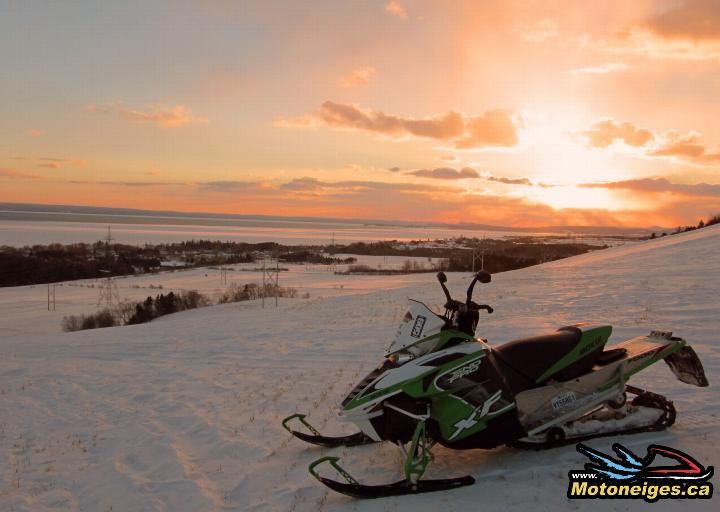 Carleton-sur-Mer
The Baie Bleue Hotel complex located in Carleton-sur-Mer offers 90 fully renovated rooms with ocean view. Easy to access by snowmobile, with gas station nearby, this establishment is chosen by snowmobilers since a long time. It is very safe thanks to the night watchman and camera surveillance. Facing the Baie des Chaleurs, the Baie Bleue complex also manages the Gaspé Peninsula Conference Center and the 18-hole Carleton-sur-Mer Golf Club. Great meals are served at two excellent restaurants, La Seigneurie and St-Joseph Pub. With its sport bar atmosphere and excellent cuisine, this pub is the perfect place to end a snowmobiling day. And one drink is included in the snowmobilers package.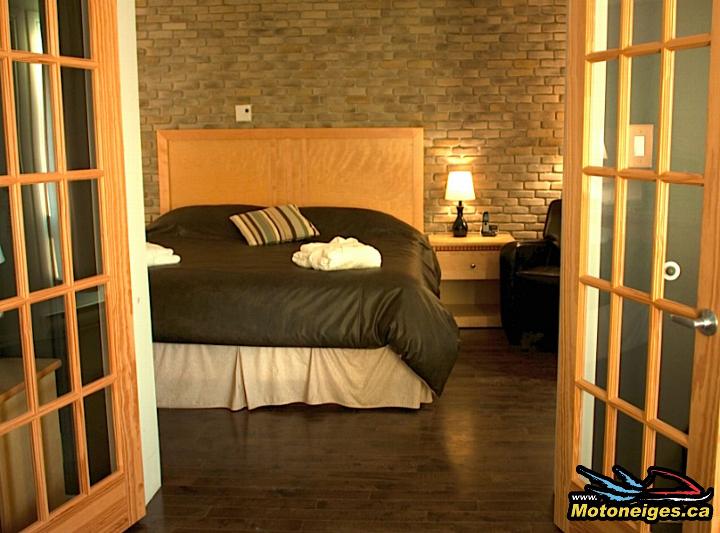 Baie Bleue Hotel Complex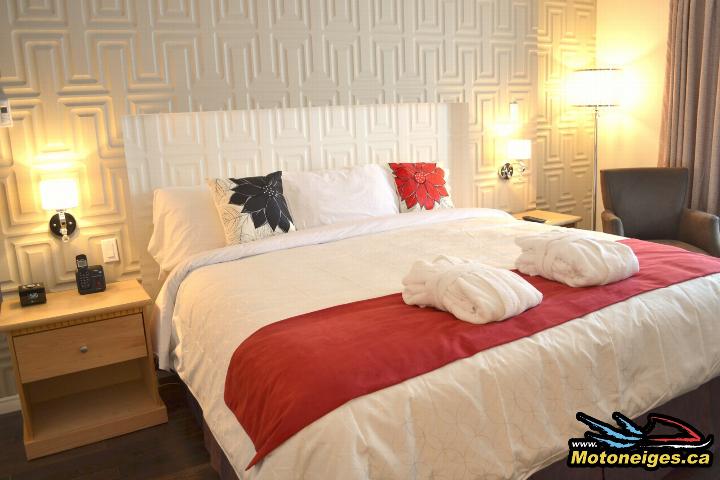 Baie Bleue Hotel Complex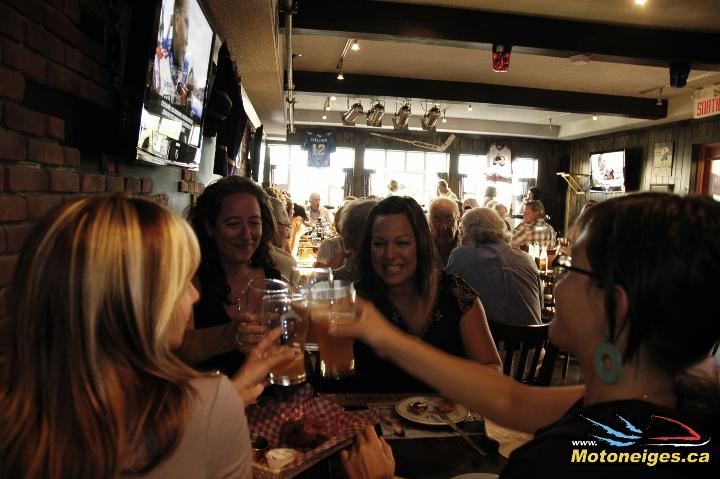 Baie Bleue Hotel Complex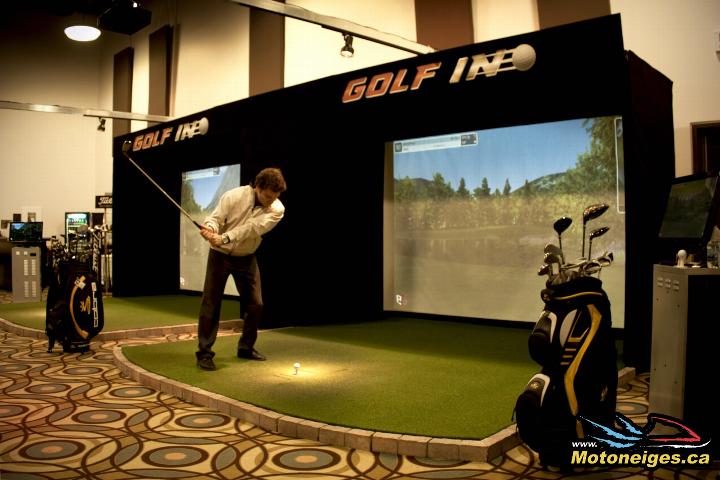 Baie Bleue Hotel Complex
As all good things must come to an end, it is now time to ride back to Rimouski on our last day of the Gaspésie Short Tour. We went back by trail # 5 via the Matapédia Valley. Once again, trails were incredible, sometimes in forest, sometimes on field with outstanding points of view on the Baie-des-Chaleurs and the New Brunswick.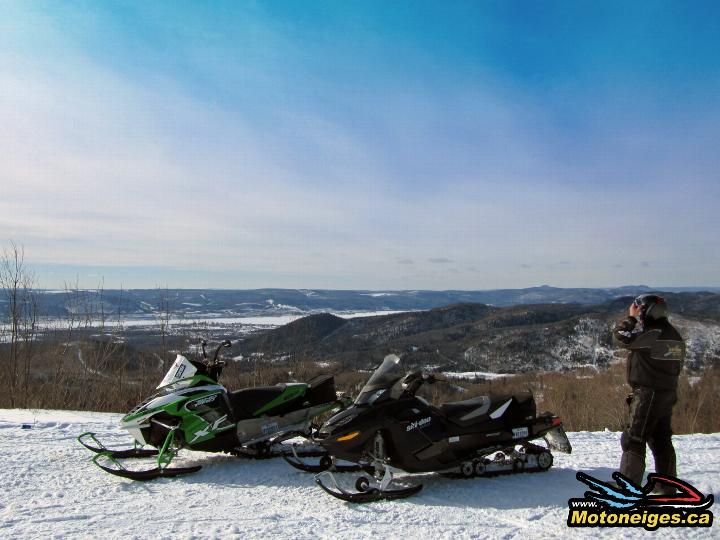 Pointe-à-la-Croix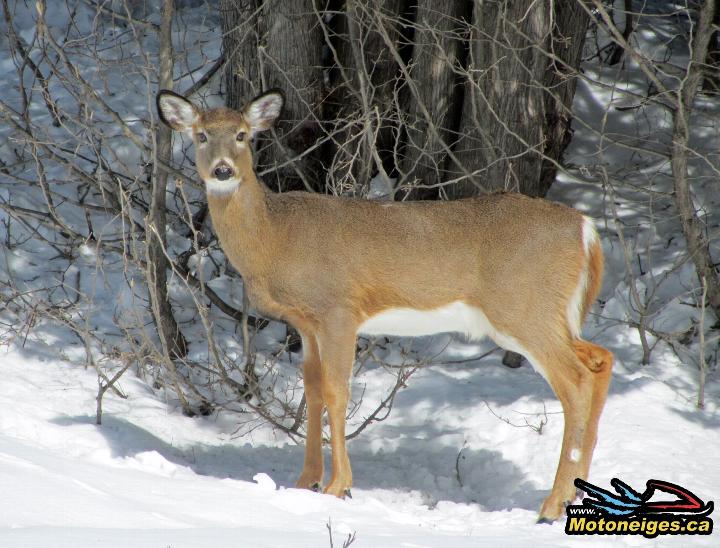 A friend in the trail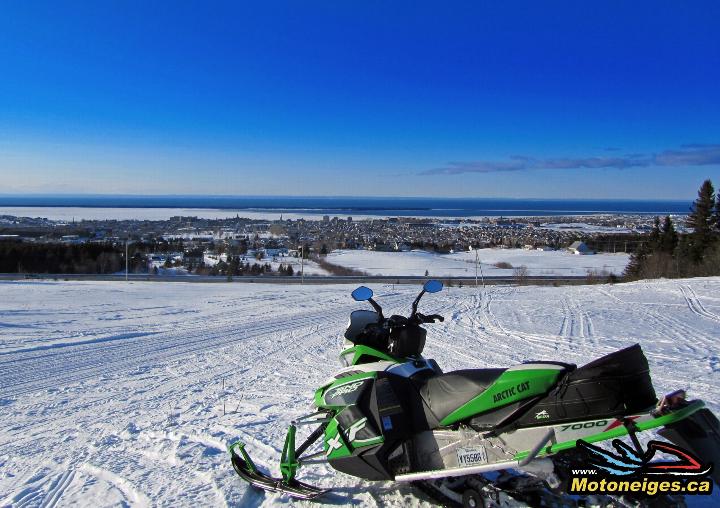 Rimouski
I highly recommend this circuit. As I am presently writing this article, it seems that winter is far from being over yet; so, come and finish your snowmobiling season with the Gaspésie Short Tour. In Gaspésie, there are still many weeks of winter fun to come !
Book your lodging at riotel.com/en/hotels/matane/presentation and www.baiebleue.com/hostellerie/en