That special alone time in the shop with a new ride is always unbeatable with excitement, observation and a cold brew or 2, even before we begin to accessorize, outfit or adjust.
Let's begin in the rear with Polaris' return to a high-performance full tunnel model for 2019. There is definitely a lot of excitement in the back of the 2019 Indy XC.
First… The simple pleasures and function of a real rear bumper that we can tow from if necessary and grab onto to get unstuck. It's much more convenient to lift from and offers much better track/suspension access.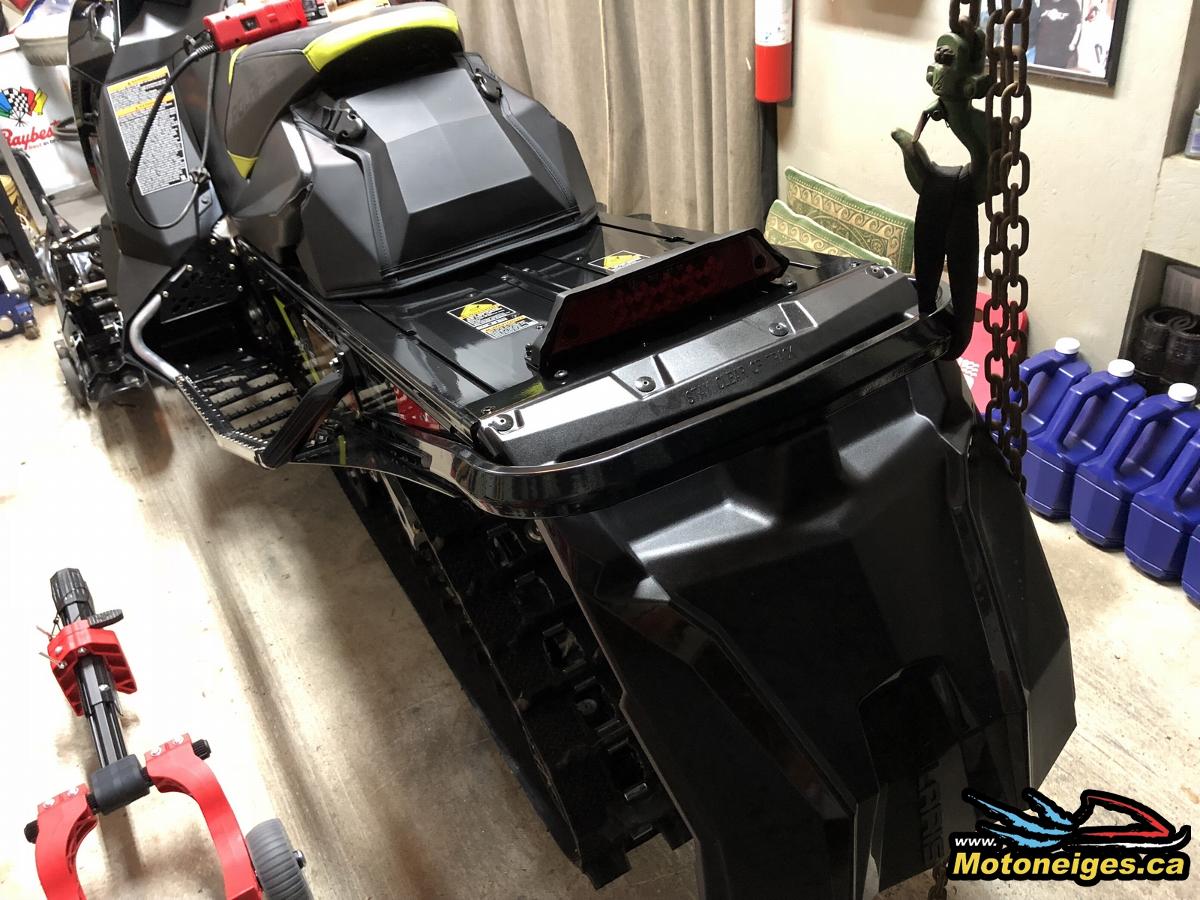 Next up…The flat surface of a conventional tunnel on which to attach a much wider and less expensive selection of available luggage options. As you may have read, I loved the massive and integrated storage that we have had on our SledMagazine.com AXYS Switchback models. But, let's be honest the complete aluminum rack, rear bag and ridged saddlebags combination are pricey at about $815 US retail. This conventional tunnel will certainly give me more long-distance luggage options.
As we move forward, we come upon a pleasant bonus that is included in the base price of the AXYS Indy models. A significant amount of concealed storage comes in the form of Polaris' under seat/tunnel bag. I say concealed storage due to the fact that the AXYS Indy uses the same fuel tank as the AXYs models which were shaped to accommodate the PRO-XC suspension's outboard shock configuration.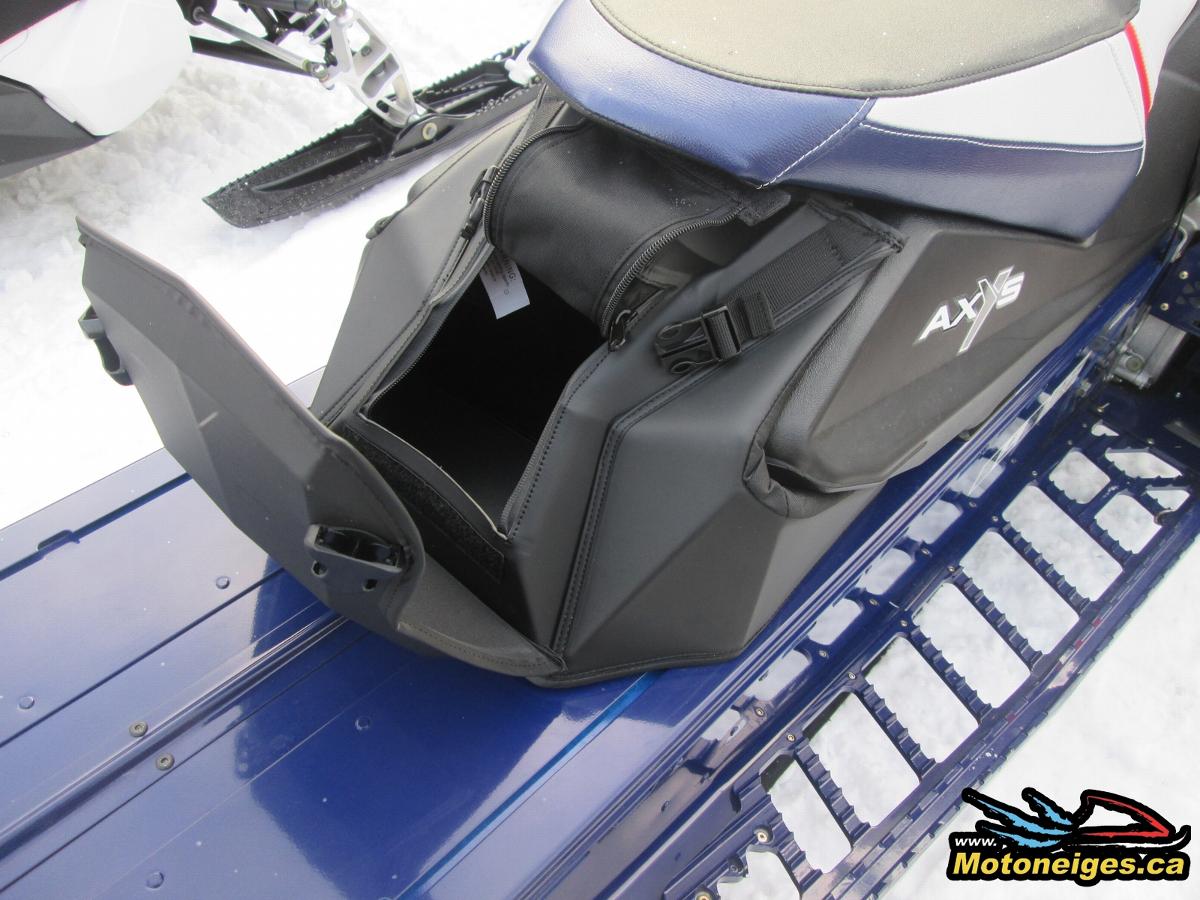 The INDY XC bag that first appeared on the AXYS Assault models was designed to take full advantage of this extra deep space. Check back for an upcoming SledMagazine.com video, and I'll show you just how much I have stuffed into this included bag. I think that you will be impressed, I was!
As we look down, we encounter the new to the AXYS INDY Powder Trac TR running boards for lighter weight, increased strength and improved snow evacuation. The powder Trac running boards have been proven to be perfect on Polaris' Assault and RMK models
Next, Polaris' return to a truly high function, coupled rear suspension is more than welcome. Yes, we had an 800cc powered INDY trail rocket in the recent past, but we can all agree that the rear suspension was challenged and limited when it came to a high level of bump absorption.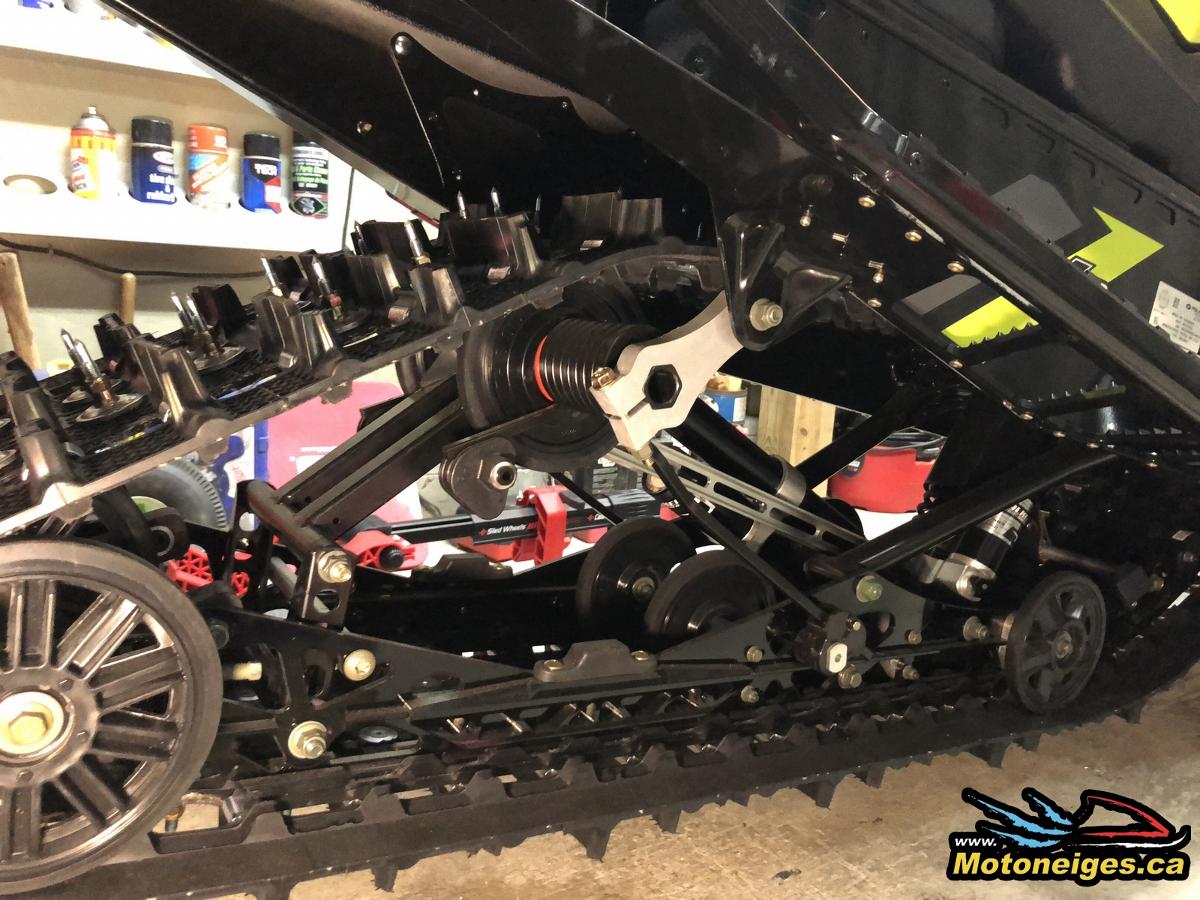 The newest PRO-CC suspension is offered in 129" length with a lengthened front swing arm that replicates the performance characteristics that are offered by the proven PRO-XC design. Outfitted with a premium Walker Evans remote reservoir, adjustable shock packages, specific spring calibration and a 2" diameter front track shock the PRO-CC suspension has all the makings of something very special.
During Snow Check, We ordered our INDY 850 XC equipped with the Camso Storm 150 track which has 1.5" in of grip in the center and 1.25" on the outer edges. This unique design is meant to optimize cornering capability through the predictable release of edge traction energy. Sounds great, but we'll need to feel it for an entire season to be convinced. We only wish that the pre-studded ICE Storm 150 version would have been offered as a Snow Check option.
As we move even closer to the front of the 2019 Indy XC, we find both proven and soon to be experienced improvements to the Indy 850 XC model.
The performance of the AXYSs chassis, front suspension and AXYS body configuration have been revolutionary in rider forward comfort and control, as well as front suspension performance and Polaris, fit and finish. We can't wait to click off our first 1,000 miles to experience how well matched the front of the newest AXYS INDY will be to its 129" PRO-CC rear suspension. INDY rider forward, here we come!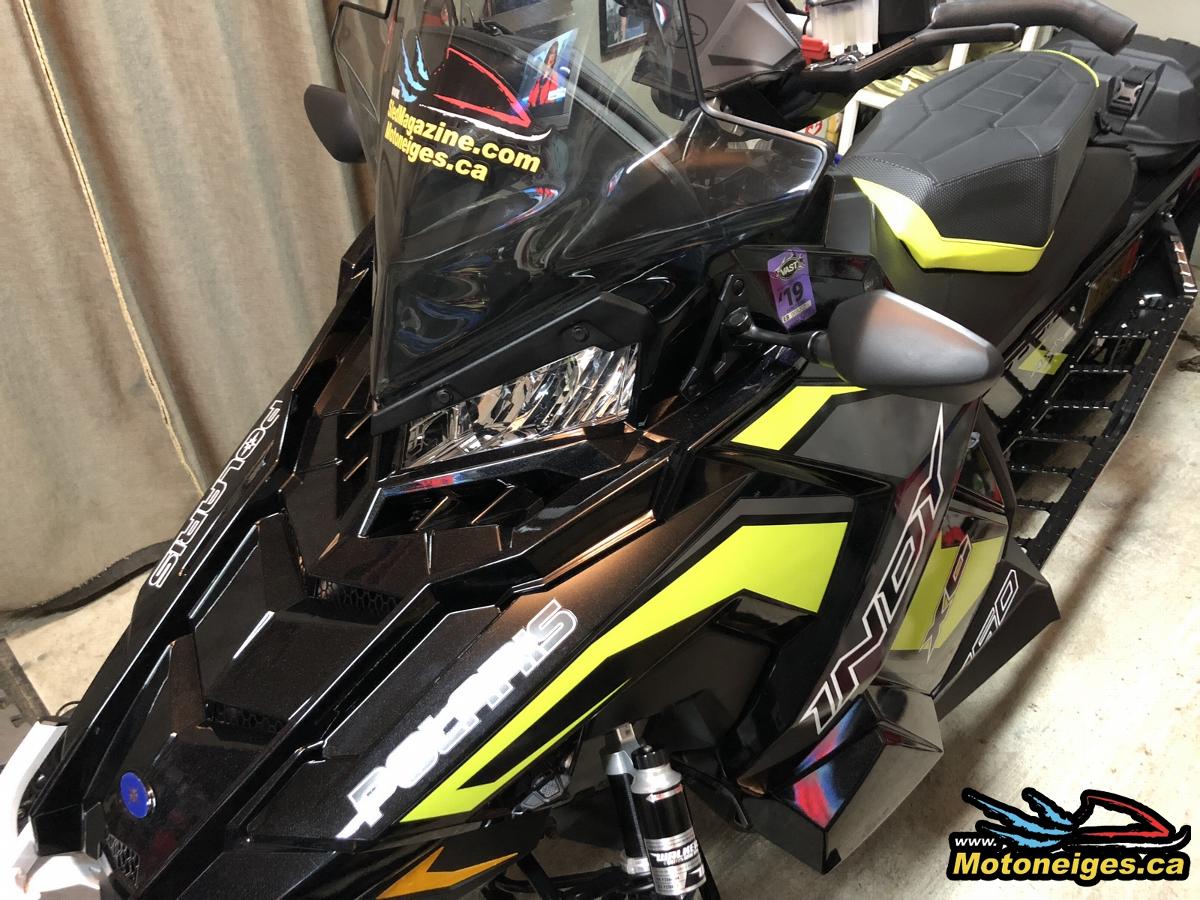 The AXYS body style brings high level fit, finish and ease of panel removal to this special INDY. And it brings along with it (in my personal opinion) the best LED lighting system in modern-day snowmobiles. It's white, bright, easily adjusted to perfection and "included" on all AXYS models.
"Included" I really like that part. It seems that competing brands are making too many items an additional cost option. Toe holds, accessory LED lights, adequate basic storage, and pulls starts immediately come to mind. I strongly prefer that the list of what's included in the price of a high-end snowmobile is greater than the list of things that are not. I don't think that I am alone.
Possibly the biggest and for me personally yet to be experienced 2019 improvement is Polaris's Patriot 850 power. There is an incredible amount of world-class technology and empirical data to explain what Polaris has accomplished in the Patriot. But I'm a simple snowmobiler and what really grabs me are the words "unrivaled acceleration" and "the most powerful engine ever built by Polaris" all with a four year warranty "included". 850 Patriot power was a Snow Check exclusive option, so not everyone will have one. We've got one, and we are more than ready to feel the breeze of "unrivaled acceleration".
A lot goes on inside the SledMagazine.com shops this time of year. Our 2019 Polaris accessories and other product partners will be featured in our upcoming "first rides" article.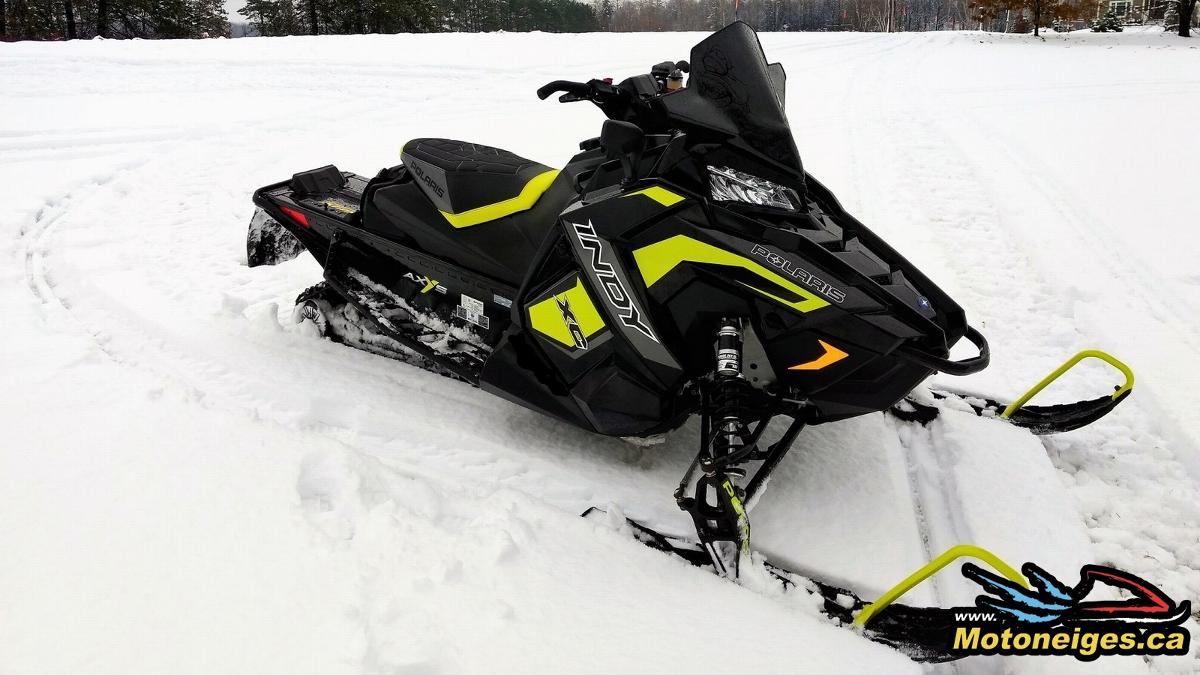 A truly high-performance INDY, It's like back to the future, and we can't wait. We'll be sharing much more on all of the above and more throughout our riding season. As always we appreciate your reader and viewership and invite you to visit with us and the SledMagazine.com INDY 850 XC at stops across the Northeast.
Ride right, ride safe!