Nothing can hold back Alden woman Jolene Bute.
A mother of two, Bute, 43, is the owner of Accents, a floral and decorating business, and the head volleyball coach at Alden-Conger High School — not to mention she's a snowmobiling champion.
Growing up, Bute rode a snowmobile alongside her three brothers.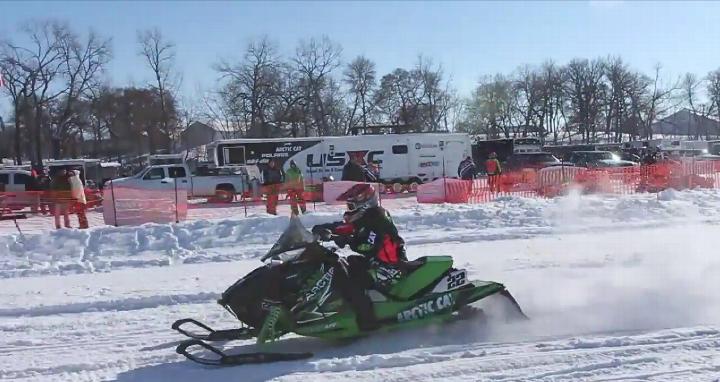 One day, when attending her brothers' snowmobile races, she asked herself why she was standing on the sidelines watching when she could try it. So she did just that.
She began racing in 1996 and now competes all over the Midwest, including North Dakota, South Dakota, Minnesota, Wisconsin and Michigan, along with races in Canada and some on the East Coast.
"It took me a few years to be extremely competitive, but once I finally got it, it's been really good," said Bute, who competes in the pro women's category.
Since then, she has been the Women's Class Champion six times and has won the International 500 eight times. Known as the granddaddy of snowmobile endurance racing, the I-500 is a grueling 500-mile trek. The February 2015 race ends in Willmar and starts in Winnipeg, Manitoba.
Starting out racing cross country, she is the winningest racer of her sponsor, Arctic Cat, she said. The company is based in Thief River Falls.
Preparing for race day
Bute races from November through March each year, but she prepares for her races year-round.
As a former volleyball and softball player at Bethany College of Mankato and St. Cloud State, she said she knows what it's like to work hard.
Now, because of her age, she said she has to workout harder than she ever has before to compete with her younger competitors.
She weight trains three days a week and does cardiovascular exercise more frequently at the Laverne Carlson Fitness Center in Alden.
Once snow covers the ground, she rides her ZR 6000 Sno Pro snowmobile all over Freeborn County, practicing rides in ditches and on lakes, trying to practice on every terrain possible.
During the season the sport takes up almost every weekend, plus many hours of prep time during the week.
"The sport is very physically demanding," she said. "After every race we do, I am drenched in sweat. You need to be able to move around quick and keep your endurance."
She said during the 500-mile race, she races for 2 1/2 hours each day, riding as much as 160 miles at a time.
Bute said her 500-pound snowmobile can go over 100 mph.
"The country that we have raced through is amazing," Bute said. "It's some pretty crazy, cool scenery."
Though she races pro women's, she said she has also raced against men several times. One year she was the only woman to enter the 500-mile race, so she raced against the men and still placed.
"It was a huge accomplishment," she said.
She thanked her husband, Patrick, and her son, Jordan, who regularly prepare the machine for race day, going through it bolt by bolt and checking the clutching and tolerance, among others.
Promoting her sponsor
As a decorated Team Arctic snowmobiler, Bute also promotes Arctic Cat products on billboards and in television and magazine advertisements.
She said in November each year, she flies to Jackson Hole, Wyo., and she and others film and create all of the advertising pieces for the company's new products.
In May she does photo shoots for Arctic Cat's ATV line.
"At first when I started getting asked to do things like this, it was kind of nerve-wracking, but it's always exciting, and it's always an honor to be able to represent the company," Bute said.
She said she has found Arctic Cat's other snowmobilers and company officials to be like family.
Teammates and competitors call her the "flower girl," with affection to her business back home. She laughs at the term.