I am very excited to announce an expanded partnership between SledMagazine/Motoneiges.ca and Polaris.
I'm even more pleased that this expanded partnership will allow me to report on my use of a long term trial sled for the 2013 season.
I couldn't be happier with the sled I have been selected to report on, as it should be a model of great relevance and interest to the performance trail touring riders. The limited build 800 Switchback Pro R Adventure is a high performance touring package with many interesting features.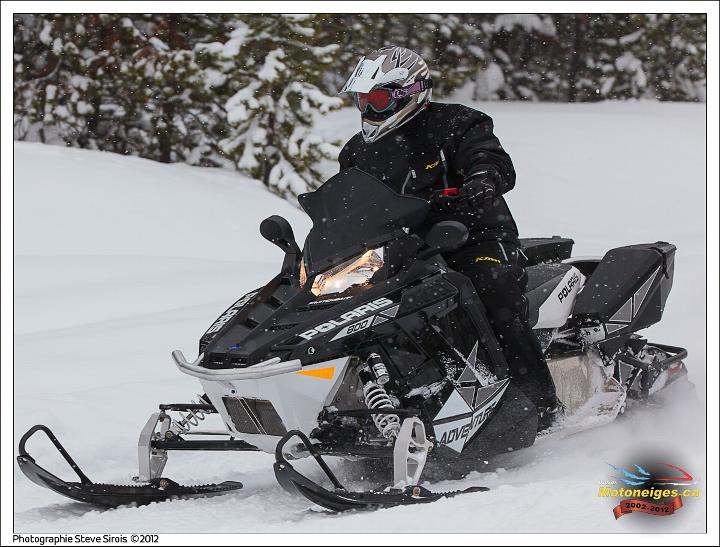 I look forward to testing the 800 Pro R, Adventure against the rigors, needs and distances of the Quebec riding experience.
I have had the opportunity to experience the Polaris Pro Ride sleds at the Snow Shoot events over the past 2 years and have been increasingly impressed with the results of continued refinement and calibration of the Polaris suspension package
My last Polaris was a 1998 XC 700, I am historically a short track rider and I have ridden a 4 stroke since 2007. This should be a true "outside the box" experience and I look forward to putting this sled through significant tests.
I look forward to evaluating and reporting on the performance of the 800 Cleanfire® engine, uncoupled progressive rate Pro Ride® 136" rear suspension, bump steer controlling variable castor IFS, highly adjustable Walker Evans® remote reservoir needle shock package, redesigned Pro Steer® skis, 1.352" Cobra track and integrated Lock & Ride® Adventure cargo system
Polaris has recognized the Northeastern US, Quebec riders as being a very important and knowledgeable market force. I thank the people at Polaris for this recognition and their support of the exposure and credibility of SledMagazine.com/Motoneiges.ca
I invite you to follow my reports and articles on SledMagazine.com throughout the next season.