Trail # 360 from Saint-Tite to Saint-Michel-des-Saints.
The Mékinac area, well known for the Festival Western de St-Tite, is a very interesting region with its numerous public trails. Besides the bridleways, the cross country skiing trails and other trails, the snowmobile trails offer beautiful country and timberland landscapes.
Take a look at the trail map on www.sledmagazine.com ; it will be easy for you to choose an entrance to access the snowmobile trails and to discover them at last. Trail # 360 incidently starts in Saint-Tite, at the intersection with trail # 318 that runs alongside the foothills of the Laurentides mountains.
If you choose to ride on trail # 360 from Saint-Tite, you get inside the Laurentides mountains and ride through forests and lakes, then through a small village called Saint-Joseph-de-Mékinac (Trois-Rives); then you halt in Mattawin on the eastern shore of the Rivière Saint-Maurice. All this represents approximately 60 kilometers.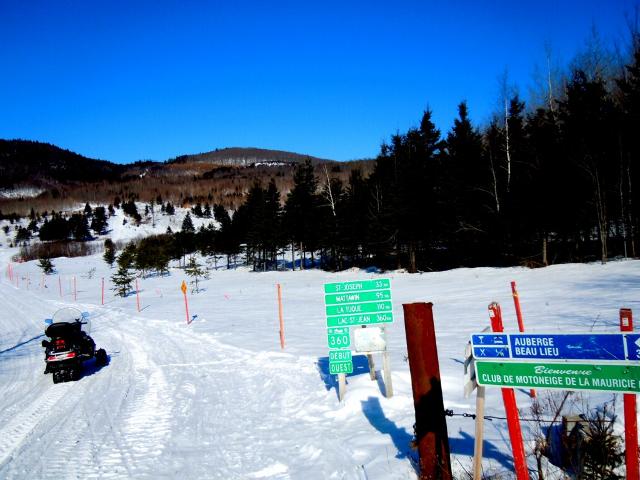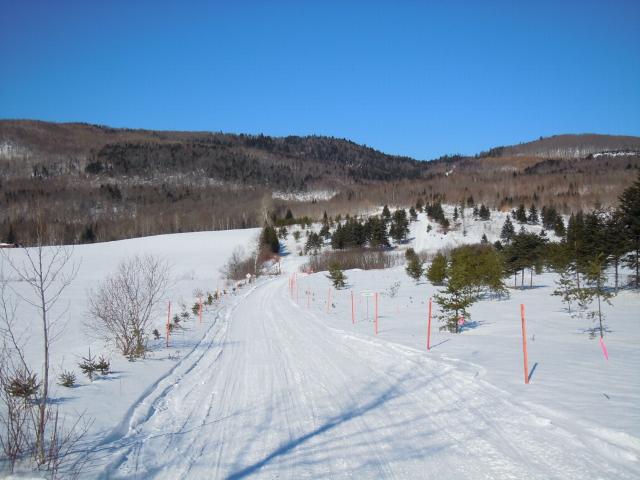 When we leave, we ride from the fertile fluvial plain to maple groves, then quickly up to the mountains summits. As there is heavy snow in timberland, this trail is pleasant and easy to surface so in very good conditions most of the time. It does not take long that we reach the summits and there, we look for the observation point signboard. The additional short climbing is worth it. Formerly, a forest ranger watchtower was located on this site; today, a small belvedere offers an outstanding view on Saint-Tite, on the plain of the Saint Lawrence River, on the mountains and the surrounding lakes. With an elevation of 1 500 feet (460 m), the belvedere is located on the highest mountain of the immediate area. This is why, back then, the forest rangers were able from this point up in their tower, to watch for smoke or any clue that could announce a wildfire, and then make it possible for the intervenors to response rapidly. Today, the rangers' tower has been replaced by a transmission tower and snowmobilers have now access to the belvedere. Bring out your cameras and binoculars, the sight is breathtaking. It is also a perfect spot for having a picnic under the sun. A table with a view!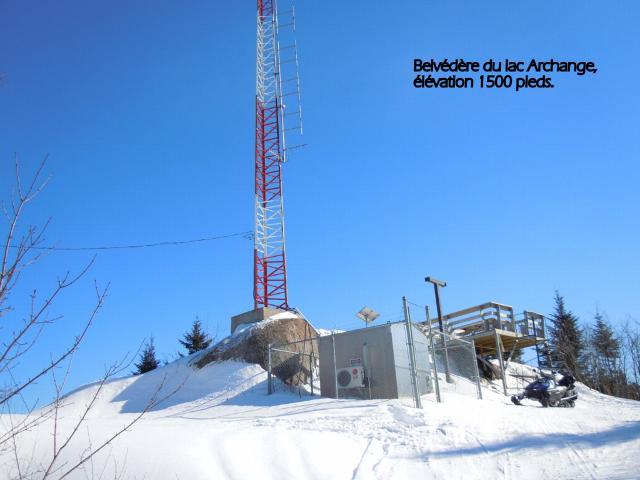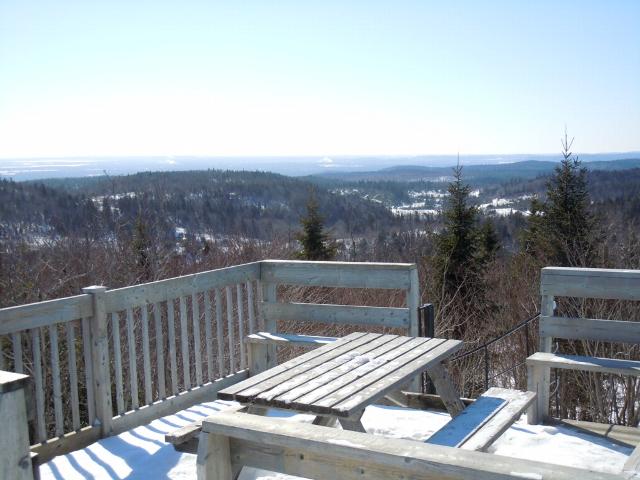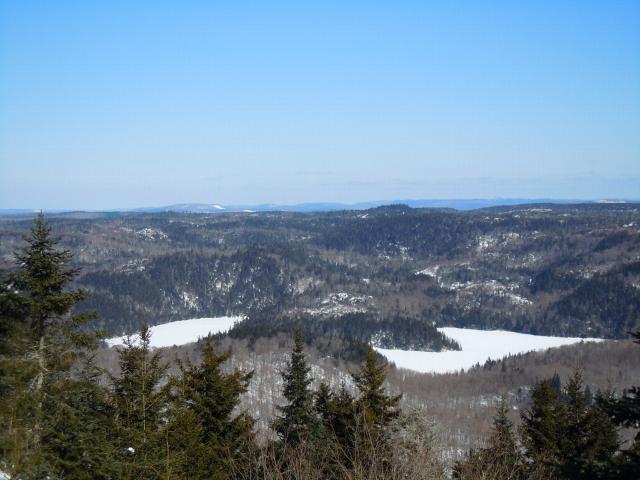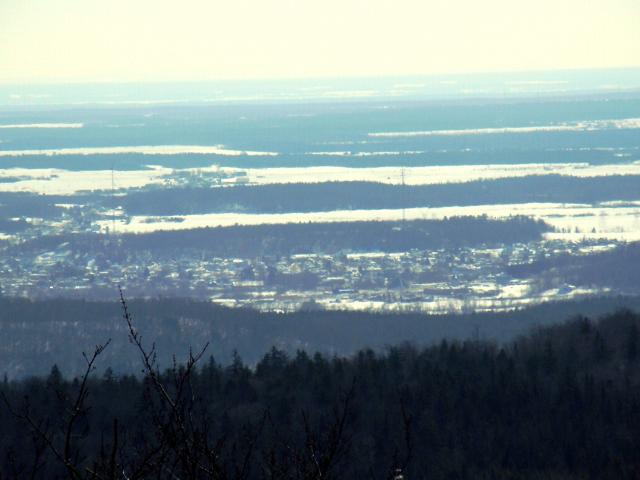 Back on trail # 360, the area is mostly made of softwood-sugar maple forest, harvested by small businesses for its hardwood and softwood. The sites that have been harvested are now covered with regenerating hardwood; in winter time, they become attractive feeding zones for deers who are more and more numerous in the Mékinac area. On week days, as it is quieter, mostly after a snowfall or after the surfacer went by, we can easily see where the deers have passed. They move towards their winter feeding zones. It is easy to observe the places with large number of tracks and the twigs recently grazed by deers.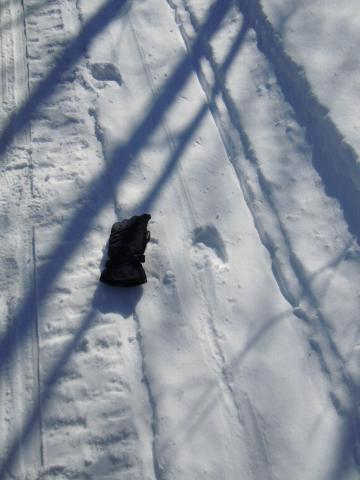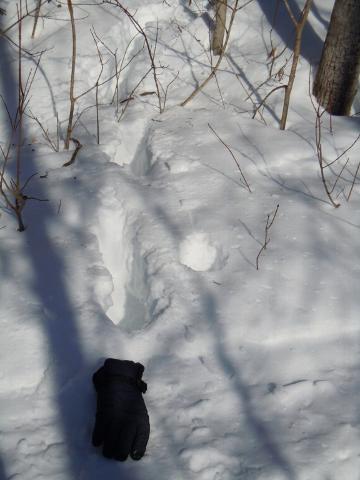 Our laurentian forests abound with lakes and rivers and offer outstanding panoramas to photography fans. Trail # 360 also runs very close to the transmission line corridors used by Hydro Québec and also close to a pipeline. As these corridors go through very uneven mountains, some more daring snowmobilers use these uneven corridors to enjoy off-trail riding. You must be an experienced pilot on a mountain sled, amoung a group of riders, if you want to fool around here. I think it is wiser to stay on trail # 360, a charming, easy and safe trail, and to discover this mountain scenery with lakes and wildlife tracks.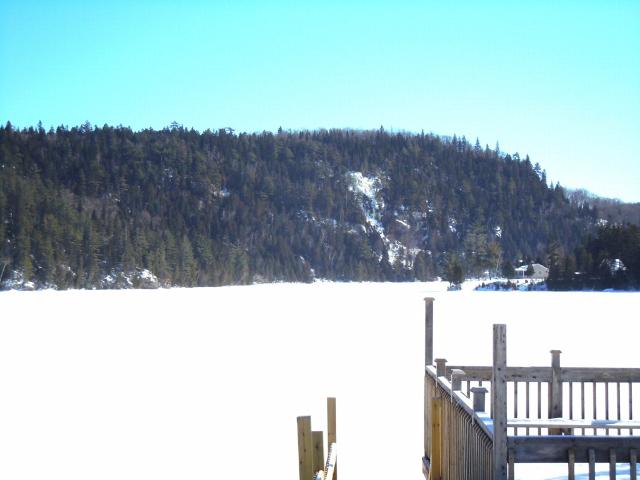 After about 30 kilometers, we can see the small village of Saint-Joseph at the bottom of the Rivière Mékinac valley.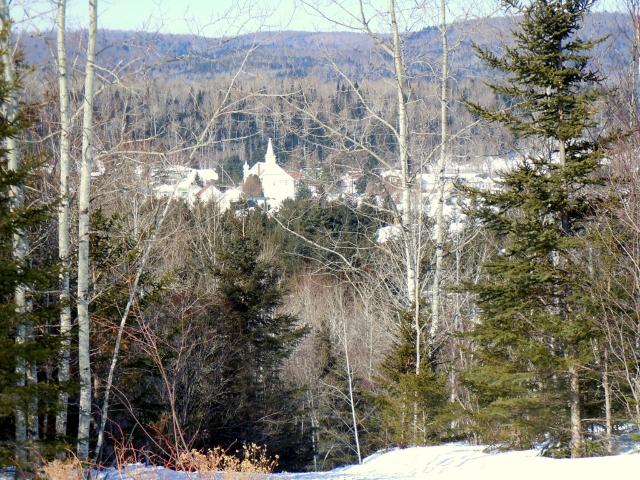 A few hundred inhabitants live in the small village of Saint-Joseph-de-Mékinac (Trois-Rives). Due to the dozens of lakes in the area, many cottagers visit this prime site all year round. The most renowned ones are the majestic lakes Du Missionnaire and Mékinac.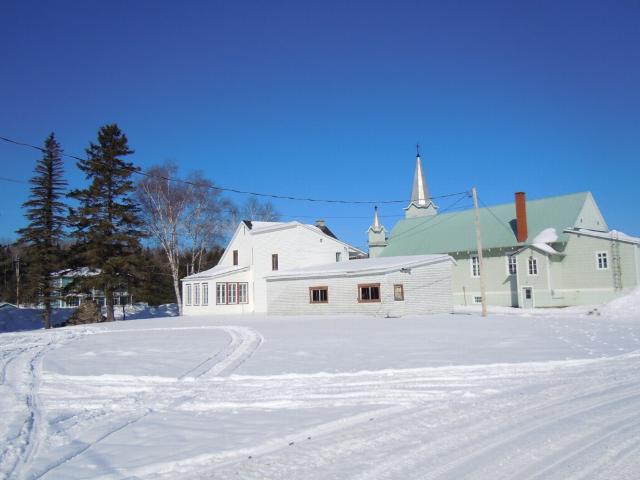 In winter time, besides cabins, the snowmobilers can find lodging, restaurant and gas station in Saint-Joseph-de-Mékinac. The small Auberge Beaulieu is often very busy, so it is better to book a reservation before coming in since this is the only place to stay in the village. The village grocery is located in an old school; soon, it will become a cooperative owned by the villagers. This grocery also sells fuel and a few products to accommodate you.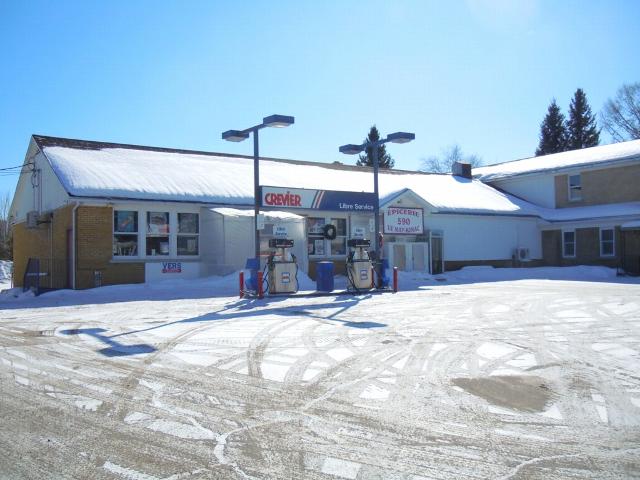 Besides the Auberge Beaulieu, there is an excellent little restaurant facing the grocery and snowmobilers really like it. Le Geai Bleu offers cooked meals that will sure meet the most demanding gourmets. It consists of a healthy family cooking, totally homemade. A tiny restaurant, but so enjoyable.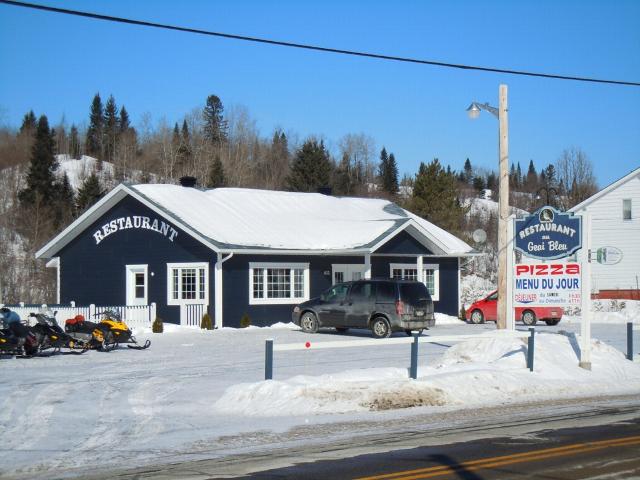 Back on trail # 360, we ride about 8 kilometers before arriving to the intersection with trail # 355 that runs to La Tuque on the pipeline route, much less steep because here the terrain is elevated and now on the Canadian Shield. We can also come full circle, riding 18 km on trail # 355, then 38 km on trail # 351, then 21 km on trail # 318 to finally come back to Saint-Tite. This easy circle totalizes 111 km, passing through zec Tawachiche, another outstanding territory with its natural habitats. We will come back later with more details on this sector. See the map on www.sledmagazine.com links.
So, we keep riding on trail # 360, heading for Mattawin. The trail runs through softwood sugar maple forests, goes around beautiful lakes then leads to a local trail that brings you to an impressive log cabin-style inn operated by a Swiss-born family who offers very good meals. The Auberge Le Montagnard is a huge construction built and first operated by the neighbouring outfitter, Mr Michel Béland, of the Pourvoirie Hosanna. Either to stay or to enjoy a meal, your visit will show you all the art work needed to erect such a magnificent inn and many log cabins. You will be impressed by the size of the round timbers they used. Maybe you will have the chance to meet Mr Béland on one of his old restored snowmobiles; the oldest one goes back to the 30's. He has a passion for antique utility machines (snowmobiles) very often used by his parents and grand-parents on logging sites. He restores them with great care.
Back again on trail # 360, we now reach the intersection of Saint-Maurice and Mattawin rivers. On Highway 155, the Dépanneur Mattawin and the Auberge de la Rivière Mattawin provide full accomodations for snowmobilers. You can rent a room with a view on the Saint-Maurice and the mountains.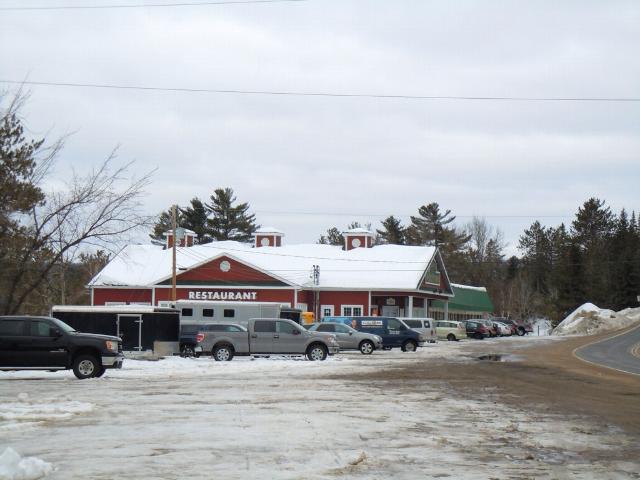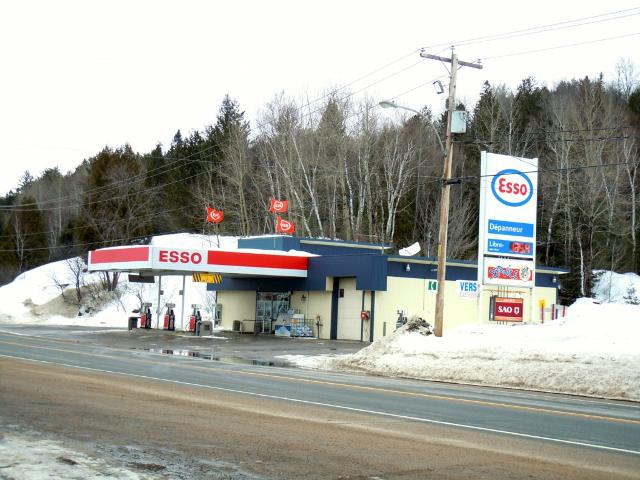 This inn also offers quality snowmobile packages at very competitive rate. The Marineau family also operates a convenience store and a gas station and offers free parking to snowmobilers for their vehicles and trailers, for a few days period. This resort is directly located beside Highway 155 that connects Shawinigan to La Tuque, then to the Lac Saint-Jean region.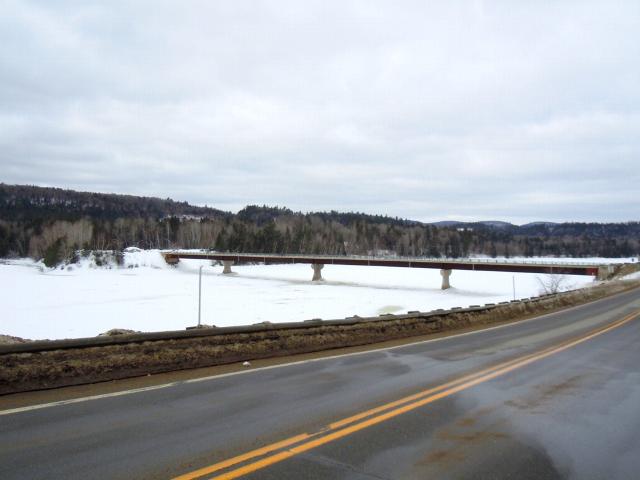 Finally, here we are on trail heading west, crossing the Rivière Saint-Maurice to ride this time along its affluent, the Rivière Mattawin that rises in the huge Reservoir Taureau. The trail is always in forest environment and its route is on the northern boundary of La Mauricie National Park, south of the Réserve Saint-Maurice, two important wildlife territories. Trail # 360 finally leads to the Lanaudière region and to the inns in Saint-Michel-des-Saints, by going around the Reservoir Taureau, or else to the inns and outfitters of the Saint-Zénon area.
The snowmobile trail # 360 that goes from Saint-Tite to Saint-Michel-des-Saints is a beautiful wide playground to explore.
Mékinac is yours to discover with its winter beauties and regional products.