Custom Sports Car Transforms Into Ultimate Snowmobile
The Chicago Auto Show will host one of the hottest cold-weather concepts ever built: A drop-top Nissan … on skis.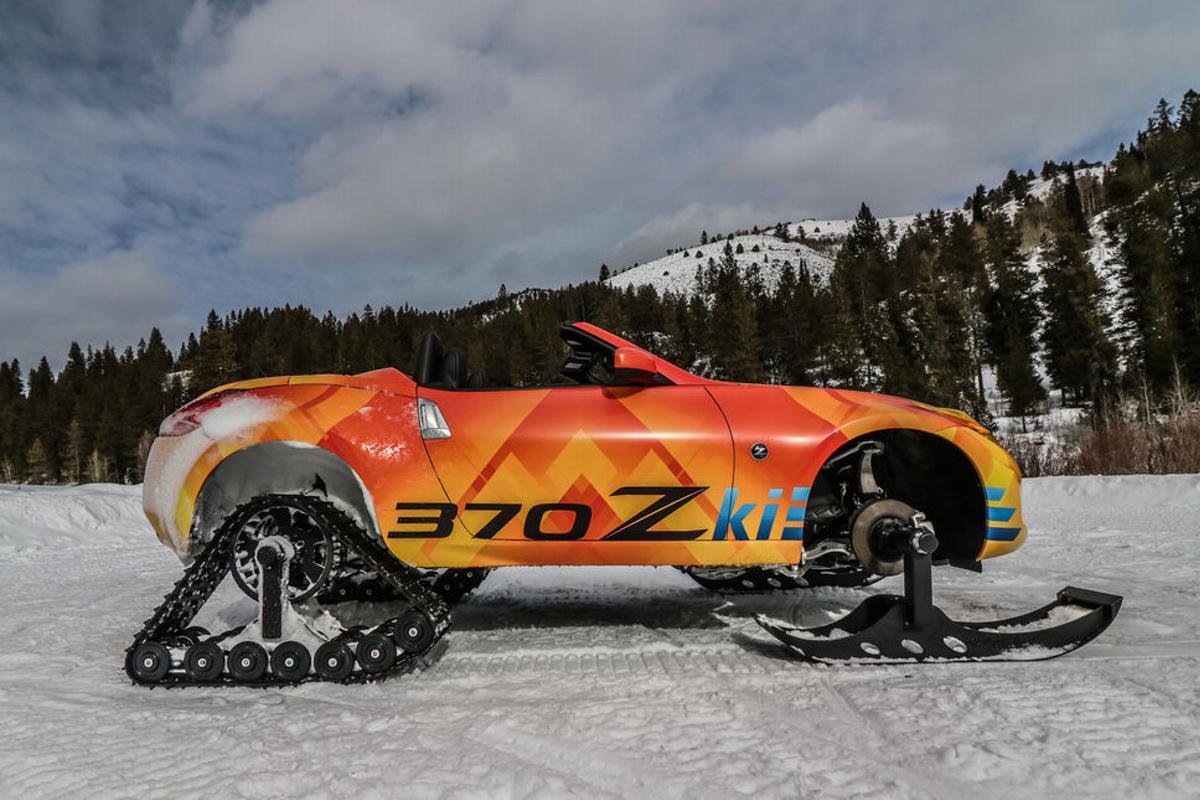 Crédit Photo : Nissan
Experiencing 332 horsepower on the open road is one thing, but on snow? Nissan tricked out a 370Z – perhaps the brand's most iconic roadster – with a full snow kit.
You won't be able to buy it, but Nissan did more than just fabricate a pretty body. The fully functioning 370Zki (read "ski") launches at the Chicago Auto Show this month. And it received a near-total rebuild of its suspension and some of its drivetrain. But its guts remained road – and race – ready.
Nissan 370Zki Convertible Snow Concept Car
From the wheel wells up, the 370Zki looks like a sleek sports car. And for the most part it is. A factory-spec'd 3.7-liter V6 rests under the hood, ready to unleash 332 horsepower.
The soft-top convertible roof, steering, and seven-speed automatic transmission all match Nissan's stock fleet as well. But closer to the ground, this cheetah becomes a snow leopard.
Nissan repositioned the factory brakes and rerouted brake lines to accommodate the mods. In front, 12-inch-wide, 56-inch-long skis on either side glide along the snow. The 370Zki's rear-wheel drive churns the 30-inch high Dominator snow track upgrade built by American Track Truck.
To outfit the skis and snow tracks, Nissan had to put one 370Z "under the knife" and remove the entire drivetrain. Engineers lifted the suspension 3 inches, modified the rear springs, and added spacers to the wheel hubs. Nissan also massaged the wheel wells to wrap around the unorthodox setup.
On the surface, according to Nissan, "the cosmetic part of the conversion was relatively easy." The brand tinted the headlights yellow to mimic ski goggles and added an eye-catching custom wrap to the body.
While the idea is to create buzz around Nissan's for-sale vehicles, vice president of product planning, Michael Bunce, admitted,
"It's also fun to shake things up with something totally unexpected once in a while."