Choko Products: Only good results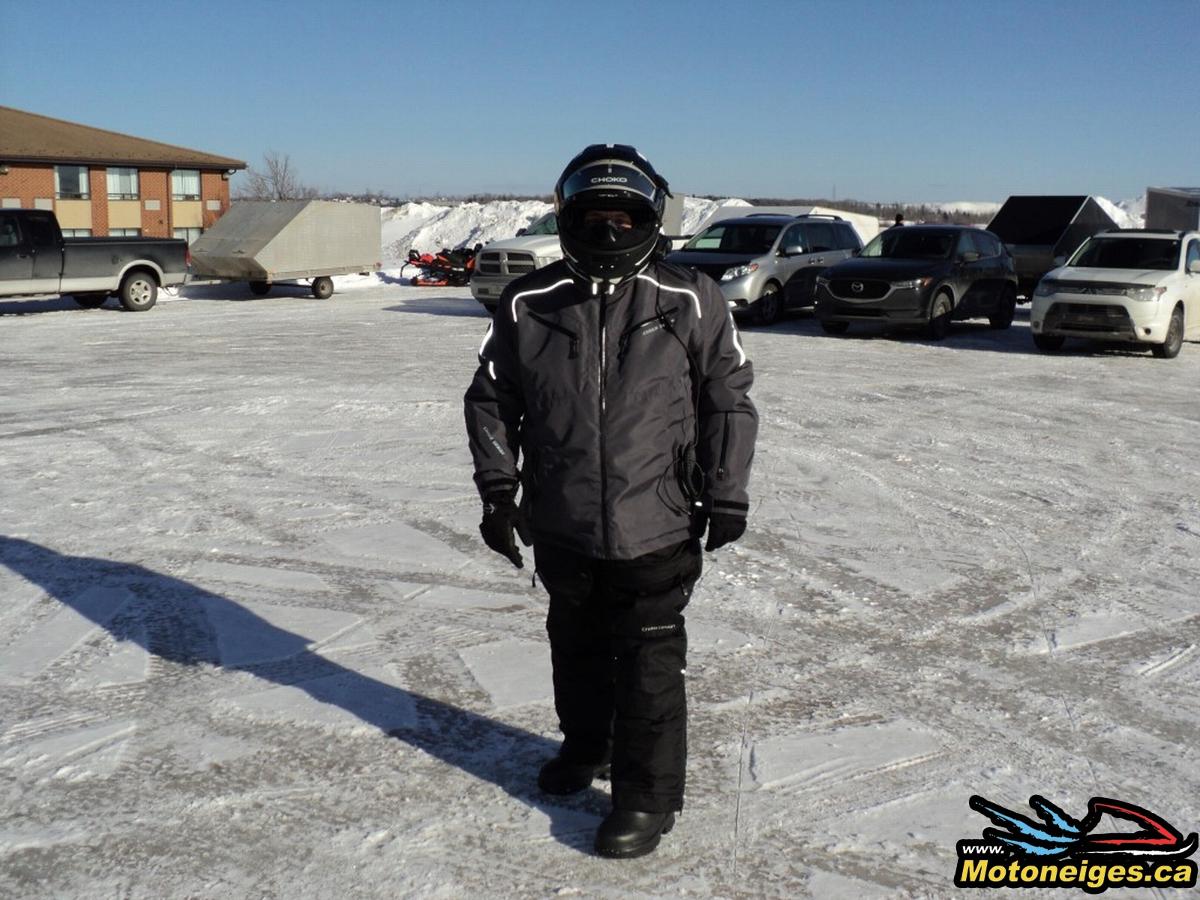 The season is almost done and it is time for me to present the results of the tests I did this winter with CHOKO products. These items are the jacket (CHOKO STEALTH JACKET), pants (CROSS-OVER NYLON PANT), boots (THERMALE EVA), helmet (MODULAR HELMET), shield (ELECTRIC SHIELD), gloves (MOUNTAIN GLOVE), balaclava (FROST GUARD), toque (CHOKO TOQUE) and cap (CHOKO CAP). All these products have made me enjoy my 3,000 km of riding with different models of snowmobiles with mid-high or low windshields.
The CHOKO STEALTH JACKET offers multiple adjustment points described in a previous article (Long-term test of Choko 2018 products). You have to take the time to adjust them properly. This way, the coat keeps you warm at -25°C and fresh below +6°C. The ventilation under the arms make the heat evacuation possible. I can guarantee that this coat is airtight and refreshing under temperatures above freezing. Wet snow, drizzle, rain, whatever, I stayed dry after about 500 km in a few trips in late February and early March, when it was not very cold.
The CROSS-OVER PANT kept me warm and, at higher temperatures, kept me fresh. It's really well made. Cordura 600 D is found on the buttocks, knees and inner lower legs. The back stretch panel allows us more freedom in our movements. The waterproofness of the pants allowed me to come back dry after snowmobile ride, which is not unpleasant.
EVA THERMAL BOOTS are extremely light and warm and I wear them barefoot. There is Velcro scrap located and the top of the boot is adjustable to prevent snow from entering the boots. The slippers can be easily removed for drying.
The MODULAR HELMET, ELECTRIC SHIELD, and solar visor form a winning combination to spend a beautiful snowmobile day without vision problems. Snowmobilers who wear glasses will not be left out, because we find grooves to be more comfortable. The breath deflector is adjustable with Velcro on the sides of the cheek and a snap buttons in the front. In the helmet I tested, there is good ventilation in warmer temperatures. It is recommended to take the time to choose the right size. There are additional cheek cushions that enlarge the cheeks. The helmet must be properly adjusted for more pleasure and comfort. The installation of a communication system is possible and easy because there are places for the loudspeakers.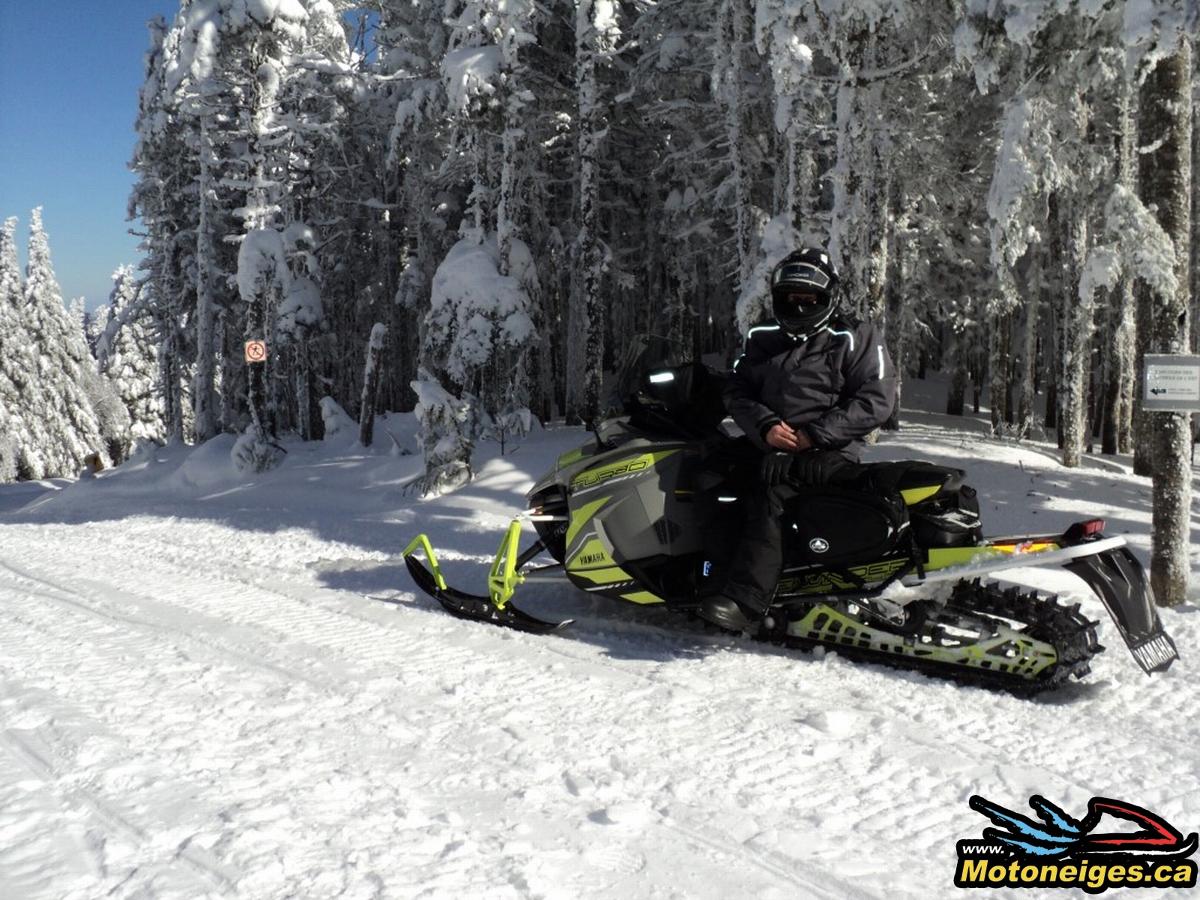 The MOUNTAIN GLOVES are very well for lovers of off-trail riding, they are very flexible and not too hot. There are non-slip grips in two places inside the hand. Gloves are adjustable to the wrist to prevent snow from entering. For the adjustments, it is necessary to take one size up than you normally use, because this product is manufactured slightly small.
BALACLAVA FROST GUARD covers almost entire face and nose, leaving only the eye area free. The part under the nose is made of a net to let the fog out. The other part is waterproof. This balaclava is the ideal solution to ride in deep snow. The snow doesn't touch your face, so our face doesn't get cold. Off-trail helmets are motocross style helmets worn with glasses.
The CHOKO CAP and the CHOKO TOQUE are products that represent well the CHOKO brand. I wear the cap in spring when I go for a walk if it's not too cold, or when I visit friends. As for the toque, I wear it when I'm getting ready to go snowmobiling and when I come back in the evening. After a group dinner in a restaurant or in a snowmobile club, it often happens that we discuss the snowmobiles that we use. Personally, I change models and brands very often and we always have fun teasing each other if we don't have the same brand of snowmobile. These are all good opportunities to show my toque.
My sincere thanks to CHOKO for allowing me to do these tests. If you need good products for next season, I recommend CHOKO products. They really meet my expectations.