BRP's Ski-Doo X-Team snocross racer Tim Tremblay, riding for the Warnert Racing team, bested a talented field of riders to win the Pro Open snocross World Championship at the 49th World Championship Snowmobile Derby in Eagle River, Wis., this past Sunday. The Derby featured a snocross track located inside the famed ice oval that featured a mix of jumps, tight turns and rough mogul sections. After seeing sub-zero temperatures for the first two days of racing at the Derby, Sunday dawned gray, but warmer, with temperatures reaching 20-degree Fahrenheit.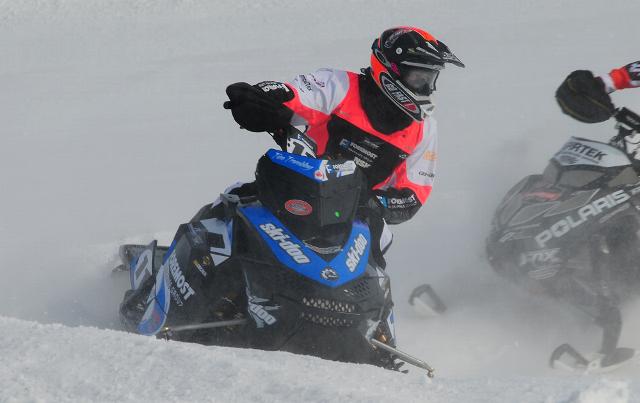 X-Team rider Robbie Malinoski, of Scheuring Speed Sports, won the Pro Open snocross race during the Derby's Friday Night Thunder event and was the favorite to win the Pro Open World Championship race, but an incident with another rider off the start in final left him at the back of the pack. Tremblay, who got a clean start, rode to the win setting a blazing pace around the rough track. Tremblay was joined on the podium by his Warnert Racing teammate Justin Broberg who took third. Ski-Doo rider Darren Mees was close behind Broberg finishing fourth.
On the ice ovals, Malcolm Chartier took the win the Factory 600 Champ World Championship race. Factory 600 Champ is a class where riders pilot a Champ chassis fitted with a stock, single pipe 600cc race engine. Chartier's single pipe Rotax 600 race engine was running lap times nearly as fast as the highly-modified 440cc engines in the Champ 440 class.
In the 30-lap Champ 440 World Championship race, Ski-Doo rider Matt Schulz was running in first place during the closing laps of the 30-lap race before he was passed by another rider just before crossing the finish line. When the checkered flag flew Schulz was just .025-seconds away from his second World Championship win in three years but he was still able to claim the second step on one of the most prestigious podiums in snowmobile racing.
Bombardier Recreational Products Inc. (BRP), a privately-held company, is a world leader in the design, development, manufacturing, distribution and marketing of motorised recreational vehicles. Its portfolio of brands and products includes: Ski-Doo and Lynx snowmobiles, Sea Doo watercraft and sport boats, Evinrude and Johnson outboard engines, Can-Am all terrain and side-by-side vehicles and roadsters, as well as Rotax engines. BRP products are distributed in more than 100 countries.