BRP is expanding its revolutionary E-TEC engine technology in Ski-Doo snowmobiles with the introduction of the much anticipated Rotax E-TEC 800R engine. This lightweight two-stroke engine uses sophisticated electronic injectors and a powerful central computer to deliver stunning improvements in performance, efficiency and ease-of-use. This engine debuts in a limited build 2010 Ski-Doo MX Z X-package sled.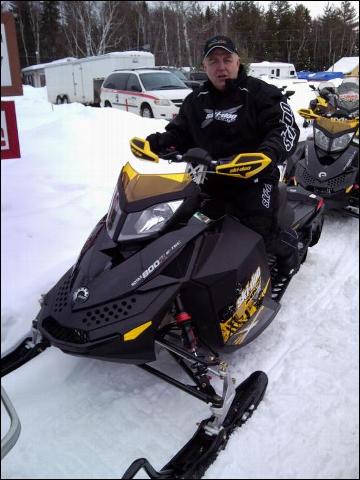 «This is a no compromise engine. Not only does it generate more power, but it sets new benchmarks for fuel and oil economy,» said Bob Lumley, vice-president, Sales & Marketing, Ski-Doo/Sea-Doo. «In fact, the new E-TEC 800R engine is up to 37% better than our competitors in fuel economy,» concluded Lumley.
Benefits of the 800R E-TEC engine include:
horsepower exceeding the PowerT.E.K. 800;

outstanding fuel economy: 19 mpg (12.3 l/100 km);

great fuel range: 202 miles (325km);

increased oil economy: 264 miles/quart (450 km/l);

virtually no smoke or smell;

lower emissions than any other 800cc snowmobile on the market;

first pull starts every time;

super smooth, refined idle;

significantly lighter throttle pull;

automatic break-in function;

automatic summerization function.
BRP first introduced the E-TEC technology in its Evinrude outboard engines in 2003 and subsequently won the Clean Air Technology Excellence Award from the U.S. Environmental Protection Agency. Adapted later on for Ski-Doo snowmobiles, it was first brought to the market in 2008 with the Rotax E-TEC 600 H.O. engine. Since then, it has become the industry's best-selling 600cc engine and has won numerous industry awards.
«This introduction reflects the outstanding innovative capabilities of BRP, especially in expanding environmentally friendly technologies,» said Yves Leduc, vice- president and general manager, North America division. «Transferring technology and know-how from one product to another demonstrates the strength and capabilities of our design and engineering teams. It also extends our products' leadership farther and faster.»
A limited number of black 2010 Ski-Doo MX Z X snowmobiles powered by the new engine will be available for purchase at North American BRP dealers in the next few days.
So consumers can experience this remarkable new engine, a demo tour of the Ski-Doo MX Z X 800R E-TEC sleds will be travelling the snowbelt for the remainder of the winter (a schedule of events is available on ski-doo.com). Plus, a handful of Summit E-TEC 800R models will be available as demonstration units.
Bombardier Recreational Products Inc. (BRP), a privately-held company, is a world leader in the design, development, manufacturing, distribution and marketing of motorised recreational vehicles. Its portfolio of brands and products includes: Ski Doo® and Lynx® snowmobiles, Sea Doo® watercraft and sport boats, Evinrude® and Johnson® outboard engines, direct injection technologies such as E TEC®, Can Am™ all-terrain vehicles and roadsters, as well as Rotax® engines and karts. With manufacturing facilities on three continents, BRP products are distributed in more than 80 countries.
www.brp.com
Sea-Doo, Ski-Doo, Lynx, Evinrude, Johnson, Can-Am, Rotax, Spyder, E-TEC and the BRP logo are trademarks of Bombardier Recreational Products Inc. or its affiliates. All other trademarks are the property of their respective owners.