BANG………a SledMagazine.com stamp of approval
Over the years I have always taken great pride in how my sleds look and this year's SledMagazine.com long term trial Polaris Switchback Pro R LE is no different.
This sled never leaves the garage without being cleaned, lubricated, greased and polished. Over the years my detailing products of choice have evolved from the lemon scent shine of Pledge furniture polish to my most recent preference for a difficult to find spray polish by Honda.
This past October a new product caught my attention at Quebec's huge Salon des Sports Recreatifs Motorises (Recreational Motorsports exhibition).
IPONE is a company that is well known for a variety of performance lubrication products, they also make a line of premium cleaning products. These products caught my attention due to IPONE'S significant presence and the show, their history of quality innovation as well as the stand out presence of their jumbo size 14.5" 750ml packaging.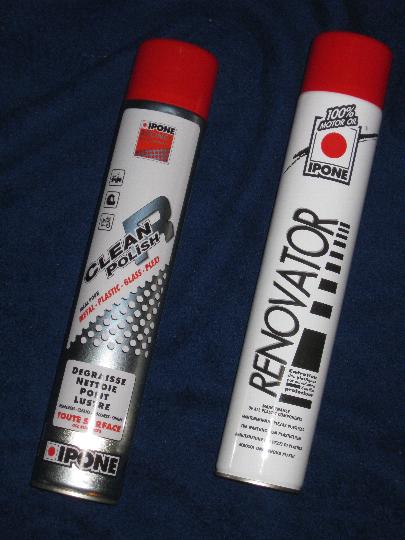 Products include a degreaser product (not shown) for ugly heavy duty jobs to a plastic restorer product called "RENOVATOR" to a dry spray cleaner polish called "Clean R Polish" with a label that reads "ideal for metal, plastic, glass and plexi".
My use has mainly focused on the performance of the Clean R Polish. It is easy on / easy off and gives me awesome results. No steaks, no smears, no residue, just a very high gloss "see your smile in it" shine.
To bring the luster and shine back to dulled, scuffed or faded rubber or plastic try IPONE'S RENOVATOR. It rejuvenates all plastic and rubber leaving a protective anti-static film that resists future fading and cracking.
Add these IPONE products to your arsenal of sled (and all RV) detailing products and you will quickly become as much of a fan as the SledMagazine.com team has become.
I like products that work and these products work extremely well. Out with the old and in with the new!
BANG…………my personal stamp of product approval!