Dustin Wahl from Greenbush, Minnesota, won his third Grand Prix Ski-doo of Valcourt on Sunday when he crossed the finish line ahead of two-time Valcourt defending champion Nicholas Van Strydonk of Tomahawk, Wisconsin and Malcolm Chartier of Marine City, Michigan. Wahl inherited first place on the restart, after race leader Joel Diamond went off-track on lap two. He never looked back. Dustin's third Grand Prix victory on the ice oval feature race, also increases the number of wins by the Wahl family, to 13. His father David won four times between 1988 and 1994, and his cousin Terry a record six times between 1995 and 2003. Local favourite Jacques Villeneuve retired with a mechanical problem from the race at the halfway point of the 15-lap affair. He was in fourth place.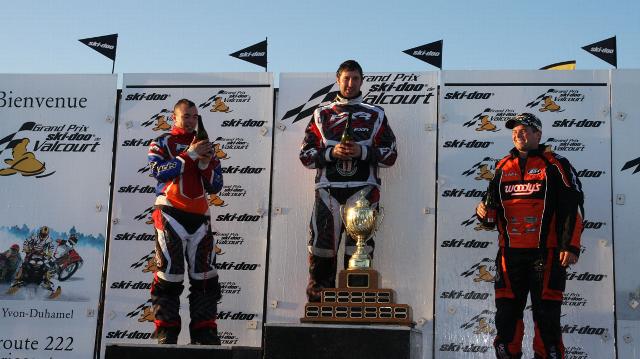 In the other grand finale of the Grand Prix, Robbie Malinoski of Lino Lake, Minnesota, ran away from the rest of field to score his first ever snocross Pro Open class victory in Valcourt. While there was a scramble for second place between Darrin Mees, Matt Morin and Tim Tremblay, the eventual winner was able to build a lead that enabled him to ease his way to the finish line. Tim Tremblay of St-Jeanne d'Arc, Quebec, dropped to fourth place from his pole position at the start, but he battled his way back to a second-place finish after passing Matt Morin from Val-d'Or, Quebec, on lap seven and took second place away from Darrin Mees from Long Island, New York, on lap 10 of the 15-lap race. Tremblay, the defending race champion, ran out of time. The top four finishers in the Pro Open are all regulars in the ISOC series.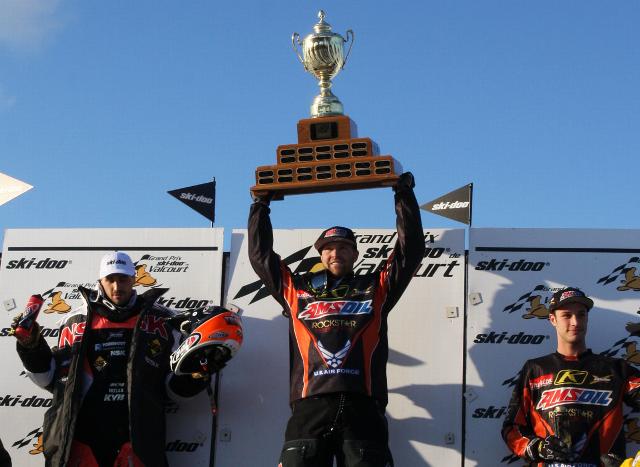 Lucas Brunelle of Boucherville, Quebec, who is a regular in the East Coast Snocross series, earned his first win of the weekend ahead of Canadian Snocross Racing Association riders Jamie Byers from Orillia and Devin Wilson from Hillsburg, Ontario.


Next year's Grand Prix Ski-doo of Valcourt will be February 15-17, 2013, the next Xtreme event race fans will not want to miss.