Usually, when I choose a helmet, I make sure to try it on in the store before buying it because the way it fits on my head is fundamental to turn an expense into an investment. So, considering that I had never tried the Altitude 509 helmet before I received it for testing, I was delighted to see that the fit was almost perfect!
Having a head that is more oval than round, the helmet is well supported all around my head and is amazingly comfortable. However, I felt very faint pressure points just behind the temples that I quickly forgot about when I started riding (the reason for the "almost perfect" fit).
The neoprene nosepiece is positioned at just the right height, and the integrated metal nose clip seals it tightly to prevent moisture from getting into the goggles. Also, the plastic portion in front of the mouth ensures that breath does not make the front of the helmet wet during periods of sustained effort. The design has been well thought out in this respect.
509 Altitude helmet with Sinister X5 (left) and Kingpin (right) goggles
To complement the helmet test, 509 were kind enough to provide me with 2 pairs of goggles, the Kingpin and the Sinister X5. These goggles, with the black/green camouflage design and the fluorescent orange lines of the helmet, respectively black and orange, really complete the look. Not too flashy, just enough to get noticed! Also, I was pleased to see that both models fogged up only on exceedingly rare occasions, making a big difference in the overall satisfaction of a set.
In terms of the goggles' fit, I preferred the Kingpin because the part covering the nose is less long and allows the goggles to be a little lower on my face than the Sinister X5. Furthermore, as far as waterproofing is concerned, I've got nothing to say. When 509 says they created the helmet to fit all their eyewear designs, they're not kidding! I didn't feel any air infiltration on my forehead, which you often feel with other helmet and goggle combinations.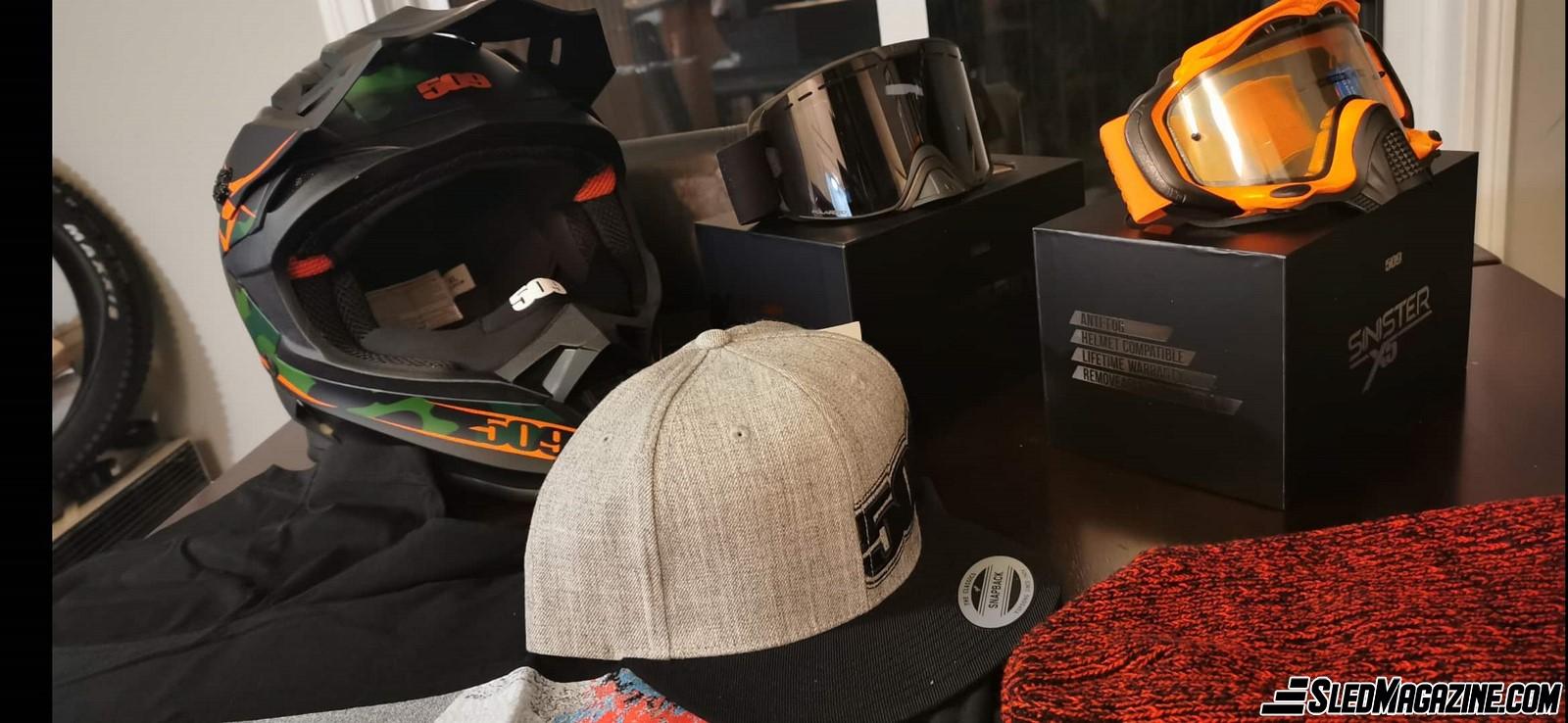 So, after a full season of testing them, I can easily say that this set will be one of the favorite elements of my off-road "kit." It's light, comfortable and has style!
Thanks again to 509 for allowing me to try it out.