Polaris allows us to experience their latest trail sleds with the full knowledge and expectation that a SledMagazine.com long term trial is the real deal. Just like you, we ride real world distances, terrain and conditions throughout an entire Northeast Winter. We are you and you are us. We appreciate their respect of our unique format of trial and their recognition that our readers expect and demand reviews well beyond a repetition of marketing brochures.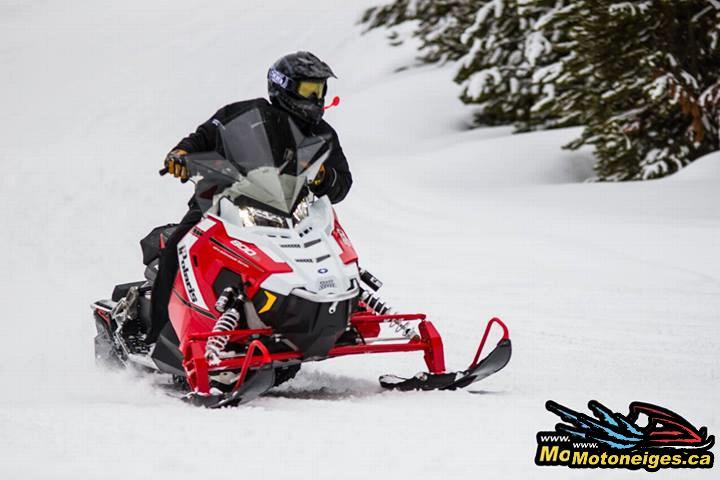 My Polaris long term ride for the past season was the Limited Edition 60th Anniversary 800HO AXYS Switchback.
Rarely does the promise of a 1st year chassis/model /engine live up to the promise, expectation or hype. This is especially true when the introduction of design and technology is as "front to back" complete as it was on Polaris' 2015 AXYS trail models. On paper and in presentation everything about the AXY seemed right.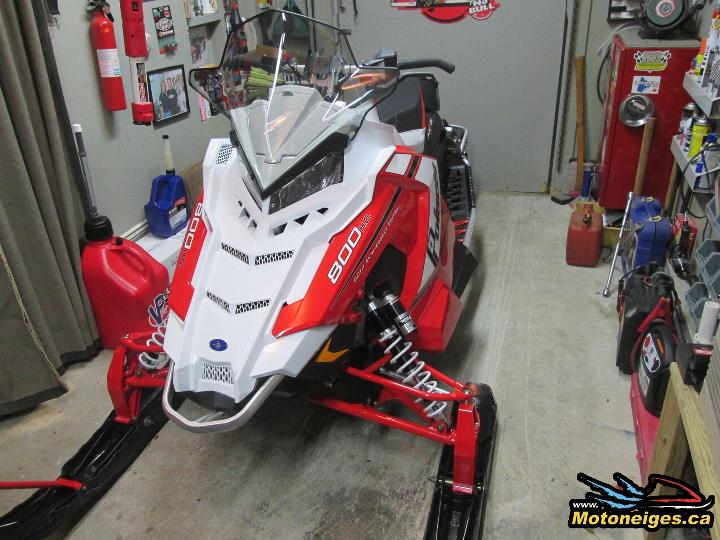 From the first moments alone with it in the shop, the AXYS was impressive in design, detail and fit / finish.
Polaris recognizes the importance of our long term trial sleds being seen and used with a full complement of available accessories. From our Ultimate Bumper, AXYS mirrors and alternative windshields to Lock & Ride hand guards and storage accessories, everything installed, fit and functioned exactly as intended.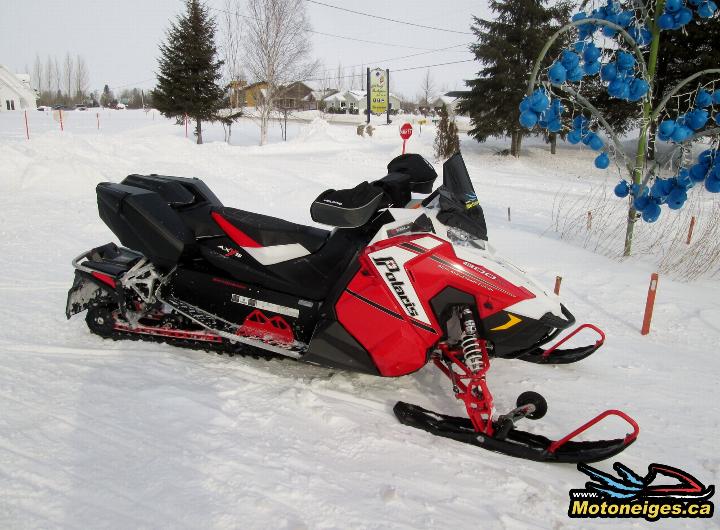 Nothing reaches out and grabs attention like the distinctive look of a newly redesigned snowmobile. On trails and at rest stops and hotels across the Northeast, the Bright White and Red Switchback LE was a frequent head turner. Our "Genuine Polaris" accessorized AXYS Switchback made for easy conversations with fellow snowmobilers in VT, NH, ME, Quebec and New Brunswick.
My season on the AXYS was totally problem free, with 3,836 miles (6,187kms) shown on the new Polaris Interactive Digital Display (PIDD). I finished the season with original sliders, no failed wheel bearings and no excessive slop in the steering or suspension bushings. Throttle response and top end speed remained surprisingly consistent on the original drive belt. I rode this sled as prepped by our supporting dealer Roadside Motorsports of Williston Vermont without any preferential attention.
Direct hits of the AXYS mission
Seating position – Seat and foot position were more comfortable and conducive to rider input than previous Pro R models. Long distances on a Polaris never felt so good.
Balance – Front to rear and rear to front transfer was noticeably more responsive to rider input than the Pro R. Its cornering and handling advancements to improve balance and stability have now been proven in full production reality. The AXYS felt lighter and handled with greater confidence in every condition that Northeast trails offer.
Suspension performance – The calibration of the AXYS' easily adjustable Walker Evans shock package was excellent in all terrain and in all trail conditions. In stutter bumps, big bumps, abrupt holes and higher speed corner forces, it was consistent and inspiring. An increased confidence level and fun factor was present on every ride. All for fun, fun for all!
Acceleration – Yep, definitely more 800 HO bite and increased rider heartbeat from the fun flipper. The performance improvements of the 800 HO gave it a more linear feeling of power from 1st hit right through full song. Improved hole shot and response from the proven lightweight crankshaft was a noticeable reality.
LED headlight – The AXYS' headlight is an absolute out of the stadium homerun. It was so impressive and so white that you notice how yellow, dull and inferior all other snowmobile headlights are. Truly illuminating!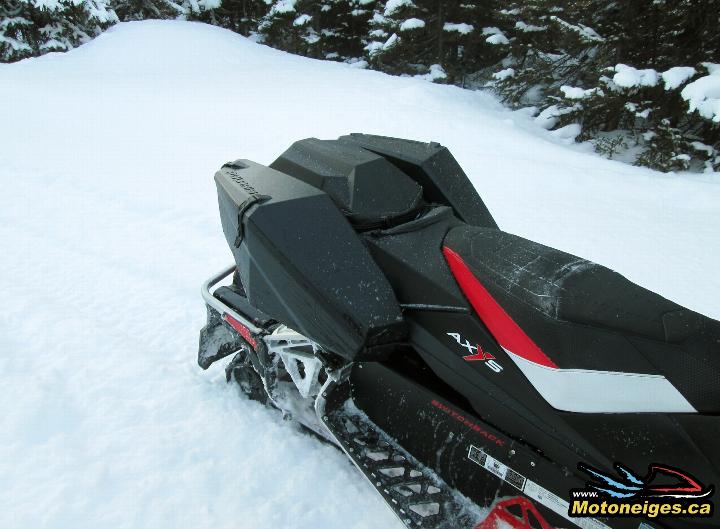 Switchback Storage – Polaris' storage and luggage system options were some of only a few items unchanged on the AXYS chassis. Available Lock and Ride accessories remain the crème de la crème of snowmobile storage and integrated luggage systems.
Minor AXYS misses
It would be unrealistic to have zero room for improvement. My short list of slight 1st year misses offers a few areas where refinement would be welcomed. (Here's a little alphabet soup) Nothing actually AXYS, more PIDD and HO related.
PIDD – Optional Polaris Interactive Digital Display (standard on our 2015 SledMagazine.com LE)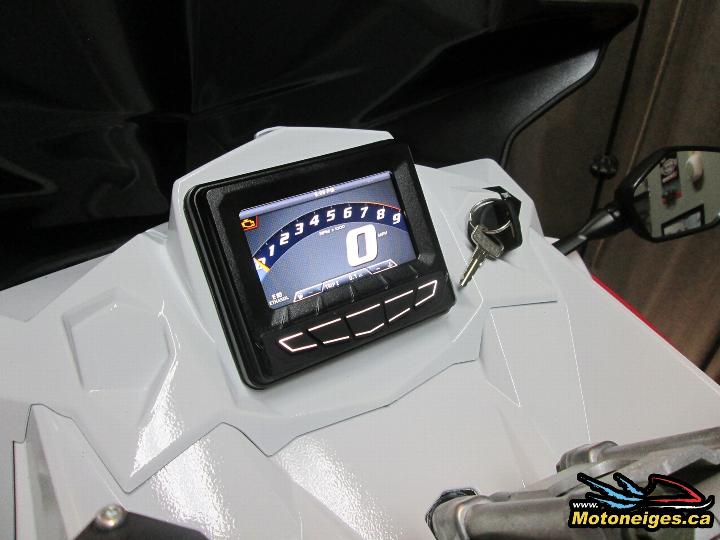 Display size – Several items of information are displayed in a size that was too small for easy reference. Particularly time and odometer data should be larger.
Gas gauge – 1st year calibration was particularly inaccurate. Significantly premature low fuel readings and warnings were distracting and left me doing mileage and fuel range math in my head.
GPS function – For me in my 2015 riding areas (VT, NH, ME, Quebec and New Brunswick) the PIDD's much acclaimed Rider X data base and GPS function fell short of the mark. While I'm far from tech savvy, my experience with the available downloaded trail data and accuracy was just not equal to fully featured mainstream GPS units.
NOTE: These observations have been recognized by Polaris engineers and more accurate calibration and other format/gps improvements are expected to be a part of PIDD's near future.
Fuel and Oil Consumption – In Polaris' advanced presentations of 800 HO technologies, they never made claims of improved fuel or oil mileage on the HO engine. And we expected conservative mapping on this first year motor with a new electronic pump oil delivery system. I believe that is exactly what Polaris delivered for 2015. Other reviews have indicated improved consumption of both oil and fuel, this was not my experience.
Fuel Consumption – My experience across an entire season was that the fuel economy was virtually identical to what I experienced with non HO 800 motors over the past 2 years. I was satisfied with my 12-13 mpg results as it was consistent and respectable for increased power and response. I got all of the 800 HO's performance benefits with no additional consumption.
Oil usage – During my trial, oil consumption was more than a slight disappointment. The electronic oil pump was presented as providing similar consumption to the previous mechanical pump with the durability advantages of more precise oil delivery across a wider range of engine/rpm conditions. The Polaris VES Gold oil consumption was 20%+ greater than what I experienced in Pre HO 800's. This was not a positive 2015 reality for a longer distance touring rider like me.
I choose to attribute this "short of the mark result" to Polaris wanting to enjoy all the benefits of a durable, no drama, 1st year introduction of their 800 HO. If Polaris is not going to offer a Four Stoke snowmobile engine, their 2 Stroke engines must offer well below average oil usage. Based on a successful "NO Drama" 800 HO launch, I look for improved oil consumption efficiency in 2016 and beyond.
When you boast of taking a focused aim at new heights of vehicle performance, the risk of falling short of the target rises. With very minor exceptions the AXYS has lived up to its promise.
General observations
Cold Weather starting – Throughout the season and during 4 days in the Cote Nord region of Quebec when the temperature was as low as -40 and never warmer than -10F the 60th Anniversary Switchback started reliably and without a hiccup or hesitation
Wind protection and rider warmth – With the optional mid height windshield, Lock & Ride hand guards and occasional use of Polaris' formed opening gauntlets the wind protection was more than adequate and comfortable. Hand warmers were good, but not exceptional.
AXYS side panels– The glove friendly side panel removal knobs were a welcome and very easy to use feature.
Track– Traction and cornering performance of the Switchbacks' 1.25 Ripsaw II was spot on. My addition of 96 Woodys 1.325 Signature series studs with round aluminum backers was perfect for extra cornering and braking traction in icy conditions. To balance my addition of mild studding, I upgraded the stock carbide runners with 6" Top Gold series carbide runners from Quali Pieces. And as always a sharp carbide edge was maintained with regular use of BiteHarder carbide runner sharpening products. I prefer using BiteHarder's long life (200+ sharpenings) Professional series tool. Nothing flings fire off the edge of carbide like diamonds at 10,000+ RPM
AXYS RUSH VS AXYS SWITCHBACK
It's a question asked more than any other. For shorter distance, smoother trail, all out turning performance the AXYS RUSH would be my choice. For point to point, long distance performance touring with capabilities for deeper untracked snow, I'll take the AXYS Switchback every time.

SledMagazine.com Test Rider Greg Gilbert at Ayers Lake lookout in New Brunswick
The 2015 AXYS 60th Anniversary Switchback matched my riding needs and style very well. I will sincerely miss its impressive combination of power, handling, comfort, capability and storage capacity.
If you were not convinced by the marketing hype of the AXYS trails models, be convinced by the reality of AXYS after thousands of real world miles. SledMagazine.com was!
As always we invite you to review our introduction, first impressions and ride review articles on each of our trial sleds.
Look for our upcoming Facebook announcement on an interesting change in direction and goals for my 2016 long term trial sled from Polaris.