Riders in North America will finally be able to buy Lynx sleds, starting with their 2022 models. It's welcome news, as the Lynx Boondocker DS is a highly versatile deep-snow weapon designed for some of the harshest backcountry off-trail riding. I jumped on the chance to ride the new Lynx Boondocker models for a couple days and test them in the steep and deep backcountry terrain I'm fortunate enough to call my backyard, West Yellowstone, Montana.
So, how does it ride?
The Lynx Boondocker DS was designed in Finland to withstand some of the harshest most rugged mountain environments known to snowmobiling. It's a sled that likes to be ridden rough and designed to excel in hardcore backcountry style riding. But that doesn't mean it handles like a lumber wagon. If fact, it handles amazingly well.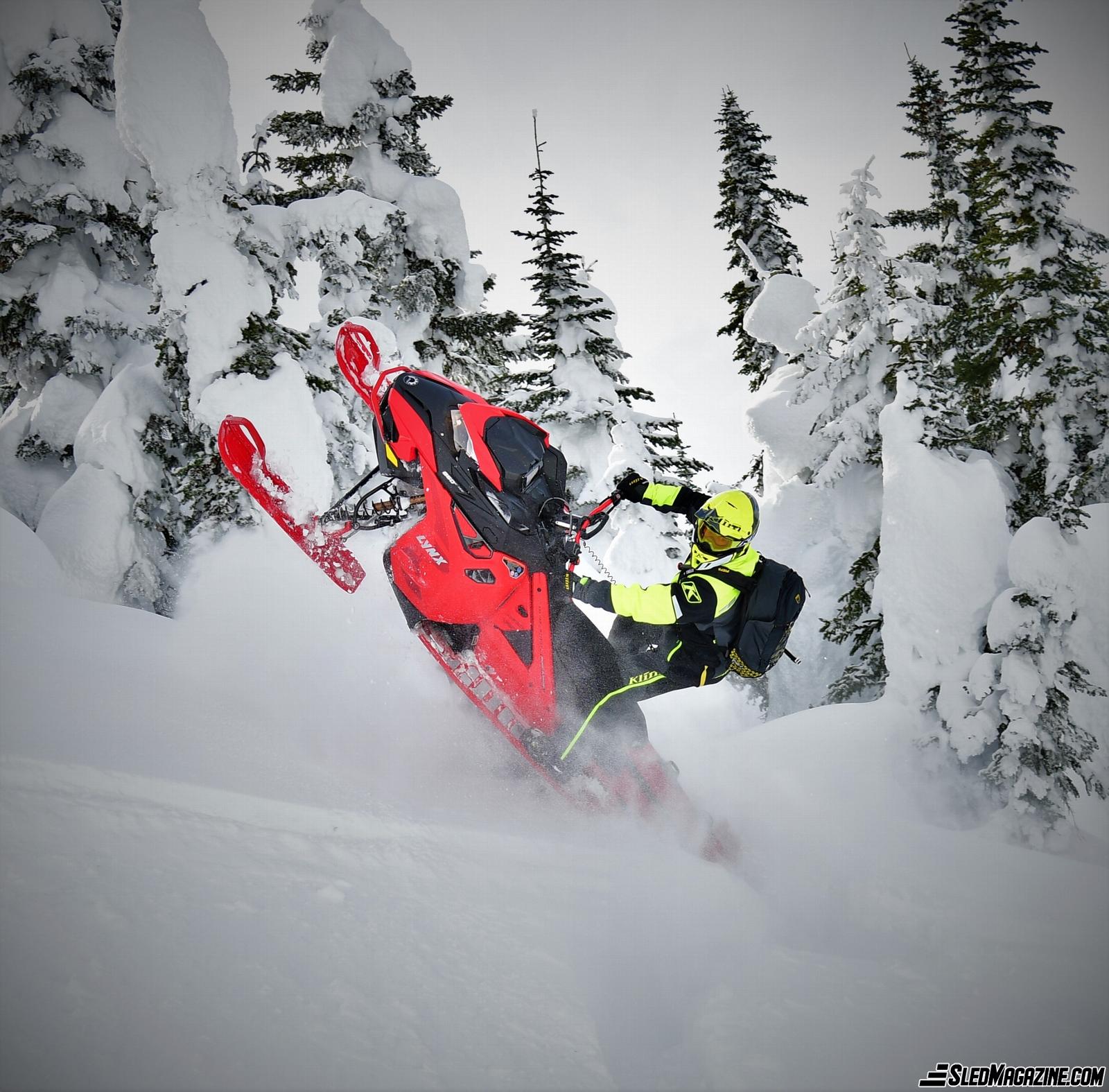 From the first few minutes you ride the Boondocker DS sleds, you can feel the responsiveness, with the chassis reacting with very little input from the rider. For someone riding in the mountains all day this is great; you conserve a lot of energy as the sled takes less input to put it where you want. They also have a short Radien DS tunnel for less drag in deep snow, for more agility and fun-factor playing in the powder. This really helps with technical maneuvers in steep terrain and deep snow. It allows you to bring the sled around much easier when you're in a climb or doing a reentry.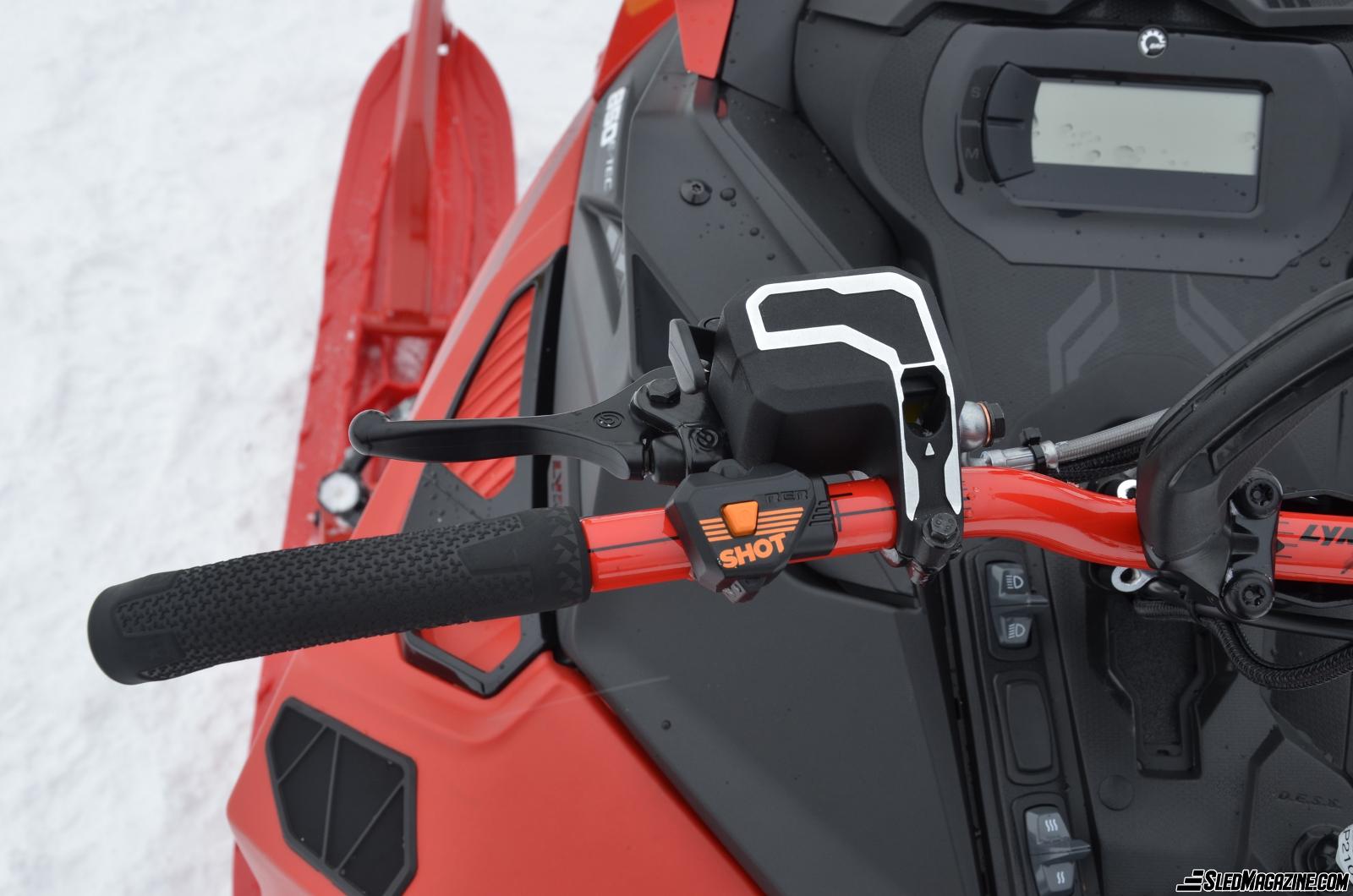 Features, engine, and suspension
The Boondocker is a good-looking sled with the great fit and finish, with an eye-catching Viper Red color that's sure to turn heads anytime you're out riding. It comes standard with the innovative E-TEC SHOT starter system and a metal brake reservoir. They're also equipped with different handlebar grips that felt comfortable and gave plenty of grip.
The Boondocker DS is powered by the Rotax 850 E-TEC engine, a proven work horse that delivers explosive throttle response and incredible performance with an output of 165 hp. The heart of the Boondocker DS "Rotax 850 E-TEC engine" is powerful and quick, all while maintaining smooth power delivery for maximum handling. This year's Boondocker powerplant options do not include an 850 E-TEC Turbo. Hopefully it will be an option for next year—we'll keep our fingers crossed.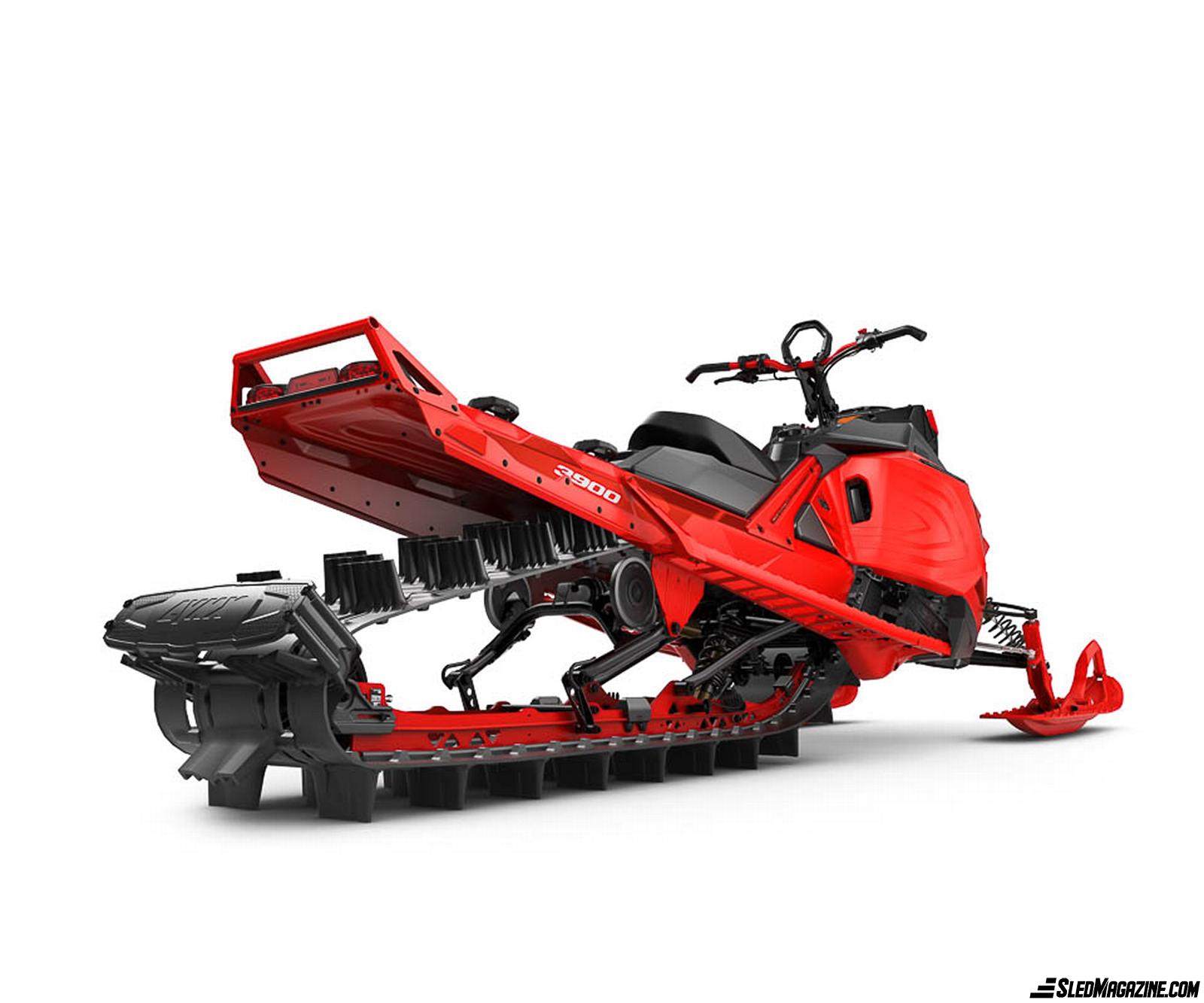 The unique rear axle snow guard instead of a snow flap looks a little out of place to most of us but it worked well. It won't catch under the track in reverse. Its focus is to help with cooling when riding on hard packed surfaces. It deflects the snow spray to the tunnel and heat exchanger to keep the sled cool, we tested it on the trail ride to the backcountry and it worked great. Lynx also attached a rugged reinforced bumper and 2 pairs of LinQ attachments straight from the factory.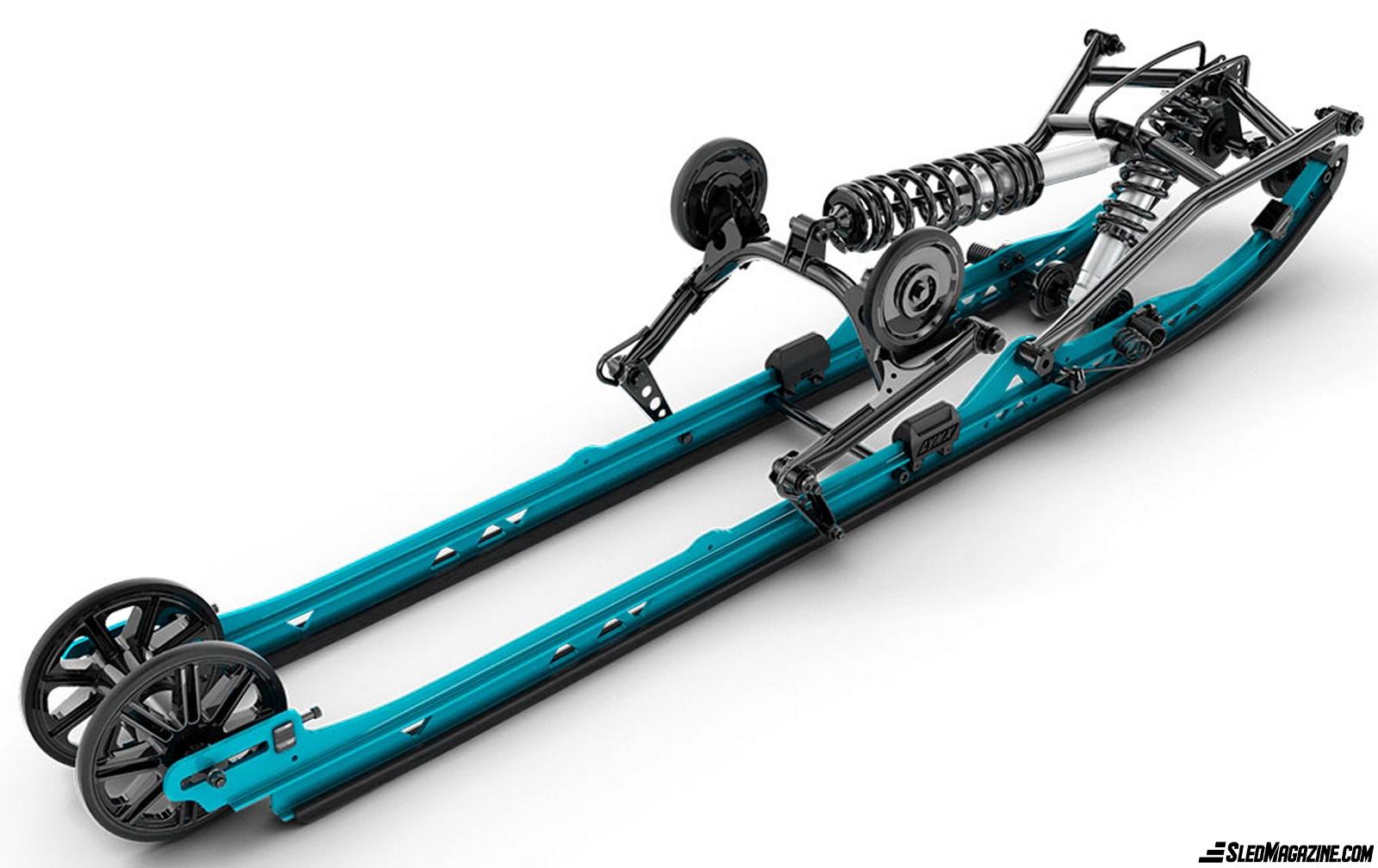 The PPS2 DS rear suspension has a very open rear arm design keeping the suspension clear of snow and thus reducing weight and overall performance off trail. It was designed with deep snow and off trail riding in mind. Its lightweight design and low angle of attack improves handling and performance.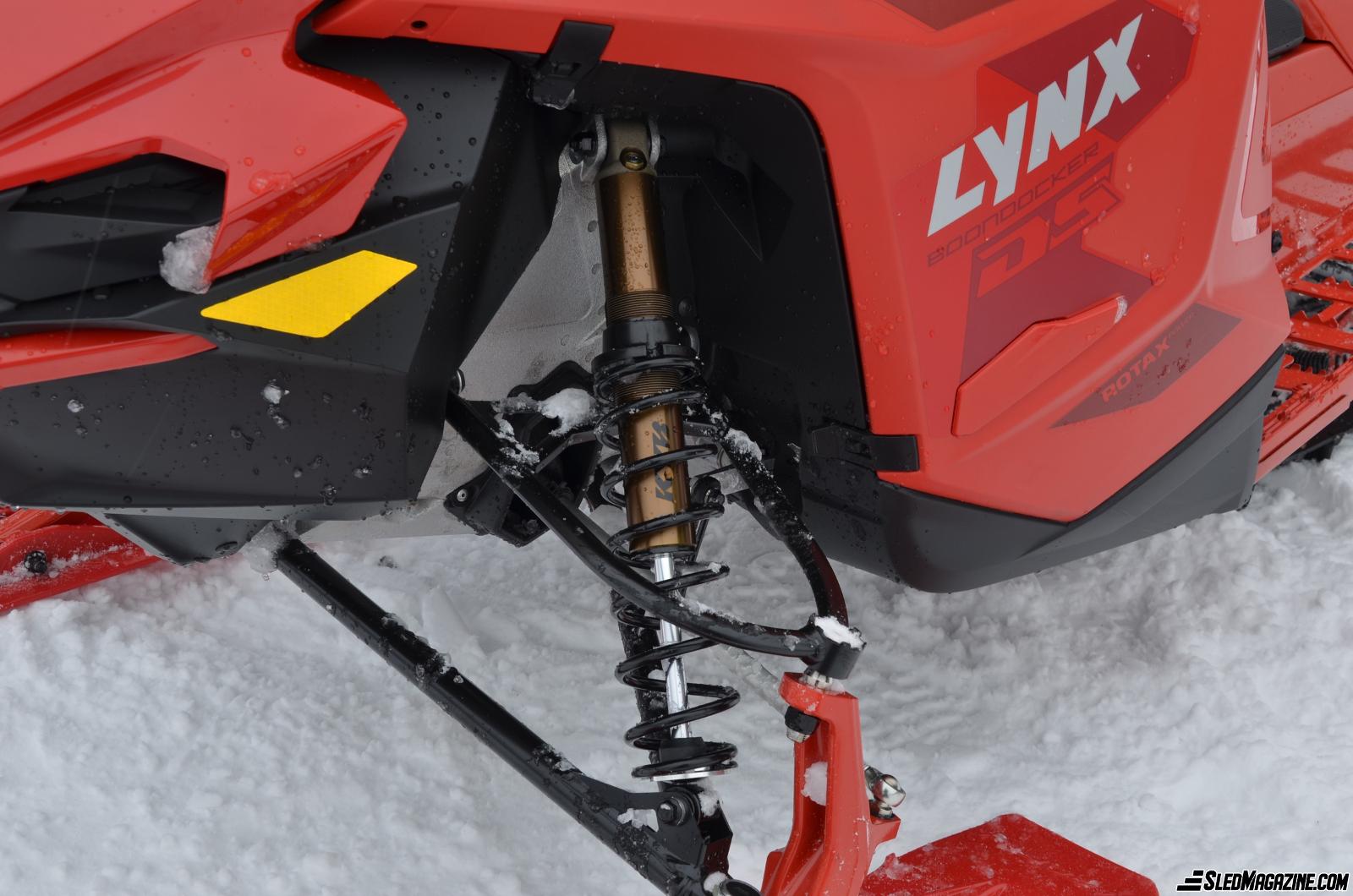 The coil over design with the KYB 36 KASHIMA coated shocks have been designed and calibrated for active riding. Kashima coating on KYB shocks helps reduce the internal friction, improving the sensitivity of the suspension and the overall handling of the snowmobile.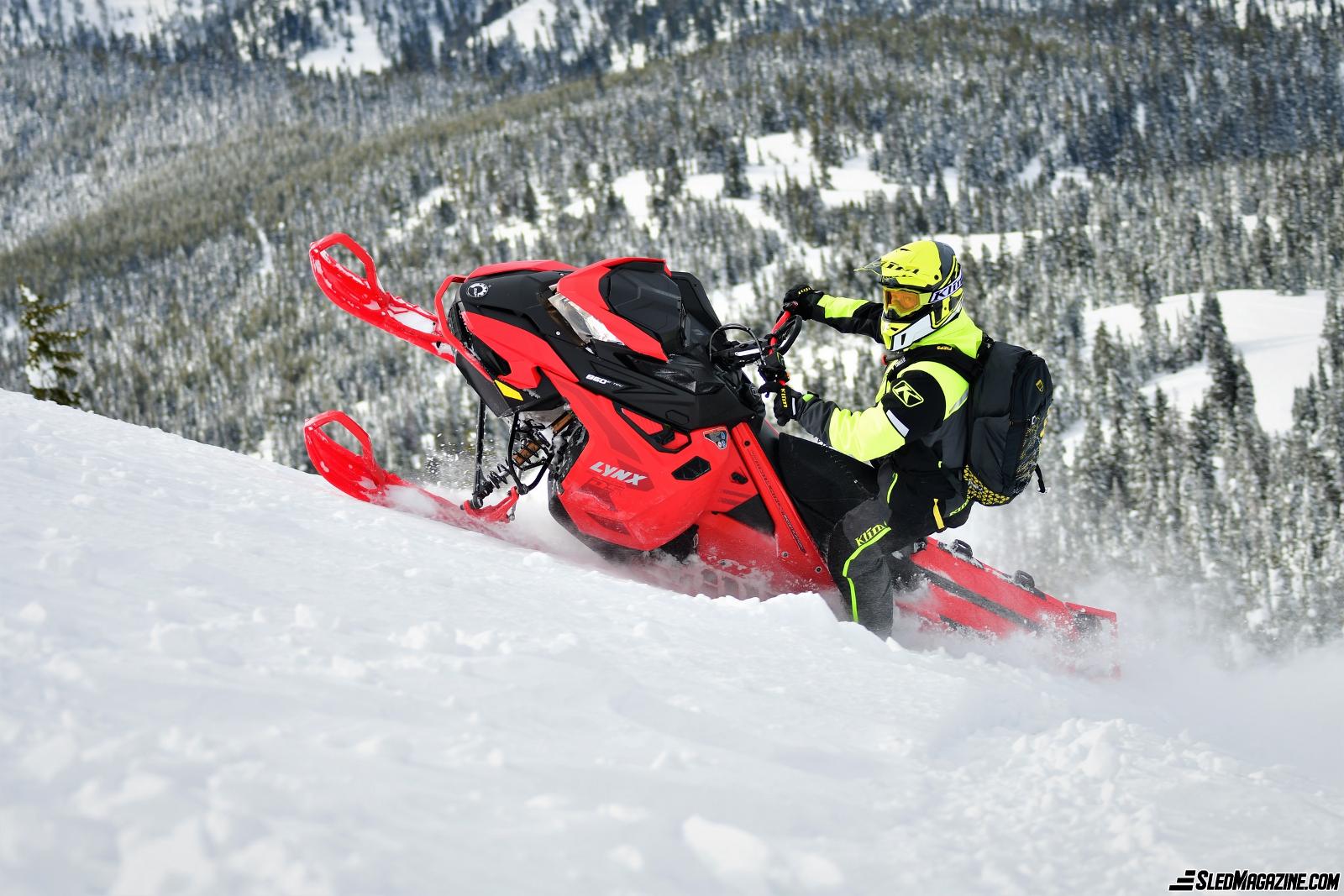 The Boondocker DS models come with a slim fuel tank and seat design for active riding, which significantly help with movement and body positioning. The lower seat height and narrower width helps reduce weight and improves the rider's movements for aggressive riding in deep snow.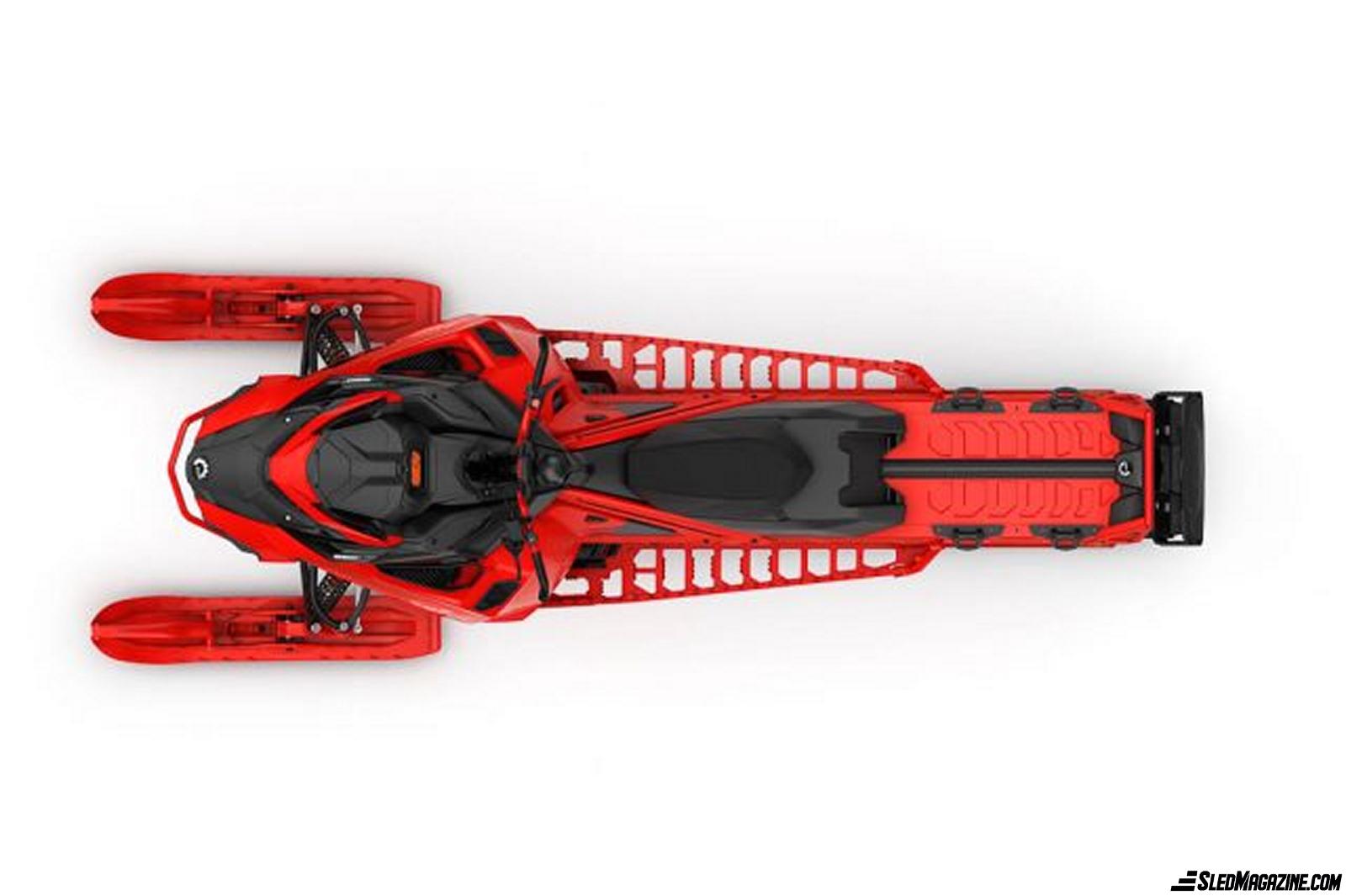 The Blade DS+ skis were specifically designed for the Boondocker models and technical deep snow riding. They offer predictable steering even in high-speed turns and are easy to handle when crossing a tracked-up slope. With a width of 7.8" (199mm) and length of 40.2" (1021mm), the ski is wider and longer compared to the skis we're used to. The main reason for this design is to keep the skis floating and on top of the snow. The precise handling that you feel with this improved design gives you the confidence to hit your lines and push the limits with this sled. The ski stance is adjustable and can be set from 36" to 38".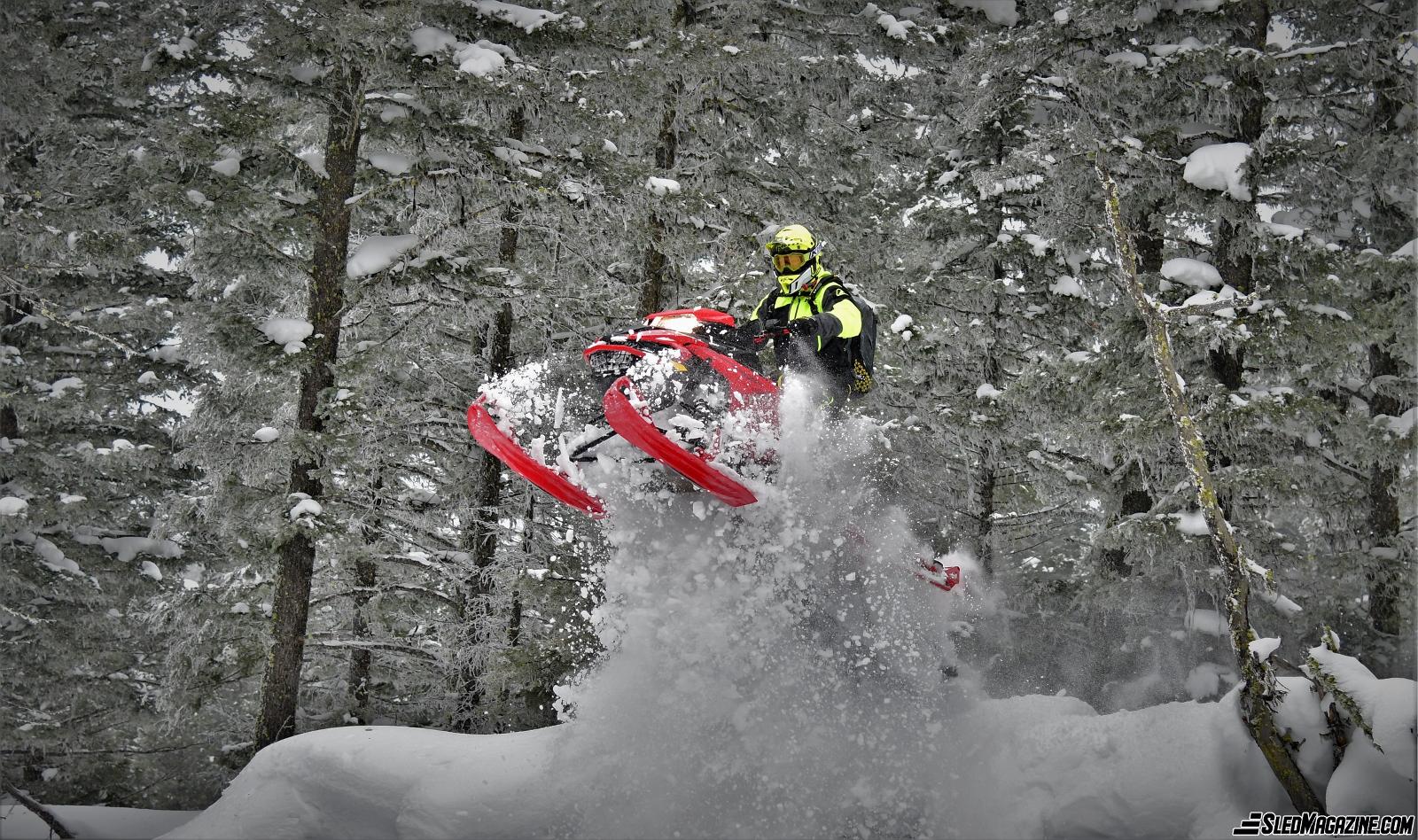 The Lynx Boondocker is designed to handle big drops and an aggressive riding style-the harder you ride this sled the better it likes it. It's really a fun playful sled that also will handle its business well in the tight, technical tree sections.
When it comes to track length options for the Boondocker DS in North America there are two:
Boondocker DS 3900: Will have a Sea-level calibration and feature a 16" x 154" x 2.5" PowderMax Light FlexEdge Track.
Boondocker DS 4100: Will have a High-altitude calibration and feature a 16" x 165" x 3.0" PowderMax Light FlexEdge Track.
If you choose the 3900 or 154" length you'll also be getting a 2.5" track and Sea-level calibration. This year there isn't an option for a 3" track and High-altitude calibration in the 3900 length. Hopefully the 3" track with High-altitude calibration will be available in the 3900 for model year 2023.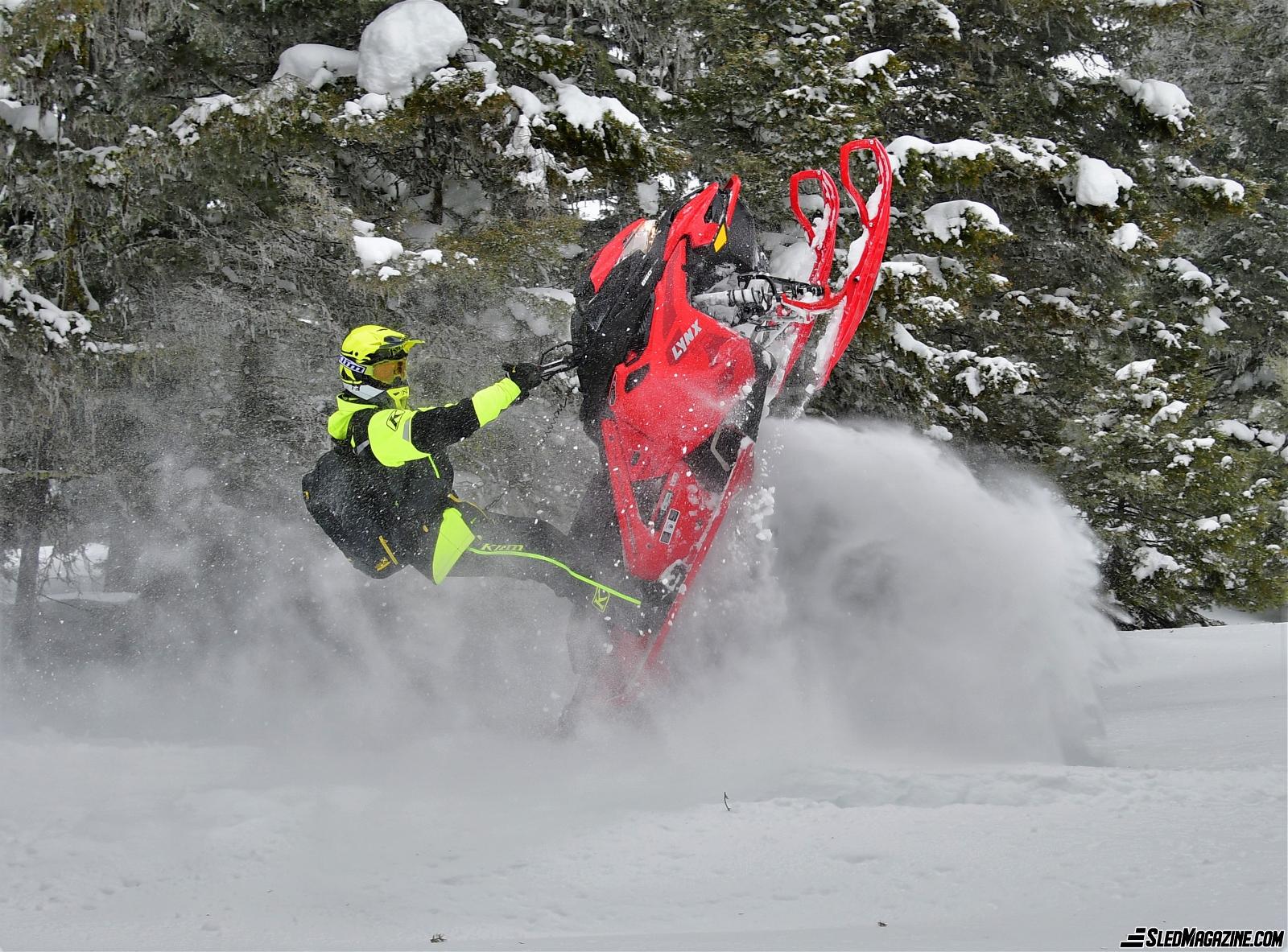 Geared toward hardcore riders, the Boondocker DS is a sled with a very active riding style, in an aggressive package with a refined feel. It's for pushing your limits and riding the areas less traveled. Both models have unique styling, high-end components, and innovative design features that combine to provide excellent handling characteristics. The demanding conditions that these sleds were designed around show through in the engineering to withstand punishment and thrive in all snow conditions.
The Lynx Boondocker DS models are available in North America and you can only get one during Snow Check season, ending March 31, 2021. All Lynx Boondocker DS models will come with a factory three-year warranty. For more information and in-depth product information and technical specifications, visit www.brplynx.com.