With several thousand kilometres now displayed on the 2020 Ski-Doo Expedition Xtreme's odometer, it's time for me to give you my end-of-season review. Unfortunately, I also have to soon return this snowmobile that I would describe as perfect for me … or at least almost perfect. Versatile, powerful, comfortable, agile, good-looking… You'll soon understand why it's hard to find any flaws.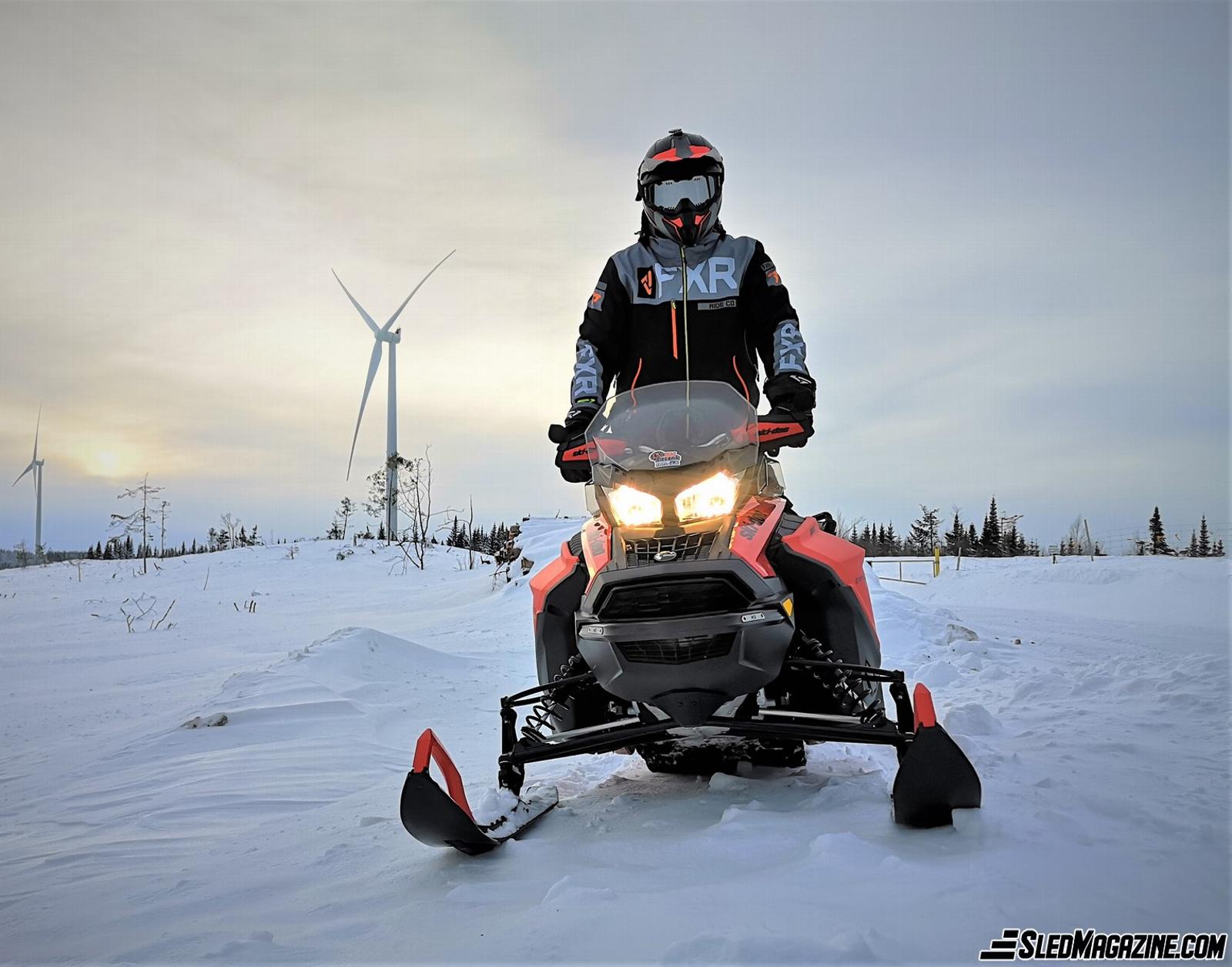 Performant and Comfortable on Trails
The 2020 Ski-Doo Expedition Xtreme provides a great trail feel thanks to the powerful Rotax 850 E-Tec 2-stroke engine with direct injection. With a 165-horsepower cavalry at the throttle, there's plenty of power to propel this fairly large snowmobile. Despite its imposing size and an oversized track, its trail agility is surprising and allows you to adopt a sporty driving style without too much effort. Of course, the 20-inch track is not as permissible as a 15-inch-wide one, but the difference is sometimes flawless—Bravo to the engineering team at Ski-Doo. Compared to 20-inch snowmobiles in the past, it's no longer as limiting to have such a large track, and it's now interesting to consider such a machine even if you expect to do a large part of your mileage on trails.
Let's get back to the 850 E-TEC's engine power, which allows for strong accelerations, confident recoveries, and speeds well beyond what can be allowed on the trail. In short, you've got everything you need to have a massive smile under your helmet.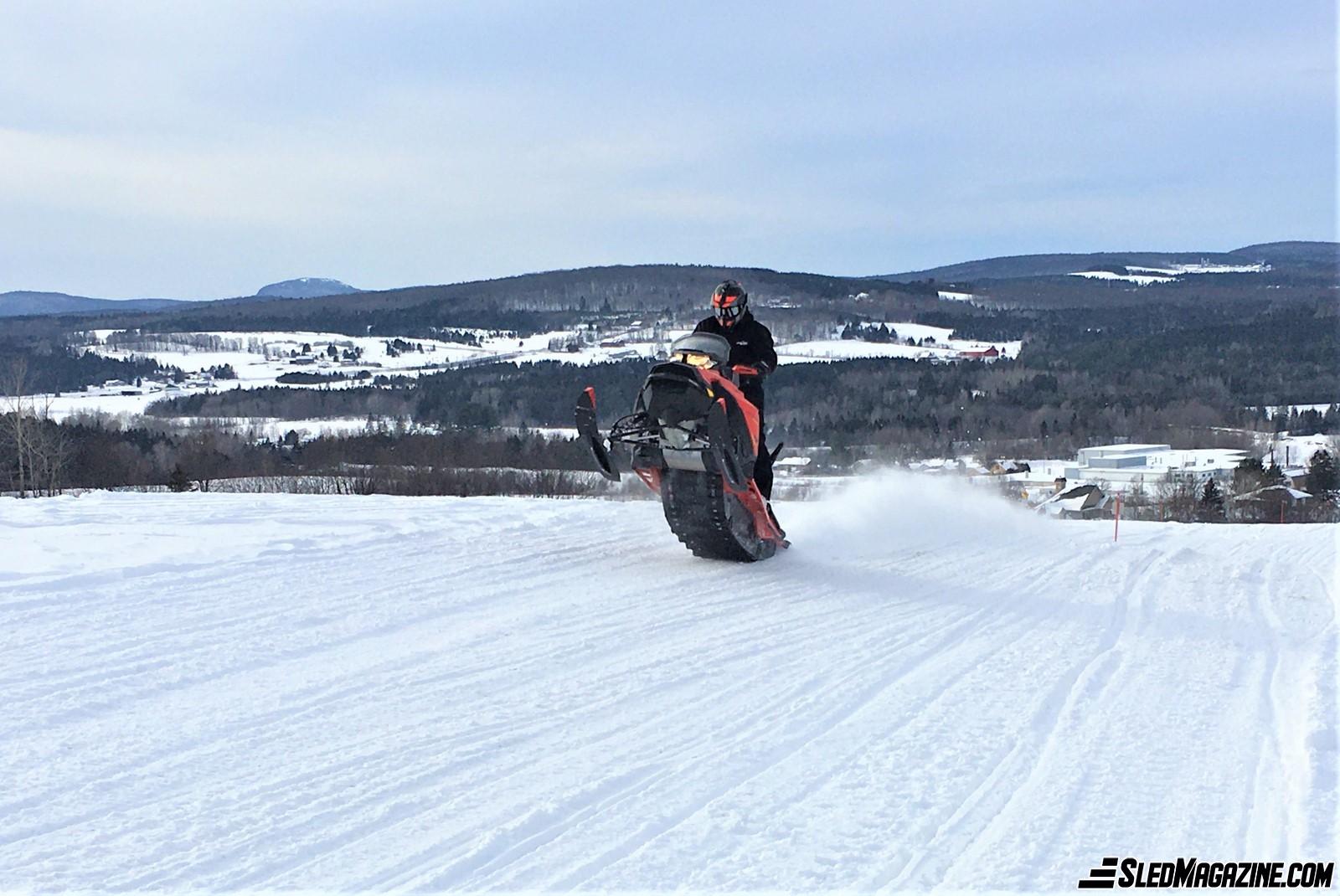 The mechanics combined with the huge track's excellent traction provides front lifts every time the throttle is pressed. In the beginning, you have to be careful when exiting a curve, but you quickly learn to manage, and you'll surprise yourself having fun doing it all the time. At least, that's my "Xtreme" way of driving this snowmobile. You feel in full control even when you do long wheelies.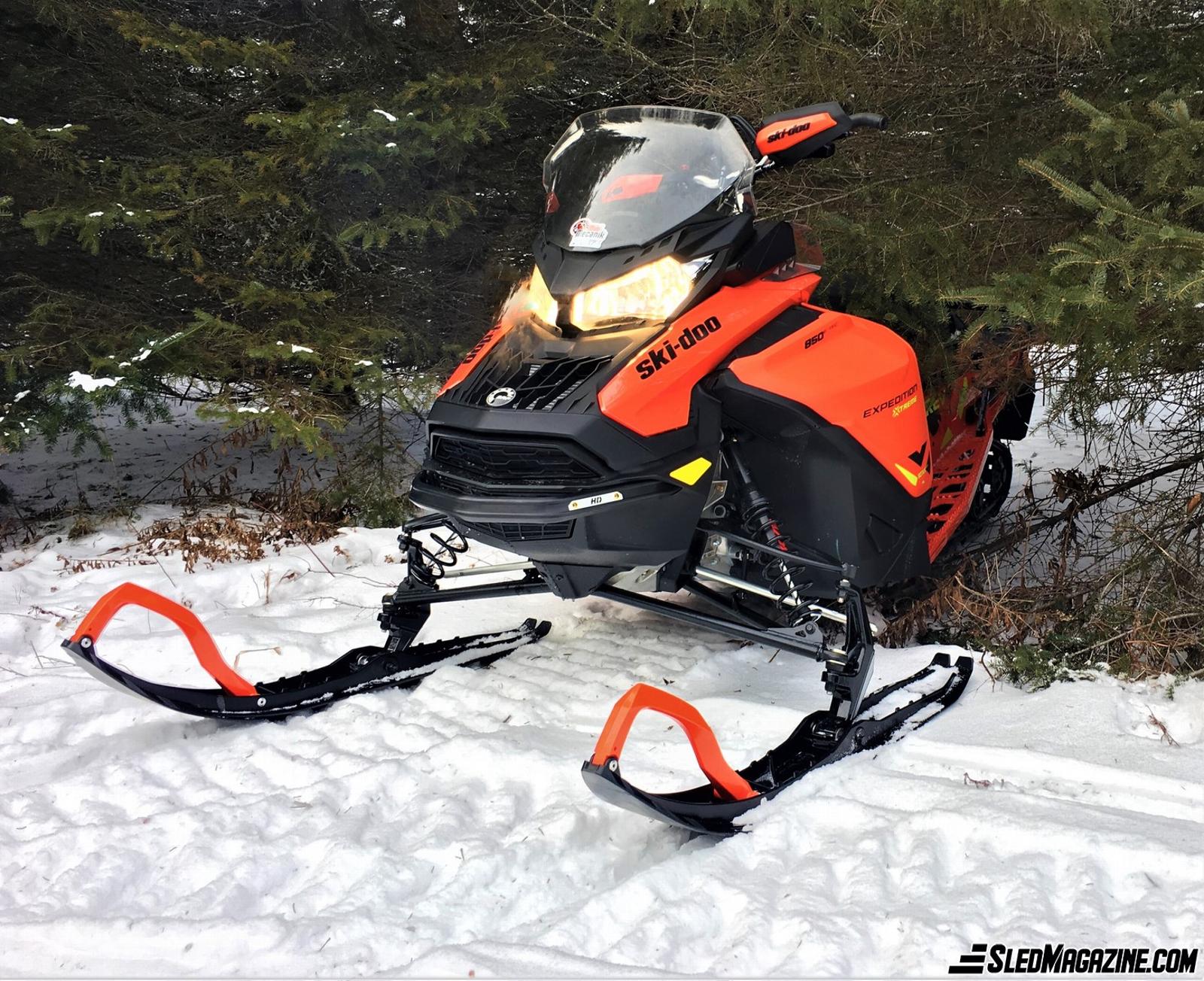 In terms of control and handling, the Pilot DS 3 skis that are usually found on mountain snowmobiles are standard on the Expedition Xtreme. With the centre-keel design and a fairly aggressive runner, the skis grip well, and bends are easy to take. These skis offer a lot of trail bite and are a perfect match for the RAS 3 hybrid front suspension behaviour.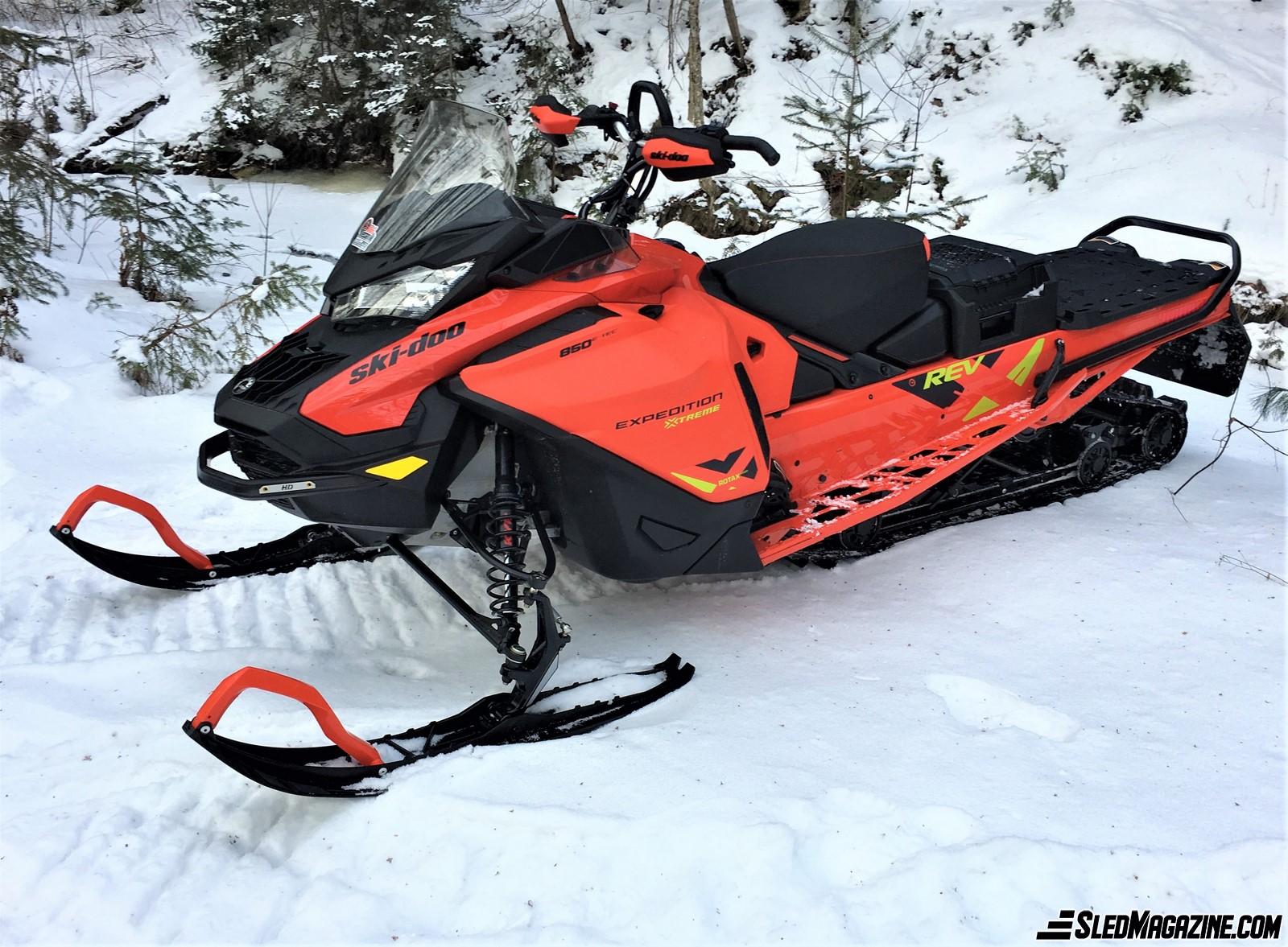 The HPG Plus front shocks provide good firmness at medium speeds and excellent flexibility when the trails are rough and bumpy. The calibration is well adapted to the use of this snowmobile and overall seems resistant in the medium/long term.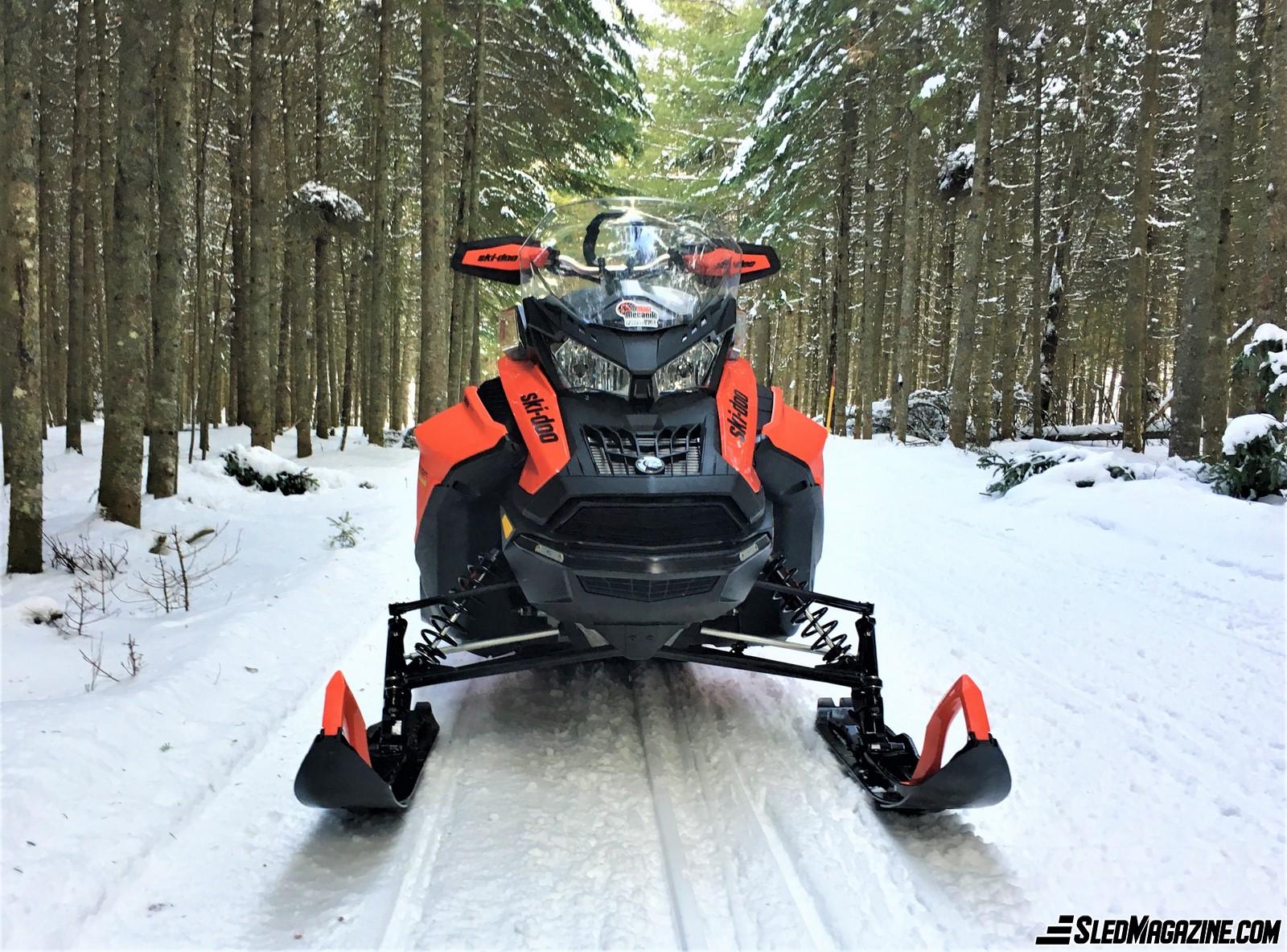 Another remarkably interesting point is, without a doubt, the adjustment of the ski stance of 38.4 inches to 40.2 inches, which allows the snowmobile to adapt to the trail or off the beaten path. For my part, I preferred the tighter stance due to my more off-trail use. The wider stance provides excellent stability for trail riding, and it's exceedingly rare to ski lift with this snowmobile. Probably due in part to its size and the excellent rigidity of the enlarged REV Gen 4 chassis.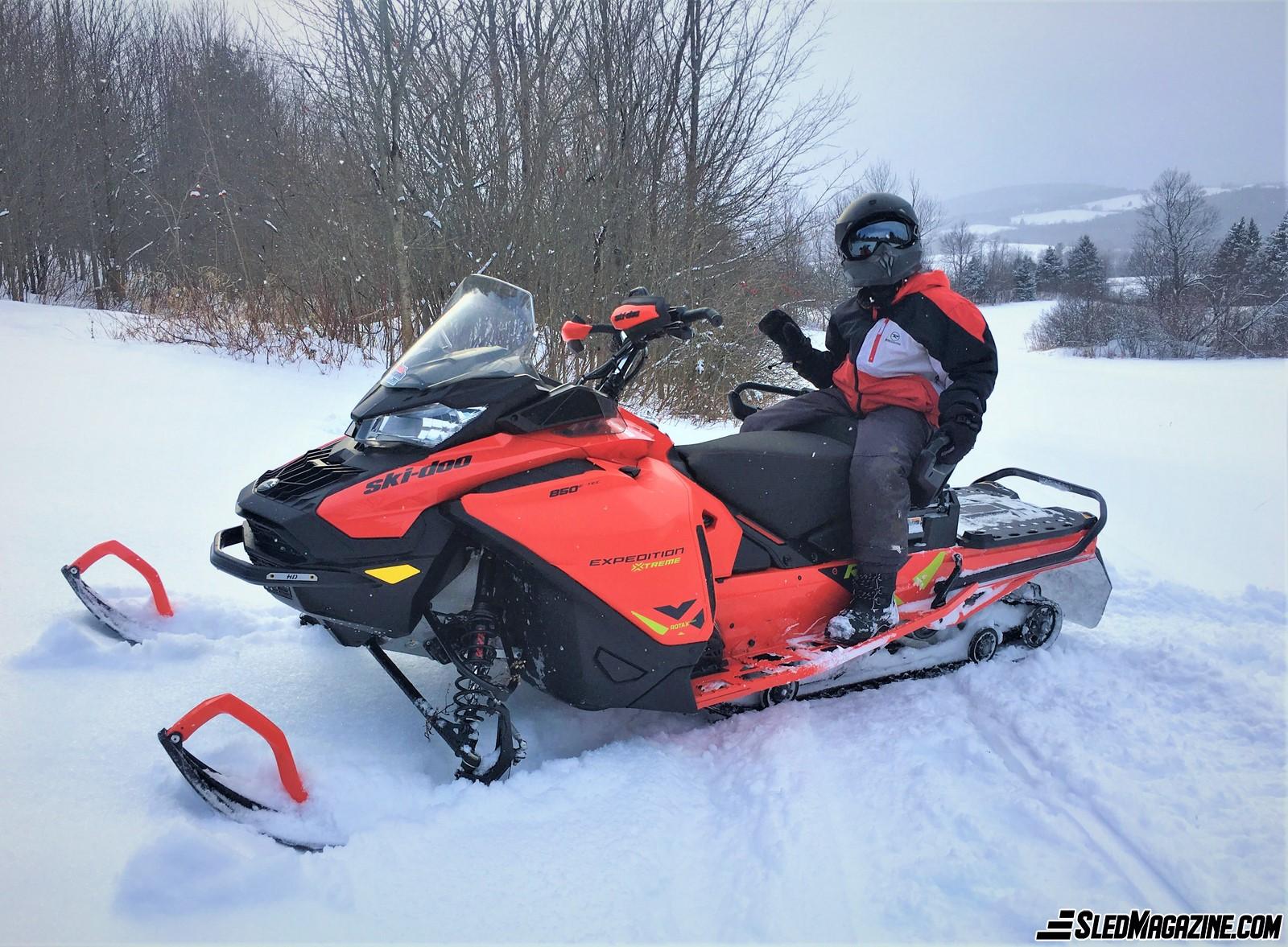 Another aspect that I wanted to assess on the trails was driving with a passenger. Therefore, the test snowmobile was equipped with a passenger seat that can be installed very quickly with two latches located on each side. The fastening system is simple and efficient while allowing quick access to the trunk underneath. The trunk is very practical, by the way. After several kilometres of driving with two people, the comfort is incredibly good, according to the different passengers who have tried it.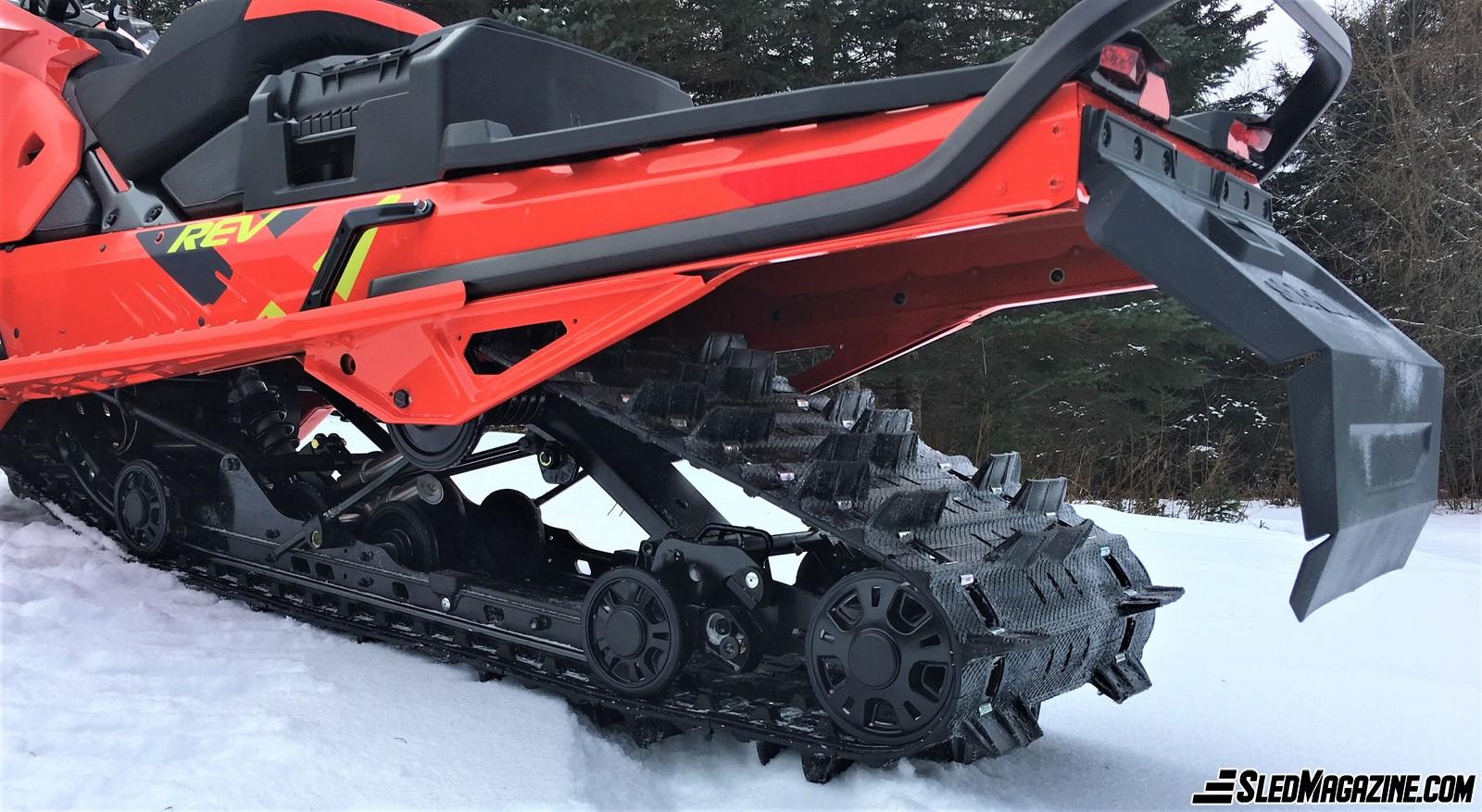 The rear suspension is excellent for optimum comfort and control, whether you're riding alone or in pairs. You can count on the KYB Pro 36 rear shock that offers effective compression adjustment in 22 clicks depending on the snowmobile's condition and weight.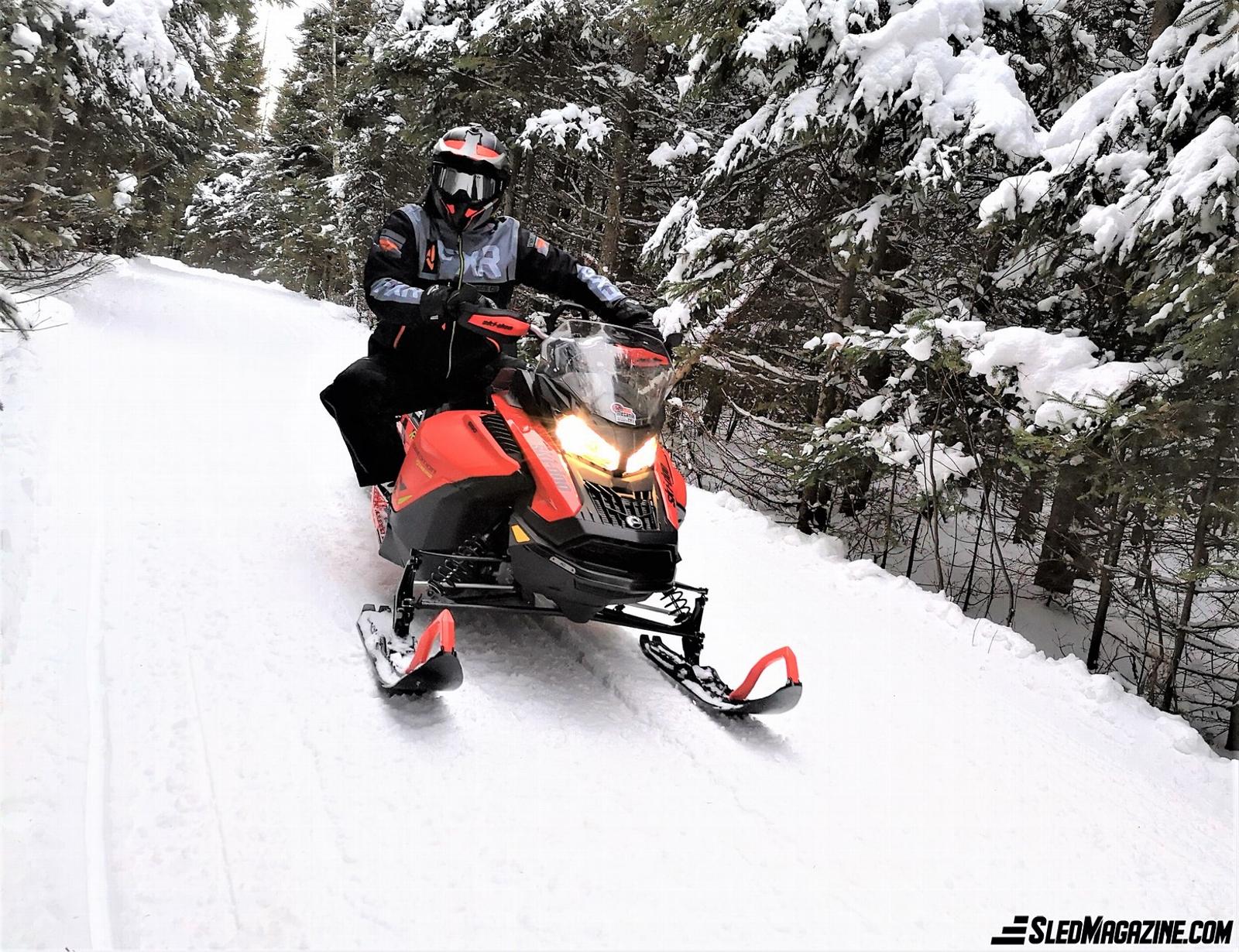 To sum up the trail aspect, the 2020 Ski-Doo Expedition Xtreme is more than capable of trail riding thanks to the use of high-quality mechanical components, carefully thought-out ergonomics and enhanced performance. Despite its primary vocation as a utility vehicle, the Expedition Xtreme has everything to seduce you on the trails.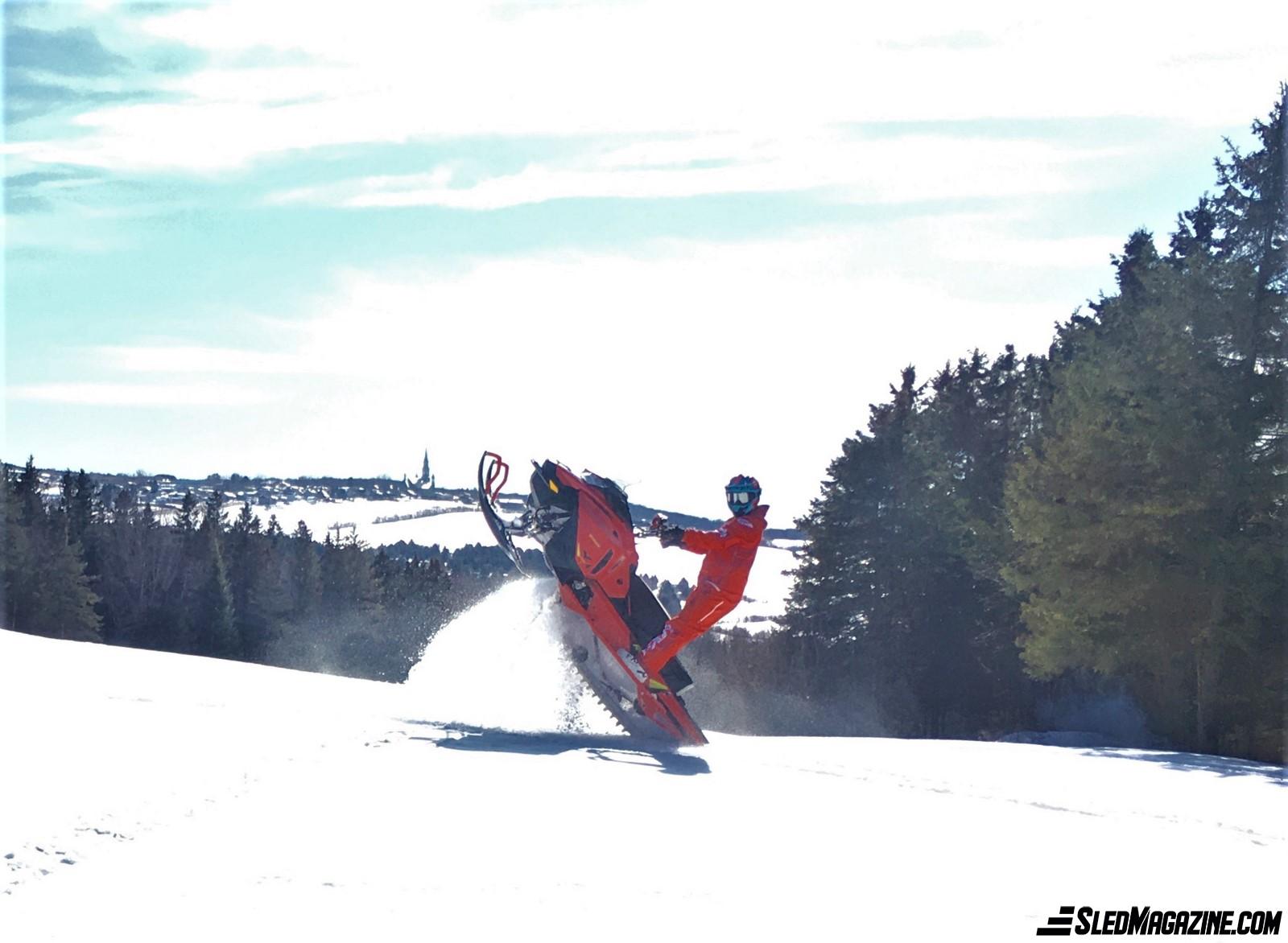 Agile and Efficient Off-trail
Off the beaten trail, the 2020 Ski-Doo Expedition Xtreme is truly at home. I would even tend to say that this is where it shines the most! With its huge 20" x 154" Cobra WT track and 1.8" of lugs, you get excellent flotation on deep snow and impressive traction in any situation. The Easy Shift transmission allows you to select the "LOW" gear to get out of the snow even more efficiently or zigzag between trees at low speeds.
In fact, the manufacturer likes to say that you have a Summit with a 20" track. It's true that with the mechanics offered, the chassis balance and the ability to overcome very imposing obstacles, this comparison makes sense. You can really go for it and enjoy long hours of off-trail fun with the Expedition Xtreme. It's extremely easy to swerve from left to right to do slalom, counter-steer to do sidehill and even jump big obstacles while completely in the air. Of course, it takes more effort to achieve all these feats, but much less than might be expected. It's natural and easy to drive the Expedition Xtreme in off-trail situations.
The Expedition Xtreme performs less well than a 100% mountain model like a Summit when the slope is very steep. The heavier weight and the 20" track become real handicaps to climb a mountain efficiently. However, I would like to point out that it does take a very good slope to stop you with the Expedition Xtreme. Aside from that, the Expedition Xtreme's agility is disconcerting for such a large snowmobile with a 20" track. You can even do solid wheelies vertically without too much effort because the track offers excellent traction.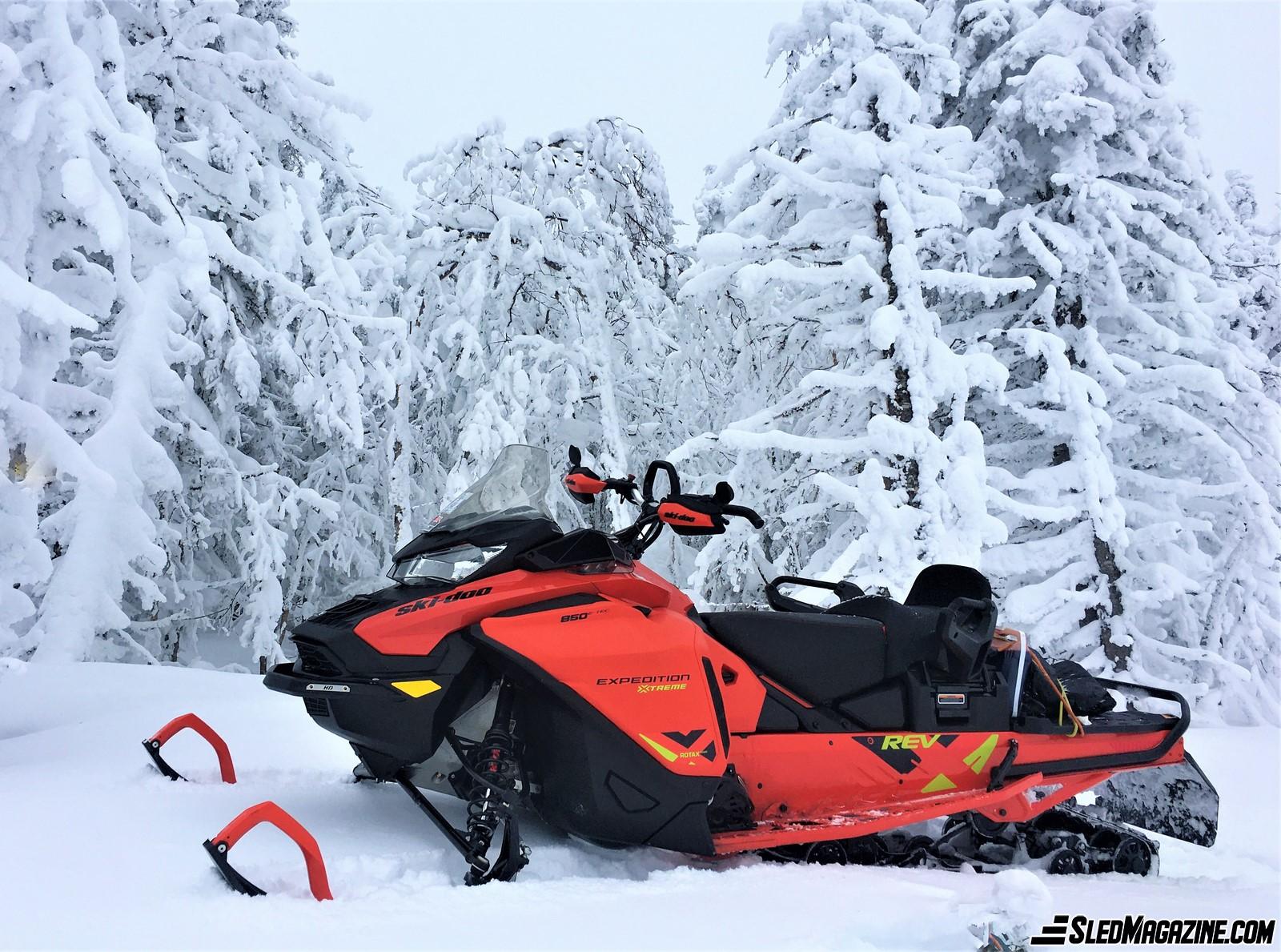 Although when we think of off-trail riding, we have in mind feats such as "side hill," "carving," etc., … we must also consider the mere fact of moving off the beaten trails. With the Expedition Xtreme, it's effortless to float on the snow with the huge track and Pilot DS 3 skis. So, it's an excellent snowmobile to explore new snowy areas without getting stuck, especially without using too much energy. However, the rather generous dimensions of this snowmobile could limit you in very narrow trails. The Ski-Doo Expedition Xtreme is really effective off the trail, no matter what you ask it to do … except climb a huge mountain at 60 degrees of incline.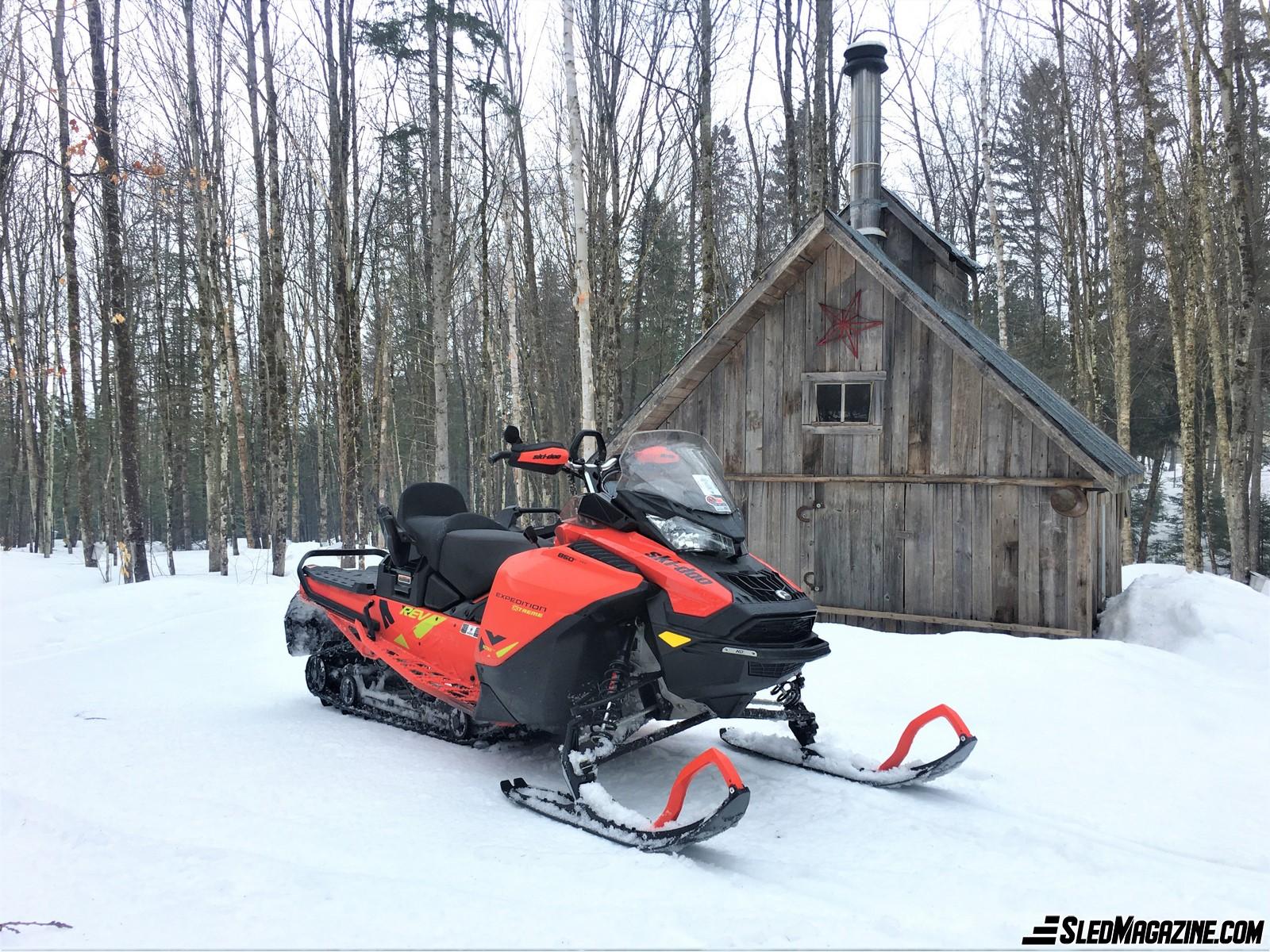 "In a caravan, let's go to the cabin…"
With Spring comes the time to produce delicious maple syrup. It's a time of year that I love, and it puts the utilitarian aspect of snowmobiles to the test. The wide Multi-LinQ rear platform allows you to equip the Expedition Xtreme with a myriad of accessories to make your tasks faster and more efficient. It's perfect for installing a trunk or box to carry buckets, flashlights, and other trinkets for the tapping period.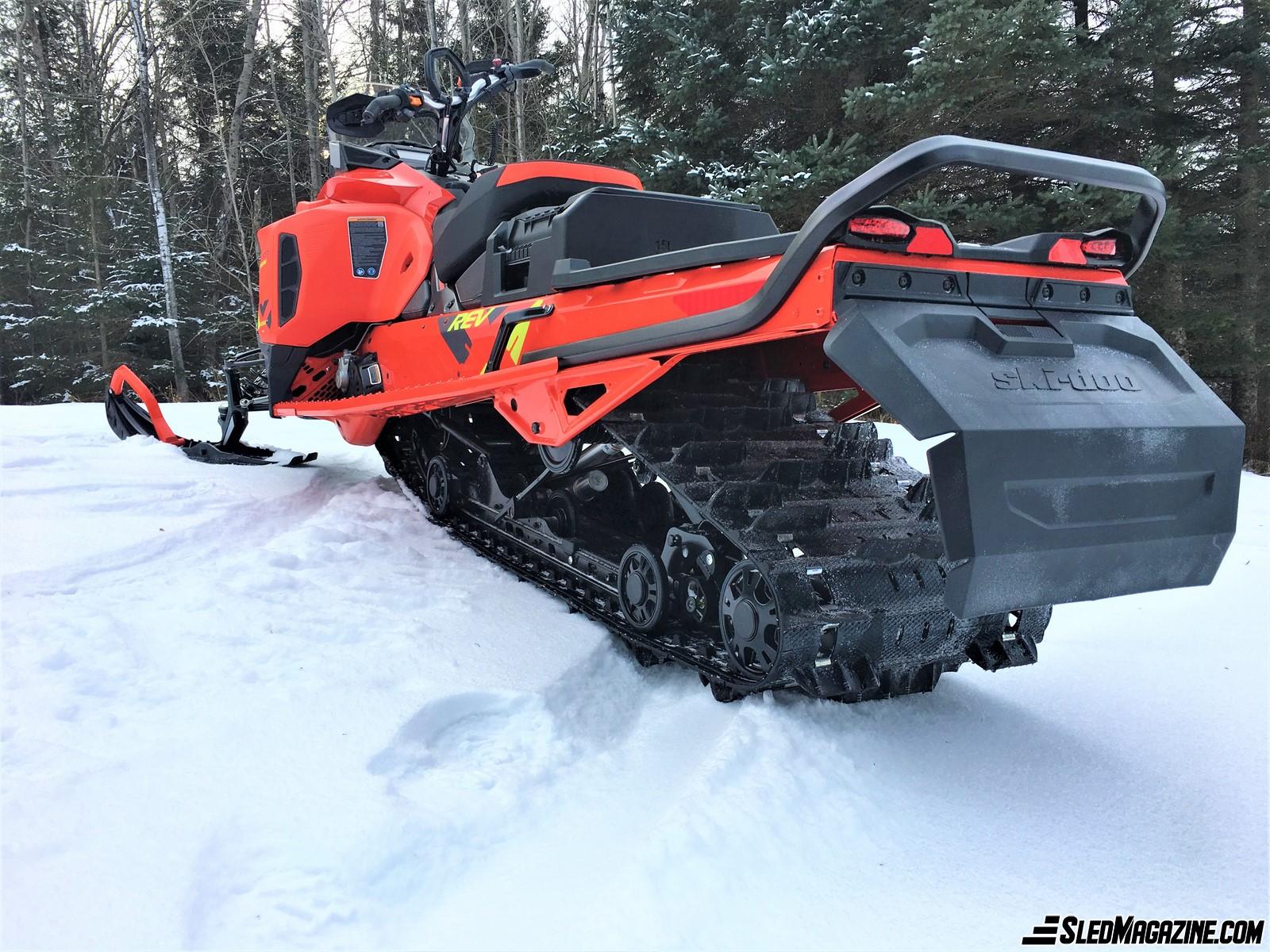 However, the Expedition Xtreme comes with the "standard" rear bumper, and you can't pull anything with it or even think about putting a hitch on it. So, you need to change the rear bumper and then install a hitch. Although the Expedition Xtreme is classified as a utility snowmobile, it's not equipped as standard to pull anything. I think this aspect is a great improvement to make as standard equipment, even if it changes this model's sportier look.
Fuel and Oil Consumption
One of the questions that come up most often is certainly that of the consumption of fuel and oil. First, it must be said that you don't usually get the most efficient 2-stroke mechanics from a snowmobile manufacturer to expect restrained fuel consumption. On the other hand, with the Expedition Xtreme, I would say that the fuel/oil consumption is interesting considering several factors.
By taking care to drive at moderate speeds and limit acceleration, you can easily stay below 17–18 L/100 km. However, when you push harder, you easily reach 20 litres per 100 km and sometimes much more. When we look at the consumption in off-trail mode, it's not "current" to consider it since we climb well above 30 litres per 100 km, and we don't get a mountain machine for fuel economy.
On the oil side, we agree that it's a ratio directly related to consumption. So, there will be some variation. Still, on average, during the test, I was able to drive between 450 km and 600 km with a full tank of oil before the indicator light appeared on the gauge.
All in all, for a 165-horsepower 2-stroke engine with high performance, a huge 154-inch by 20-inch-wide track, as well as the Expedition Xtreme's rather imposing size, I find that fuel consumption is well restrained compared to other options on the market, such as its closest rival: the Polaris Titan.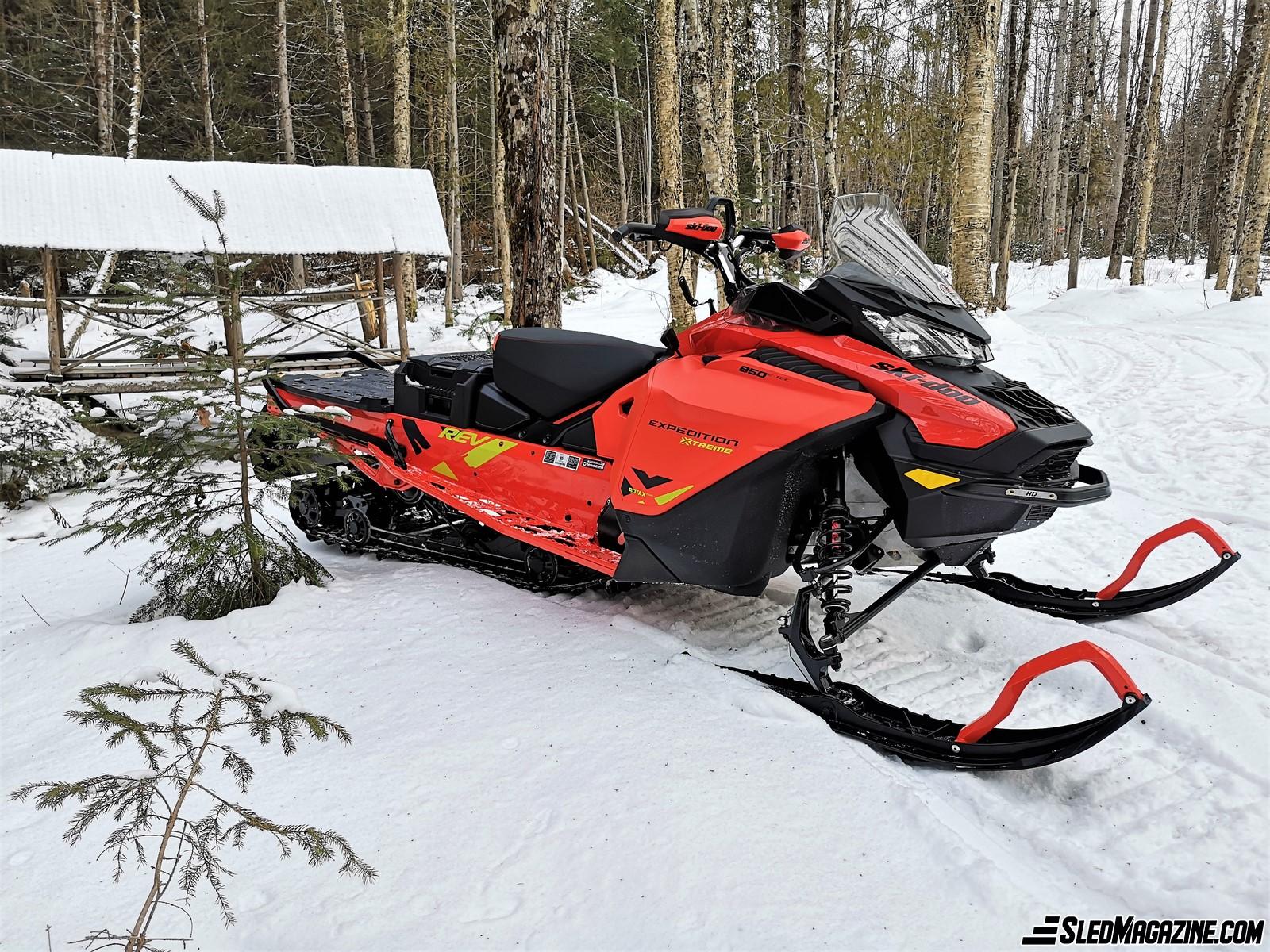 Summary
After this wonderful season riding with the 2020 Ski-Doo Expedition Xtreme, I tried to summarize the strong points that make it so pleasant and the desired improvements:
Strong Points
Enjoyment on the trail and excellent off-trail
Impressive frame stiffness and balance
Flotation and track traction
Ergonomics and flawless finish
Reasonable consumption for dimensions and capacities
Points for Improvement
It should come standard with the "heavy-duty" rear bumper and a hitch compared to the "standard" bumper for possible utilitarian use without paying more
The passenger seat could come standard
Its imposing dimensions in narrow paths
Conclusion
This marks the end of this wonderful long-term trial of the 2020 Ski-Doo Expedition Xtreme. I would summarize my test by saying: "Every time I get on the Ski-Doo Expedition Xtreme, I am won over and impressed by its versatility, power and most importantly, the fun factor it provides to the driver." I recommend it without any hesitation!
The SledMagazine.com team would like to thank our partner Ski-Doo for making this long-term trial possible.