The 2020 Renegade Enduro 900 ACE Turbo snowmobile
In 2018, I tested that year's Renegade Enduro 900 ACE, and I liked it. It fulfilled my expectations: pleasant to drive, economical and comfortable. This year, the BRP dealership in St-Jean-de-Matha, Les Motoneiges Géro, offered me the opportunity to test drive the 2020 Renegade Enduro 900 ACE Turbo. I didn't think there would be that much difference. This model is simply a wonderful thing to drive. Performance and a smooth-riding experience are the order of the day. Excellent comfort and handling that make us fall in love with the snowmobile. It's simply the most enjoyable snowmobile I've ever driven to this day. Here are my detailed impressions.
ITC System and 900 ACE Turbocharged Engine
As you already know, the wireless electronic throttle, called ITC (Intelligent Throttle Control), is remarkably thumb-soft and, what's more, you can rotate it to drive with your fingers instead of your thumb. The progressiveness of the throttle lever is very different from a conventional cable throttle; the response is faster, especially in sport mode. What I also noticed is that you get the same compression effect as before by releasing the throttle. I like this effect, we spare the brakes, and it helps us in tight bends.
This system also enables the use of three levels of performance: sport, standard, and ECO. Here, we're talking about a turbo engine that generates 150 horsepower and, regardless of the mode used; there is power. In sport mode, accelerations and throttle response are impressive, and you have to hold the handlebars tight. In the standard mode, accelerations are more linear, but also very impressive if you apply enough pressure on the throttle. It's the latter mode that I've mostly used so far; a less jittery mode, but still providing me with full power when needed. ECO mode is much more linear with lower top speed but enough to be able to travel at good trail speeds and still be economical. I haven't tried this mode over a long enough distance to evaluate its consumption. However, I noticed that even in standard mode, the snowmobile is more economical than I could have imagined.
Transmission, Muffler and Traction
The transmission is a pDrive and works very well. The engine delivers a sound that is pleasant to the ears and not at all disturbing to the environment. The snowmobile comes standard with a 137 x 15 x 1.25 Ice Ripper track. For my test drive, Les Motoneiges Géro installed a 137 x 15 x 1.5 Ice Ripper. I noticed better traction and braking than with the standard track. In powder snow and when "faded," I skidded a lot less, and the improved braking provided me with an increased sense of safety. You can feel that the track has a better grip in the snow. I haven't tried it in deep snow yet, but by the end of the season, it will be done.


137 x 15 x 1.5 Ice Ripper track
Comfort and Suspension
The rear suspension is a rMotion with an air-controlled shock absorber and is well known as an excellent suspension. It's still going strong. Upfront, the RAS 3 and "HPG plus" shock absorbers hold the skis firmly to the trail. I tried it on several winding trails and had no difficulty controlling the snowmobile. It grips to the trail well. The new Pilot TS skis are as easy to adjust as ever and really minimize drifting. I didn't feel any restraints driving this snowmobile.

rMotion suspension

HPG Plus shock absorber and Pilot TS ski
The driver's seat is heated, but I haven't tested that yet.
Expanded REV Gen4 Chassis Design
This chassis is quite different from the XS chassis. Everything is more centred, which helps when driving the snowmobile. Also, on this chassis, you sit in a slightly elevated position, which allows you to get up quickly when needed.

REV Gen4 chassis and Photo

Sitting position on the seat
I also had a "medium to high adjustment" windshield installed, which offers the best of both worlds. With the few cold spells we had, I appreciated being able to protect myself better. You can really feel the difference.

and 11 – Windshield up and down
Mirrors, Multifunction Dial, LinQ Cargo Box, Lights
The adjustable mirrors provide excellent visibility on either side of the snowmobile, and I didn't notice any vibrations. We don't have to look for what's behind us. Just with the shifting of the eyes, you can see clearly to the back. Another new feature this year is the 7.2-inch multifunctional dial. It offers a digital display, and you get all the relevant information continuously. You don't have to look through the displays. It can be read very well both day and night and sitting as well as standing. A very good improvement.

Multifunction dial at night

The dial during the day and rear view with mirrors
BRP also provided me with the 62-litre LinQ cargo box to try out, and I find it very practical. It's big enough to carry everything you need for your trip, and it stays dry.


LinQ Cargo Box
Finally, I must tell you about the long-range LED auxiliary headlights. This is the first year I don't have to worry about driving at night. This lighting that Les Motoneiges Géro installed for me is an option at BRP and makes a big difference. An image is worth a thousand words … so take a look at the pictures below and see for yourself.

With the headlights on

With the low lights on

With the full beams on

With long-range LED headlights
Conclusion
So far, I love the way this snowmobile behaves. It's fun to drive. If you're looking for a snowmobile that's efficient, economical, sporty and comfortable, you won't go wrong with the 2020 Renegade Enduro 900 ACE Turbo. My trial is still ongoing, and I'll get back to you for a final report in a few weeks.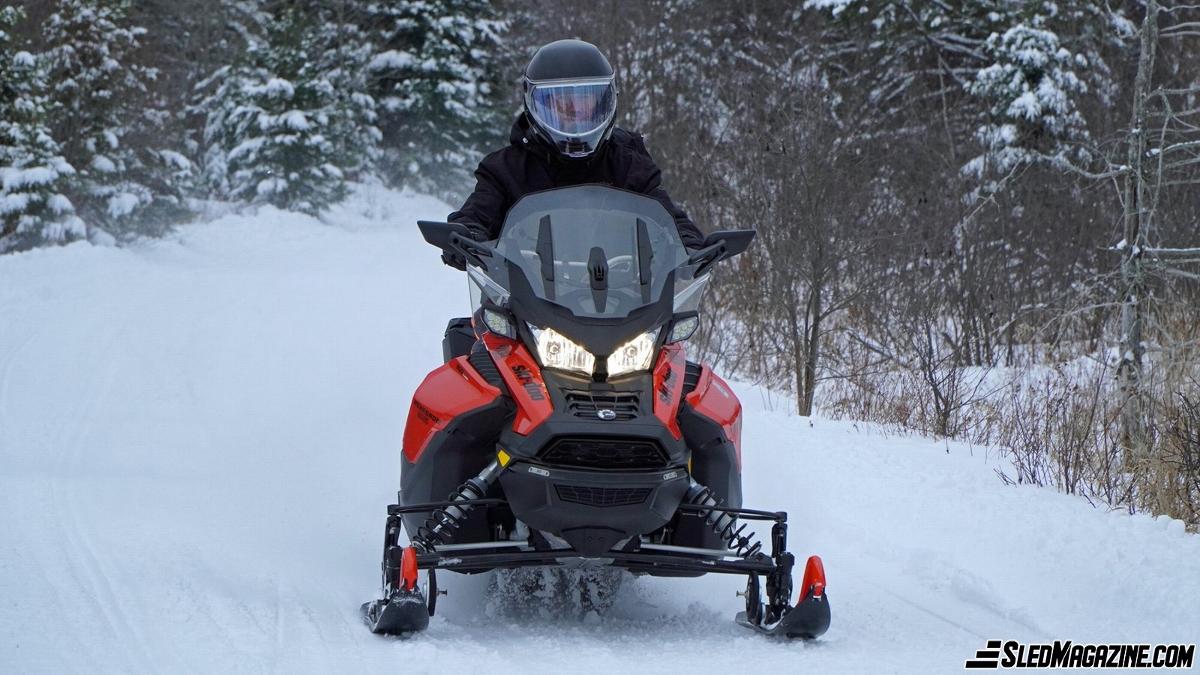 In closing, I would like to extend my sincere thanks to Les Motoneiges Géro, a BRP dealership in St-Jean-de-Matha, for allowing me to do this long-term test drive of the 2020 Renegade Enduro 900 ACE Turbo. I invite you to visit their store to see the 2020 Renegade Enduro 900 ACE Turbo and other Ski-doo products and to meet their dedicated staff. We also made a video report on my first impressions that you can watch at the following link: Https://www.youtube.com/watch?v=sgUo00to_M8&feature=youtu.be

Sledmagazine.com test pilot Daniel Sasseville on the 2020 Renegade Enduro 900 ACE turbo, absolute 0 suit, absolute 0 gloves, Oxygen helmet and Tec+ boots.