It seems like yesterday that I was writing this report for the first time; it was about the 2015 snowmobile models. It is quite special to describe our favorites among a wide range of snowmobiles – we have tested over 60 models again this year – as we are totally free to choose and to write about the snowmobile that made our heart beat faster. And this, four times rather than once because we have to choose one best pick per manufacturer.
As for each Snow Shoot I attend, I like to guess my four best picks even before sitting on the first 2018 snowmobile. Will my predictions be accurate this year? Let's check it out!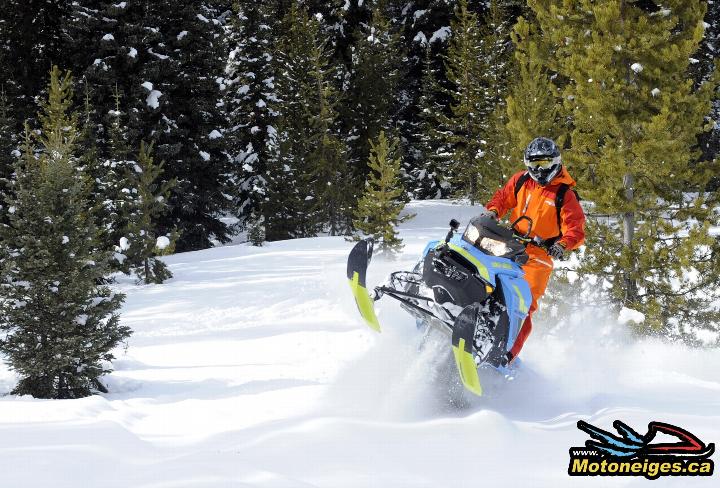 Lots of innovations again for 2018!
Arctic Cat
This year, the American manufacturer presented many modifications : new 800cc engine, new design of the chassis to get different specifications for mountain and trail snowmobiles and even a newborn, the ZR 200, along with other new models.
It is hard to guess a best pick with so many modifications in one year! Nevertheless, I bet on the new Mountain Cat as my possible Arctic Cat best pick.
And effectively, I really liked this snowmobile. Furthermore, I had the chance to test it right after I tried a 2018 M 8000 (153) SE. Despite the important improvement between this last machine and the 2017 edition, I personally think that the Fox Float 3 QS3 suspension package on the Mountain Cat made a major difference. The snowmobile was definitely more rigid, for a much better control in deep snow and side-hill. Also, it was very easy to adjust the suspensions to get much greater comfort on trail on our way back. Of course, the combination of the new 800cc engine with the Ascender platform and the studs of 7,6 cm/3 in., highly reduces the required effort in off-trail riding.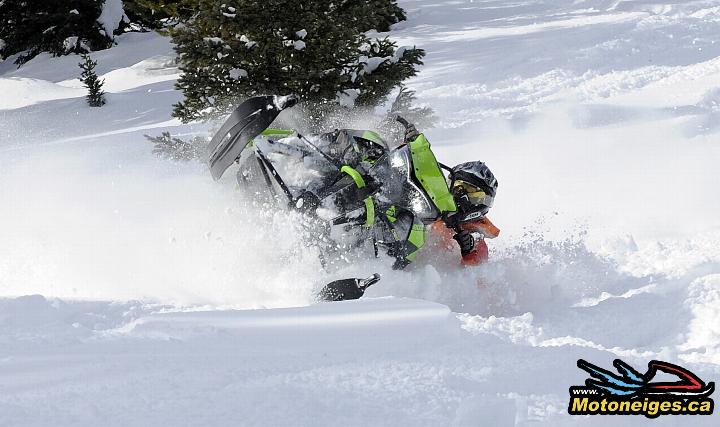 The introduction of the Ascender platform on Arctic Cat mountain snowmobiles is excellent news for Arctic Cat enthusiasts!
When I thought I had found my favorite Arctic Cat, the XF 8000 CrossTrek 137 arrived. I remember getting aboard, leaving smoothly, riding on a few kilometers and stopping to get off and to look at which model I was testing. As I am not fan of long-distance snowmobile rides, I was surprised to like this machine so much. I adored piloting it on trail : it sticked very well in curves, it delivered excellent power and very good comfort. All this without talking about the large amount of standard accessories.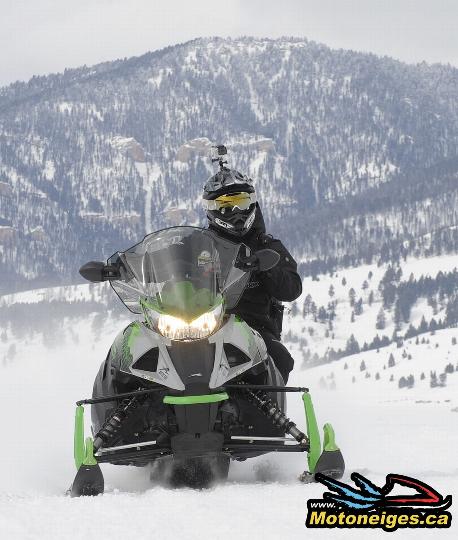 All our team agreed that the CrossTrek is a fully-equipped trail snowmobile
I had doubts, but only till I went off trail on the XF 8000 CrossTrek 137, a unique hybrid snowmobile. I had so much fun in deeper snow!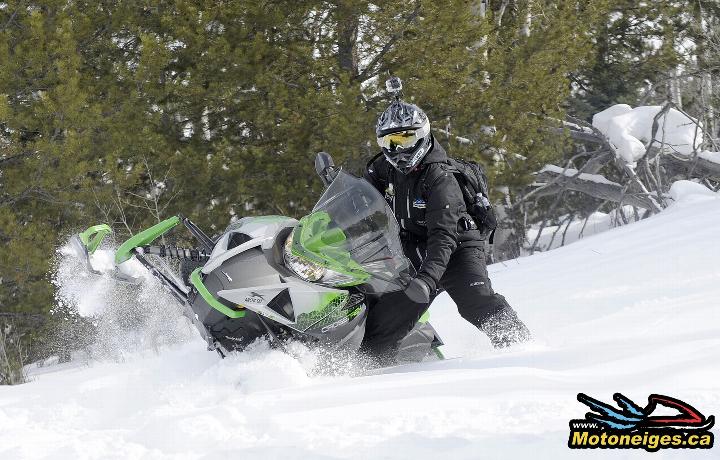 The CrossTrek made me laugh in snow
For these reasons, my 2018 Arctic Cat best pick is the XF 8000 CrossTrek 137. I really enjoyed it on trail, enough to leave for a long ride with it, and it made me laugh many times in deep snow.
Polaris
The manufacturer from Minnesota presented many models for 2018 that were all very interesting, like the new Titan lineup, the SKS 146 or the Switchback XCR. I guessed that my favorite would be the SKS 146 that seemed to match my type of riding and the type of many other off-trail pilots in the Province of Québec!
So, on our second afternoon of test, I was going to see if my forecast would be correct. However, in the morning, I sat on the Titan XC 155 ES and instantly, I was not so sure of my Polaris best pick!! Trail riding was seriously impressive for a snowmobile with a track of 50,8 cm/20 in. wide. Also, when riding off-trail, not only did the Titan XC could go anywhere, but it was really funny! So, I ended my morning on the Titan XC 155 ES with a large smile and good memories.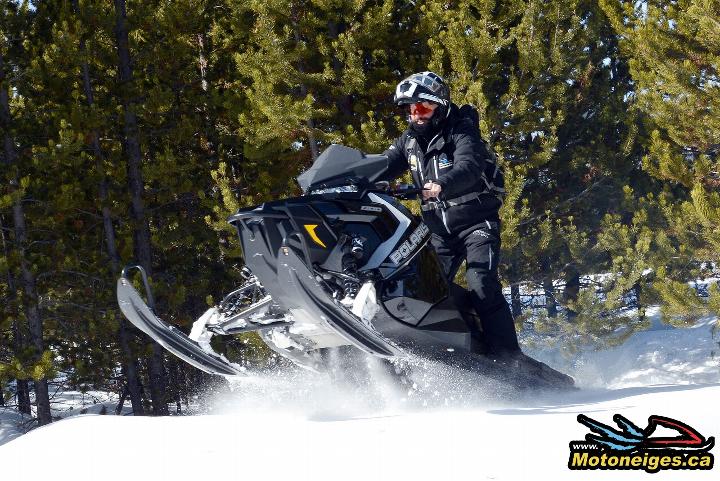 The Polaris Titan lineup is a smash for 2018
Despite the fun on the Titan on the first part of my day, I quickly came back to my love for mountain snowmobiles on the Polaris SKS 146. Curiously, I had never sitted on a SKS before this test, so I had no expectation from the 370,8 cm/146 in. edition. Even if we did not ride in extreme off-trail conditions, we never felt limited by the length of the track. Not only could I do anything off trail with the machine, but I could also ride on trail with some comfort, mostly due to the larger ski stance versus the RMK.
The balance of the Polaris SKS 146 and its handling that truly represents the Québec off-trail pilot, are the reasons why the SKS 146 is my Polaris best pick for 2018.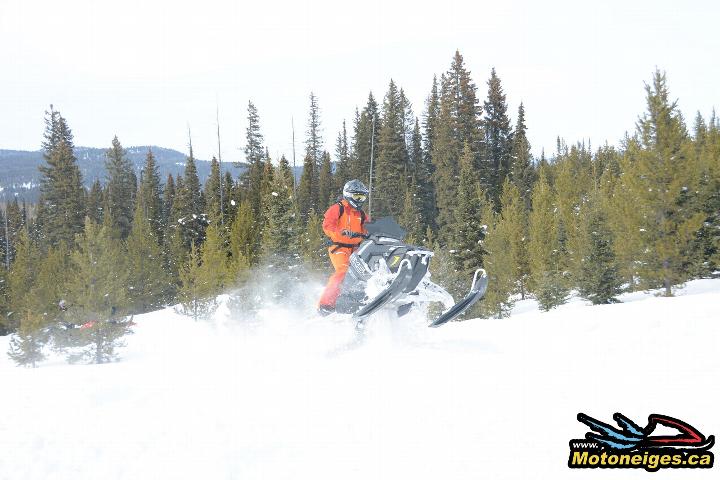 The Polaris SKS 146 will please many off-trail pilots from the Province of Québec
Ski-Doo
Despite a very wide range of innovations in 2017, Ski-Doo still surprised us for 2018! We expected the arrival of the Freeride on the new Gen4 chassis (thus, with the 850 E-TEC engine), but we never expected the revolutionary technology of the new SHOT system. Also, the arrival of the Freeride in 348 cm and 419 cm/137 in. and 165 in. editions along with the brand new Renegade Backcountry made the most waves at the Snow Shoot. My guess for my 2018 Ski-Doo best pick? I was sure to choose the Freeride 137.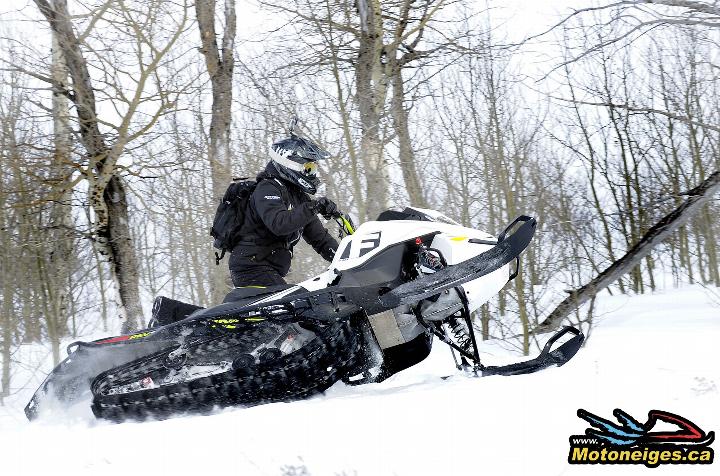 The introduction of the Freeride on the Gen4 chassis is no surprise, yet it is warmly welcome!
In fact, I sat on this snowmobile right on my first day of test. I even realized some stunts off trail! Once our half-day of test was over, I was sure I had already found my Ski-Doo favorite. I had adored its handling on trail, due to the track of 419 cm/137 in., but mostly to the increased off-trail stability and predictability. As we thought, the arrival of the Freeride on the new Gen4 platform is a hit!
Later in the week, I had the chance to test the Renegade Backcountry with a track of 370,8 cm/146 in. I had liked the 419 cm/137 in. edition; personally, I think that this is a 50/50 snowmobile, as announced by Ski-Doo during their technical presentation. However, for my style of snowmobiler, there was not enough biting off trail. This is exactly what the 370,8 cm/146 in. edition of the Renegade Backcountry had to offer! Even if the snowmobile is more designed for off-trail riding, it is on this machine that I had the greatest fun! Of course, the snowmobile was less stable on trail than with a shorter bridge, but the handling in deep snow is totally different! We had a lot of fun jumping and curving with this machine!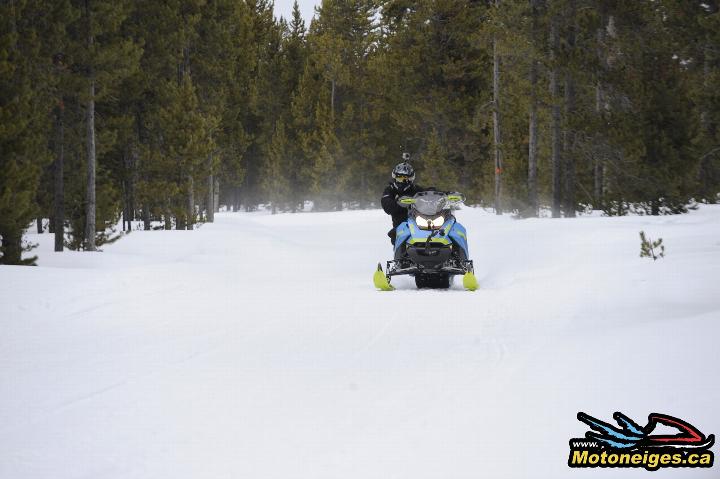 The Renegade Backcountry in action
So, my 2018 Ski-Doo best pick is the Renegade Backcountry of 370,8 cm/146 in. Québec off-trail snowmobilers who must yet ride on trail, will appreciate the balance of this machine. And those who ride mostly on trail, with few adventures in deeper snow, will be pleased by the 419 cm/137 in. edition.
Yamaha
The arrival of the SnoScoot in the 2018 Yamaha lineup is a wonderful surprise! At first, it was comic, but once Yamaha explained their goal to bring back snowmobile fun and to attract new snowmobile fans, this addition made sense. We all knew we would have huge fun on this small snowmobile! However, my best pick must be a full-size machine, so I thought that the M-TX LE 162 would be the 2018 Yamaha that would make my heart beat faster.
Finally, after about ten minutes in mountain, I have been able to sit on the M-TX LE 162. Before departure, I made sure that the QS3 shocks were at the « locked » setting to get the most out of this snowmobile. And the most was truly unbelievable! Personally, I think it is due to many elements : new front and rear shocks, the engine that always wants more and more, and the track with studs of 7,6 cm/3 in. This is definitely the best Yamaha mountain snowmobile I ever tested! So much that no matter which Yamaha model I would test afterwards, it could never surpass the M-TX LE 162.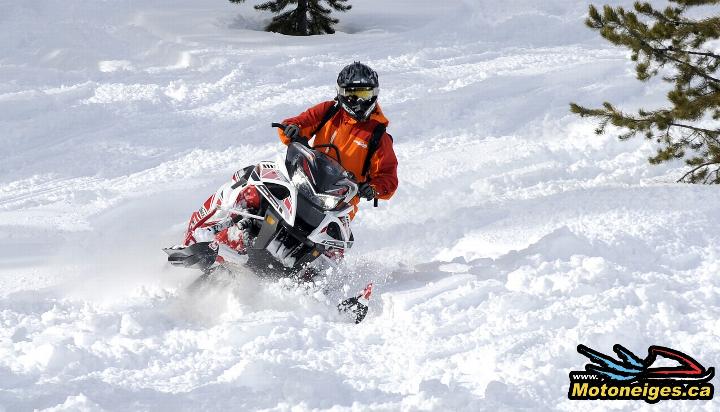 The adjustments made on the 2018 M-TX offer a totally new snowmobile!
Of course, as we are speaking about best picks, I could not forget the famous SnoScoot. We smiled every second of all the afternoon we spent testing it! We ran SnoCross races, we went boondocking and even tree-riding! One thing is sure : Yamaha hit the bull's eye! We are going to see many SnoScoot units during the next years!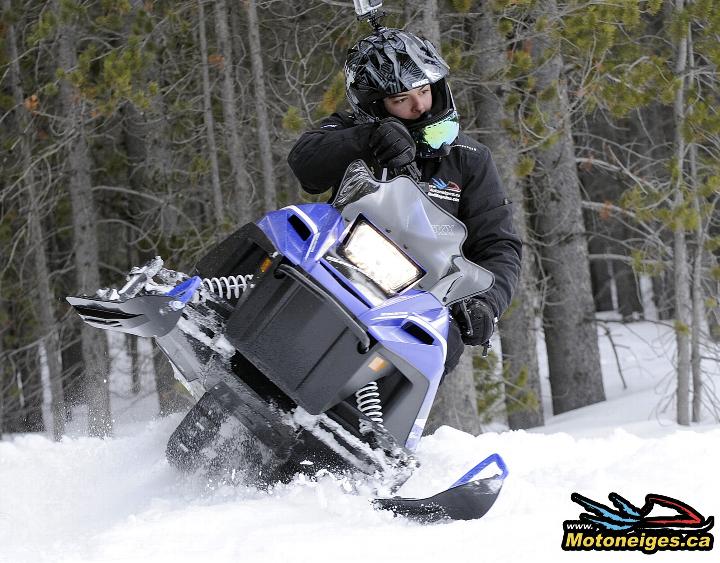 The SnoScoot offers huge fun in all aspects of snowmobiling!
Despite the huge fun I had on the SnoScoot, I still choose the M-TX LE 162 as my 2018 Yamaha best pick. I had to choose a full-size snowmobile and also, I wanted to applaud the improvement of the M-TX lineup for 2018.
Those are my best picks for 2018. Finally, Arctic Cat and Ski-Doo surprised me the most, as I did not succeed to guess which machine would be my favorite. This is what makes the Snow Shoot such an incredible experience : we discover models that we did not expect to be so enjoyable. One thing is sure, with so many different snowmobiles for 2018, there is one best pick for each snowmobiler in the world!