What could be better than beginning the season on a new machine! Well, for the second consecutive year, I am among the lucky ones. To start the 2016-2017 season, I have the 2017 Polaris Switchback Assault 800 144. Last year, I piloted the 2016 Switchback PRO-S 800.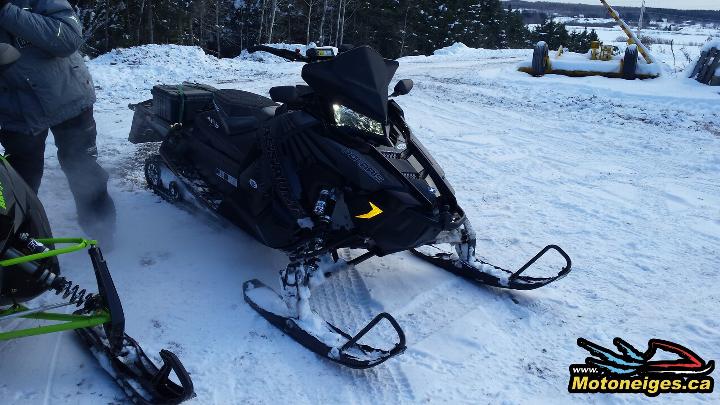 For 2017, Polaris integrates to the Assault hybrid model, 50 % trail / 50 % off-trail, the famous AXYS chassis designed to be piloted standing up as well as seating. In fact, what seems to have become a standard in the industry, as this chassis proved itself in the mountain and trail categories, was perfectly designed for 2017 for the Assault model.
Concerning the main mechanical components of the Assault, the bolid is equipped with the 800 cc engine and Team clutches. Along with a Cobra track of 15×144 in. / 38,1×365,8 cm and lug of 1.350 in. / 3,43 cm, the Assault is also equipped with the famous Walker Evans Piggyback front suspension. Polaris chose PRO-STEER skis with single runner for this model.
Firstly, I must tell you that I am not the greatest fan of hybrid snowmobiles. For the following reasons, I am rather a total enthusiast of 100 % trail snowmobiles for rides on bumps of 1 to 2 ft / 30 to 60 cm. In fact, I like short tracks of 120 to 137 in. / 304,8 to 348 cm with lug of 1 ¼ in. / 3,18 cm because I think that they are easier to maneuver in turns. However, I must say that the Polaris Switchback PRO-S 137 I tested in 2016 made me lie about my convictions. Effectively, the PRO-S had performed pretty well on bumpy trails and in corners where controlled skid is more required. I think that the high AXYS chassis combined with the rear skid raised by few degrees over its last 10 cm, has the consequence to make up the difference of track length in turns. I must say that I am 5'6" / 1,68 m and my weight is 145 lbs / 66,8 kg. I consider myself as an aggressive pilot who likes to ride standing up always ready for bumps ahead.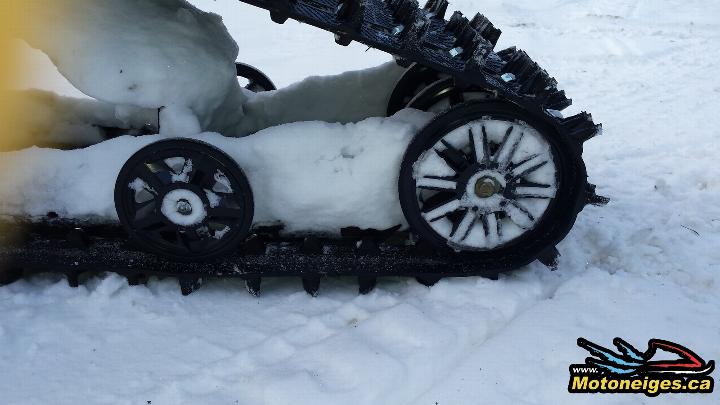 Right when I took possession of the Assault, I noticed that it is mainly equipped to face the toughest off-trail sectors. With a PRO-TAPER handlebar, PowderTrac rigid running boards and low windshield, it will surely satisfy Québec fans of powder snow who will appreciate its weight of 456 lbs / 207 kg. Once started, the Cleanfire H.O. engine seems lively and responsive and effectively, this is what we experienced during our tests. I can tell you that it is one of the most efficient engines of the industry in its category. Team clutches work very well during accelerations and pick-ups.
On trail, the front suspension of the Assault is rigid, even very rigid. I am sure that after 1 or 2 thousand kilometers, it should get better, once internal elements work their way through. However, the rear suspension absorbs bumps without making the pilot unstable while remaining comfortable on even trails. Ergonomics are centralized around the pilot in order to facilitate both standing and seating positions. The seat is comfortable for long rides and offers a quite large storage capacity. The Assault is rather easy to maneuver in turns due to the elevated steering position, we could expect otherwise. But no, personally I think that the very low location of the engine provides a rather low centre of gravity.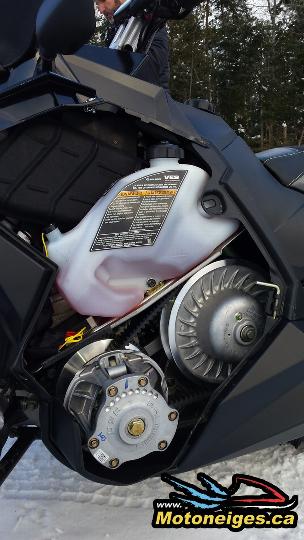 The sideways weight transfer is easy when riding more aggressively. The PRO-STEER skis are effective, but could be designed with a deeper central keel. The LED lights are powerful and the LCD gauge offers standard functions that are not available on competitors' machines. The push-buttons of controls are fine, but could be improved because they are not always easy to reach. The Assault most important inconvenience is the wind protection that seemed totally missing during our ride. Effectively, with the standard low windshield, wind hits directly the pilot's helmet. I also had the feeling that wind was blowing around the hood to come and hit the pilot's body. In fact, later during the day, another pilot told me he had experienced the same thing.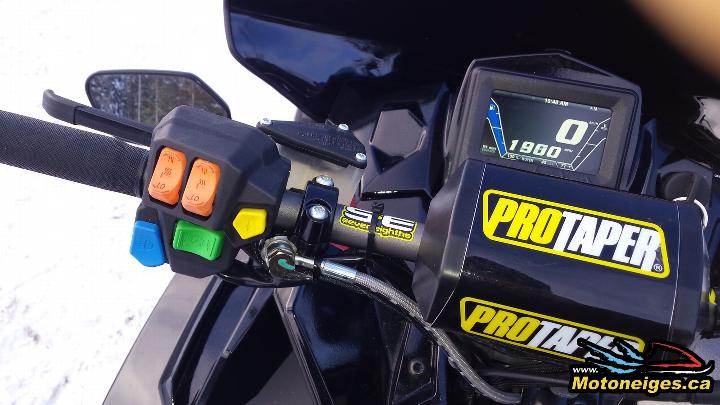 To conclude, the Polaris Assault is a pleasant snowmobile to pilot. Responsive, powerful and agile, it is a model I would call aggressive designed for thrill seekers. Also, I must say that the Assault is truly a sporty hybrid machine with features that make it a performance snowmobile. Fans of backcountry snowmobiling will surely make the most of the different elements of this machine in order to live a memorable riding experience.