Introduction
I rode about 5 240 km this season and even if it began late, this BRP model gave me a wonderful experience. On the beginning of winter, when I took possession of my new trail partner, I have been immediately impressed by its sport style and its colors, White/Sunburst Yellow and Black. With its front end design, this sled is very attractive.
Since the manufacturer had added many innovations to this model for 2016, I was very excited to put it to the test and to discover what these innovations were bringing.
I am now ready to share with you all my observations on many aspects noted over all my rides. I hope my analysis will help you find what you are looking for before buying your new snowmobile. Enjoy your reading.
Overall aspect of the snowmobile
The choice of colors and decals produces a very different model. Many snowmobilers I met on trail told me that this was the most beautiful look ever produced by BRP since many years. Compared with the other models I tested since 2003, this was the first season that I heard so many compliments about the look of my machine. Congratulations to BRP designers.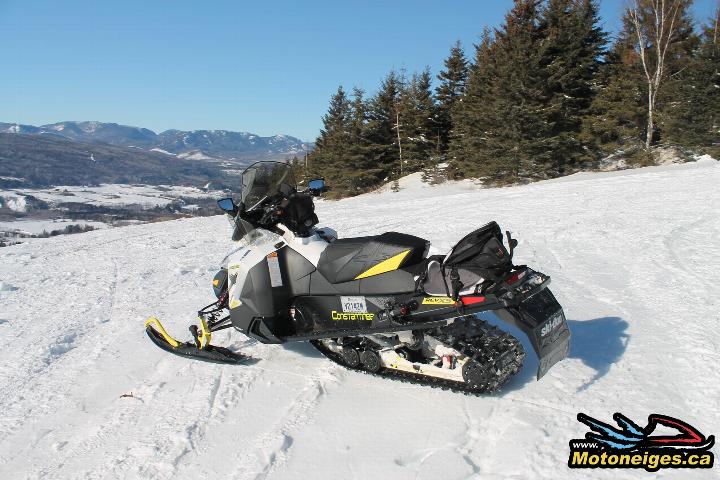 Finish – choice of materials
The quality of assembly has been carefully achieved. Everything has been well thought and all external components are perfectly placed.
Attention to finish
We can very easily notice that the assembly was made meticulously. Its style is made of fluid lines and overlapping surfaces that bring more intense and sharp design specific to this model. Congratulations to BRP assemblers.
Riding position
This snowmobile offers 3 riding positions : advanced to the handlebar with knees bent, far from the handlebar with knees half-bent and finally, forwarded to the handlebar with feet resting at front end of the running board close to the engine. I appreciate to have these choices of riding positions.
Also, during long rides, it allows the pilot to change his position. Fatigue is avoided and we appreciate our longer rides. The REV-X platform also offers comfort to pilots of all sizes in all types of riding.
Handiness
At the beginning, I had doubts about the easiness to negotiate curves since this machine weighs over 500 lb while the previous edition was under 500 lb. But you can believe me when I say that negotiating a sharp bend is very easy without too much displacement on the seat.
Due to its weight and height, the machine sticks in curves which provides to the pilot a safe steering and a better control. However, this machine is not designed for extreme off-trail riding, so be careful in powder snow.
I did not have any problem in usual snow and on flat surfaces. The snowmobile is easy to handle but be careful not to get stuck because of its weight.
The top quality suspension and shocks of this machine highly improve your riding in all types of trail conditions.
Adjustable skis
The Pilot TS skis are quite an innovation in the snowmobile world. Some snowmobilers said that the skis were hard to adjust and that it was hard to control the machine.
Personally, I experienced all types of trail conditions this season. A simple adjustment on the ski leg and in few seconds, I could notice an immediate change in the control of the machine.
These adjustable skis made me enjoy my rides because during a day, trail surface can vary from one area to the other.
There is only one thing I noticed during a ride on icy trail following heavy rain the day before. Steering was harder, the skis were much more biting than other snowmobiles riding with me. But those were unusual snowmobiling conditions.
Comfort
Handlebar position : I felt in full control well seated on the comfortable REV-XP seat, at the right height, very stable riding. We have the HPG PLUS R front shock, the KYP PRO 36 no-tool rebound adjustments with 22 settings, the RAS 2 front suspension and above all, the proven rMotion adjustable suspension with the track of 129 in/327,6 cm. All these elements together made me enjoy my long rides and mostly, on bumpy trails.
This is quite a different snowmobile from a short tunnel machine, like in the past; the pilot remains stable on the seat.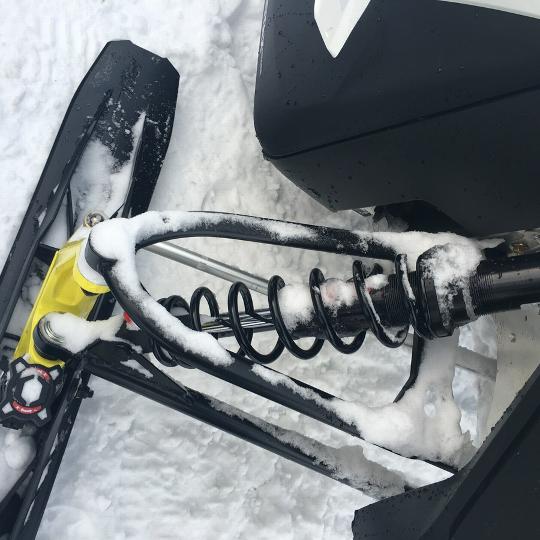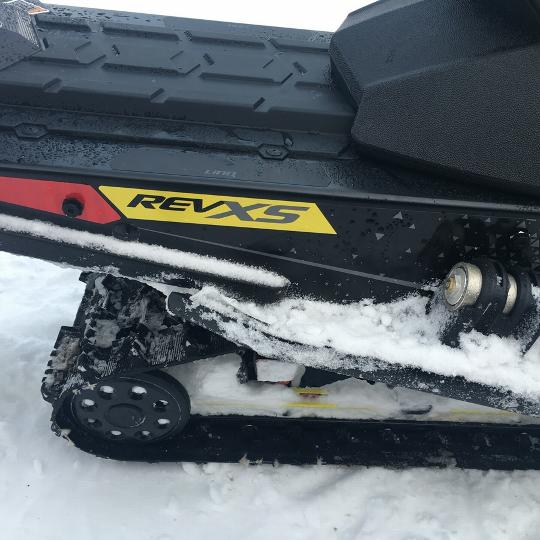 Triple 4-stroke engine of 1170,7 cm3
The engine produces a very soft sound and with our helmet on, we almost do not hear it. This is due to the fact that this is a 4-stroke engine and the noise-reducing components inside the hood contribute to reduce part of the noise.
Carbon monoxide is highly reduced, so the white smog of the 2-stroke is almost nonexistant. Our snowmobile suit does not smell gas or oil like before. Less environmental pollution.
The addition of the iTC system, the engine management in three modes, Standard, Eco, Sport, brings lots of flexibility to the pilot in accordance with his type of riding. Personally, I always drove in Sport mode, my favorite one.
I tested the Eco mode on a very bumpy trail and because the RPM is reduced, acceleration is slower and it is easier to ride in these conditions.
My average fuel consumption was between 13 and 15 l/100 km depending on the trail conditions and the weather and of course, with this engine and its 3 driving modes that make the fuel consumption vary.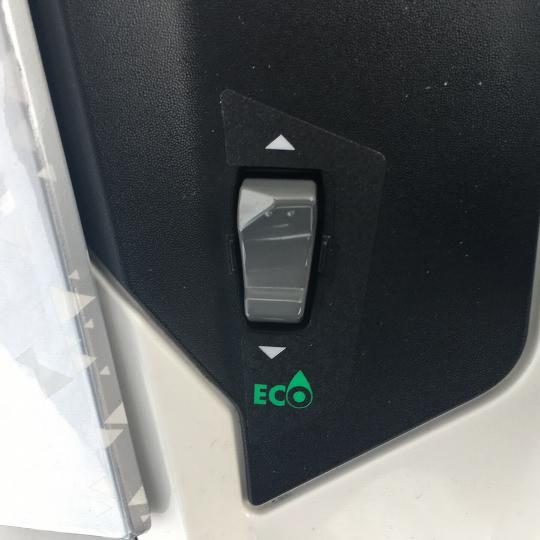 Power
This engine gave me good sensations this winter. The zip is good for a 4-stroke, not like a 2-stroke, but very enjoyable with good acceleration, good time of response and good intensity, which brought me lots of fun and appreciation during my rides.
Startup
I rode my snowmobile in extreme cold conditions, -45, -35, -30. It never happened that it did not start up. A simple pressure on the throttle and the engine gets purring right on the first time.
Clutching
Clutching is made softly, no noise from the track.
Reverse
Going reverse is made softly. However, there is one element that could be improved in the mechanical reverse control. It is not easy to operate it, we need a strong pressure that requests heavy strength; it may be a problem of adjustment.
I missed the electronic reverse I had on my machine the previous season.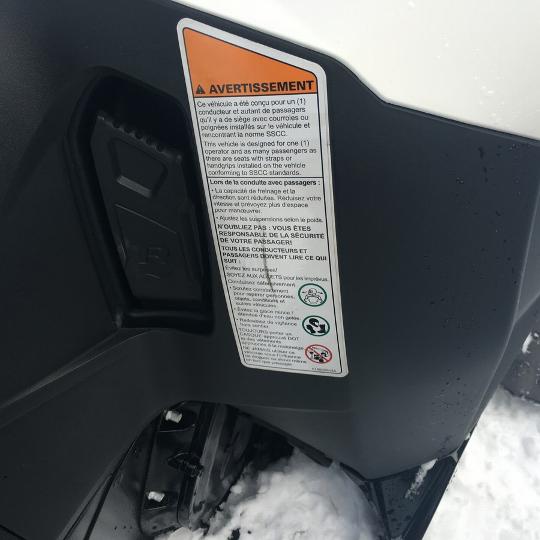 Cockpit
Designers gave easy access to the pilot to make adjustments to all accessories he can reach.
Data are easy to read from the pilot position. At night, the good lighting allows the pilot to read easily all the informations on display.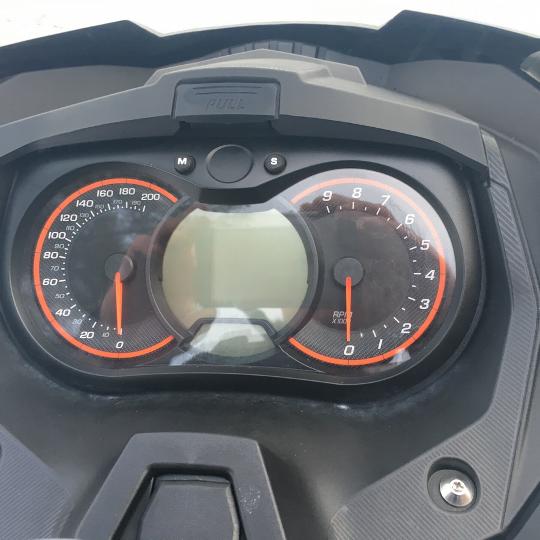 Throttle lever
It is reversible, which offers two possibilities to the pilot : to accelerate with the thumb or the index finger. During long rides, this let me change my position and I was less tired at the end of the rides.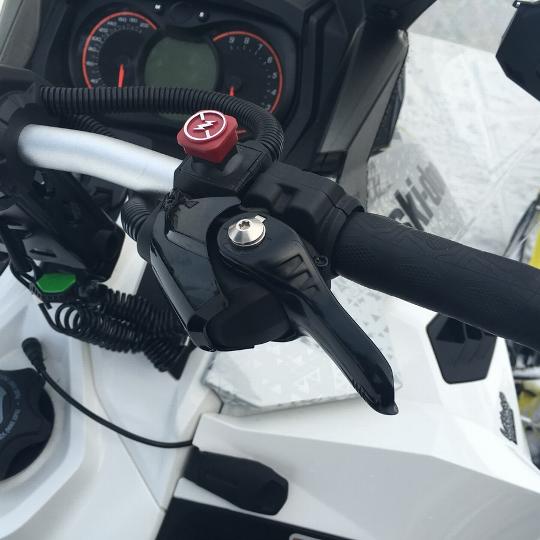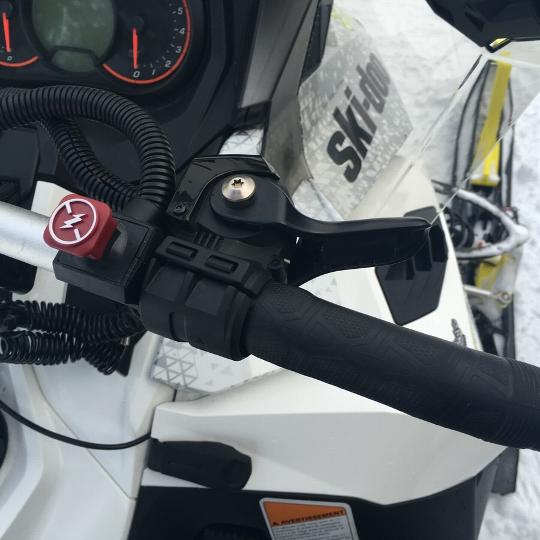 Protection against wind
The new generation REV-XS chassis, compared with the other chassis of the previous years, has been designed to avoid wind hitting directly the pilot. The windshield of 10 in/25 cm is too short for me, very cold. So I chose the windshield of 17 in/43,18 cm, much less cold. Finally, the plastic hand guards on the handles offer good protection, but with thick gloves in the way.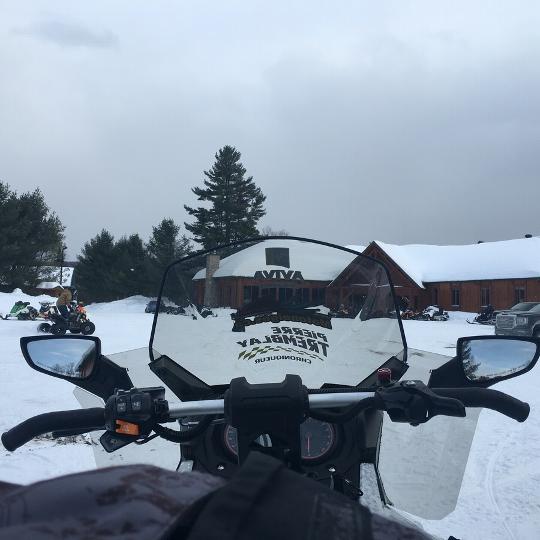 Storage
On the rear end of the snowmobile, all was ready to receive the LinQ storage accessories. There is a 4 l heated box at front and a 5 l one at rear, not too much storage room for large personal items.
The spare belt can be safely put in a small storage space inside the hood.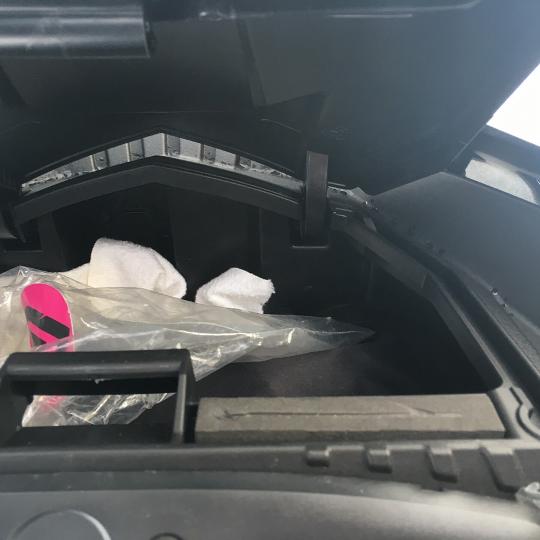 Finally, this was my analysis after the trial of this machine that gave me lots of fun this season. There may be two minor negative elements but the performance of this snowmobile is still there and I have been surprised by its comfort and handling. I hope my analysis will convince you in the choice of your next snowmobile.