We went with pleasure to Les P'tits Moteurs in Sainte-Croix, a Polaris dealership operated by Mr Louis Jacques and his son Alain. After a warm welcome, Alain described to us the features of the Polaris snowmobiles we were going to test. The machines were remarkably clean.
Here are the comments gathered by the three test pilots who rode over a hundred kilometers on groomed trails, in respect of the snowmobiling regulations such as speed limits.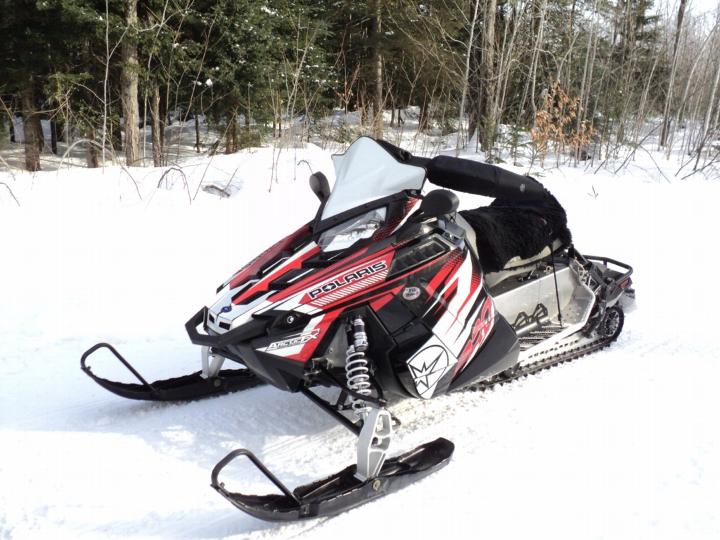 2013 Polaris 800 Switchback Pro-R
The following elements have been evaluated :
riding, ergonomics

aesthetics, finish quality

engine, noise, fume

track
We used Alain's personal snowmobile for our tests; it had been customized with graphic decals on the hood.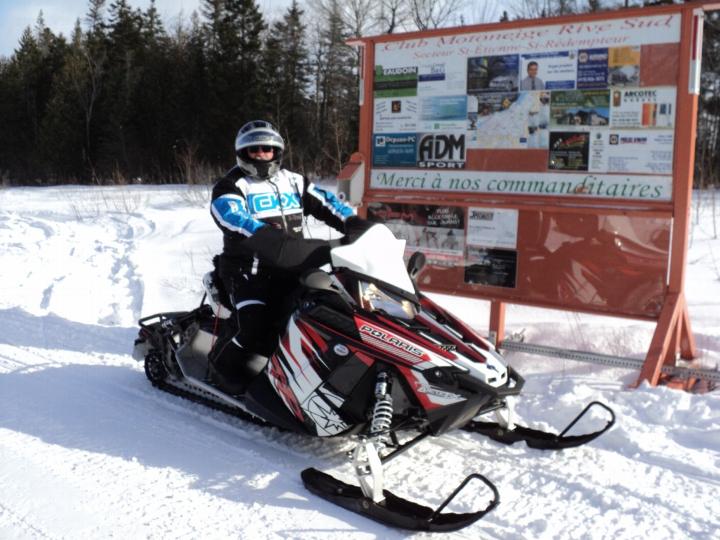 The riding position on the 800 Switchback Pro-R is perfect, no matter your size, on a touring ride as well as on a sport riding. We beneficiated from an adequate protection against wind on the lower body, which is quite different for the upper part.
We rode under -25 °C and the rides would be much more comfortable with the addition of a medium windshield and muffs on the handles. All the controls are located on the left handle (brake); we noticed that the thumb and hand warmer controls are small and uneasy to operate with gloves on.
The size of the odometer digital indicator is satisfying and easy to read at a glance. The hooked handles made for sport riding are of the right size, so we get used to it in a short time.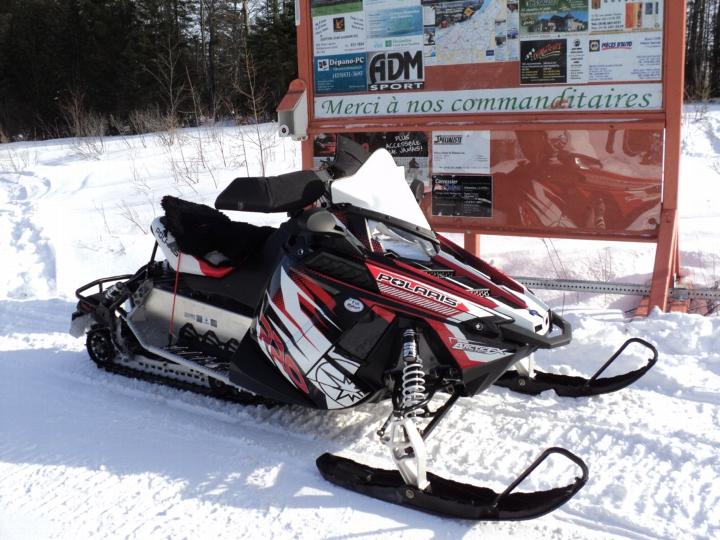 The pleasure of riding this 2013 Polaris 800 Switchback Pro-R in a sport way comes easily. The progressive rate of the rear Pro-Ride suspension allows the absorption of small bumps as well as bigger ones.
The front end design is dynamic and the rear end has been highly improved; we did not feel like Polaris' engineers did not have enough time to do their job. The finish is impeccable.
There were graphic decals on the hood : « Burandt's – Approved – Backcountry Tested», from Polaris' pilot Chris Burandt. These grey / red graphics give a race look to the snowmobile that attracted many snowmobilers' attention.
The 2-stroke bicylinder engine has a regular acceleration range. Responses are excellent as from 50 km/h to 70 km/h, the skis lifted. Even if powerful, the engine is appropritate for this snowmobile. The track was a little noisy at 70 km/h on a trail covered by snow hardened by wind and extreme cold, but it was not unpleasant at all.
The 2013 Polaris 800 Switchback Pro-R is a snowmobile made for pilots who like sport riding and Sunday touring as well. We call it a comfortable sport snowmobile.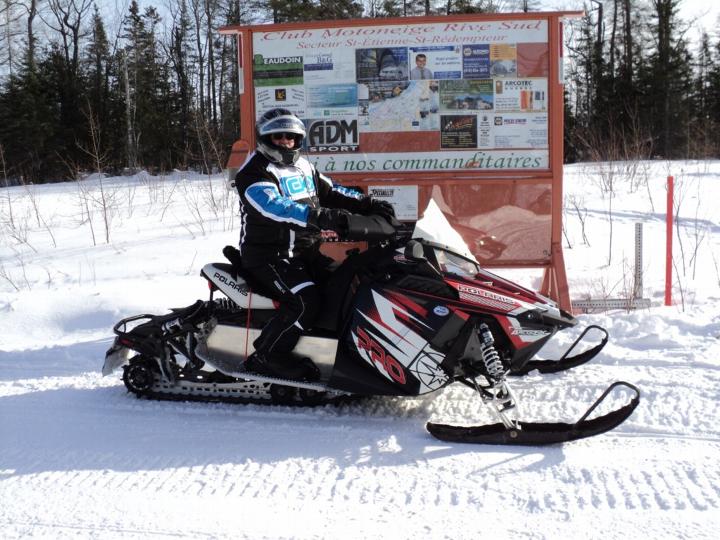 SledMagazine.com is sincerely grateful to
Ste-Croix (Cté Lotbinière), Qc
Thanks to Kimpex for their appreciated collaboration during this test.

Effectively, our test pilots wear Kimpex clothing and accessories during every ride and we appreciate it !
Test pilots for SledMagazine.com