This non-insulated jacket is made of 5TECH membrane, a waterproof, breathable and excellent quality material. As I put this suit on, what struck me was the quality that is definitely there. We know that this set was designed to last over time, exposed to conditions that are not always ideal for clothing when snowmobiling in the mountains. In addition to this membrane, the set has Cordura in the most solicited areas of our active driving. Another thing I liked was that the Allied has a waterproof coating: even in very wet conditions, you can see the water beading on the suit. This keeps you dry throughout the day and prevents the cold from getting to you.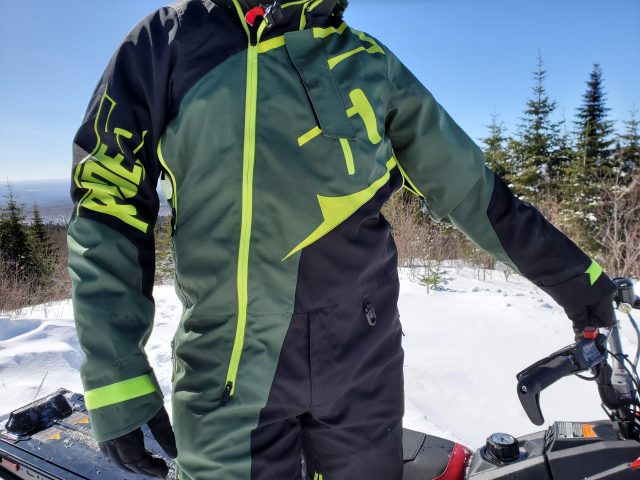 Another thing I liked, but which is standard on this type of set is the ventilation openings on the thighs and under the arms. You can easily control your temperature and avoid sweating during sustained efforts.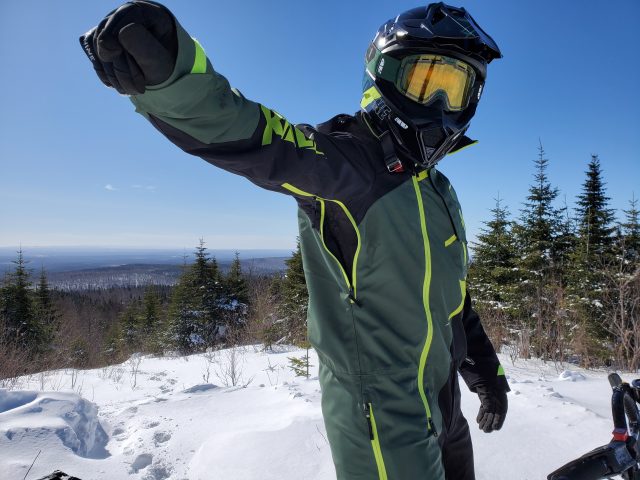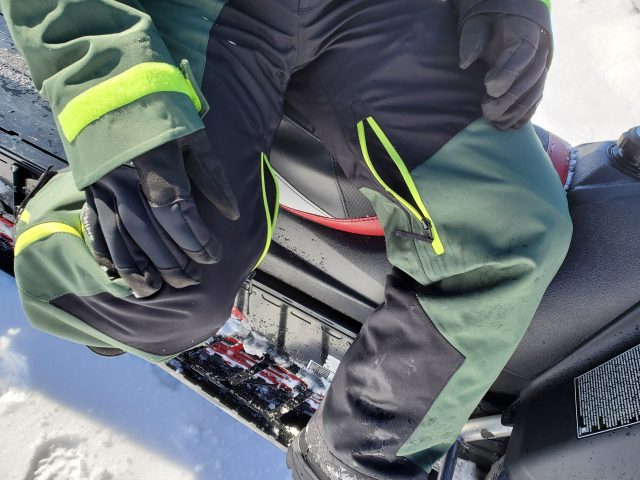 The straps fit well, but I would like to have a system that allows them not to slip off the shoulders during the day. An attachment at the level of the shoulder blades would avoid this inconvenience.
I also liked the long openings to put on the boots easily. It's nice to be able to put on your suit directly when you arrive at the departure point. Often, we put our trucks on the side of the road and there is nothing worse than taking off our boots to put our suit on the side of the street or in the parking lot. Moreover, the clips that allow to fix the bottom of the pants on the boots are very good. This prevents the pants from riding up in the snow and the snow from getting into the boots.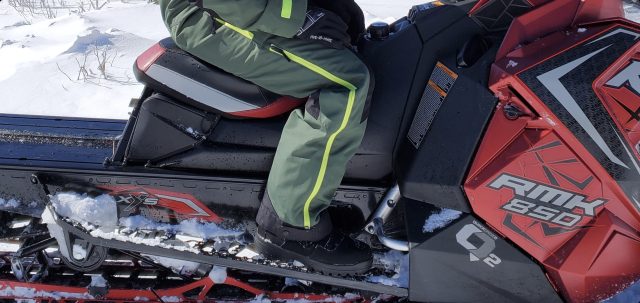 Otherwise, I like the fact that you can remove the hood. Personally, I prefer without the hood because it prevents it from getting full of snow, so having the option to remove it is a plus for me.
Overall, the whole package allows a nice ease of movement and is very comfortable. I really appreciate the quality of the membrane which breathes well while being waterproof all day long. I would also like to thank 509 for the winter that I spent in the greatest comfort.