On February 17, BRP unveiled its 2022 ski-doo lineup. Once again this year, BRP had some great surprises for its customers.
Among them, a new line of snowmobiles that will make its debut in North America. The Lynx line was designed in Finland for extreme conditions, since their network is not as well maintained as we are used to .
BRP is thus responding to the requests of many snowmobilers who wanted to have the chance to ride Lynx models, which include several features that are unique to them and that are not available on Ski-Doo models. It is important to remember that Lynx snowmobiles are aimed at a very specific market of enthusiasts.
So, three models will be available for 2022. They are the 137″ Lynx Rave RE (trail), the 154″ Lynx Boondocker DS (off-trail) and the 165″ Lynx Boodocker DS (off-trail).
We say three new models, but in fact we could say two, since two of the three are identical, except for their tracks which differ from each other and their engine calibration for high and low altitude.
They are "pimped out" snowmobiles, so to speak, compared to their BRP cousins.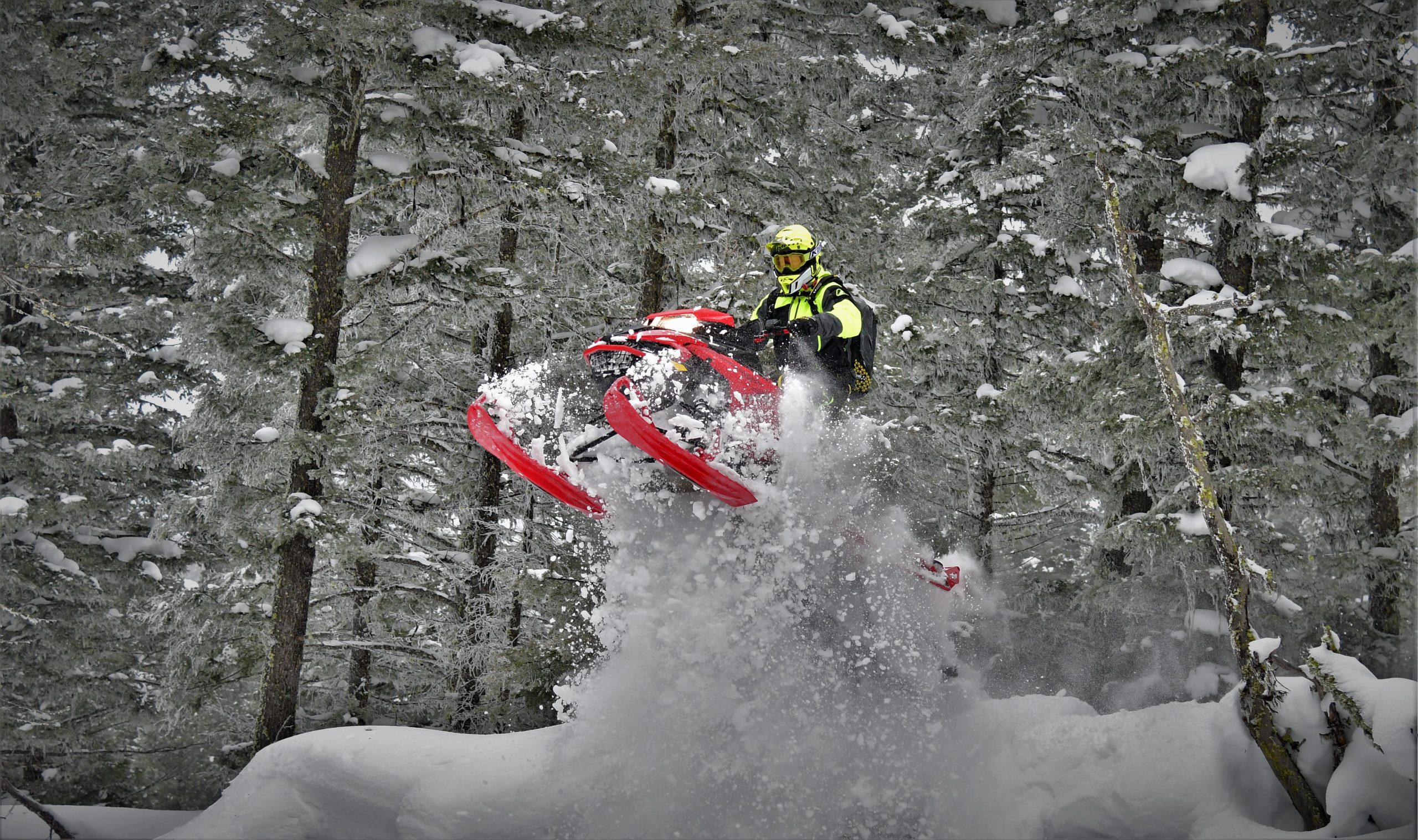 LYNX RAVE RE
As the manufacturer says, the Lynx Rave is known for its unparalleled success on European race tracks. It is an expert in bumps and speed is its trump card. It is a true sport snowmobile; its features designed for the northern climate make it superior on challenging trails.
PPS 3 Rear Suspension
The third generation of PPS rear suspension with independent arms allows you to go farther, longer and takes the ride of this snowmobile to a higher level in all situations. The front limiting belt has three adjustments.
LFS + front suspension
The LFS + front suspension, with its 42.2-inch travel, offers precise control and stability in turns. It is combined with KASHIMA KYB 46mm HLCR (High speed, Low speed, Compression, Rebord damping) shocks.
Blades XC+ Skis
Blades XC+ skis complement this great stability and precise control.
Radien Chassis
Similar to the Rev Gen 4 chassis, the Radien chassis is based on optimal weight distribution and designed for active riding.  It allows freedom of movement and effortless maneuverability.
Engine
The top-of-the-line energy-efficient Rotax 850 E-TEC engine with 165 HP, which has been known for a few years, powers the RAVE.  It is calibrated for sea level and is extremely responsive.  It is combined with the pdrive pawl clutch which keeps the rpm precision.
LYNX BOONDOCKER DS 154 AND 165
As far as the Lynx Boondocker DS (Deep Snow) is concerned, this is a snowmobile designed for deep snow and the mountains. The manufacturer even says that you will be a hero in deep snow.
PPS 2 rear suspension
The PPS 2 DS+ rear suspension for deep snow has a simple and light construction with a low angle of attack that would help the snowmobile to climb on the snow.
LFS front suspension
A little different from the Rave, the Boondocker's LFS suspension is combined with KASHIMA KYB 36 shocks (without a separate gas tank) and the ski stance is adjustable from 35.7 to 37.4 inches.
Blades DS+ Skis
The Blades DS+ skis provide consistent maneuverability in deep snow and on slopes. They are long and allow you to steer the snowmobile with precision.
Short Radien DS Tunnel
This revolutionary tunnel offers maximum control in deep snow and on slopes.
Engine
The same powerplant as the Rave powers the Boondocker, but the 165-inch model is calibrated for high altitude.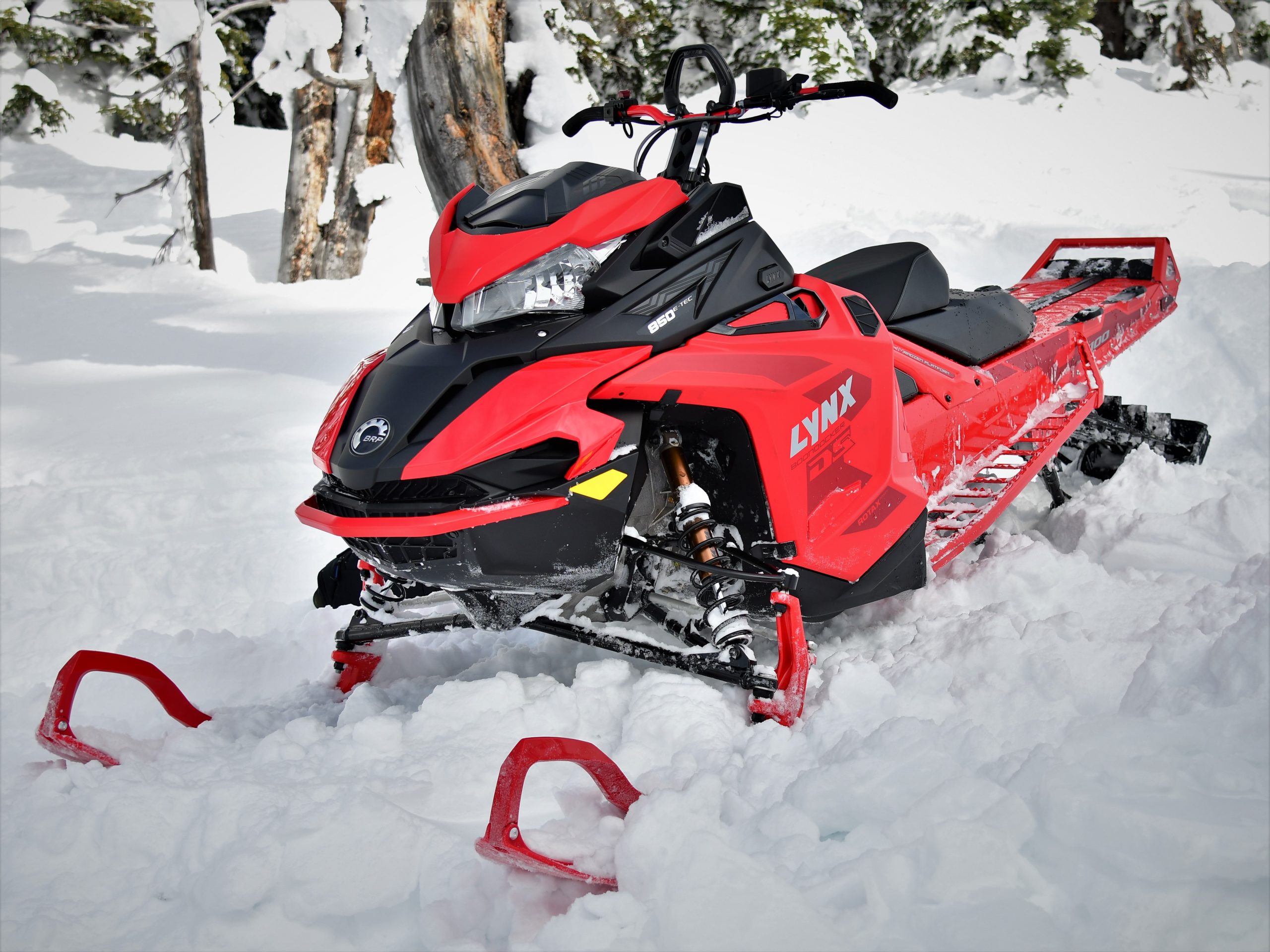 Similarities
Now, let's look at the common features found in all three:
PPS (Pauli Piipola Suspension) rear suspension;
KASHIMA KYB shocks
Two linQ attachment kits;
Viper Red/ Hyper Silver/ Black color
850 E-TEC engine with 165 HP;
E-TEC direct injection with additional boost injectors;
Radien chassis (shorter, lighter, and smaller), instead of the REV GEN-4 at BRP;
12V outlet in the front compartment;
pdrive pulley with ratchet;
QRS driven pulley;
37-liter fuel tank;
3.4 liter oil tank;
RER reverse gear;
Differences
And here are the features that differentiate them:
For the RAVE RE (sport)
Electric and manual start;
7.2″ digital speedometer;
Ice ripper track 137x15x1.5;
Very short windshield;
XC+ blade skis;
KASHIMA KYB 46mm HLCR shocks (High speed, Low speed, Compression, Rebord damping);
Standard snow guard;
Hand guards;
Side foot restraint plate;
42.2″ ski stance.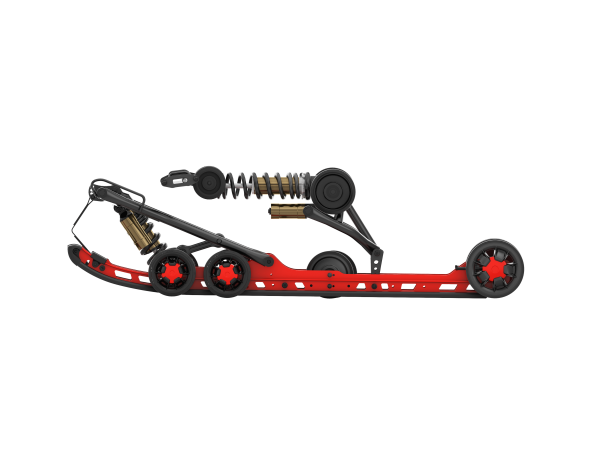 For BOONDOCKER DS (deep snow and mountain)
Manual starter + Shot system;
4.5″ digital speedometer
Powder max light Flex edge track 154x16x2.5 and 165x16x3;
Without windshield;
Blade DS + skis;
KASHIMA KYB 36 shocks (without separate gas tank);
Single snow guard fixed on the axle of the rear wheels that redirects the snow in the tunnel for cooling;
Handlebar strap;
36″ ski stance (but adjustable from 35.7″ to 37.4″);
Stronger rear bumper;
Engine calibration at sea level for the 154″ and high altitude for the 165″.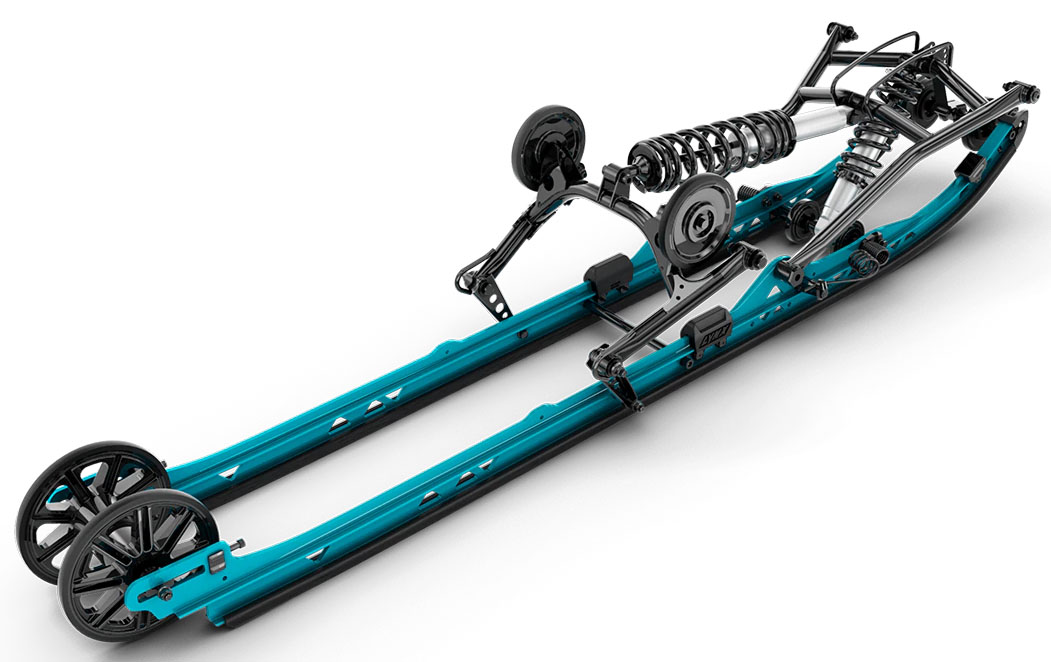 Target clientele
These new products are very similar to the ones we know from BRP, but they are aimed at snowmobilers who have very specific needs. We must therefore carefully analyze whether the characteristics of these models are adapted to our real needs.
From a price point of view, you can expect to pay $20,199 (starting from and without taxes) for the Rave and $17,649 (starting from and without taxes) for the Boondocker.
For more details, I invite you to see the manufacturer's specifications. You will find other relevant information to consider before purchasing this type of vehicle.
To learn more, we invite you to consult your BRP dealer and the official Lynx website. You can also read some of the team's test articles:
Test ride of the Lynx Rave RE 850 e-tec 2022
Test ride of the Boondocker DS 4100 850 e-tec 2022